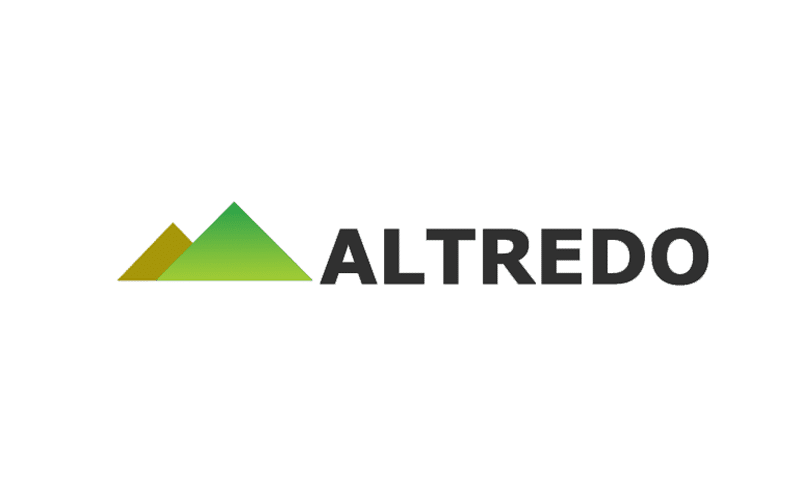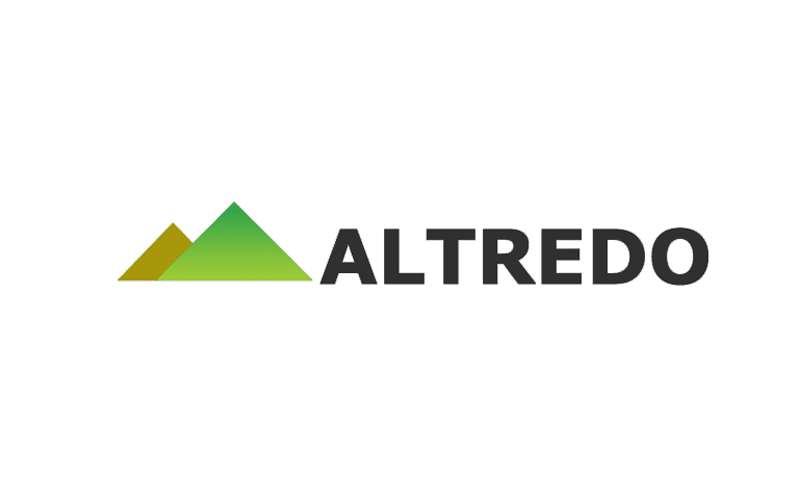 Altredo Forex Robots is introduced with the claim that its "Global Trading Systems Trading Robots Based on Neural Network Algorithms." All trading solutions are united in eight blocks "Tradestation, Interactive Brokers, NinjaTrader, MetaTrader, Thinkorswim, Stock, Bitcoin, and Tradingview."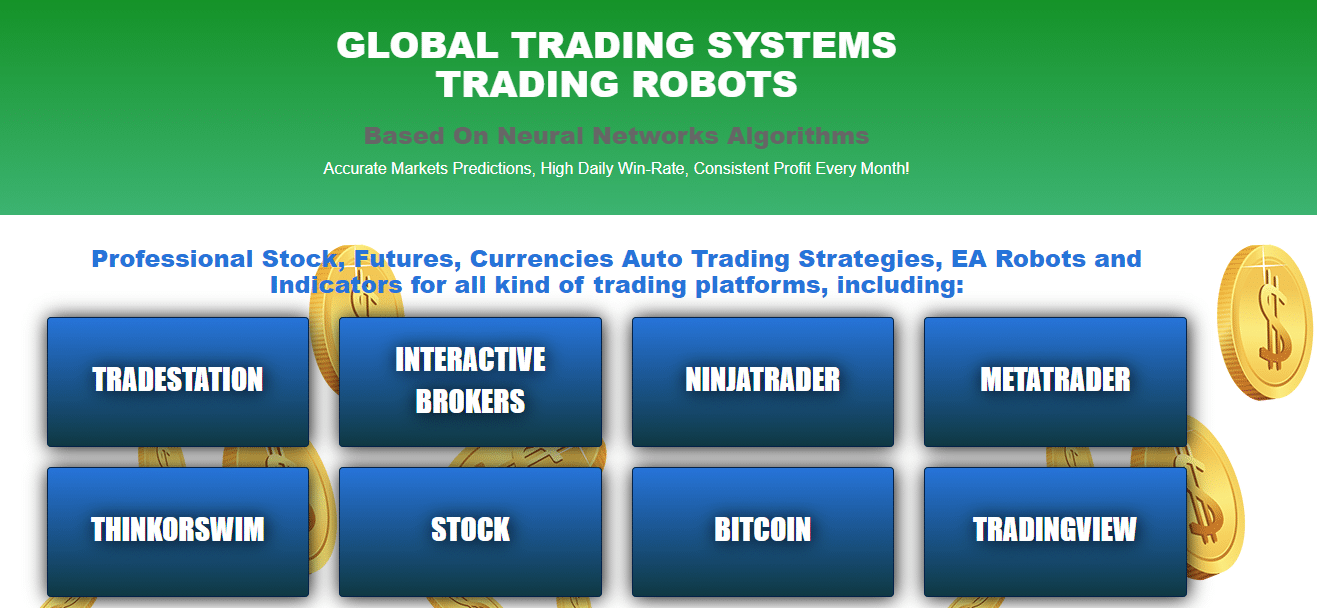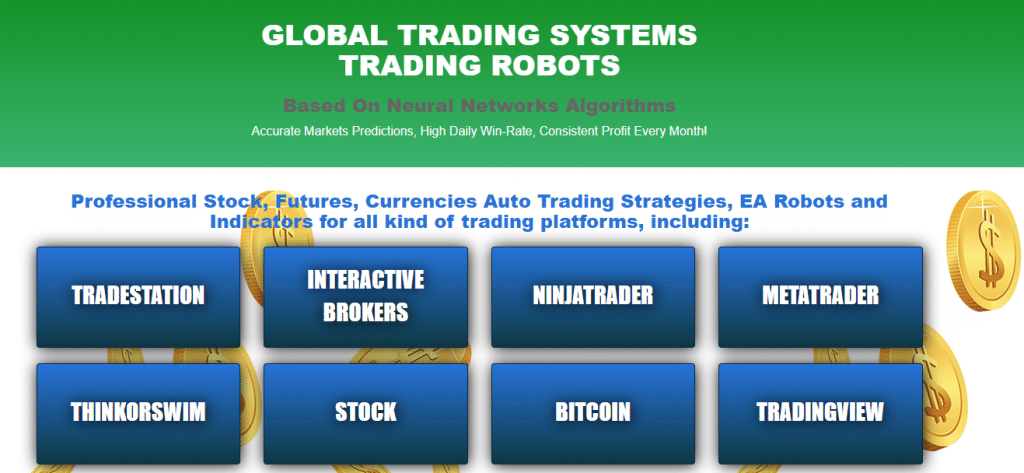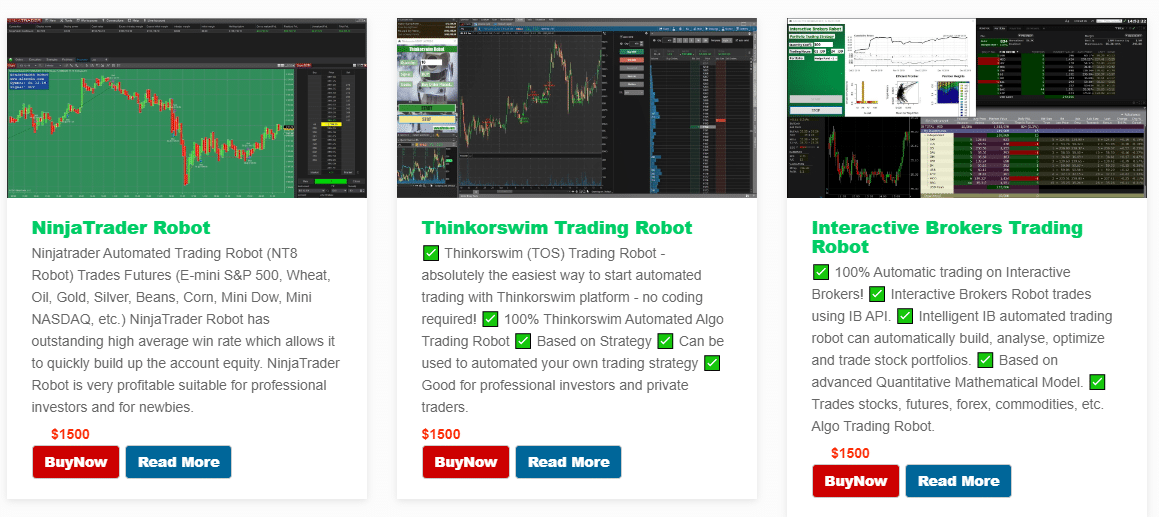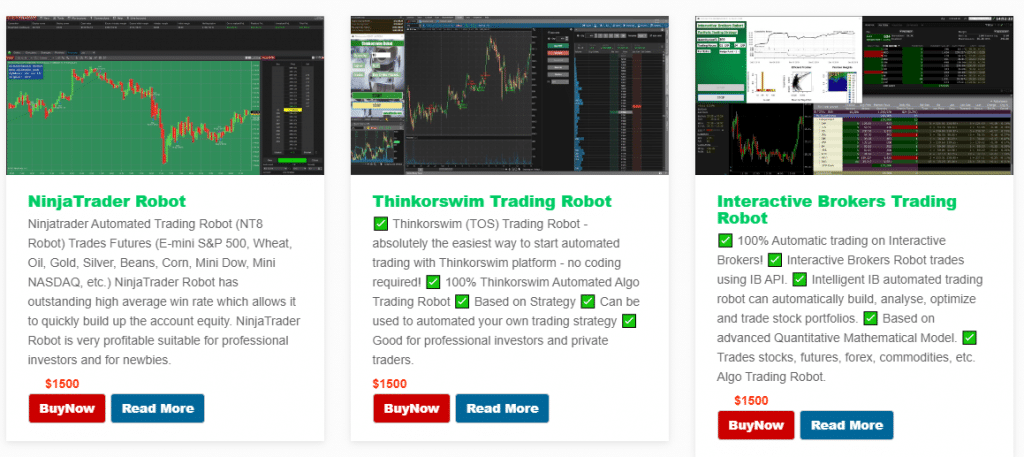 There are many products that cost $1500 or more available. It's overkill. There are many much cheaper solutions available on MQL5.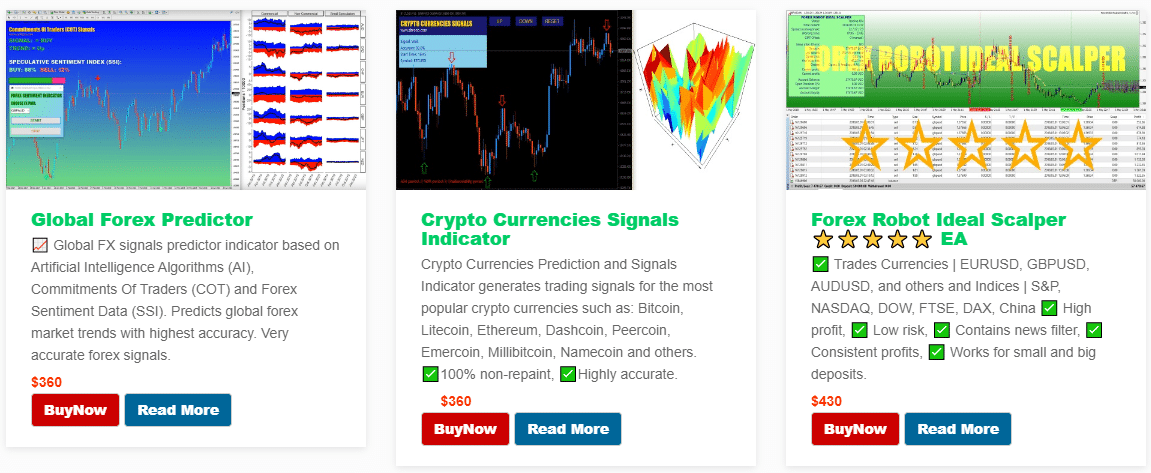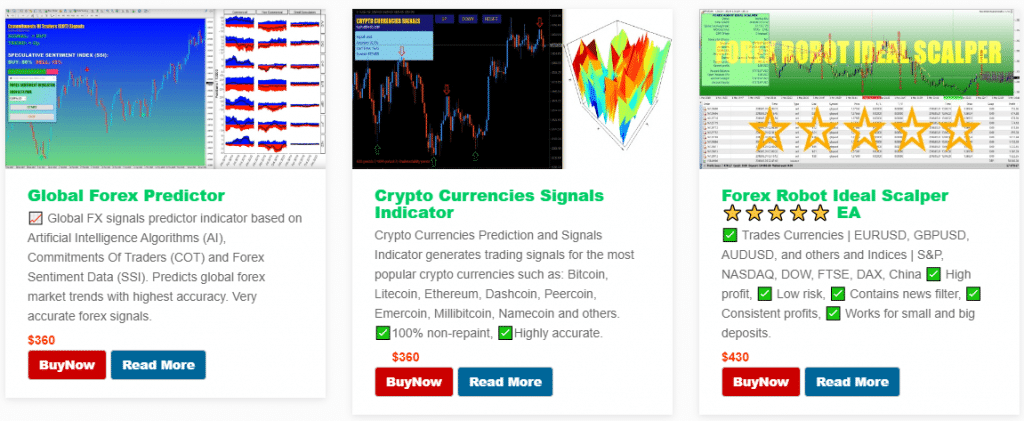 There are many robots that cost from $300 to $450. This pricing is closer to reality.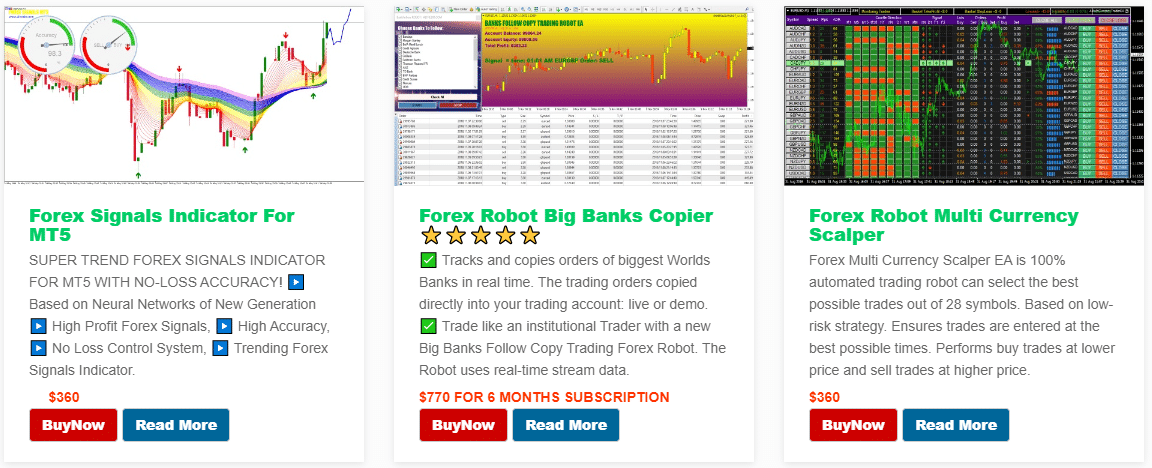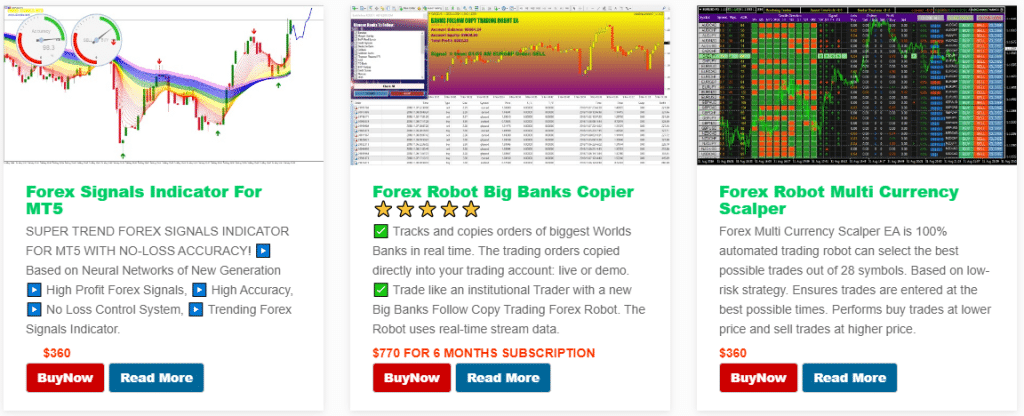 We may note that some of the advisors and other trading solutions are only available for rental.
Is Investing in Altredo Forex Robots a Good Decision?
We don't think investing in anything related to this company is a good decision. The feedback posted on Forex Peace Army shows that the clients were scammed.
Company Profile


The "about company" information includes no intel about registration, location, developers, their profiles on Facebook or on the MQL5 community. They try to convince us that they are good but we have no proof of this.


The company has an affiliate program for those who would like to make some profits promoting them. We can expect to get up to 30% for each sold copy.
Main Features
Only two robots have verified trading results published. One of them is Forex Robot Arbitrage. We have gathered information about it in the next list:
Forex Robot Arbitrage is an advisor that can execute deals automatically.
There's a "profitable market neutral low-risk strategy." We have big concerns that there could be anything from neural network features.
The developer has mentioned that the EA doesn't include any risky strategies like Grid or Martingale.
The robot can be used on any currency pair that we want.
Analyzing data from indicators in the real time, the system generates precise trading signals.
We can, like many financial institutions, use Arbitrage for trading.
The developers mentioned nowhere the fact that accounts where Arbitrage strategy was used are insanely hard to withdraw.
The advisor uses in its performance mathematical modeling techniques.
The developers noted that the strategy "assumes a low correlation with current market conditions."
Usually, Arbitrage is trading between low and high execution speed brokers.
It works with low risk.
The best periods to trade are when High Impact News occurred.
There's a weird claim we'd like to show you as a whole one "statistical arbitrage strategies are market neutral because they involve opening both a long position and short position simultaneously to take advantage of inefficient pricing in correlated securities."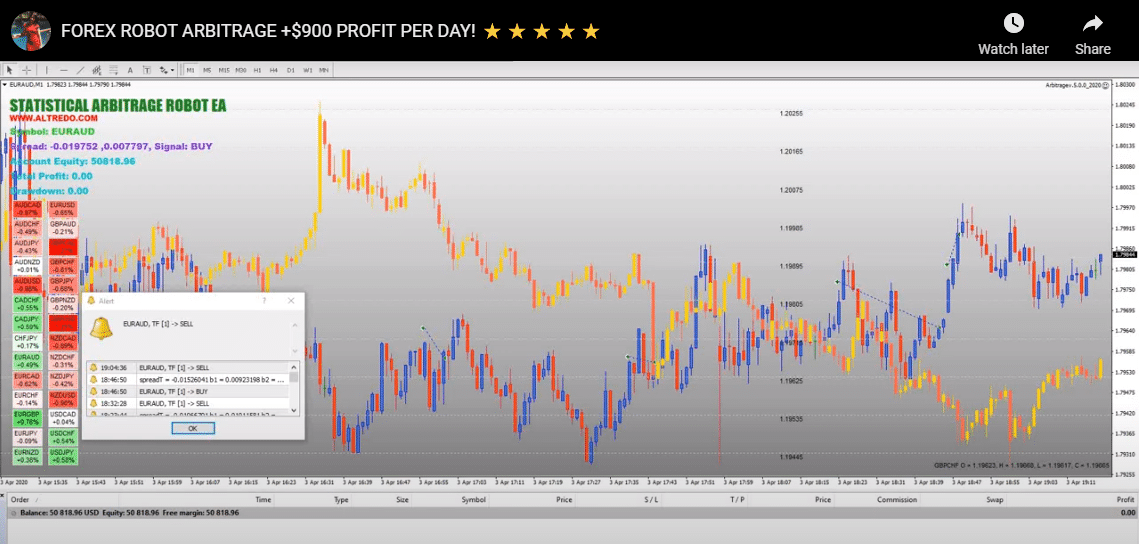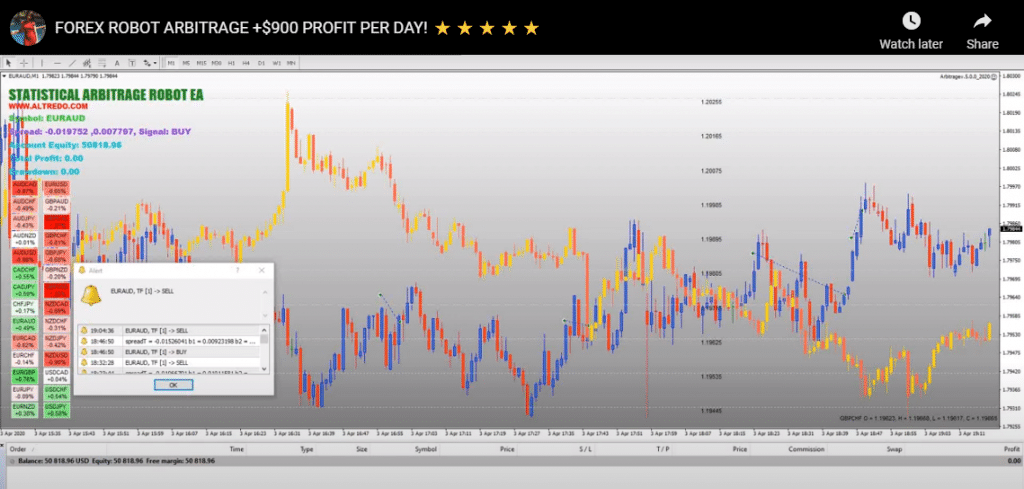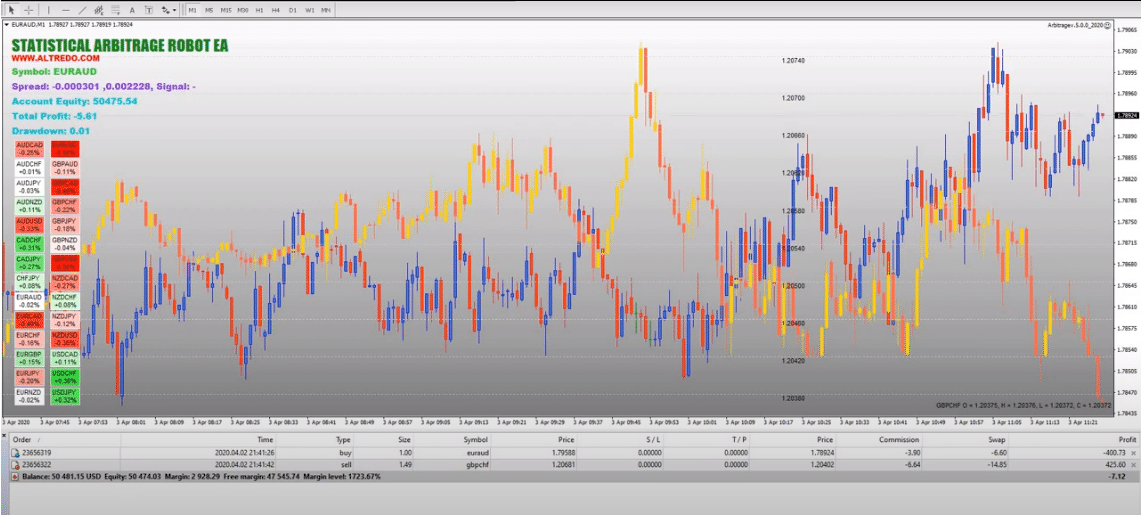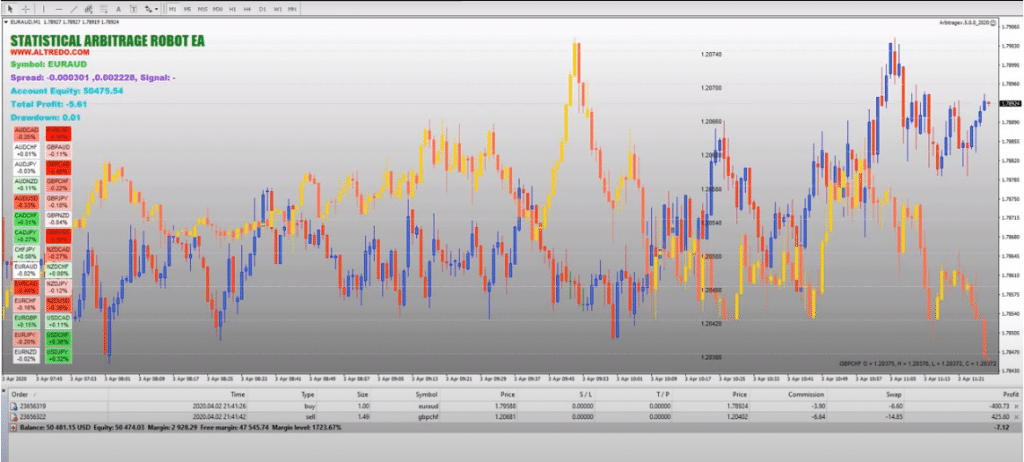 The presentation includes several videos of how the system is attached to the chart and how it executes orders.
Price


There's a single package. We can purchase a lifetime copy of the product for $770. It is featured by support via Email, Skype, and Teamviewer. We shouldn't rely on the refund policy because it doesn't exist.
Verified Trading Results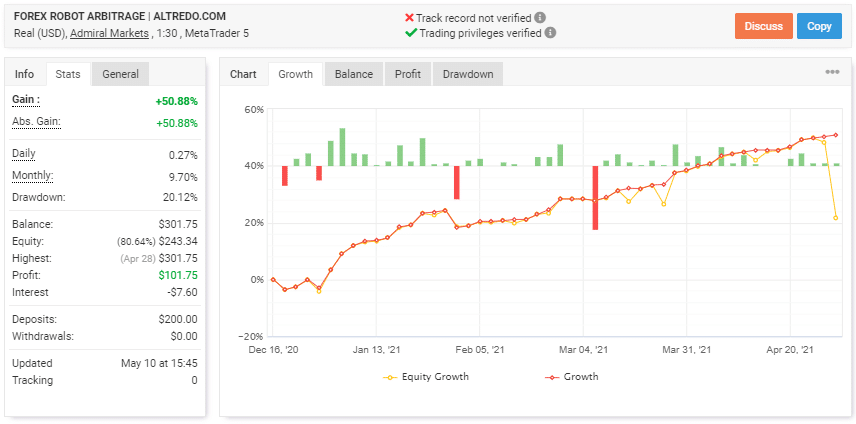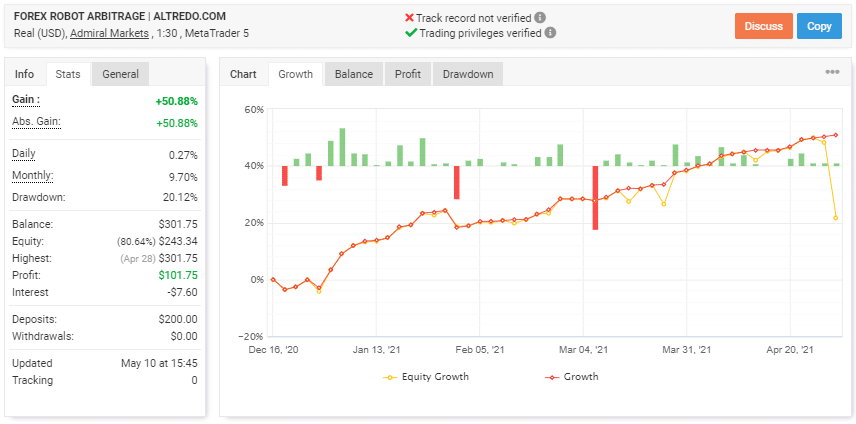 We have a real USD account on the plate that works on the Admiral Markets broker house. The robot works automatically trading with low leverage on the MetaTrader 5 platform. The developers manipulate data. So, there's no verified track record badge. The account was deployed on December 16, 2020, and deposited at $200. The absolute gain is +50.88%. An average monthly gain is 9.70%. The maximum drawdown has increased since our last visit to 20.12%.


The advisor executed 103 deals with 987 pips. An average win is 18.75 pips when an average loss is -30.88 pips. The win rate is equal for both directions – 81%. An average trade length is almost a day. The Profit Factor is 4.16.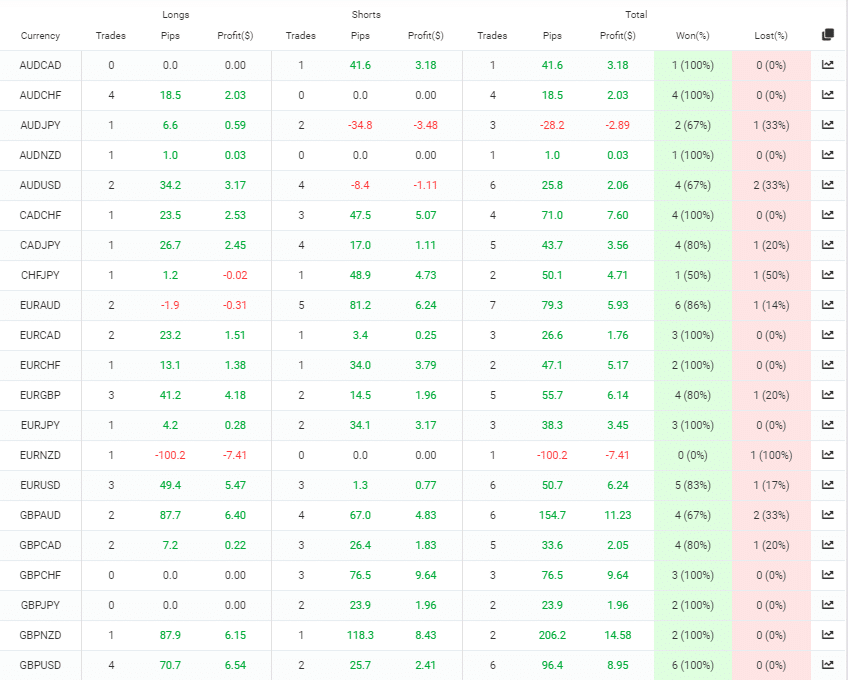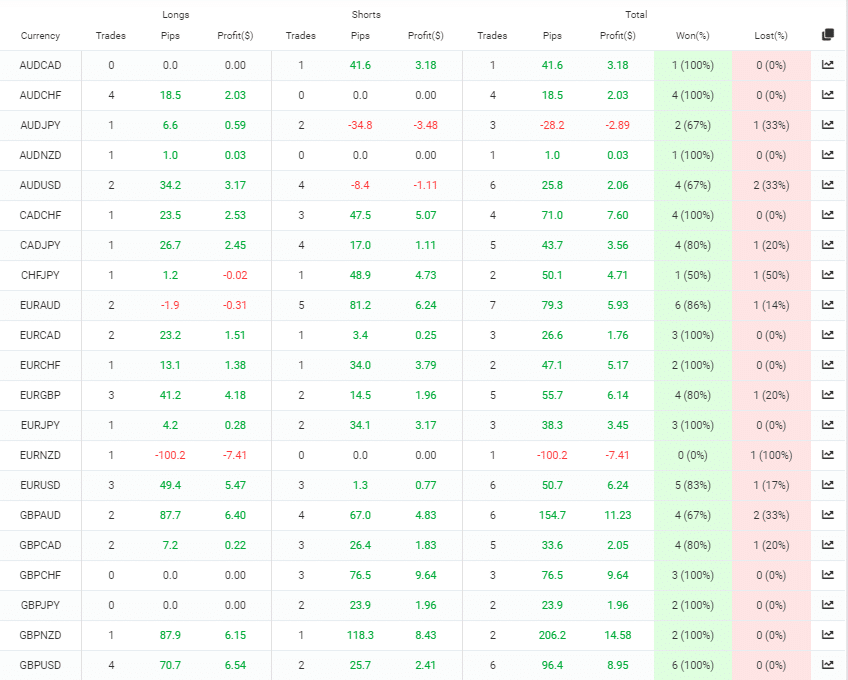 The advisor works with all available on the terminal symbols. There's no single currency pair that would be much ahead among others.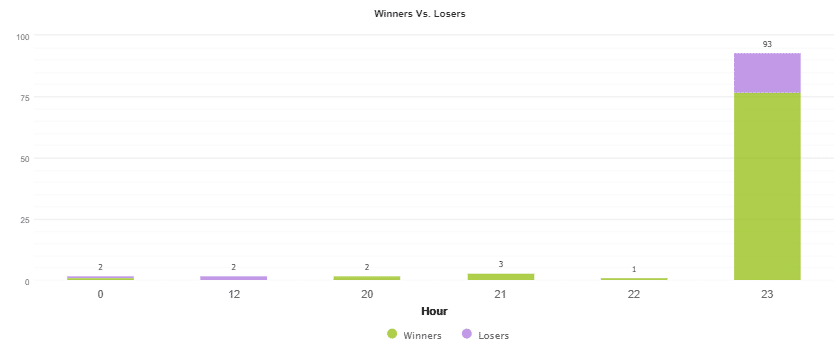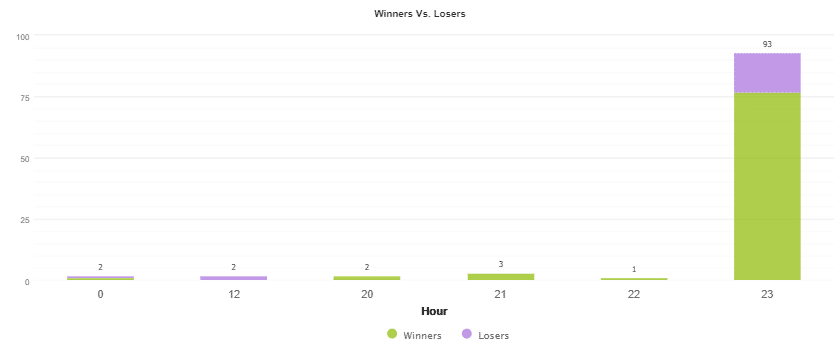 It executes orders mostly at 11 p.m. where many of the night scalpers work. Maybe, it's a scalper too, not an Arbitrage advisor.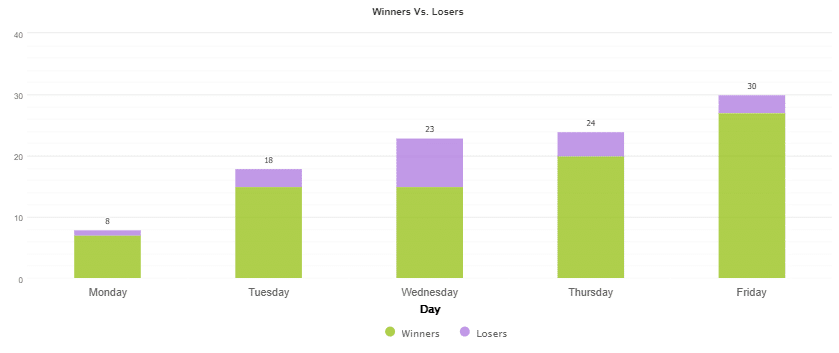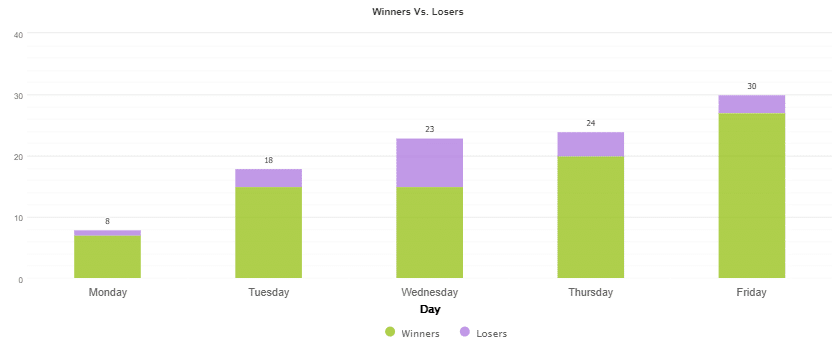 Friday is still ahead by open orders. It's dangerous to trade before Saturday Midnight. The reason is when the market opens on Monday it can simply go wild and force our deals to get closed by reaching Stop Loss levels.


The system works with medium risks. There should be 14 deals lost to lose 10% of the account.


The trading results are still not available for us. It is suspicious.


As we can see, in the middle of May 2021, we have no deals traded.
People feedback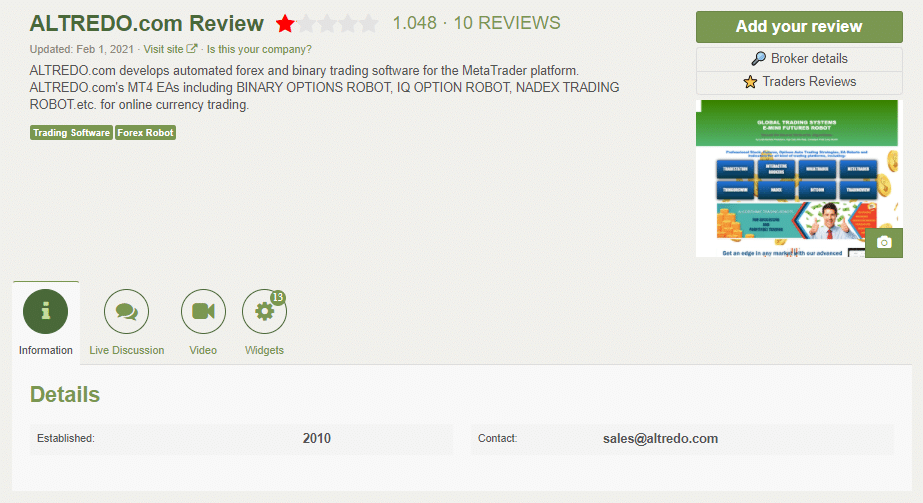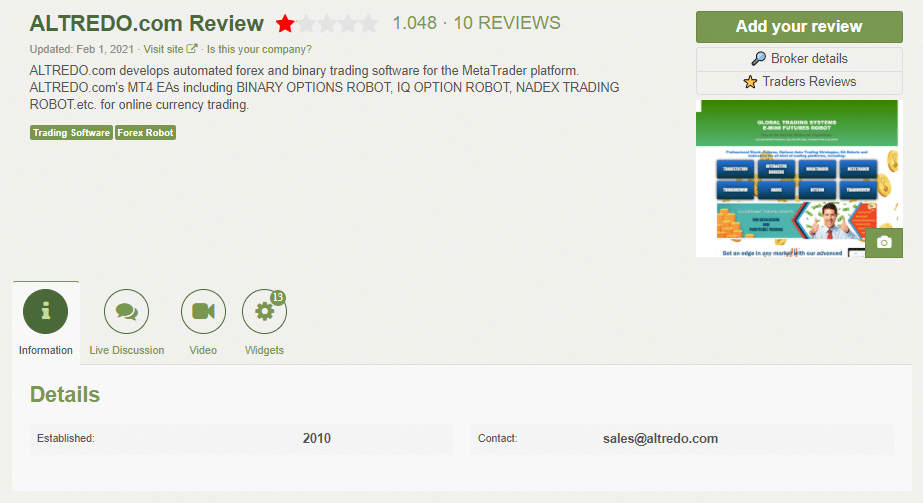 The company has a page on Forex Peace Army. The rate shows that based on ten reviews the company is an absolute scam.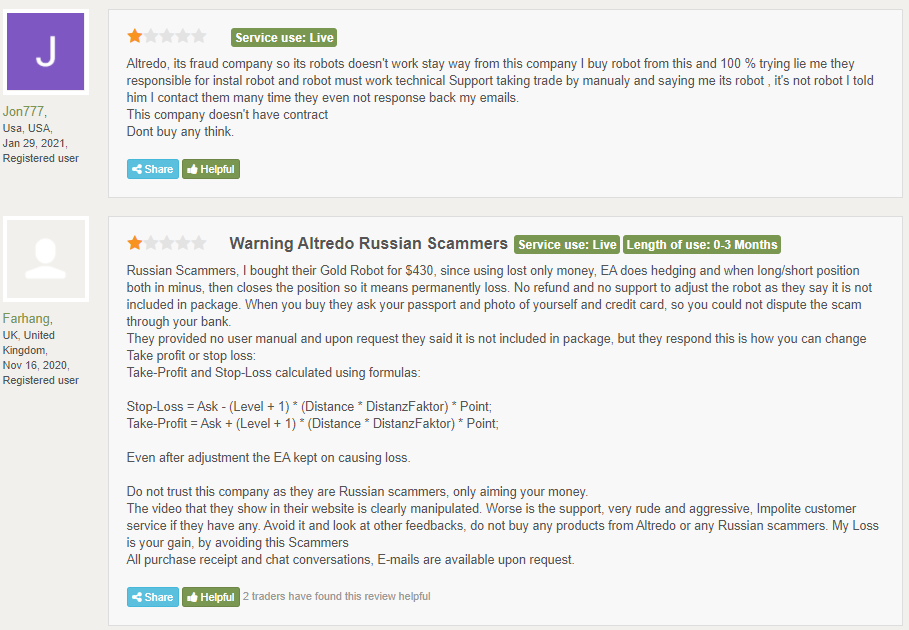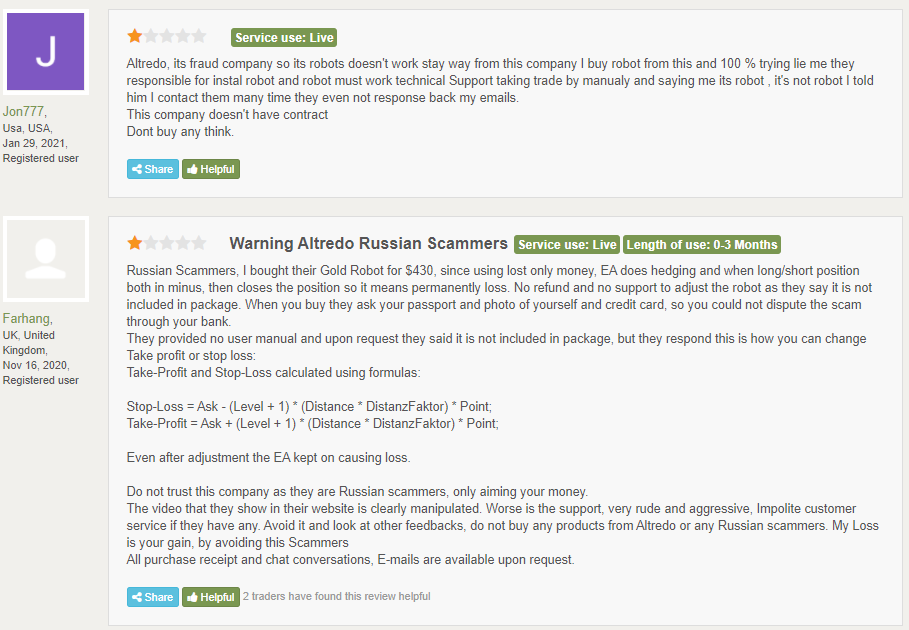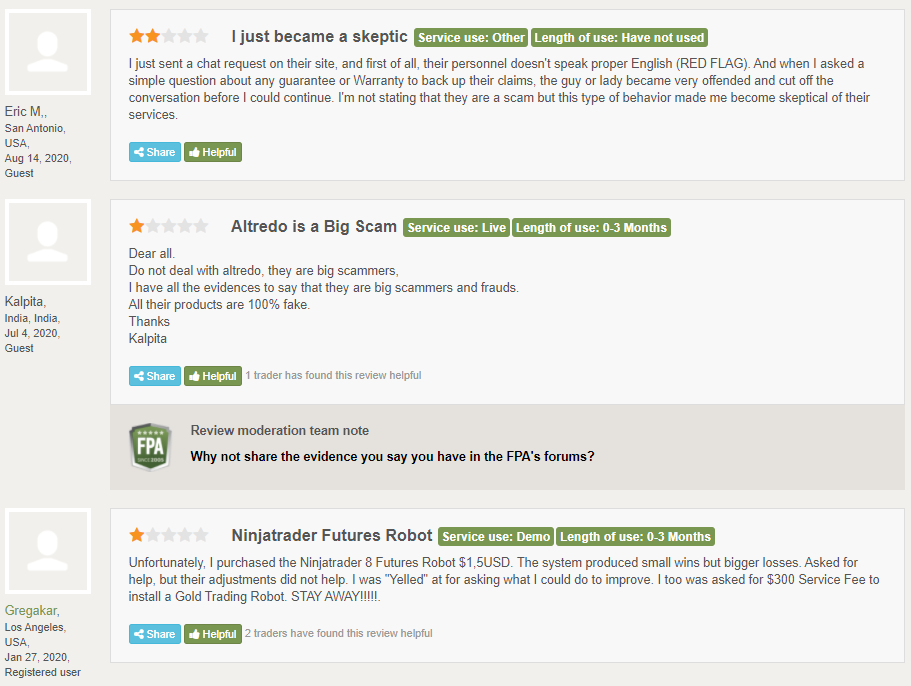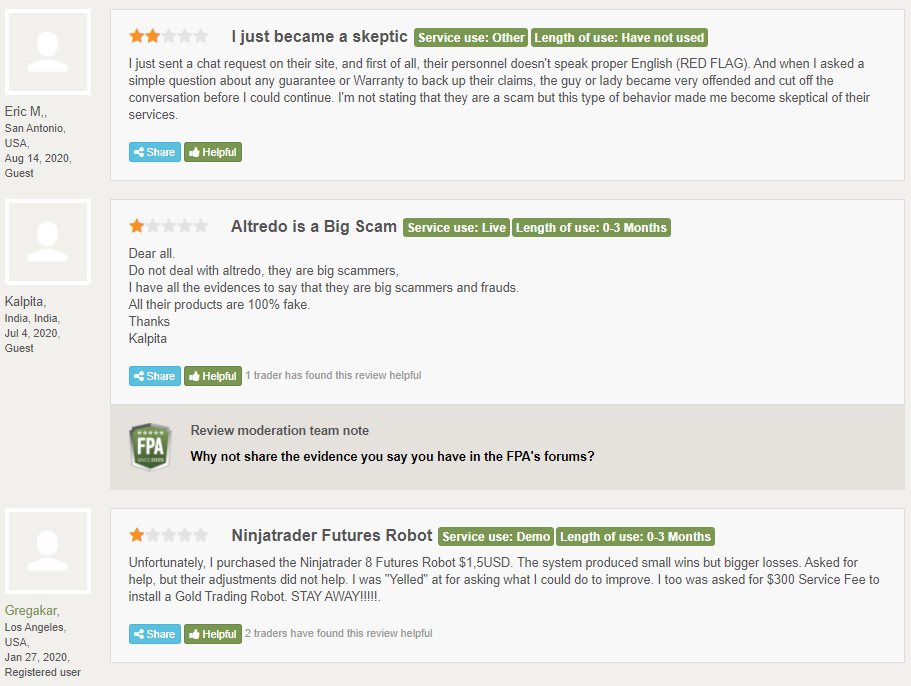 Trading all of them, we understand that there was no occasion when the client can't set the robot properly. They are just a bunch of scam trading robots.
Summing Up
Strategy – score (2/10)
Functionality & Features  – score (2/10)
Trading Results – score (2/10)
Reliability – score (2/10)
Pricing – score (2/10)
Conclusion
Altredo Forex Robots is a company that has around a 1-star rate on Forex Peace Army. It's almost impossible to get the rate that low if the advisors make some profits. There should be some positive testimonials and the total rate can be approximately 3 from 5. Trading results show that there's no Arbitrage strategy. The robot applies a Scalping strategy placing orders mostly at 11 p.m.