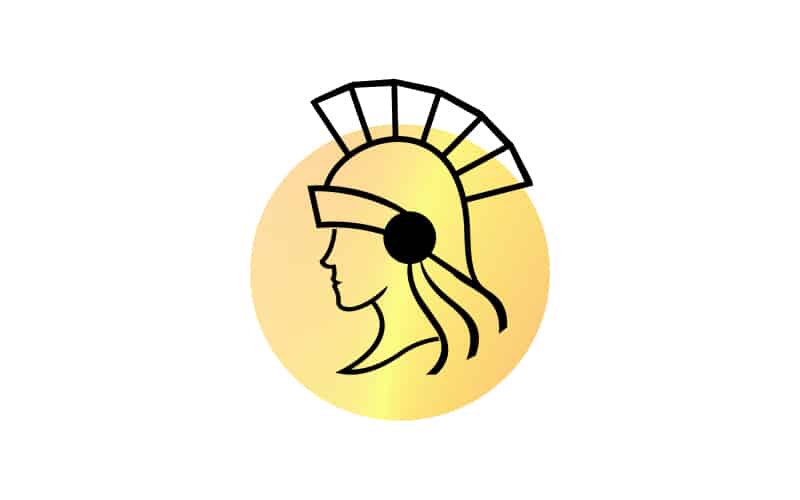 Athena EA is a fully automated expert advisor that uses a grid-trading strategy using price swings and price actions. The system is available using PAMM and account management and the providers do not freeze any capital, which gives traders complete control to withdraw at any moment. The developers claim that the product is user-friendly and easy to set up. We will verify these claims amongst others in this review to see if the said statements are factual.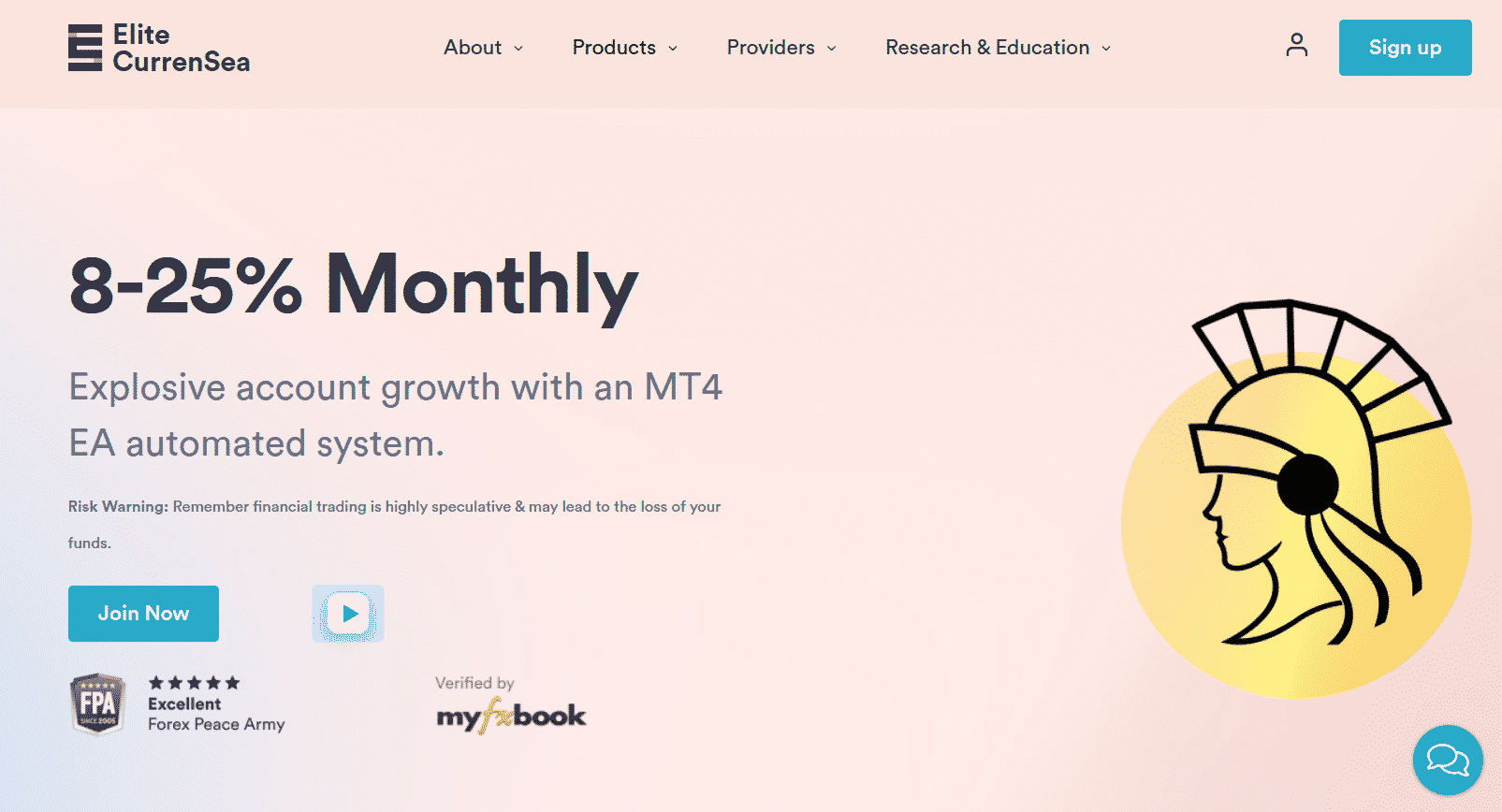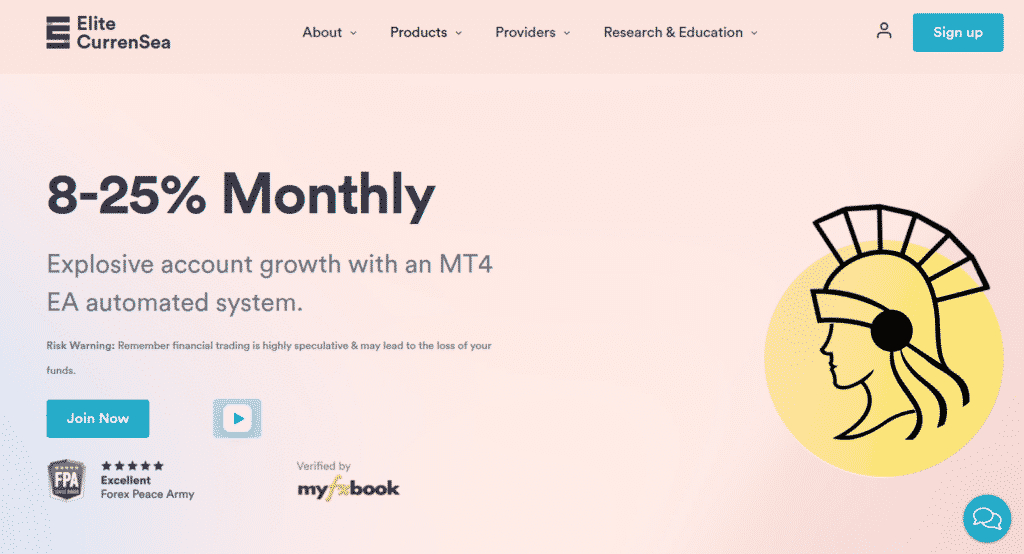 Is investing in Athena EA a good decision?
The algorithm comes without backtesting records. In addition, the company is not fully transparent on the strategy and there may be floating losses on the account. This makes it hard for us to recommend it as a good choice for investment.
Company profile
The parent company, Elite CurrenSea, sells Athena EA via both rental and managed account options. This brand was founded by Nenad Kerkez and Chris Svorcik in 2014. They offer a wide range of software, tools, marketing research, industry commentary, and event management services. They have many other products listed like Zeus EA, Portfolio ECS, Black Widow, and SWAT.
Unfortunately, they don't provide any certificates, credentials, or background information proving how they got into the trade and produced this robot. Potential customers can contact them through a live chat option or by email.
Main features
The indicator comes with the following main features:
It is 100% automated.
The system is straightforward to set up and use.
A risk-management system is embedded in the product.
It provides reports and maintenance services.
To install the EA, use the following steps:
Open an MT 4 account with the broker of your choice
Provide the authors with your account credentials
They will attach their robots to your portfolio on the VPS
Strategy
According to the developer the algorithm trades using technical analysis on EURUSD. It operates using two different EAs one opening buys and the other for the short positions. The minimum balance amount in your account should be €4000 with a leverage of 1:500.
From the live records on MyFxbook, we observe that they are using both averaging and martingale strategies. There is no fixed stop loss with each position and the take profit can range from 1-20 pips.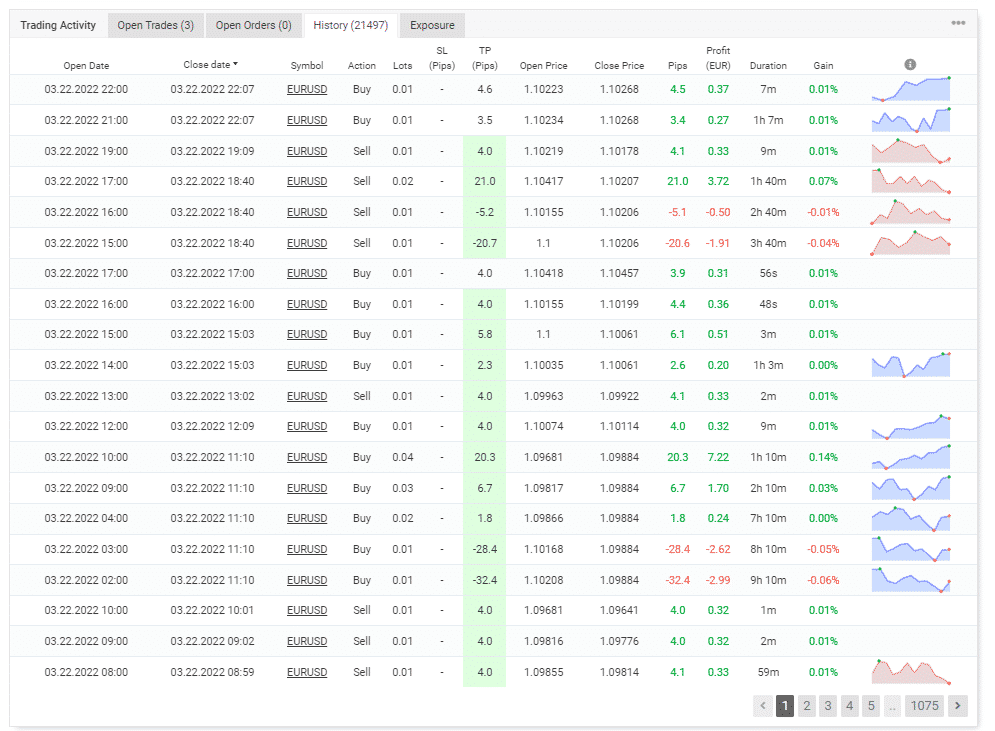 Price
The robot is available in four options: 799 Euros (Rental), 999 Euros (Lifetime), 499 Euros (Rental Sponsored), 0 Euros (Managed Account). There is no information visible about a money-back guarantee.
Profit-sharing is available only for the Managed Account option, and traders are obligated to split 25-35%. VPS is not required in the Managed package.


Trading results
The seller has not provided backtesting records. This points towards a lack of transparency and raises some concerns regarding the robot's performance with past accounts.
Live testing records of Athena EA are available on Myfxbook from January 07, 2021, till March 15, 2022. These are for the EUR currency with a 1:500 leverage on MetaTrader 4. These results show that the system has a monthly gain rate of 7.36%. The abnormal drawdown value of 33.73 % is observed which is due to the implementation of averaging and martingale. The initial deposit of 21,669.95 Euros has accumulated 17,190.99 Euros in profit.
Total trades are shown as 21,439. Out of these, 72% have turned out to be profitable. The robot has a high lot size of 756.81. The profit factor stands at 1.65. The average trade length is 5hrs 19mins.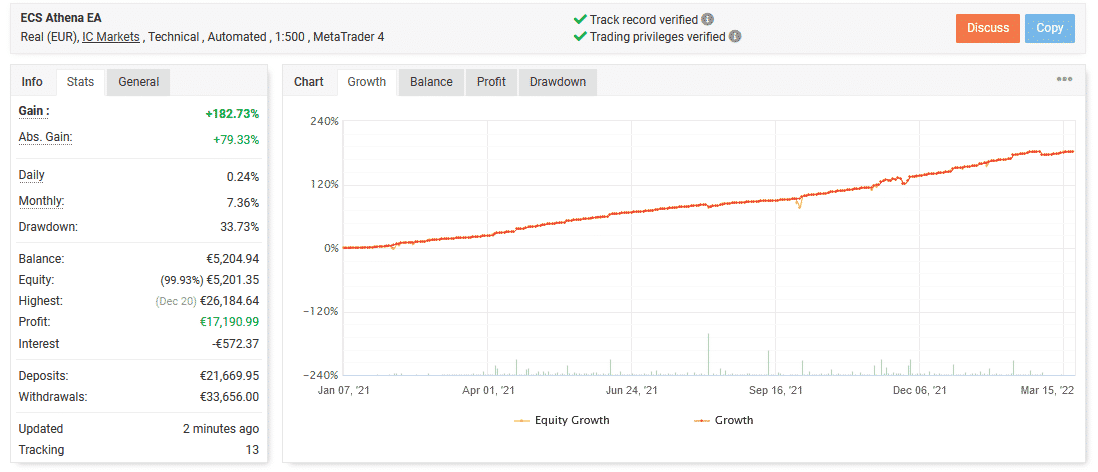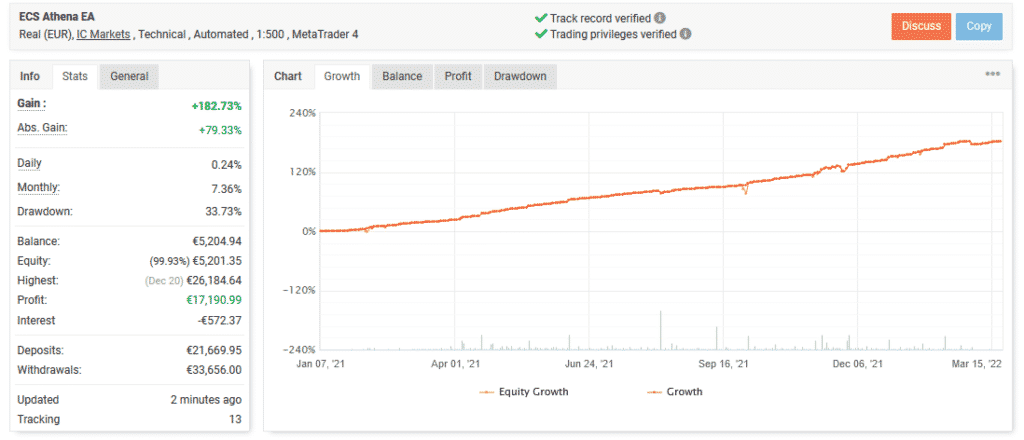 Customer reviews
The parent company behind the system, EliteCurrenSea, has a rating of 4.49 on ForexPeaceArmy. But the negative customer reviews within the list tell a different tale. A highly dissatisfied customer shows their resentment by describing how the robot's extremely high drawdown caused them to lose their money and blow their account. They advise you not to trust the seller or any of their EAs (including Athena EA).

Is Athena EA a viable option?
Advantages
Live trading results are provided
Disadvantages
Negative customer reviews
No money-back guarantee
No good information on the strategy
Summing up
Athena EA is not very transparent regarding the trading strategy used. The use of grid and martingale strategies has caused a high drawdown visible from MyFxbook records. Also, the product's live records show some negative stats that are not impressive.