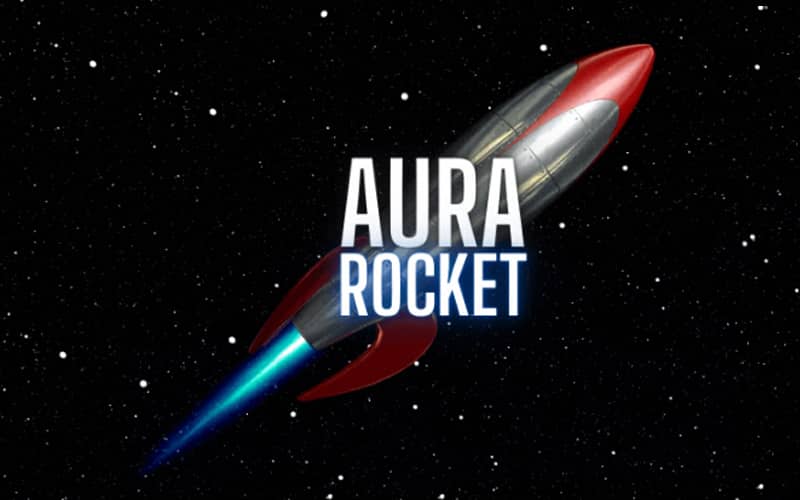 Aura Rocket trades on gold with a minimum deposit of $100 and is compatible with FIFO brokers. The algorithm has news, time, and spread filters to help avoid poor market conditions. The seller states that this bot is not very sensitive to broker conditions, but lower spreads would help get a better outcome. In this review, we will cover the pros and cons of this algorithm to help traders make a better purchase decision.
Is investing in Aura Rocket a good decision?
Aura Rocket is listed for sale on the MQL 5 website. The seller provides the viewers with backtests and live trading results that will allow us to gain better insight into the performance of this bot in a real-time environment.
Company profile
Stanislav Tomilov, a seller based in Russia, owns this robot. His MQL5 profile page shows that Stanislaw has a 4.2 star rating. However, he has held zero jobs, contradicting his high claims about a vast industrial experience of more than seven years. This vendor has 9 Forex products, 159 subscribers, and 17 signals listed for sale, like Aura Rocket, Aura Black, and Matterhorn.
To certify the vendor's profile information, this individual shows no credentials like diplomas, degrees, or certificates. When it comes to contact details, we could not find crucial info like a company address or a telephone number. This is a poor practice that reduces the level of trustworthiness.


Main features
The robot comes with the following main features:
It is compatible with the XAUUSD currency pair.
The system eequires a base deposit having a value of 100 USD.
It does not use martingale, grid algorithm, averaging, scalping, or arbitrage.
It uses a hard stop loss function.
To install the EA, use the following steps:
Purchase the system from the MQL5 website
Login to the MQL5 from your MT4 or MT5 platform
Download the robot and drag it to the charts
Strategy
Aura Rocket does not use any grid or martingale strategies as per the developer's statement. It uses a deep learning mechanism to find the optimal entries and uses a fixed stop loss for each trade. The history on MQ 5 records shows that the robot uses a trailing stop loss and opens positions on gold at the end of the hourly candle. The take profit trails further as the trade moves into profit.


Price
Lifetime access to the algorithm comes at a one-time price of 995 USD, whereas a three-month deal would cost 295 USD. Traders can also purchase a six-month and a yearly package coming at 445 USD and 595 USD. Payment methods include PayPal, Visa, MasterCard, Union Pay, etc.
There is no information about the availability of a money-back guarantee or 24/7 customer service. A free demo version is provided to prospective customers before buying buy the EA.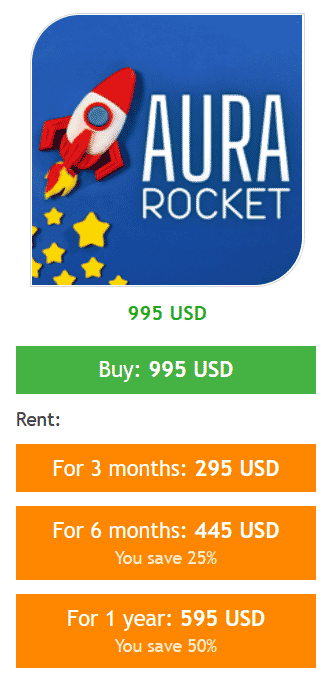 Trading results
Backtesting records of the system are given as screenshots from 2021 to 2022. The DD value was 17.58%, which is average, to say the least. The developer tested a total deposit of 1000 USD, which churned a total net profit of 2,886,686.62 USD. The recorded stats corresponded to a recovery factor of 8.50. The bot executed 305 trades, of which 95.41% were profitable. The worst trade numbers were trimmed from the screenshot, raising suspicions about transparency.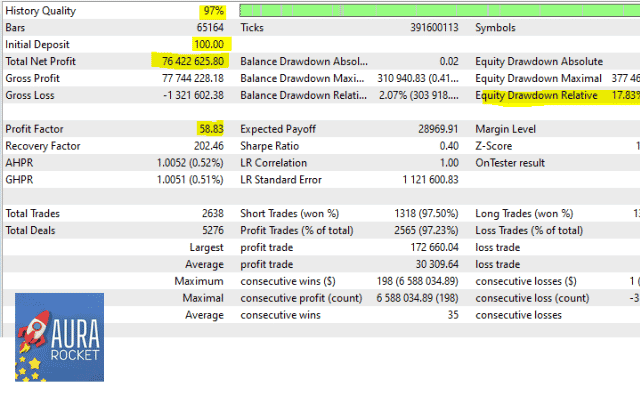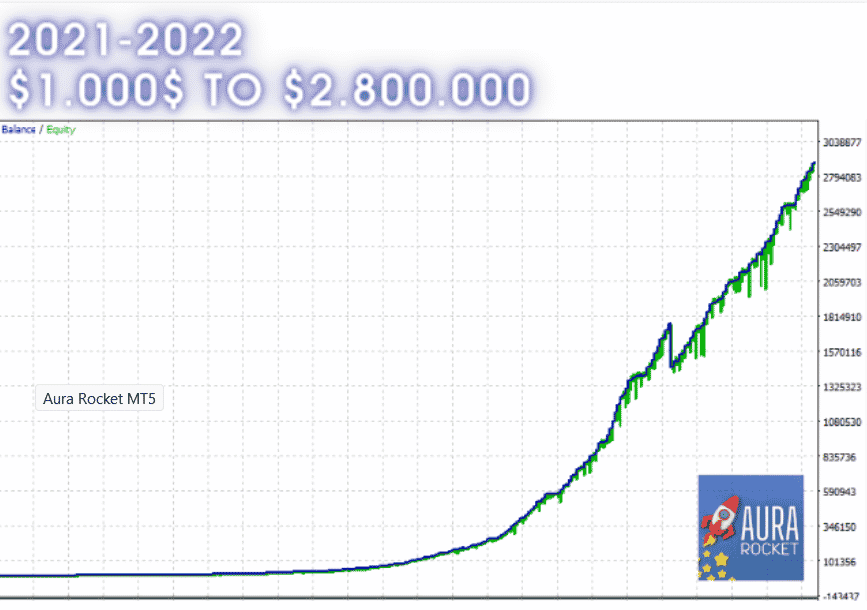 Live records for the robot are present on the MQL5 website. These are in the USD currency from 2022.05.12 till the current date.


The results show that the robot has a growth rate of 73.22%. Deposits have been stated as 100 USD, with profit value standing at 73.22 USD, which is not that substantial. A leverage of 1:500 indicates the use of a high margin. The robot has participated in 9 trades, with the best trade valued at 19.90 USD. The average holding time of the bot is 21 hours. The profit factor has not been reported, which is a poor practice.
Customer reviews
There are 23 reviews on MQL 5 about the Aura Rocket MT5, which give a rating of 3.83 to this system. However, customer dissatisfaction seems to be quite popular in these reviews. One angry customer states that the seller's products generate a lot of losses and burn accounts badly.


Is Aura Rocket a viable option?
Advantages
It is straightforward to install
Disadvantages
No clear information on the strategy
Slightly high drawdown
Lack of detailed backtesting statement
The Review
Aura Rocket is not very transparent in its backtests and live trades. There is a lack of vendor transparency regarding experience and contact information. The current drawdown of the EA shows that it can lose nearly 50% of the account's value while live.