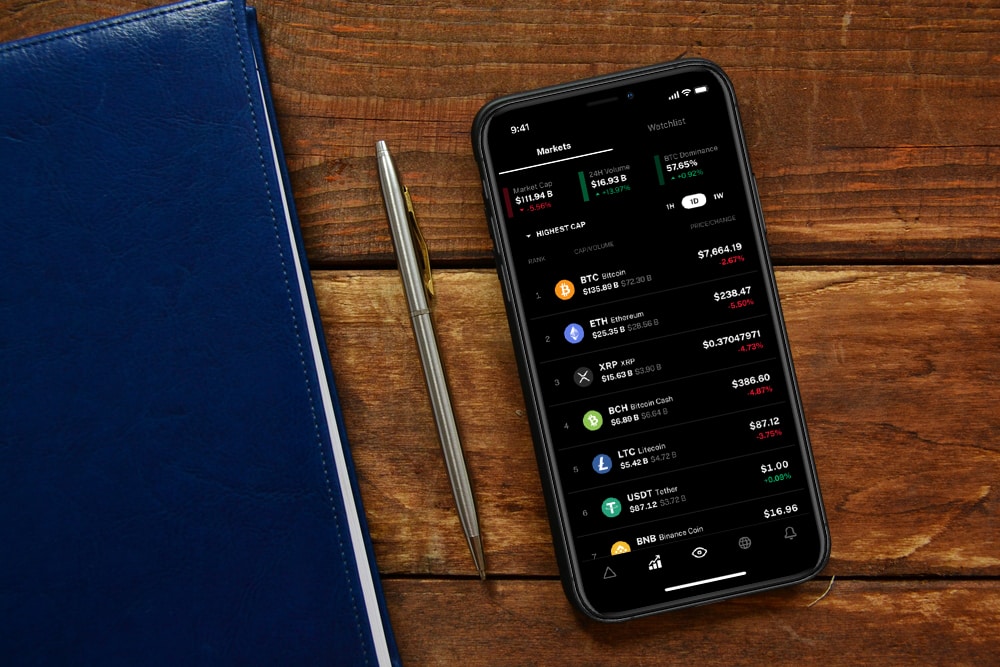 A crypto portfolio tracker is the easiest way to keep tabs on the price fluctuations of all your cryptocurrencies at any given time of a day. It might be tough to keep track of one's earnings and losses in the crypto market because of the necessity to have accounts at a variety of exchanges and perhaps even decentralized exchanges. In such a situation, a crypto portfolio tracker is useful. It's easy to keep track of your cryptocurrency investments with the best portfolio tracker applications.
What is a crypto portfolio tracker?
If you have a lot of cryptocurrencies, a cryptocurrency portfolio tracker can help you keep track of the total value of all of your assets.The best way to track crypto portfolio is to use credible apps developed by reputable companies.
Using these apps, you may keep track of past transactions, their value, and the locations or sources from which they originated. In addition, they display the current live value of all supported cryptocurrencies. Trading assets across several exchanges can be supported by some platforms. Use trackers with the right features to keep an eye on your cryptocurrency investments.
Investors and traders can make real-time decisions and adjust their portfolios with the help of the best crypto portfolio trackers available. To assist customers in making timely decisions about their cryptocurrency holdings, most include extensive charting and value forecasting tools.
How do crypto trackers work?
Various crypto portfolio tracker apps exist, each with a unique set of capabilities and a unique way of doing things. In the past, to keep track of the value of your current holdings and price in real-time, most wallets allowed you to add in any wallet addresses, regardless of the blockchain that hosts the wallets.
The best crypto tracker applications may feature API connectivity with exchanges and other wallets. As a result, users may now automate keeping a close eye on all of their crypto assets' values. There are a variety of trackers accessible for both mobile and desktop platforms.
They may have additional features such as the ability to trade, monitor other investments, and more.
Why do you need a cryptocurrency portfolio tracker?
One of the main advantages of using a crypto portfolio tracker is that it simplifies the process of keeping track of your investments. The best crypto portfolio app simplifies the process of understanding and assimilating your financial data.
A crypto portfolio tracker gives crypto investors insight into how the assets they hold, invest, or trade are performing and gives a clear understanding of whether it is in alignment with their long-term financial goals. Also, you can track your portfolios manually or connect your exchanges and wallets for automatic sync. Good crypto portfolio trackers empower investors to branch out and pursue diversification without getting overwhelmed or losing track of all their various coins.
How to choose the best tool for tracking your cryptocurrency portfolio?
When choosing a tracker that's best for you, consider important factors that relate to your needs. For instance, you need to decide whether you want a desktop and/or mobile access. Also, you should decide if you want to track crypto-only or other investments like stocks or property and whether you want to trade from your tracker or just view your assets. Below are the specific key factors that you should consider: Hence, a good tracker does not just know how to track cryptocurrency, but should meet your trading needs.
Safety and security
Security is paramount for any application that tracks your financial assets. Therefore, you should ensure that your tracker has an excellent track record on security. You should research to find out if it has ever suffered security breaches in the past. Also, you should go for platforms with multi-layer security features such as two-factor authentication and multi-sig functionality.
The best crypto portfolio tracker should make it easy for you to have a clear view of your asset allocation and how they are performing in the market. Therefore, you need an intuitive user interface that you can easily navigate, complete with essential tools that can help you in your market analysis. The bottomline is that even if you use the best crypto tracking app with all the technical abilities but with poor UI, you may not benefit much.
Many coins and exchanges supported
There are thousands of cryptocurrencies in the market currently. This creates diversity that enhances your chances of profiting, even when the market is in a slump. Therefore, the more assets a crypto portfolio tracker supports, the better. Similarly, an app that integrates with multiple exchanges offers a better user experience. Also, it ensures that you can track all your assets using just one app instead of installing multiple apps.
Cross-platform compatibility
It is essential that you use a crypto tracker that is compatible with different networks/blockchains. This will ensure that you won't have to install multiple apps. For instance, with the best crypto portfolio apps, you will have a better user experience, keeping track of all ERC-20 tokens, Solana, and BNB assets using a single app.
Customer support
A good crypto portfolio tracker should have reliable developer support. The developer should clearly state the communication channels available such as email, chatbot, telephone, or any other channel. Ideally, customer support should be available around the clock and in multiple languages.
Synchronization across different devices
The crypto market is a 24-hour market, and trading goes on seven days a week. Therefore, you need a portfolio tracker that is flexible and adaptable to different needs. There are mobile and desktop apps, but some trackers don't offer both options. You are better off with a tracker that offers both desktop and mobile options without compromising on quality.
Integration with other tools
If you want a portfolio tracker that does more than track the market performance of an asset, it is essential that you choose one that integrates powerful analysis tools. Such tools may include charting tools, price alerts, and exchange integration.
Other things to consider
Besides the factors above, there are additional factors that should help you make an informed decision. Customizable access rights are available in many crypto portfolio trackers, allowing you to keep your data safe. If you are unable to automate the process by linking your accounts to the tracker, you can opt to do it manually.
A tracker that supports fiat currencies has an advantage over a crypto-only tracker. Also, you should consider the types of credit/debit cards supported. Additionally, if a tracker integrates with market indices, it gives you a better market reach. The market liquidity of the cryptos tracked is also paramount because it determines how easily you can trade your crypto. Therefore, a tool that knows how to track cryptocurrency while giving the most detailed assessments can help you improve your market analysis and profitability.
The best crypto portfolio trackers
A good portfolio tracker for cryptocurrencies allows you to monitor the current value of all your digital assets in one location, regardless of how many different exchanges, wallets, or accounts you may have. We assessed several portfolio trackers by analyzing their capabilities based on the criteria discussed above. By combining these factors, we narrowed it down to the following trackers.
Blockfolio
This platform has been available since 2014 and integrates with over 15 leading exchanges. The application allows users to buy and sell cryptocurrency with no transaction fees. The application offers extensive customization options as well.
Furthermore, by limiting the quantity of news you consume in the crypto market, you can extract much more useful information from all of the noise. In terms of cryptocurrency and crypto exchanges, Blockfolio provides incredibly comprehensive support. The app will enable you to track your crypto holdings if you own a crypto asset or trade on a regulated exchange.
Key features
The app is compatible with both iOS and Android devices.
Offers convenience of a mobile-based app.
Provides you with the final coin value.
Coin charts are available to users.
Price increase alerts are available.
You can get updates from the coins you are tracking and read the news.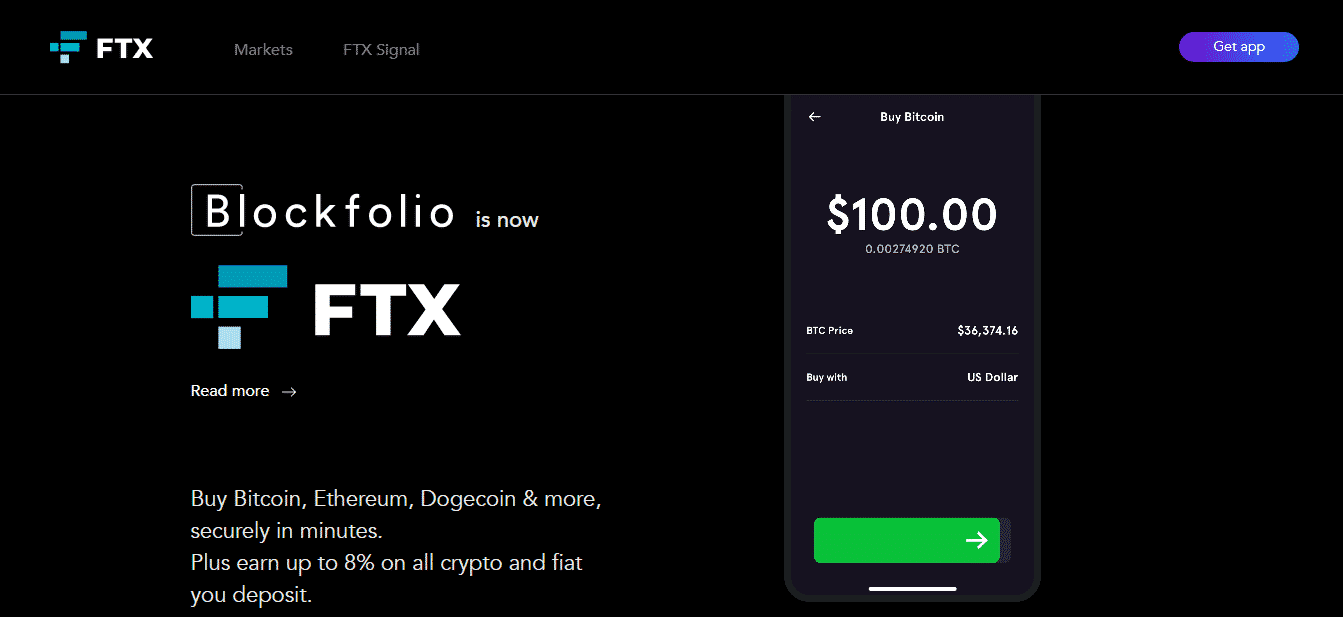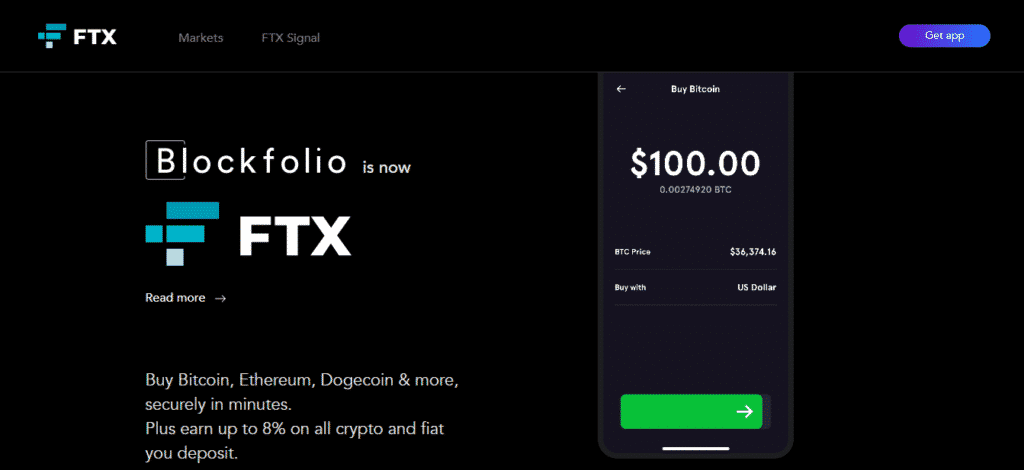 Pros
You can buy and sell crypto directly from the app without paying any fees
Customization is possible to a great extent.
With Blockfolio Signal, users can always be on top of the latest crypto market developments.
There's a possible synchronization with multiple exchanges.
Supports 10,000+ crypto assets.
Cons
Synchronization is not possible with non-custodial wallets
In general, Blockfolio Signal avoids negative news about coins
Mobile devices are currently the only available platforms
Uses software that is not open-source
Delta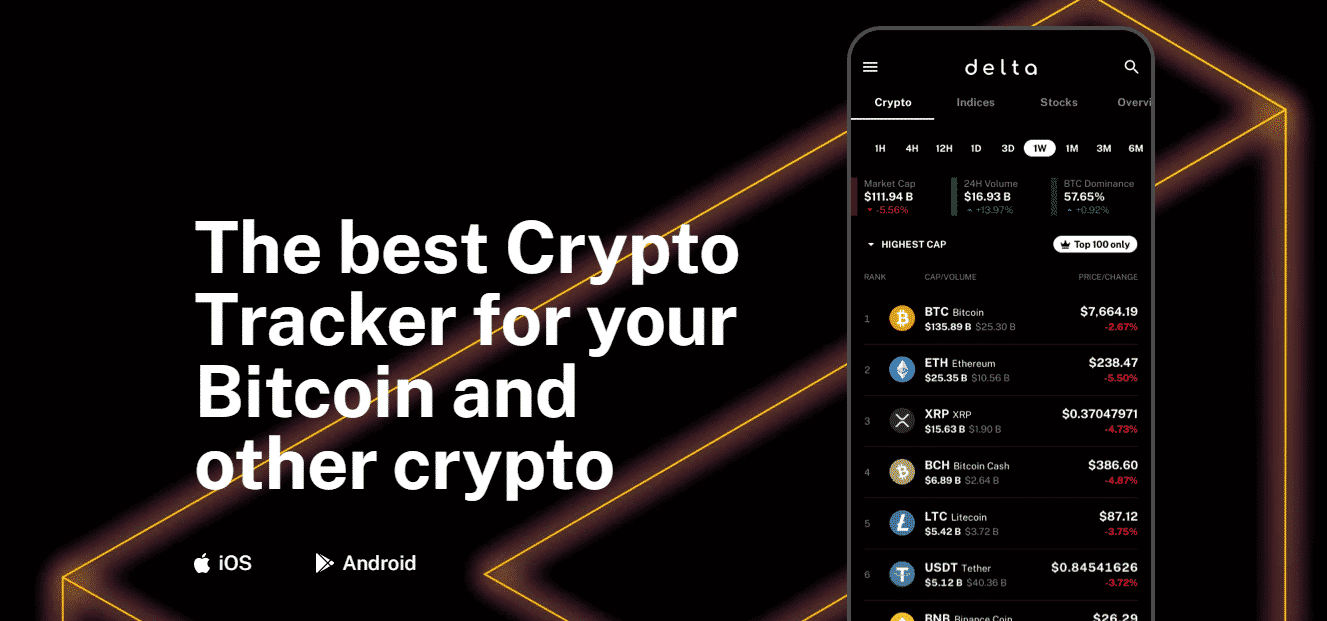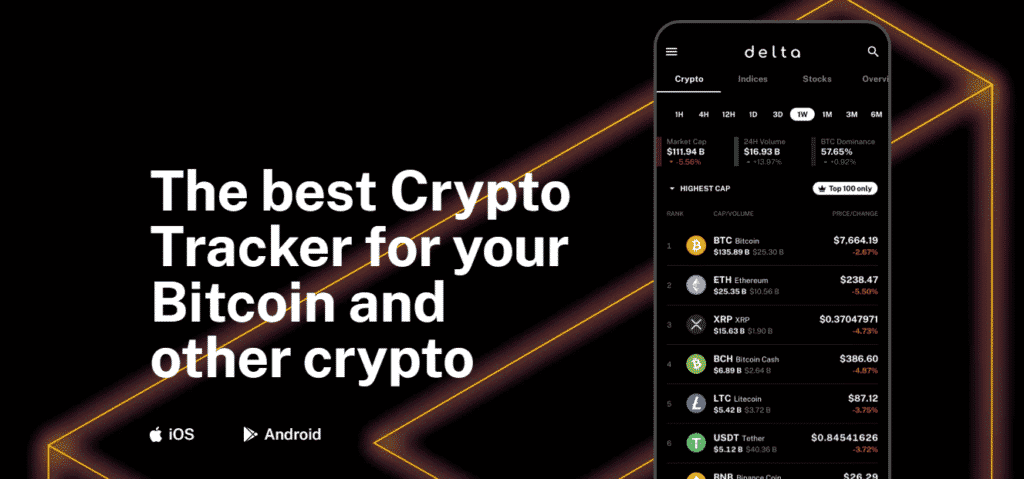 The Delta app can be downloaded on iOS and Android devices. A "dark mode" that may be used by people with vision impairments and low-level lighting is an excellent feature of Delta's design. More than 1 million people use Delta, and it supports more than 3000 different crypto assets. In addition, Delta keeps track of trading fees and provides assistance with ICOs.
Since its launch in 2017, the developers behind the platform have continued to add new features and simplify the tracking of one's cryptocurrency portfolio. As with many popular apps on the app store, Delta is also beautifully designed, and it comes with a simple interface.
Key features
Those using the Android Early Back program pay $70 to $80 annually, while those using the iOS version pay $60 to $70 per year.
It monitors more than just crypto assets.
It keeps track of trading fees.
This app provides a dark mode, which is good for low lighting conditions to assist visually impaired users.
Paid and free versions are available.
Pros
It integrates 300+ cryptocurrency exchanges.
The app is continuously updated.
It keeps track of both your traditional assets and crypto portfolios.
There are many great features in the free version.
Strikingly attractive design.
The Delta Direct platform allows crypto token developers to communicate with their users.
Cons
The app does not support trading.
It may be worth it for most to purchase the Pro version of the app.
CMA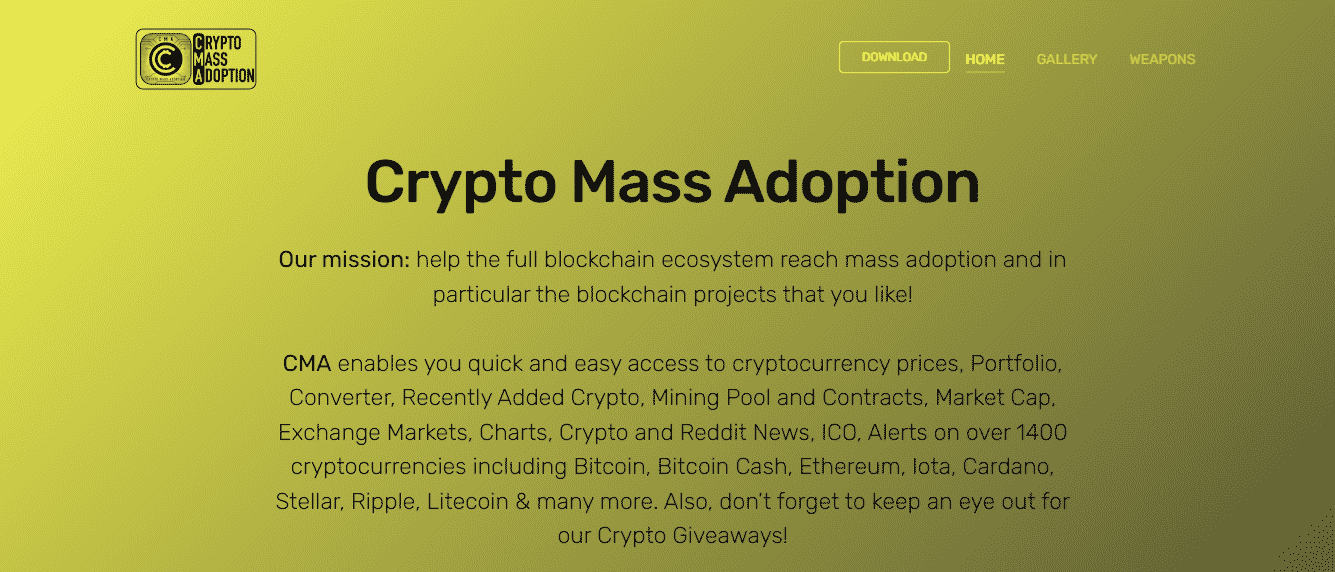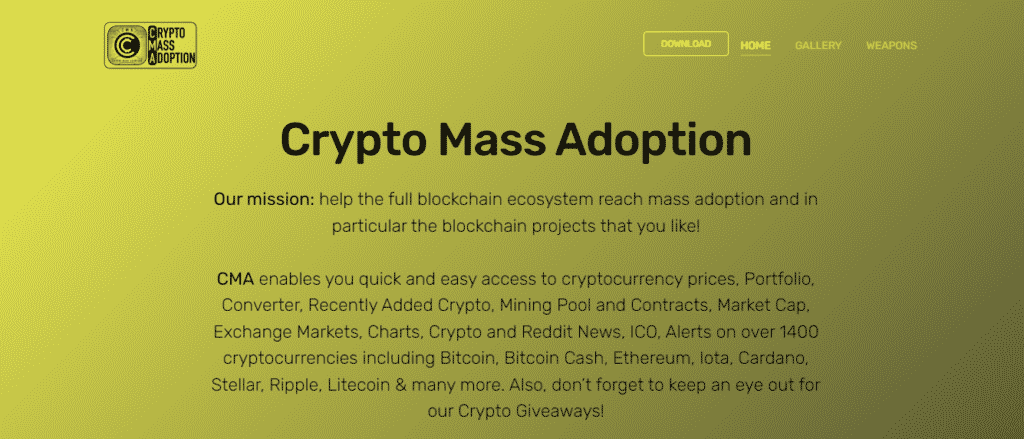 More than 1400 cryptocurrencies are available directly through CMA. It also integrates with multiple exchange platforms. Its user-friendly interface enables you to rapidly access cryptocurrency prices, portfolios, converters, mining pools, Market Caps, Exchange Markets, Charts, etc.
Key features
It supports more than 1400 cryptos.
It has an in-built converter.
There is a news feed feature.
It supports access to mining pools.
Pros
Mining pools are available to users.
Simple and easy to use.
It provides support for multiple blockchain protocols.
Cons
It has a limited number of crypto coins.
BitUniverse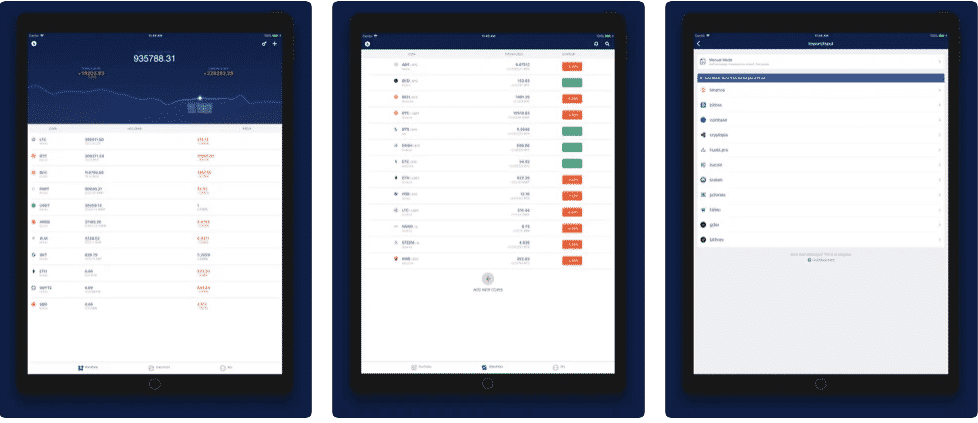 The BitUniverse platform lets users view their entire portfolio from one interface. In addition, clients can view real-time data from their exchange or wallet. Your crypto investments are clearly displayed, along with the current portfolio and the return on investment over time.
After linking your exchange to BitUniverse, it'll sync your exchange automatically. API keys allow you to keep tabs on your investment portfolio and net earnings. Also, API connectivity enables the extraction of asset and transaction data. Remember that data is read-only, which makes it secure. Assets within wallet addresses are also subject to the same principle, which is a characteristic that cannot be found on comparable platforms. As well, BitUniverse offers support for over 20 cryptocurrency exchange platforms and wallets.
Key features
It has crypto price alerts.
There is a mobile app for iOS and Android.
It integrates with 150+ exchanges.
Pros
Features support over 2000 cryptocurrencies.
The interface is intuitive.
It provides asset market price updates every 2-4 seconds.
24/7 support via Telegram.
Cons
Trading on paper is not supported.
Koinly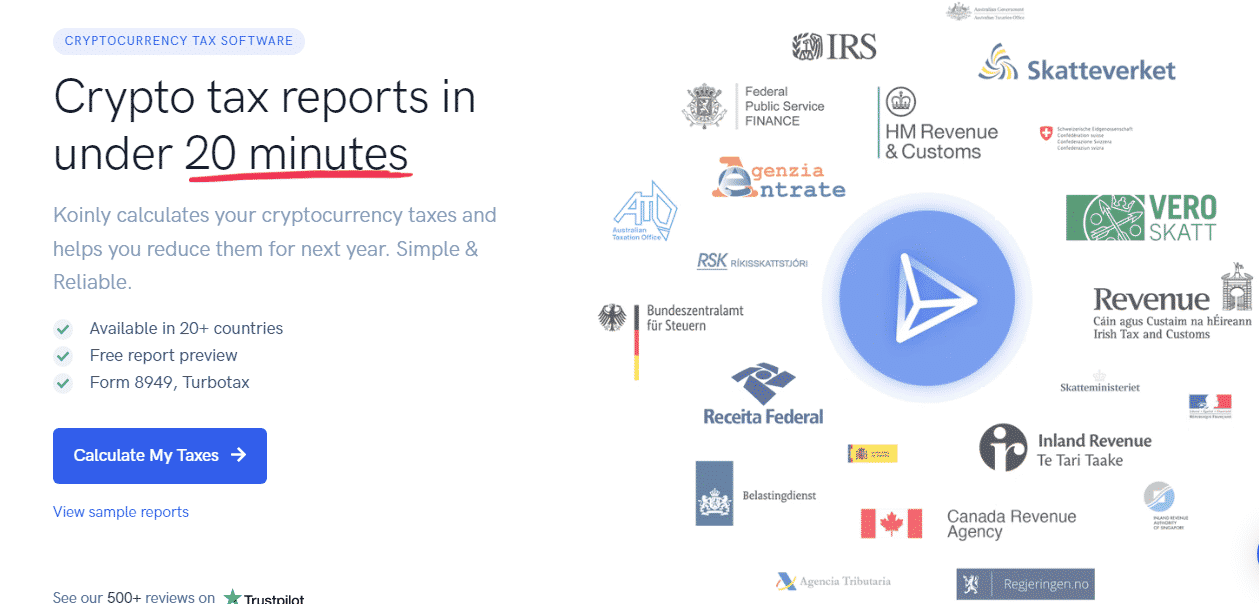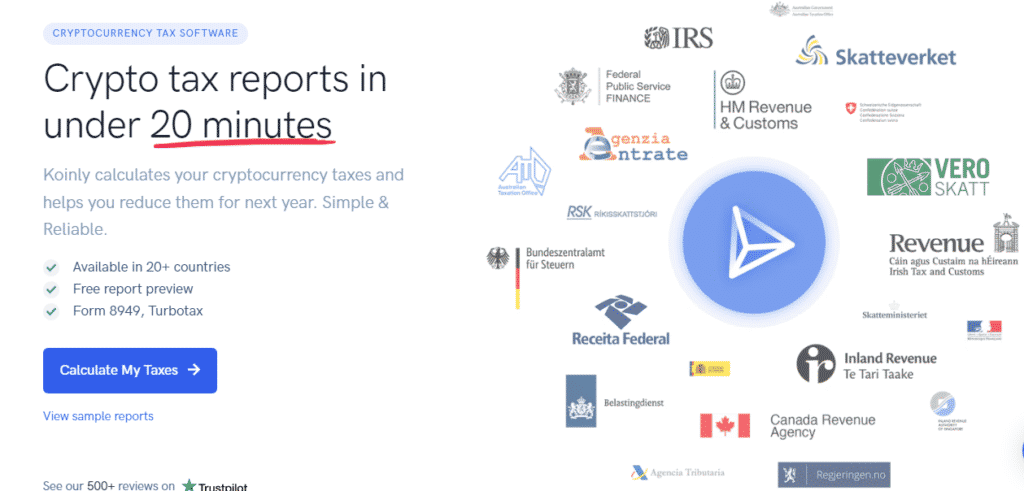 Koinly helps you automatically calculate your crypto taxes and generate tax reports. Koinly is a great choice if you're seeking complete crypto tax software that can save you time and headaches. The fact that taxpayers from around the world sets use Koinly sets it apart from the competition. There are already more than 20 nations where Koinly is available. As soon as you relocate, Koinly creates localized versions of your tax documents, so it's not just recalculating some random numbers.
Key features
It automates the creation of tax returns.
Support is available for over 350 different exchanges and wallets.
It offers support for over 20 countries across the world.
The price starts from free to $49 for the Newbie account, $99 for the HODLer account, and $179 for the Trader account.
Pros
Affordable premium plans.
It's Integrated exchange and wallet services.
There is the ability to file foreign taxes.
Cons
It is not possible to harvest tax losses independently.
It does not include tax reports in the free plan.
Coin Market Manager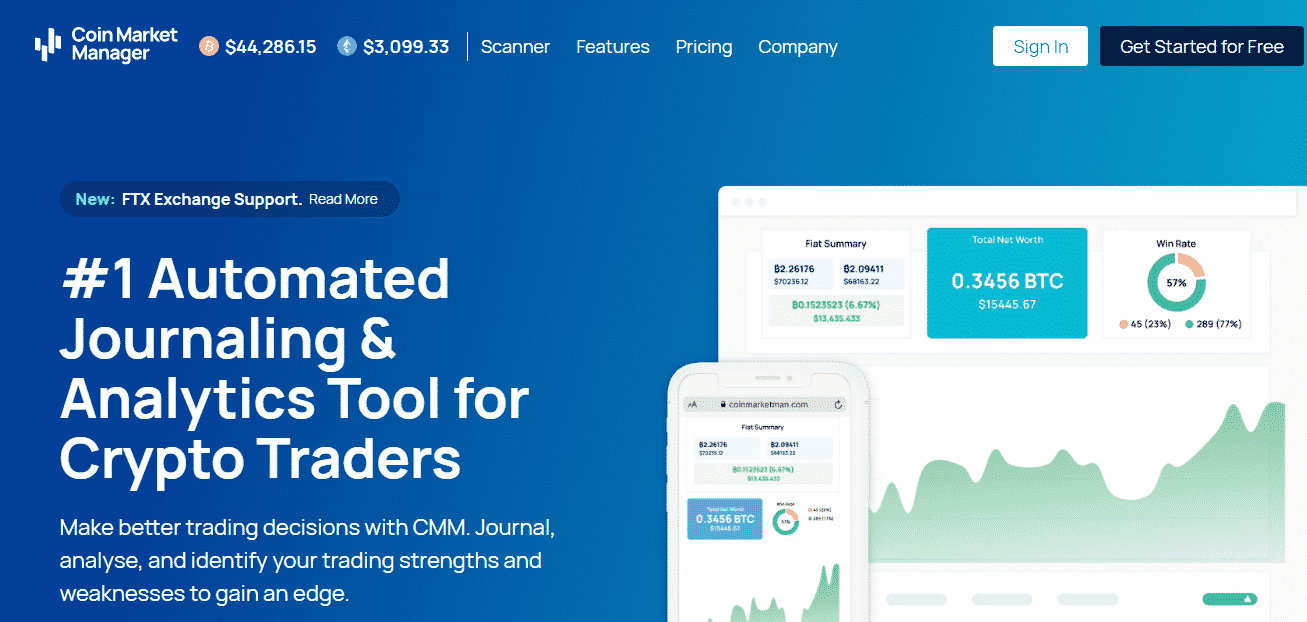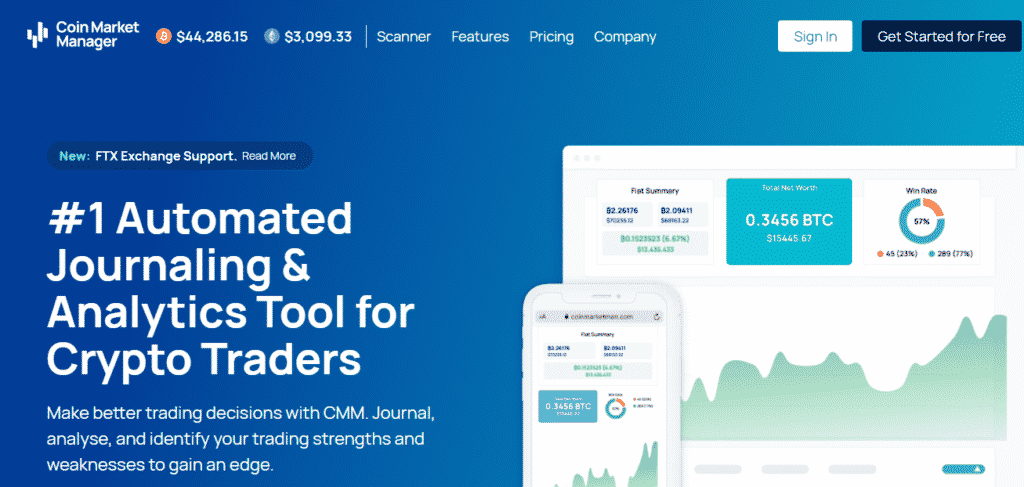 Super-active traders will benefit most from the Coin Market Manager app's features. You can easily connect with your favorite exchange, manage all your accounts in one location, and import your trade history with this tool. After your CMM trial term ends, you'll be able to use CMM Unlocked for free for the rest of your life.
There are two months' worth of free service if you pay annually. This platform supports a wide range of exchanges and assets. CMM's automated journaling records all trades, making trading easier for you. Tracking and analytics are also available to monitor trading actions.
Key features
There's automated journaling for a seamless experience.
You'll pay $49.99 a month for the Professional plan, while the Enterprise plan costs $59.99 a month.
Trade history breakdowns and performance statistics are part of its extensive analytics.
It has a unique verification page and URL for each member.
Pros
Convenient tracking of transactions.
It provides up-to-the-minute market values and statistics.
You'll be able to see all of your current positions in one spot.
There's an in-depth look at trading history.
Cons
It only supports a limited number of exchanges.
It lacks a mobile app.
CoinTracker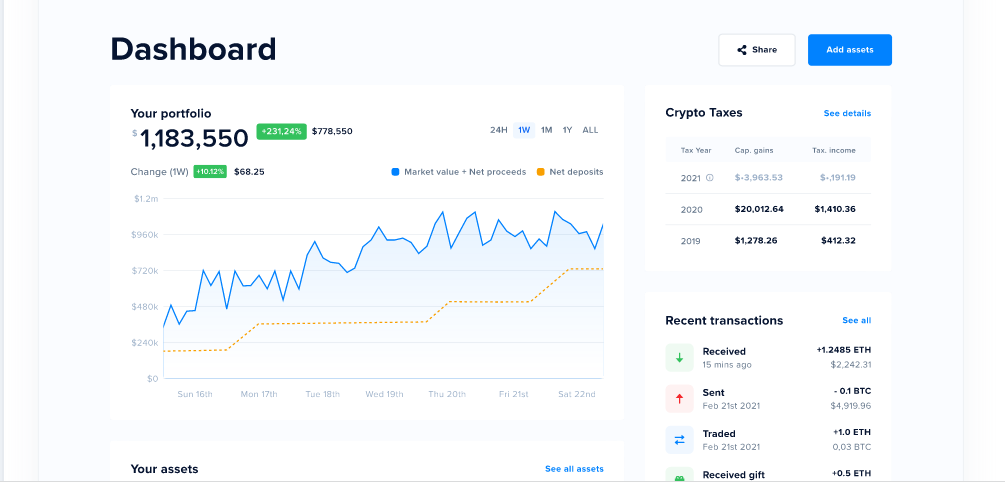 A number of prominent investors have contributed to CoinTracker since its inception in 2017, including Accel, General Catalyst, Initialized Capital, Y Combinator, and 776 Ventures. Also, many of the most popular cryptocurrency exchanges have chosen CoinTracker as their exclusive tax partner. The list of institutions affiliated with this platform should tell you that there aren't many CoinTracker alternatives out there.
With CoinTracker, you can keep tabs on the progress of your crypto investment portfolio over a specified time period. Additionally, it gives a detailed breakdown of the performance of each coin. Tax-loss harvesting is another option available to you.
In order to keep track of their whole cryptocurrency portfolio, CoinTracker allows customers to do so across exchanges and wallets. Therefore, users can see their market value, the performance of their investment transaction history, and tax obligations. Using this platform, crypto investors can save tens of thousands of dollars each year by keeping an eye on their taxes all year long.
Key features
It supports the filing of annual taxes.
It's available on the web, as well as for iOS and Android devices.
Users can easily export their CSV files for portfolio management.
There are three tiers of membership: Basic, which costs $59 a year; Hobbyist, which costs $199; and Premium, which costs $299.
Pros
It provides up-to-the-minute values and market statistics.
It has a journaling toolset.
It keeps track of trading history.
Cons
The platform does not support trading.
It lacks a mobile option.
It integrates with a few exchanges.
Accointing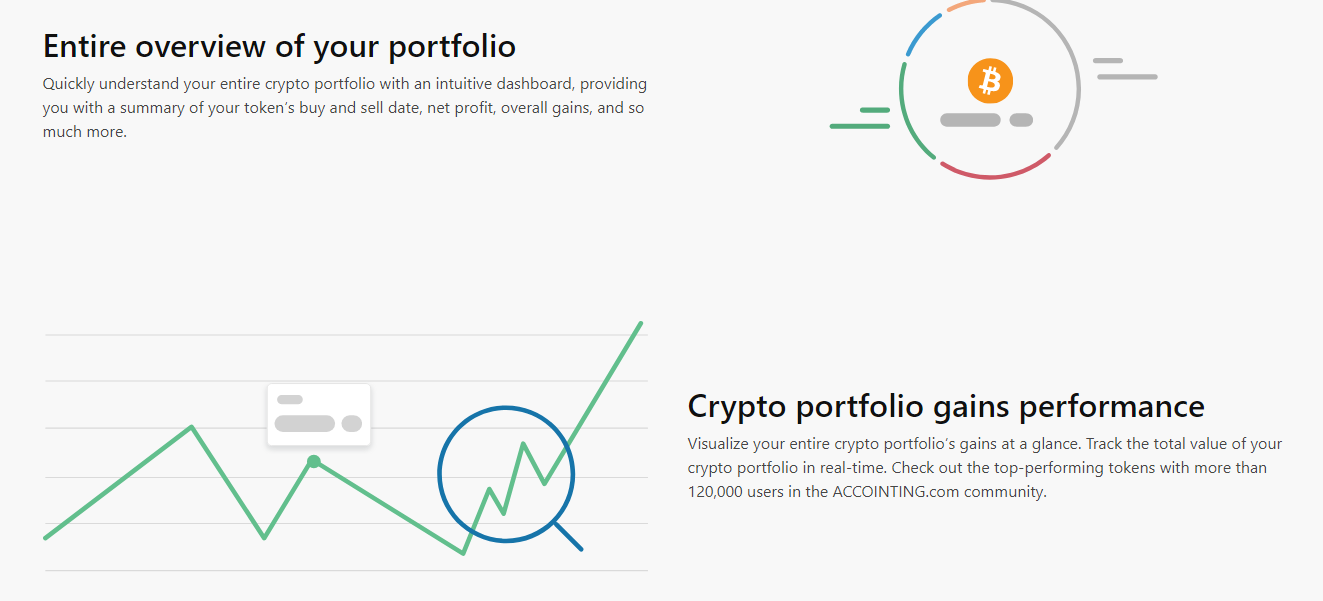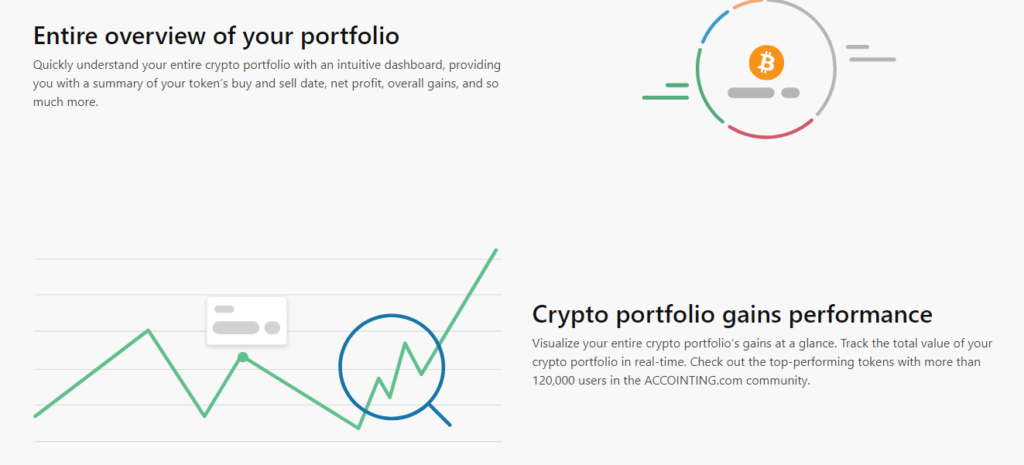 To keep track of your crypto investments and prepare tax records, Accointing.com is an excellent solution. Additionally, it has an intuitive, user-friendly mobile version for iOS and Android devices, making it one of the best desktop crypto portfolio trackers for novices. Also, it supports more than 300 wallets and exchanges. A user-friendly dashboard provides an overview of token purchases and sales, as well as a breakdown of the total gains and losses.
Key features
Depending on the plan, the price ranges from $0 to $299. (Free, Hobbyist, Trader, and Pro)
Crypto tax calculators and a portfolio tracker are available to assist you in filing your taxes.
Pros
It's a useful and easy-to-use crypto tax calculator.
Platform and dashboard are easy to use.
Currently, there is a free version of the service.
Portfolio and price notifications.
Cons
Some wallets and exchanges require manual entry of data.
Kubera


This app acts as a single point of access to all your financial assets making it an excellent tool to track crypto portfolios. That makes it a great choice for users seeking to have all their assets in one location. It has great asset-tracking capabilities, which go beyond cryptos. In order to get an accurate estimate of your net worth, Kubera tracks your cryptocurrencies and NFTs, as well as other assets such as credit cards and home values.
Using Kubera, you can instantly track the value of your cryptocurrency by adding the proper stock tickers to your dashboard. Data entry into Kubera's interface is relatively easy, and you can do it via a spreadsheet-like interface. A second option is to use APIs and backend software to connect any digital account in a matter of seconds.
Key features
Interfaces with more than 20,000 banks
Multi-wallet and exchange support.
Starting at $12 a month, you can get a subscription.
Available on Windows, Mac OS X, Linux as well as on iPhone and iPad.
Pros
It can monitor NFTs.
It tracks cryptocurrency as well as more traditional financial instruments.
Can assist consumers in estimating their personal wealth.
The "dead man's switch" function allows users to grant access to their loved ones in the event of their death.
Cons
It lacks an Android app.
There is no free option.
Summary
To maintain tabs on the value of your crypto assets, you can make use of a crypto portfolio tracker. In this way, you can see how much each of your coins is currently worth. A crypto portfolio tracker is an excellent tool for keeping track of your gains and losses across multiple networks and wallets. The best way to track a crypto portfolio is by using a reputable app that fits your trading style and investment needs.
Portfolio trackers are used by both rookie and professional crypto investors alike. This article has given an overview of the best crypto monitoring software as well as the features you should look for when choosing the best crypto tracker app. Therefore, while the list of trackers is not exhaustive, the selection criteria should guide you in making the best choice.