Introduction to the Healthcare and Biotech Sector
Healthcare is one of the broadest industries in the stock market. It comprises companies that engage in a range of activities, including the provision of medical goods and services and coordination of medical services.
It is one of the world's largest industries and one that takes most of the global population's expenditure. To put this in context, 9.9% of the worldwide GDP in 2017 went to healthcare expenditure. In the same year, per capital, spending on health in the United States was $10,739, after a 10-year average growth rate of 3.5% annually. In 2018, health expenditure in the US was the most expensive in the world, almost double that of Germany that comes in second.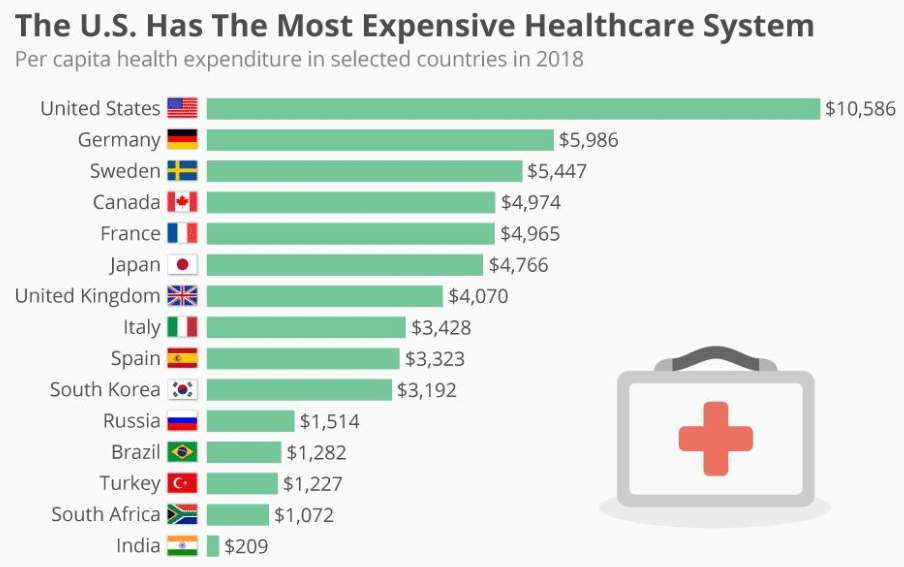 Owing to the full range of products and services produced in the healthcare sector, it became necessary to break it into sub-sectors. The drugs sector is the largest in terms of companies and the value of revenues generated. It is under this sub-sector that smaller sectors like biotechnology and pharmaceutical exist. Biotech firms primarily engaged in the development of proprietary drugs, treatment methods, and devices. Large biotech firms include Celgene Corp and Gilead Sciences Inc. 
Other categories of the healthcare sector include the medical equipment sector, managed healthcare sector, and the healthcare facilities sector. Often, some companies' operations might straddle more than one sub-sector. 
Investing in Healthcare Industry
The US is slowly advancing towards spending 20% of its GDP on healthcare. As such, companies operating in this industry have great potential to increase their revenues. But the critical question is, how can an investor exploit the income potential of this industry?  
Well, two avenues exist. First, one could buy stocks of healthcare companies. Many healthcare stocks are listed on US-based exchanges, as well as in Canada and across the Atlantic. The NYSE alone has 114 healthcare stocks to imagine the variety of options available to investors. The NASDAQ Global Select Market Composite, on the other hand, comprises 286 healthcare stocks.
Investors can choose to invest in large-cap healthcare stocks that are less risky or in small to medium cap stocks that promise hefty returns but with a high-risk premium. Alternatively, one could invest in healthcare real estate. However, this could be daunting, especially for unsophisticated retail investors. 
Another easier, and perhaps the most ideal, avenue to invest in healthcare is buying into healthcare exchange-traded funds (ETFs). Healthcare ETFs are facilities that bundle together a variety of healthcare stocks based on preferred criteria and then offer them a block. Healthcare ETFs could also track healthcare benchmark indices.  
Major Healthcare Sector ETFs
As stated earlier, healthcare ETFs invest in the equity of companies that operate in the healthcare industry. The ETFs focus on the industry sectors, either individually or in a broad manner, by buying into equities across sectors.
The five major equity sectors that the ETFs buy into include Biotech, Healthcare, Pharmaceuticals, Healthcare Providers and Services, and Healthcare Equipment and Supplies. All of the stocks are US-based. 
Currently, 52 healthcare ETFs are available for interested investors. The top three in terms of assets under management include:
Health Care Select Sector SPDR Fund (XLV)
XLV is the largest healthcare ETF with about $24.01 billion in assets under management. Also, XLV has posted stellar performance this year with a 5.68% year-to-date return, higher than S&P Health Care Select Sector Index's 5.67% YTD. XLV invests in major companies such as Johnson & Johnson (9.80%), UnitedHealth Group Incorporated (7.43%), and Pfizer Inc (.5.35%). Over the past years, XLV has posted an increasing annual dividend yield, with the latest being 1.72%.

Vanguard Health Care ETF (VHT)
Vanguard first issued VHT in January 2004. The ETF holds more than 300 US healthcare stocks, where the three most significant are Johnson & Johnson (8.17%), UnitedHealth Group Incorporated (6.17%), and Merck & Co., Inc. (4.33%). VHT is the second largest healthcare ETF with more than $11.61 billion in AUM.
iShares Nasdaq Biotechnology ETF (IBB)
IBB is a Biotech focused ETF with $9.86 billion AUM. Over the past five years, the ETF has recently posted a gradually increasing annual dividend yield, which is currently at 0.23%. The ETF holds stakes in Amgen Inc. (8.27%), Vertex Pharmaceuticals Incorporated (7.40%), and Gilead Sciences, Inc. (7.10%). 

How to Trade and How to Invest in Healthcare ETFs
Today's advanced technology enables investors to access ETFs easily through online platforms. But traditional broker-dealers also offer means to buy into ETFs over the counter – if you are stuck in the pre-internet era. Alternatively, various Robo-advisors include ETFs in the portfolios that they present to users. The best way to trade the instruments is to find the cheapest avenue, which means you need to do some due diligence before opting for a provider. 
Investing in ETFs should be easy because plenty of information on them is readily available. Nonetheless, investors need to pay attention to certain aspects of the ETFs, such as the expense ratio and annual dividend rate. Balancing these two is the best hack for better earnings.
To buy healthcare ETFs, access one of the many platforms available online (or offline), and create an account. Different providers offer a range of accounts, each with a different expense ratio. On account of profit maximization, it is advisable to choose the account with the smallest expense ratio.
Although many ETFs do not require input from the investor, it is prudent to stay abreast of the market developments' developments for better timing in terms of market exit. It means following news websites that highlight happenings in the US and global healthcare industry.
Conclusion
Health expenditure in the US is shooting through the roof. It means companies are looking at a future where revenues will be huge. How can an investor exploit this opportunity for profit? Healthcare ETFs are an ideal vehicle to benefit from rising health expenditure. The ETFs hold stakes in various healthcare stocks based on proprietary mechanisms. ETFs are preferable because of their ability to reduce an investor's exposure to unsystematic risk. US exchanges offer more than healthcare 300 ETFs from which investors can select the preferable asset. Before one settles on a certain ETF, it is important to ensure that the expense ratio does not exceed the annual dividend rate for better income.