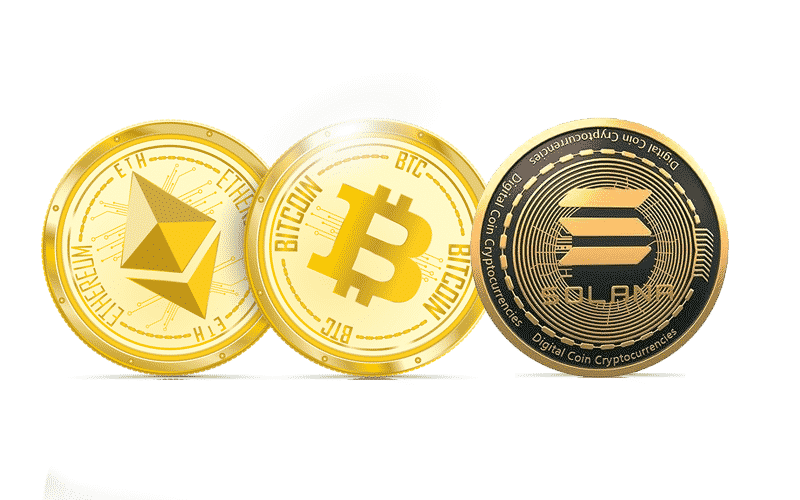 Cryptocurrency prices have done well this year. Indeed, while the S&P 500 index has risen by about 30% year-to-date, most digital currencies have seen their prices soar by at least 100%. In this article, we will look at Ethereum, Bitcoin, and Solana and attempt to find the best cryptocurrency to invest in for the long term.
Why cryptocurrency prices have surged
For starters, cryptocurrencies are digital products that are created using a technology known as the blockchain. This is a technology in which new coins are created by being verified using a decentralized ledger. These currencies are created using a proof-of-work (PoW) or a proof-of-stake (PoS) technology.
In PoW technology, new blocks are created through mining. This is a process where people compete to solve complex calculations using computers. In a proof-of-stake, platforms use validators to verify new blocks.
There are several reasons why the prices of cryptocurrencies have been in a strong bullish trend. First, global central banks have maintained interest rates at a record low in a bid to cushion the economy. For example, the Federal Reserve has lowered rates to a record low and announced a $120 billion per month asset purchase program. When interest rates are low, investors tend to pile into risky assets like cryptocurrencies.
Second, investors have cheered the fact that large companies have allocated money to the industry. For example, Tesla, the biggest automaker of EV, has bought Bitcoin. Similarly, companies like MassMutual, Square, and MicroStrategy have allocated some funds to the industry.
Third, more established companies in the industry have gone mainstream. For example, companies like Bakkt, Coinbase, and Riot Blockchain have all gone public. Others like FTX and Digital Currency Group (DCG) have raised billions of dollars.
Bitcoin vs. Ethereum vs. Solana
In this section, we will look at Bitcoin, Ethereum, and Solana and identify the better currency to invest in. First, we will look at their performance in 2021, what they are, and their future.
What they do
Bitcoin was the first cryptocurrency in existence. It was created by Satoshi Nakamoto, whose identity is still unknown. Bitcoin is mined using a proof-of-work technology, making it highly energy inefficient. The goal of Bitcoin was to become a highly decentralized currency that is not controlled by anyone.
Ethereum is a different asset than Bitcoin. Ethereum is an operating system that enables developers to create decentralized autonomous organizations (DAOs) and decentralized applications (dApps). It is a highly versatile platform that has been used to build all types of assets.
For example, Ethereum was used to build Shiba Inu, the fast-growing meme coin. It has also been used to build Decentraland, the blockchain platform that enables people to build digital land. It has also been used to build DeFi platforms like Aave and Compound. Ethereum uses proof-of-work technology.
Solana, on the other hand, is a platform that is relatively similar to Ethereum. It is used to build dApps and DAOs. It differs from Ethereum in how it is implemented. Solana uses a proof-of-stake technology that makes it faster than Ethereum.
BTC vs. ETH vs. SOL performance
In the chart below, we see that the price of Solana has jumped by more than 10,000% in 2021. In contrast, the price of Bitcoin has jumped by about 100%, while Ethereum has surged by more than 300%.
Therefore, in terms of performance, Solana has been a better performer than the three. However, you should always remember that past performance is never an indication of what will happen in the future. At times, assets that do well in a certain period tend to lag in other periods.
There are several reasons why Solana did better than Ethereum and Bitcoin. First, Solana started the year with substantial hype. For example, the developers of the ecosystem raised $314 million from investors like Andreessen Horowitz and Polychain Capital. These are some of the biggest investors in Silicon Valley.
Second, Solana gained substantial hype as one of the leading Ethereum-killers. Developers loved its speed, efficiency, and the fact that its apps were highly interoperable.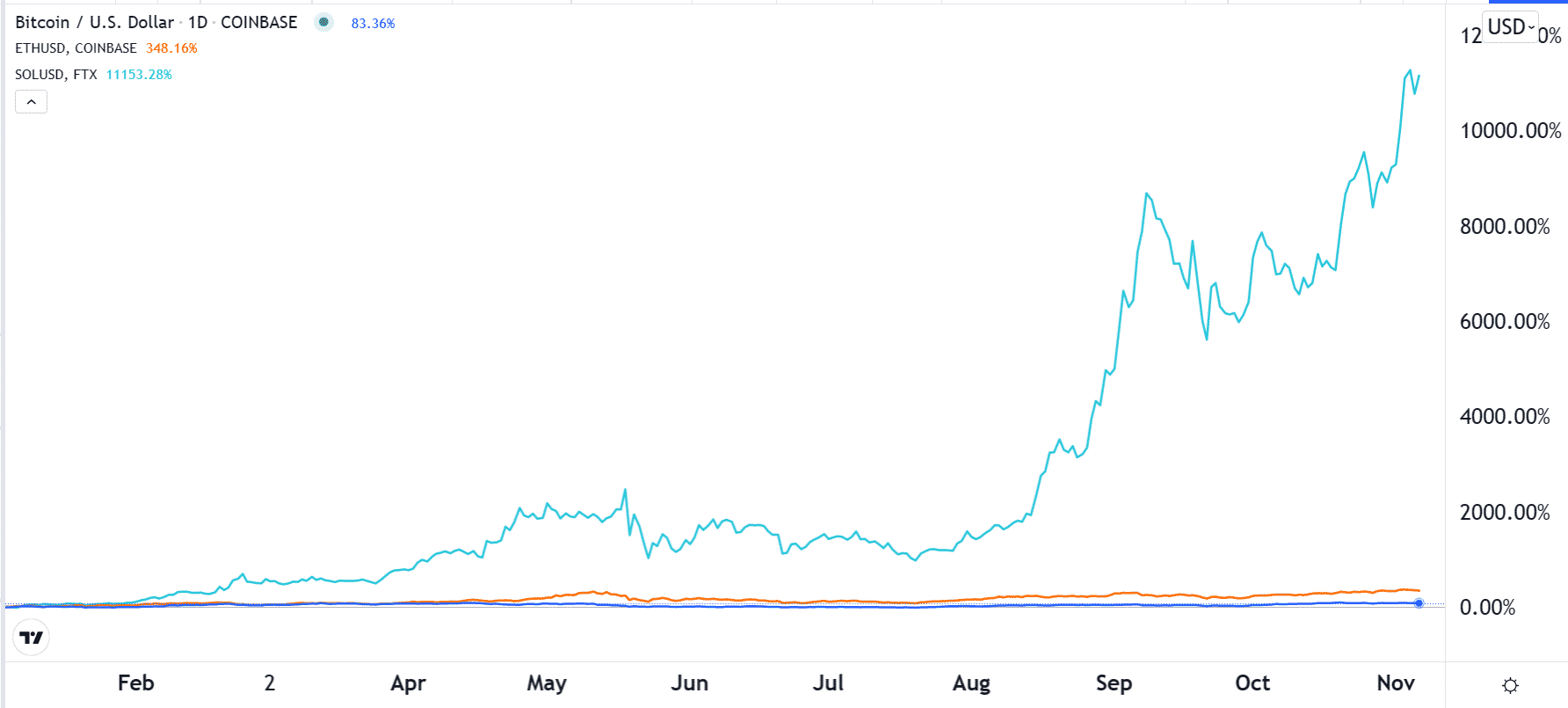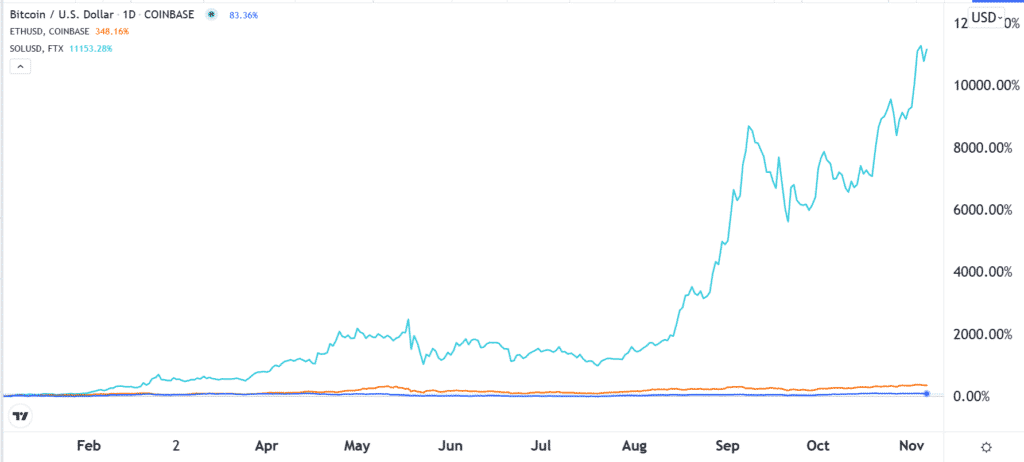 Third, Solana outperformed ETH and BTC because of their size as they started the year. In most cases, big assets tend to underperform their smaller rivals. For example, in the automobile industry, Tesla has outperformed companies like General Motors and Ford.
Technology
Bitcoin and Ethereum use proof-of-work technology to create new coins. This technology is known for being energy inefficient and unreliable. Indeed, most Bitcoins are currently mined by big companies that can afford the expensive equipment used in that process. Solana, on the other hand, uses a PoS technology that uses validators to confirm transactions.
Therefore, in terms of technology, Solana is a better investment than Bitcoin and Ethereum. However, Ethereum is in the process of transitioning from a proof-of-work technology to a PoS system. It has also introduced the concept of burning, which removes the number of coins in circulation.
Room for growth
Today, Bitcoin has a market capitalization of more than $1.1 trillion, while Ethereum and Solana have a market cap of more than $517 billion and $73 billion. An important thing to note is that most Bitcoin that is in circulation today is used as an investment. It is not mostly used for normal transactions. Therefore, there is more room for the price to grow because its supply is capped at 21 million coins.
Ethereum and Solana have more room for growth than Bitcoin because of their vast opportunities in decentralizing key sectors of the economy. Indeed, Ethereum has a market share of about 80% in its industry.
Still, I believe that Solana has proven itself as a worthy Ethereum alternative. Therefore, I expect that more developers will keep moving to its platform because of its speed and efficiency. For one, Solana is able to handle more than 2,000 transactions per second. Bitcoin and Ethereum can only handle less than 20 transactions per second.
Summary
Bitcoin, Ethereum, and Solana are three of the biggest cryptocurrencies in the world. In this article, we have looked at their performance, how they work, and why Solana seems to be the better investment asset.