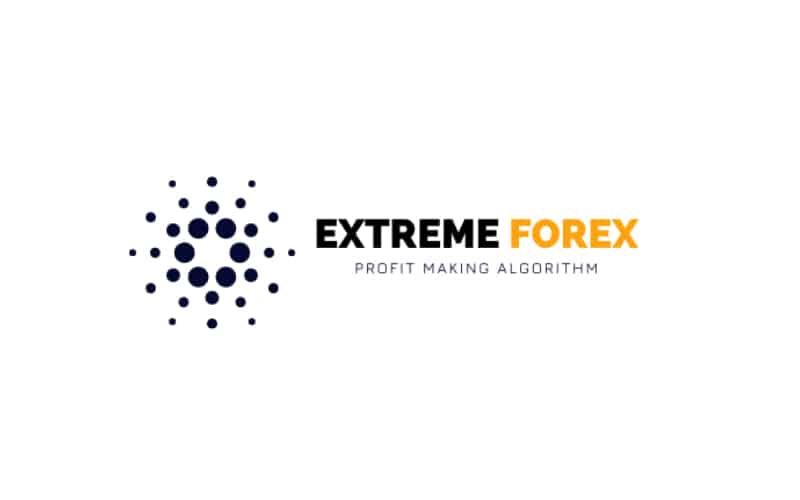 Extreme Forex EA is a clever scalping EA that only trades at the safest entry points by using smart entry/exit algorithms and complex filtering methods. In other words, the system is based on algorithms that are designed to maximize returns while minimizing risk. It uses a virtual private server (VPS) to execute this EA on MetaTrader 4. On the other hand, if you host the EA on the free site, you will be able to use it with your MT5 trading account.
To ensure consistent, long-term growth, the EA profit-making algorithm is built to return a rewarding profit based on preset targets. Also, the Forex robot is built for trading on the XAUUSD pair.
Is Extreme Forex a good EA to invest in?
The one major drawback of this EA is the lack of support for mobile devices. It does not have an Android or an iOS application. Currently, you can only access it on the web platform at extremeforex.net. Therefore, if you're constantly on the move, Extreme Forex may not be the best choice for you. Despite this, the company has stated that it intends to incorporate other platforms to make it accessible on mobile devices in the near future.
In addition, Extreme Forex is not responsive to spread, slippage, or any other broker-related factors. Because of this, some traders may find it inconvenient to have to work with its particular affiliate brokers. Also, traders who desire to trade on different currency pairs will be limited by the Forex robot's focus on XAUUSD.
Company profile
ExtremeForex.net is not a provider of financial services; rather, they exclusively offer expert advisors and trading signals. The company is in its initial development stages, and its user base is relatively small compared to the more established names in the market. Its cent accounts start at $100, while regular accounts start at $500. Virtual Private Server (VPS), technical questions, and general trade help are all available via remote assistance from the company.
Main features
Extreme Forex uses stop-loss and profit-taking techniques based on the Average Daily Range (ADR) strategy. This EA balances risk and return, so while nothing in Forex trading is guaranteed, users can expect significant returns from using it.
Below is a summary of its Extreme Forex's main features:
You simply need to set up one XAUUSD chart for the EA to work.
Performs well on stage and in a backtest.
Auto-detection of the GMT time.
It has a Self Diagnostic System.
Strategy
The EA calculates to trade three trades. This opens the market to a wider variety of trades and exits. The EA employs the ADR strategy to calculate Take Profit and Stop Loss. With ADR, the goal is not to obtain a precise measurement or an average price. Instead, the strategy seeks to estimate the extent to which a market is likely to move on any given day. Using this method, we may get a sense of how much the price is likely to shift. Typically, this increases chances of success. There is a lower level of risk while increasing reward. The EA is best suited to a 5-minute timeframe.
Price
You can choose either the Power Plan, which costs $99 per month for a maximum of 150 trades, or the Super Power plan (up to 300 trades), which will see the company deduct 25% of your profit payable at month-end. This is great news for traders and a sign of the company's faith in the EA's capacity to make a profit.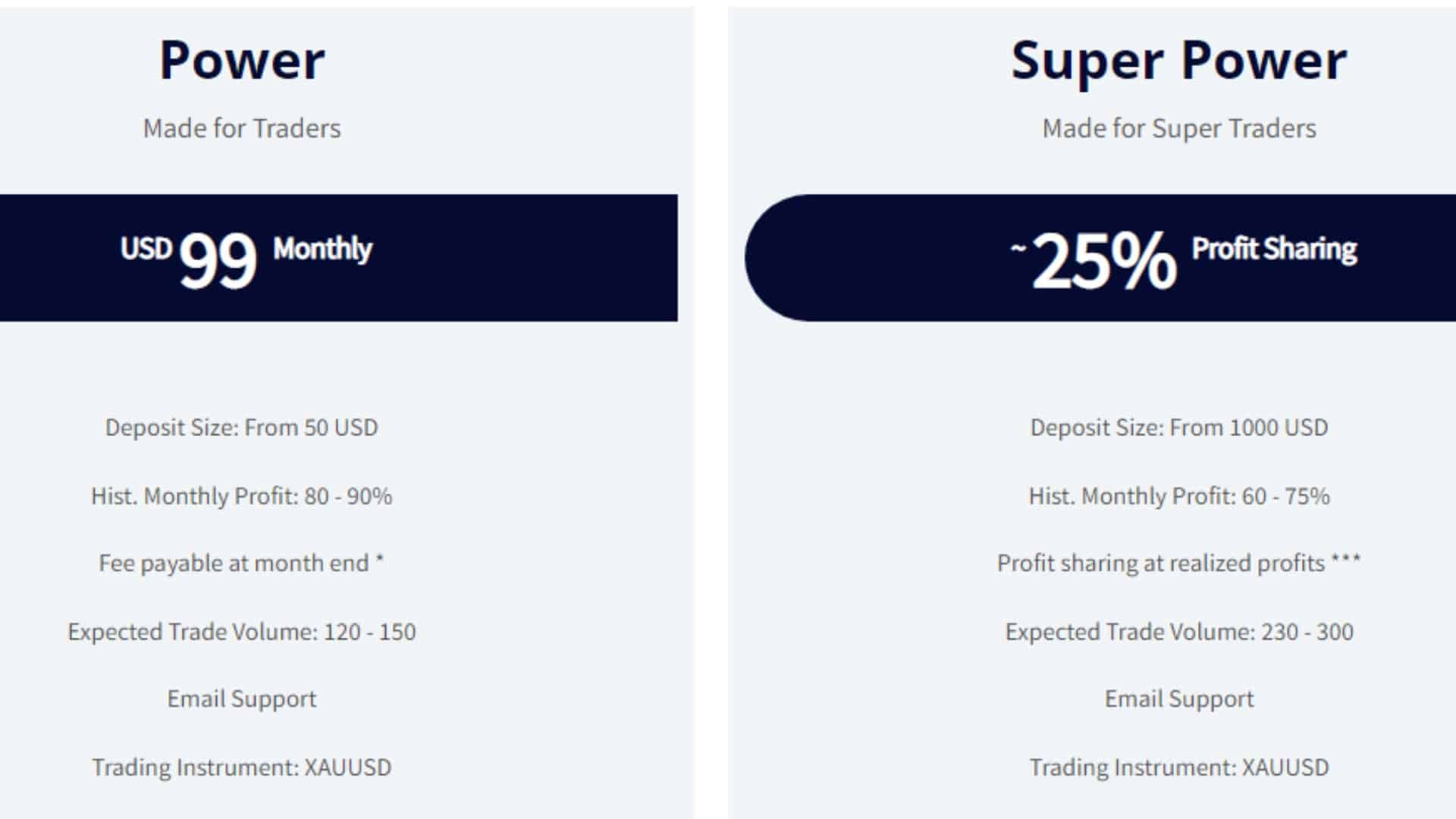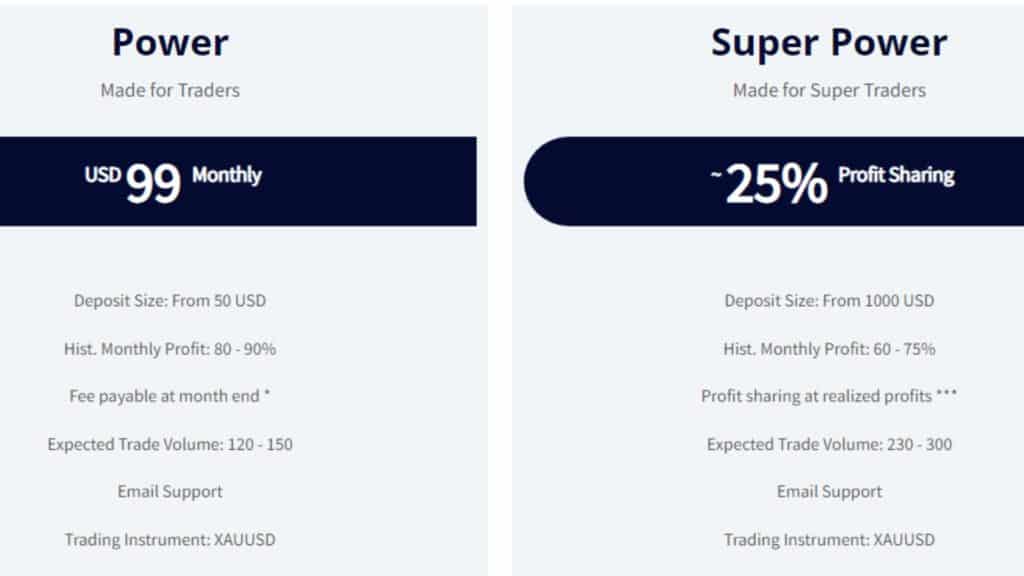 In addition, the company offers a 14-day money-back guarantee if the software doesn't work as advertised. Therefore, this may give you some level of confidence in EA's performance.
Trading results
Verifying an EA's trading performance with a respected trade verification and strategy analysis service is the best way to determine its capabilities. The Extreme Forex confirmed trading performance is available on MyFxbook.com. The data shows a 65% profitability rate and a 15% to 27% drawdown. Most leading EAs' win percentages normally range between 58 percent and 70 percent; therefore, this is quite an excellent win rate by EA standards. According to this win rate, the EA's risk/reward ratio is likely to be excellent, too.
Risk-reward ratios in the 75% to 90% range are frequently intrinsically faulty and leverage the high win rate to disguise the significant losses. For example, an 80% winning rate may suggest that more winning trades are made with the capital of less than $500, whereas the 20% losses may be made with the capital of more than $1,000. In the end, this results in net losses.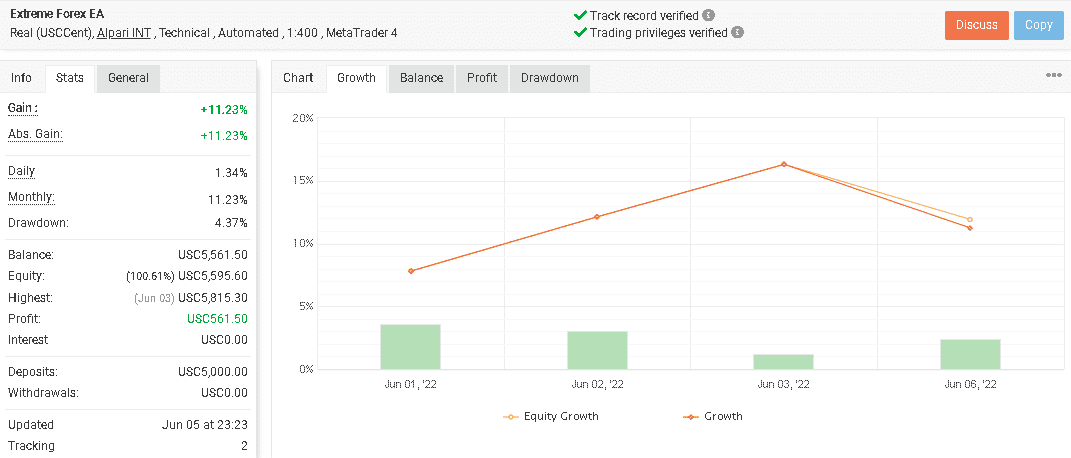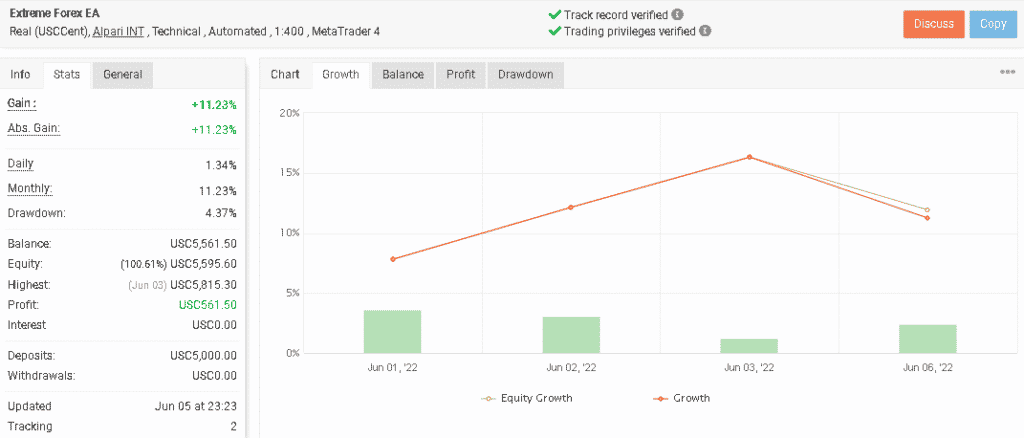 Demo account
Before putting money on a trading platform, it's always a good idea to run some tests on it to make sure it works. You are free to test the effectiveness of Extreme Forex EA on a demo account for as long as you wish, up until the point where you are satisfied that it is generating stable profits for you. After that, you can proceed to open a real account.
Summing up
Extreme Forex EA is an algorithm-driven trading tool that helps traders scalp the XAUUSD pair. Using this EA lowers risk while maximizing profit. It has verifiable trading results, which makes it transparent and attractive. However, it has a relatively small user base. Also, its lack of a mobile platform and support for only one trading instrument are drawbacks.