In the metaverse, the internet is expected to evolve into a system that supports decentralized, permanent 3-D virtual worlds. Access to this virtual world will be possible via VR headsets and augmented reality glasses as well as cell phones and personal computers. In this emerging technical phenomenon, Microsoft and Facebook (Meta) are leading the pack.
Founder and CEO of Meta (previously Facebook), Mark Zuckerberg, predicts that it might take five to ten years before the metaverse's key attributes become commonplace. However, there are already certain facets of the metaverse.
Virtual reality headsets, ultra-fast bandwidth, and virtual reality worlds are already in use, even if they are not available to everyone. This year alone, Meta is spending $10 billion on "the metaverse." The corporation aims to raise that investment in the next few years.
Businesses, on the other hand, are aiming to take advantage of the technology to develop a new standard for virtualizing workspaces and work life. A peek of a prospective VR workplace may be available to select employees sooner rather than later, thanks to Microsoft Teams' Mesh feature.
Cryptocurrency and the metaverse
Snippets of the metaverse are already here with us. Currently, it is possible to buy items, construct your own virtual environment, and upload it to the internet in virtual reality games, as well as buy non-fungible tokens (NFTs), which are unique digital items such as artistic paintings images, among other things. Currently, virtual reality games are the closest we've come to a single metaverse, which is a social realm where the virtual currency has real worth, and digital commodities have real value.
Sandbox and Axie Infinity employ Ethereum-based cryptocurrency in their game mechanics. In another example, the online video game Axie Infinity uses NFTs to allow users to play and earn substantial sums of digital currencies and tokens cash.
Microsoft Mesh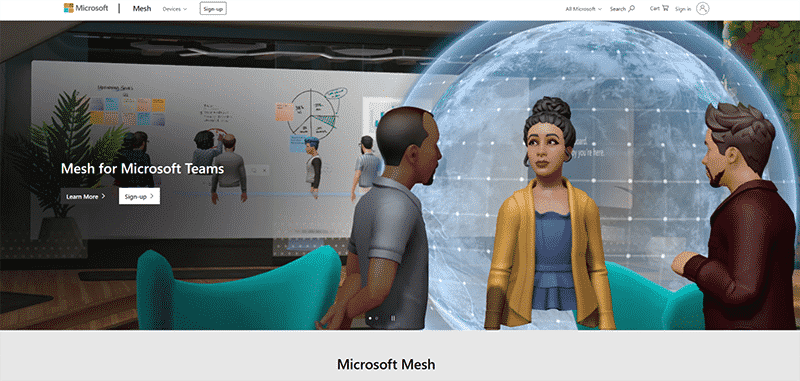 Despite Facebook having stolen the thunder following its "Meta" announcement last month, Microsoft has been creating its own take on the metaverse with Mesh for some years now. Mesh for Teams is expected to be released in the first half of 2022.
Team elements such as "Together mode" and "Presenter mode," which enhance remote and hybrid meetings, are incorporated into Mesh, which was unveiled in March. It will allow enterprises to establish "metaverses" where individuals may interact in virtual settings that imitate actual offices and shared areas.
When you use Mesh, you don't need any specialized equipment to have everyone in a meeting feeling like they're actually there because you can use individualized avatars and immersive locations that everyone can access from any device.
As far as the metaverse is concerned, Microsoft has chosen a low-key stance. After announcing its vision for the next big thing on the internet in November, the company explained how and what it intended to accomplish with it.
Microsoft Teams has more than a quarter a billion users throughout the world. They'll be able to have meetings virtually starting in 2022, thanks to the advent of VR and augmented reality headsets.
With this new technology, users will be able to appear as animated cartoon avatars of themselves, expressing their emotions in real-time.
Facebook's Meta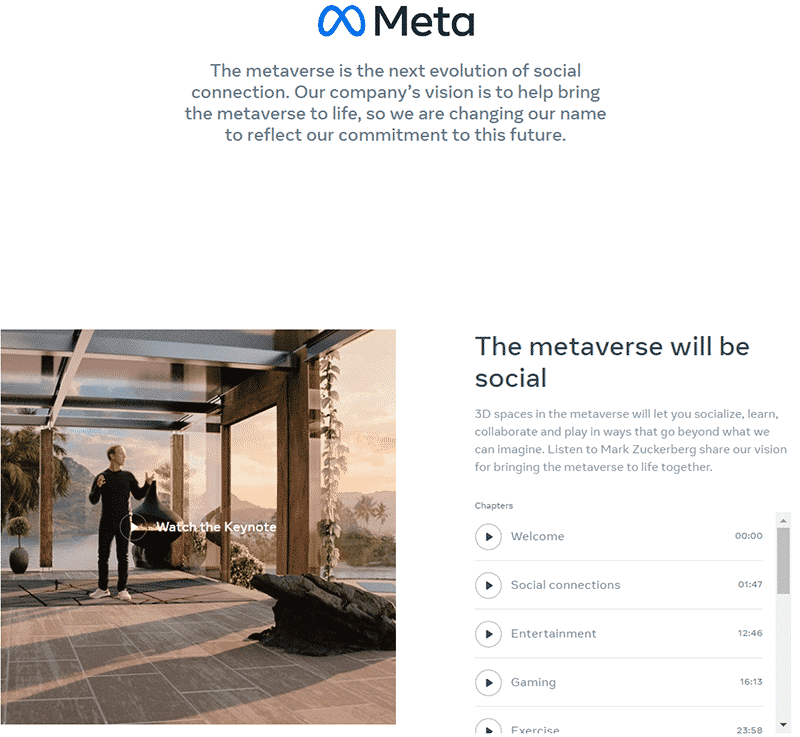 Microsoft's Mesh has a lot in common with Facebook's (Meta's) metaverse technology, which was unveiled last week. Similar to Mesh, companies may, for example, create their own 3D-branded areas using Meta. Avatars are also central to interactions on both platforms.
Aspects of the current online social interactions will be included in Facebook's metaverse, according to Mark Zuckerberg, the company's CEO. In a letter he released online, he stated that the platform would allow users to share interactive experiences with others even if they are not in the same place. However, Zuckerberg did not delve into the practical aspects of the project.
The differences
Meta and Mesh share many similarities, yet they are also distinct. While Facebook/Meta wants to dominate the metaverse, Microsoft is intent on powering it. Based on this, we can say that Microsoft has drawn a clear demarcation.
Microsoft envisions Teams as a template for the metaverse, a place where enterprises may create their own virtual reality environments. Microsoft sees its position with Mesh as supplying the underlying glue that helps keep a multiverse of worlds together, rather than ruling its own metaverse as Meta/Facebook seeks to.
The verdict
Because of its ownership of what was once known as Oculus, Meta now leads in the provision of VR equipment, while Microsoft is implementing technologies that are currently more frequently used. Microsoft is better positioned to be a leader in the metaverse in the future because of the modest, consistent moves it is taking today. Nonetheless, it must be prepared for the duties that come with such a position.
More than Meta, Microsoft appears to have grasped the nuances of how humans truly interact with technology. A smartphone or laptop running Android or iOS is all you need to access Microsoft's "portal to the metaverse" (Mesh). The use of high-end headsets or other high-tech equipment is unnecessary. On the other hand, Meta's idea of a complete lifestyle adoption may prove too expensive for the vast majority of people outside the office space.
In summary
The equipment and software necessary for the existence of the metaverse are created by both Microsoft and Facebook. We're going to see more and more of these technologies becoming a part of our daily lives from both sides. As a consequence, the workplace will host more meetings in mixed reality, and your social interactions will be enriched even further by technology. As to who will win between the two companies, we can only wait and see.