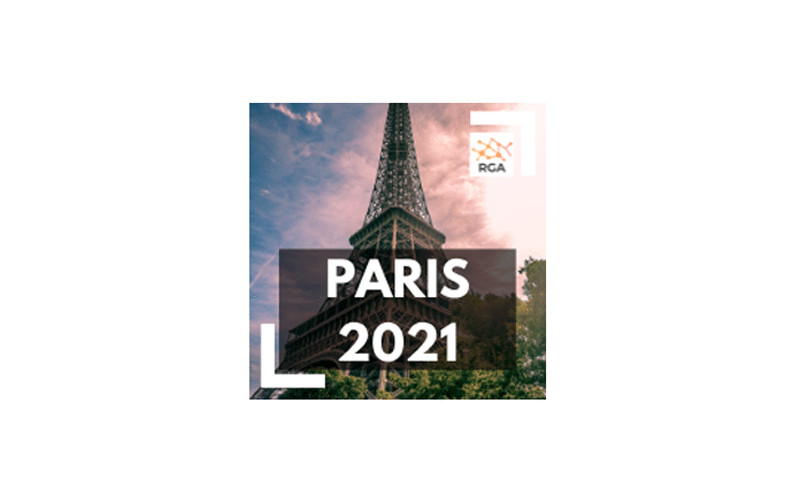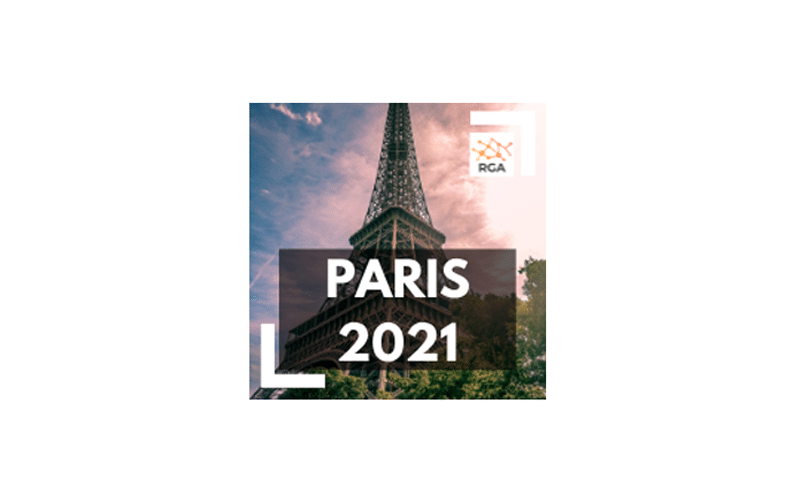 Forex Paris 2021 is a robot that has been bought eight times, and demo downloaded 853 times since March 23, 2021. The current version is 2.0 from April 20, 2021. The developer is  Ruben Octavio. 


Is Investing in Forex Paris 2021 a Good Decision?
No, it's not. The robot is a scam now.
Company Profile


Ruben has a profile with a 4311 total rate and a 2.8-star rate of his products.


There are eight robots in the portfolio and one signal. Another signal was from Paris, and it was removed because the system started wasting the account.
Main Features
The presentation is quite short to explain all features:
Forex Paris 2021 can trade fully automatically for us.
The developers mentioned that the robot is a "2-in-1 adaptive and dynamic algorithm with more than 99% profitable trades in the historical backtest."
The advisor opens trades with low frequency.
The robot does its best to close the deals as soon as possible.
The system doesn't have any risky strategy on the board.
The developer promotes VanrageFx as a good broker to trade with his robots.
The system is delivered in two packages with MT4 and MT5 versions.
The robot sets fixed levels of SL and TP.
It avoids trading more than one deal at once.
The system has two algorithms for trading EUR/USD and GBP/USD.
It can be attached to any time frame and still works well.


The system has eight parameters to customize.
Price


The $349 price is available for the last four of ten copies. The next price will be $399.


Forex Paris costs $349 for a real account license. The subscription is available for $199 monthly. The pack doesn't include a refund policy provided. We can download the system for backtesting and checking other parameters.
Verified Trading Results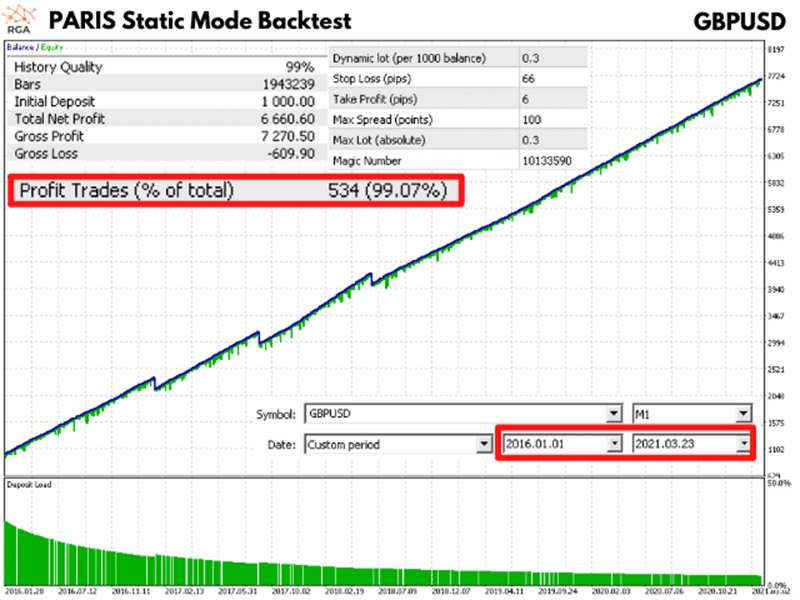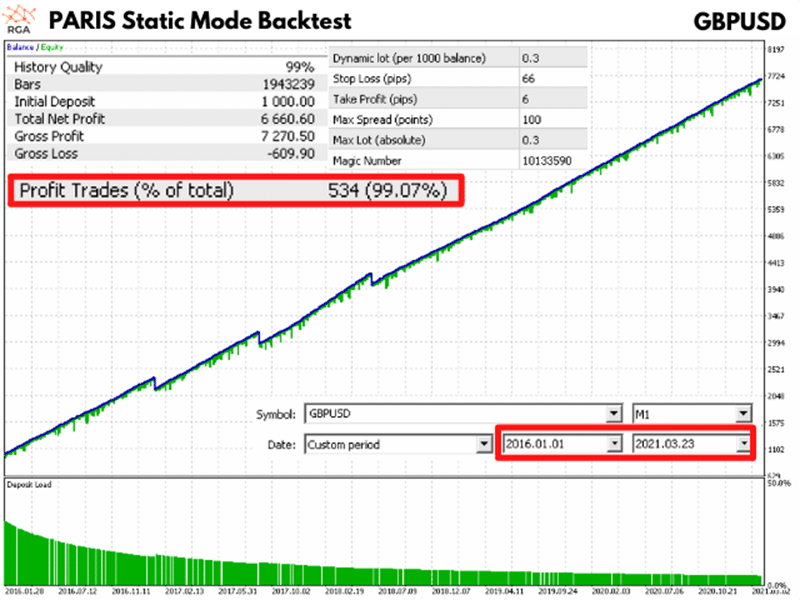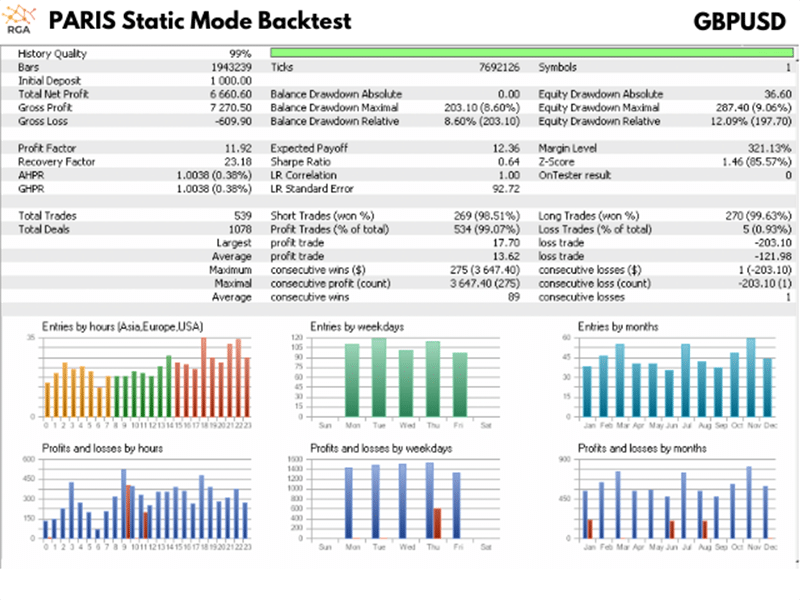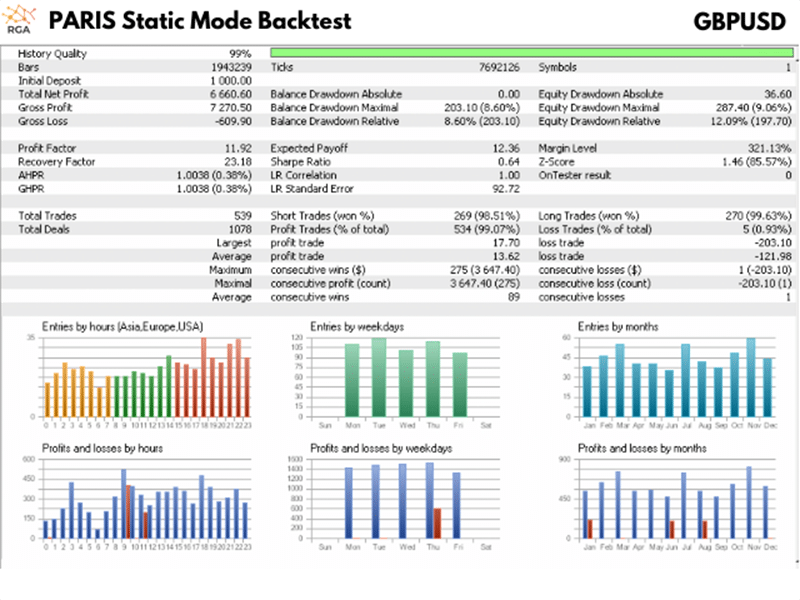 This is a static backtest of the GBP/USD symbol on the M1 time frame. The data period was picked from 2016 to 2021. The History Quality is 99%. There were 1,943,239 bars in the test. An initial deposit was $1000. The total net profit was $6,660.60. The Profit Factor was 11.92. The maximal drawdown was 23.18%. Forex Paris 2021 closed 1078 trades with 98.51% of the win rate for Shorts and 99.63% for Longs.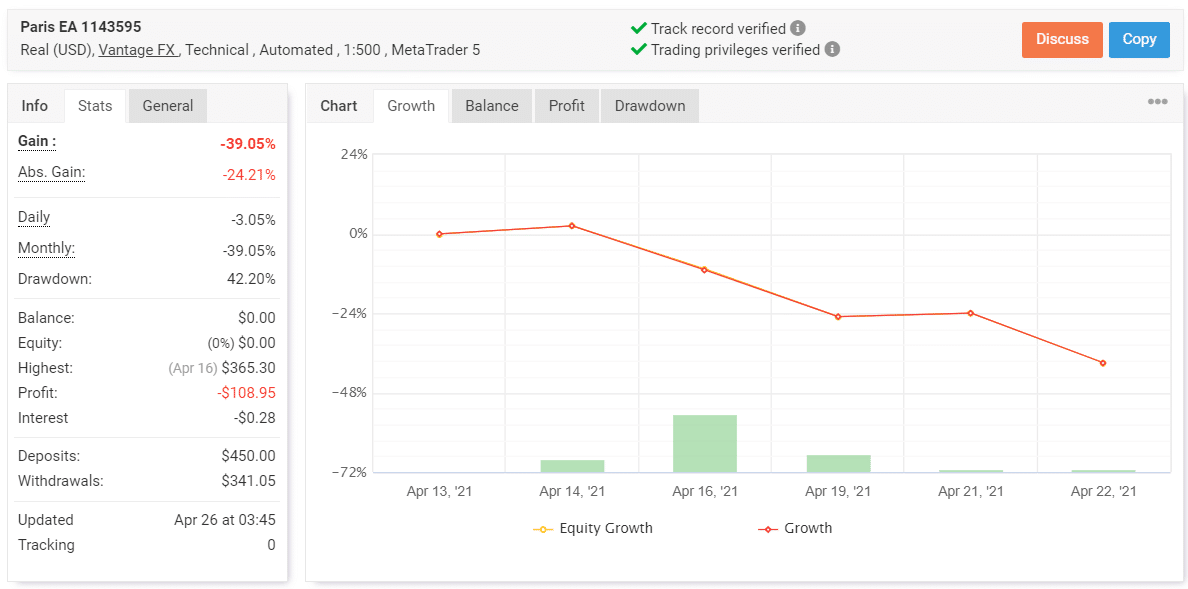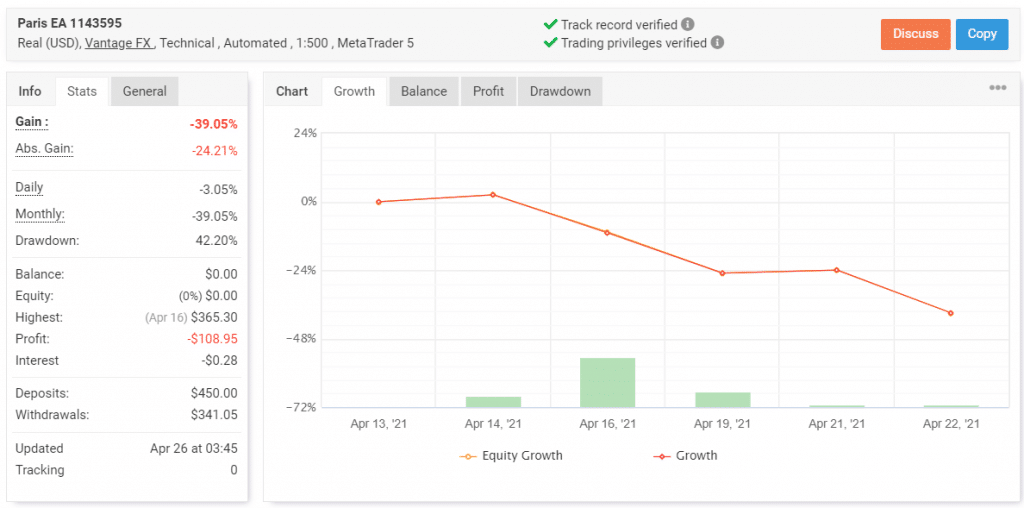 Alas, real account trading results are much worse. We have a real USD account on Vantage FX. Signals from it were removed from MQL5, but we still found it. The robot traded automatically with 1:500 leverage. The platform was MT5. It had a verified track record. The account was deployed on April 13, 2021, deposited at $450. It was withdrawn at the end as well at $341. Since the beginning, the absolute gain and average monthly gain have become -39.05%. The maximum drawdown was 42.20%.


The system has traded only 10 deals with -151.4 pips. An average win was 5.77 pips when an average loss was twelve times deeper -63.93 pips. The win rate for Longs was 85% (6/7), when for Shorts it was only 33% (1/3). An average trade length was eight hours and fifty-two minutes. The Profit Factor was a scam-like – 0.26.


As we can see, both symbols weren't profitable.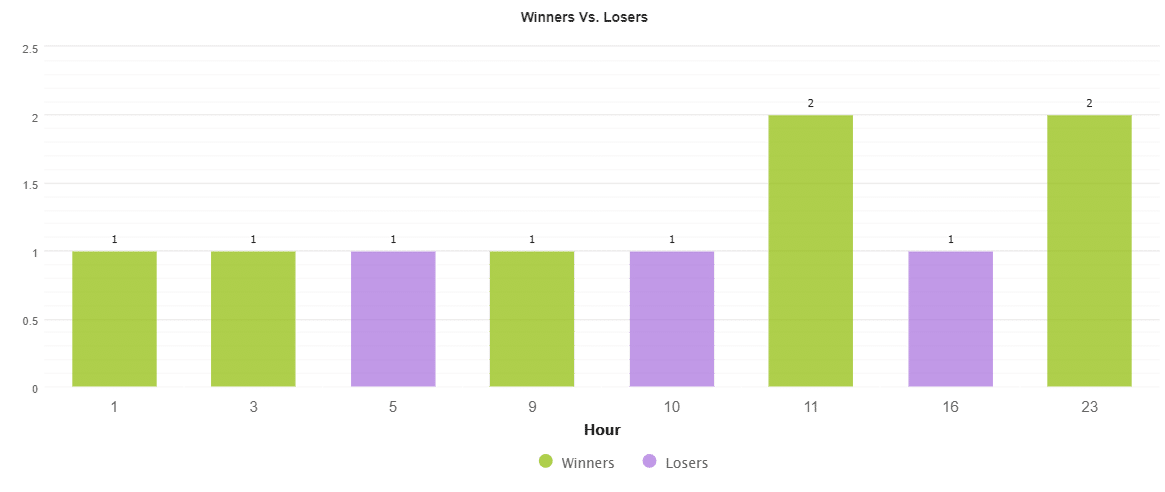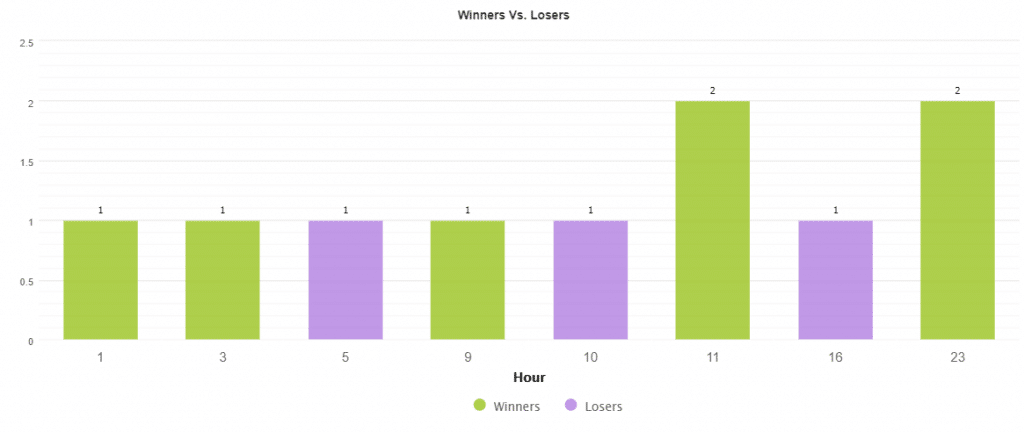 It opened trades all day long.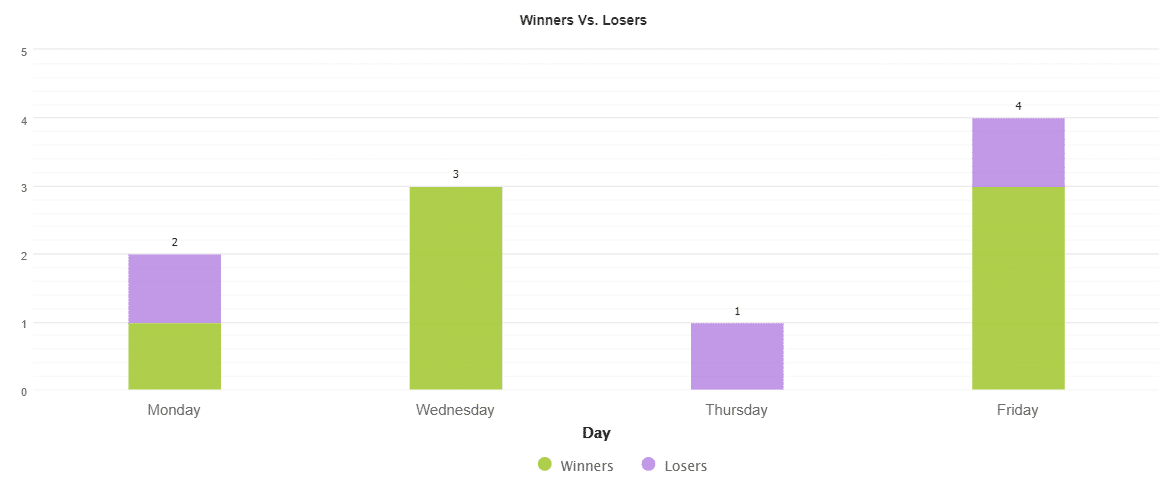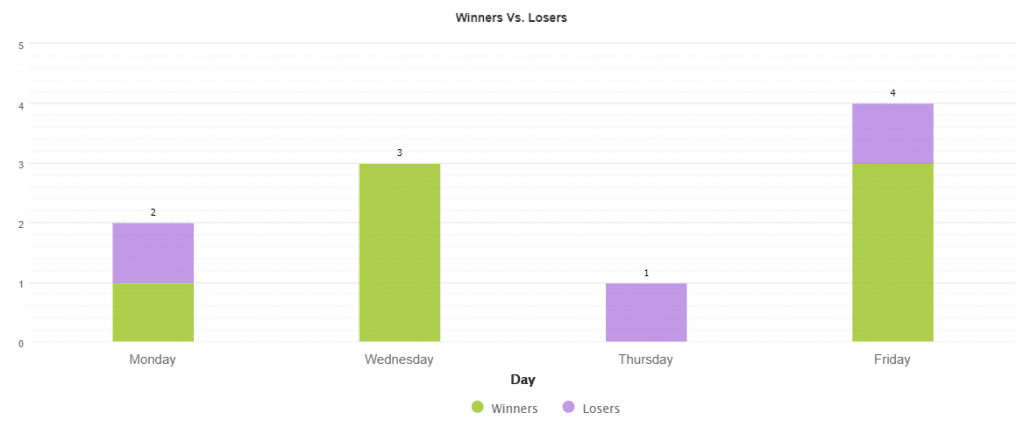 Lack of data can't provide us with a clear vision of what days are favorite to trade for this EA.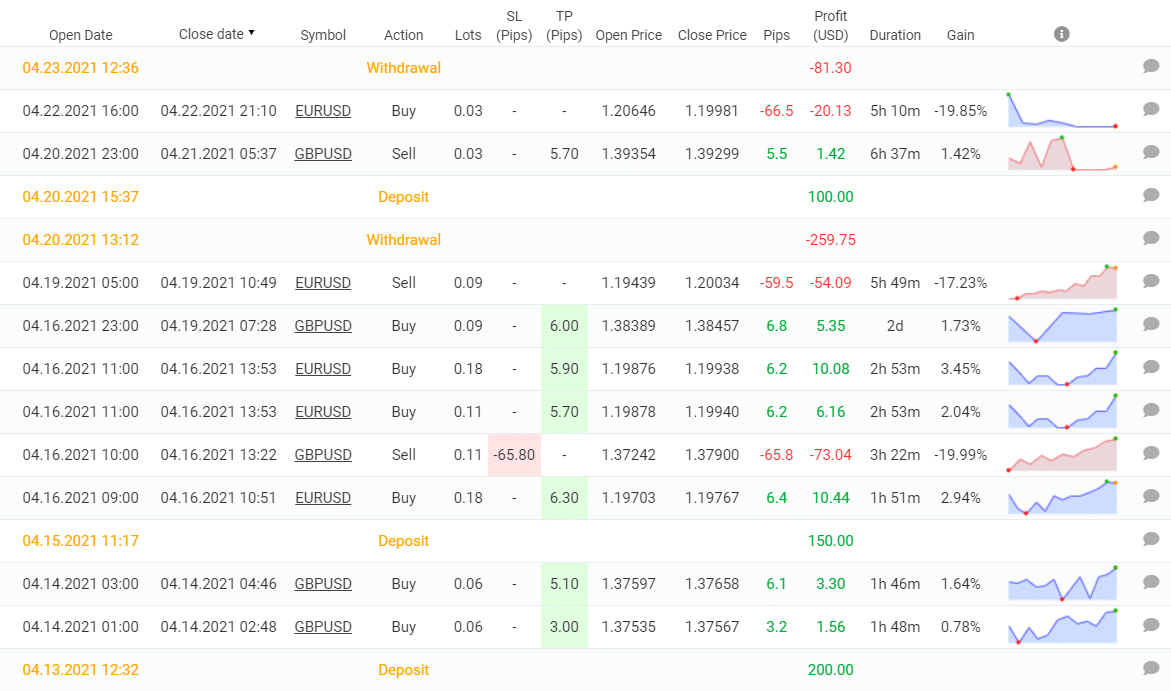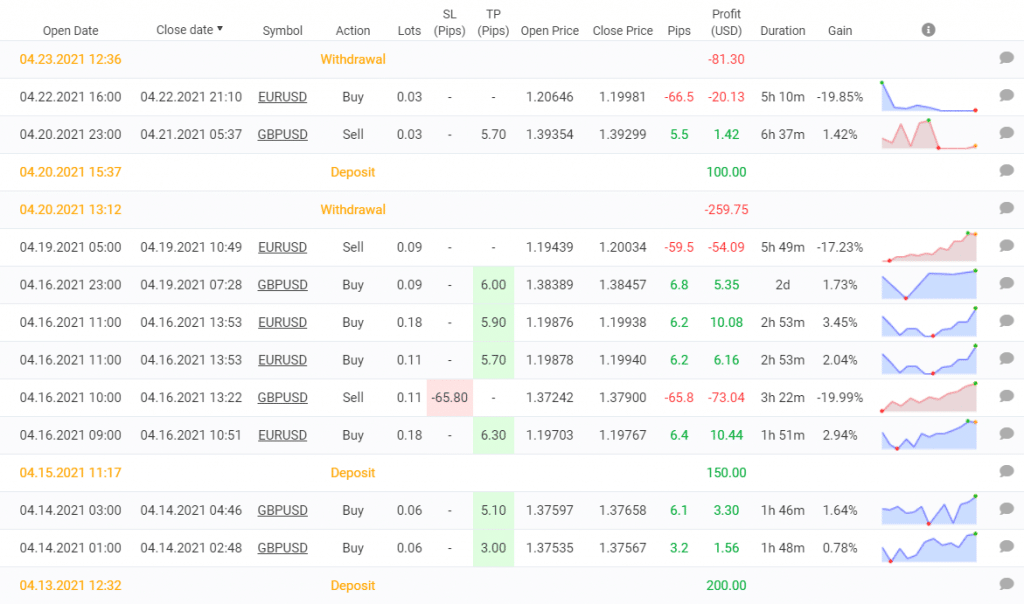 Pre last withdrawal showed that the developer gave a change to the EA, but the two last deals were closed with a huge loss.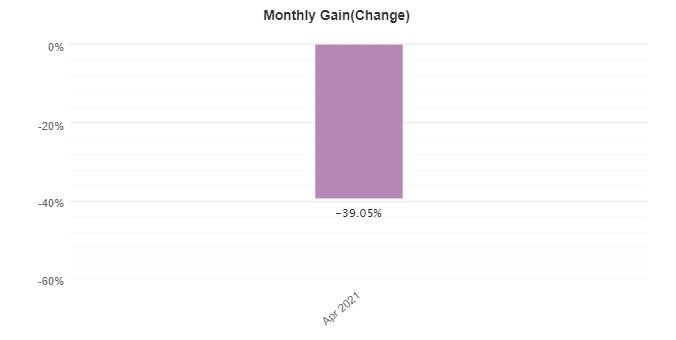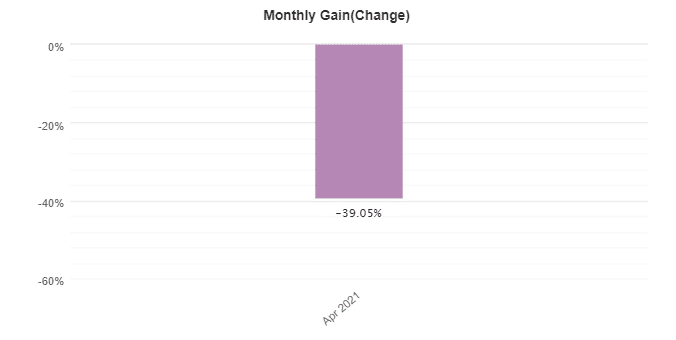 The robot is a scam now.
People feedback


This comment we've got from the MT4 version of Forex Paris 2021. The person mentioned that many EA's of the developer have the same algorithms. Cairo 2021 started losing not so far ago. Paris is already a scam. "He didn't lose much money from a $100 account." It's perfectly right.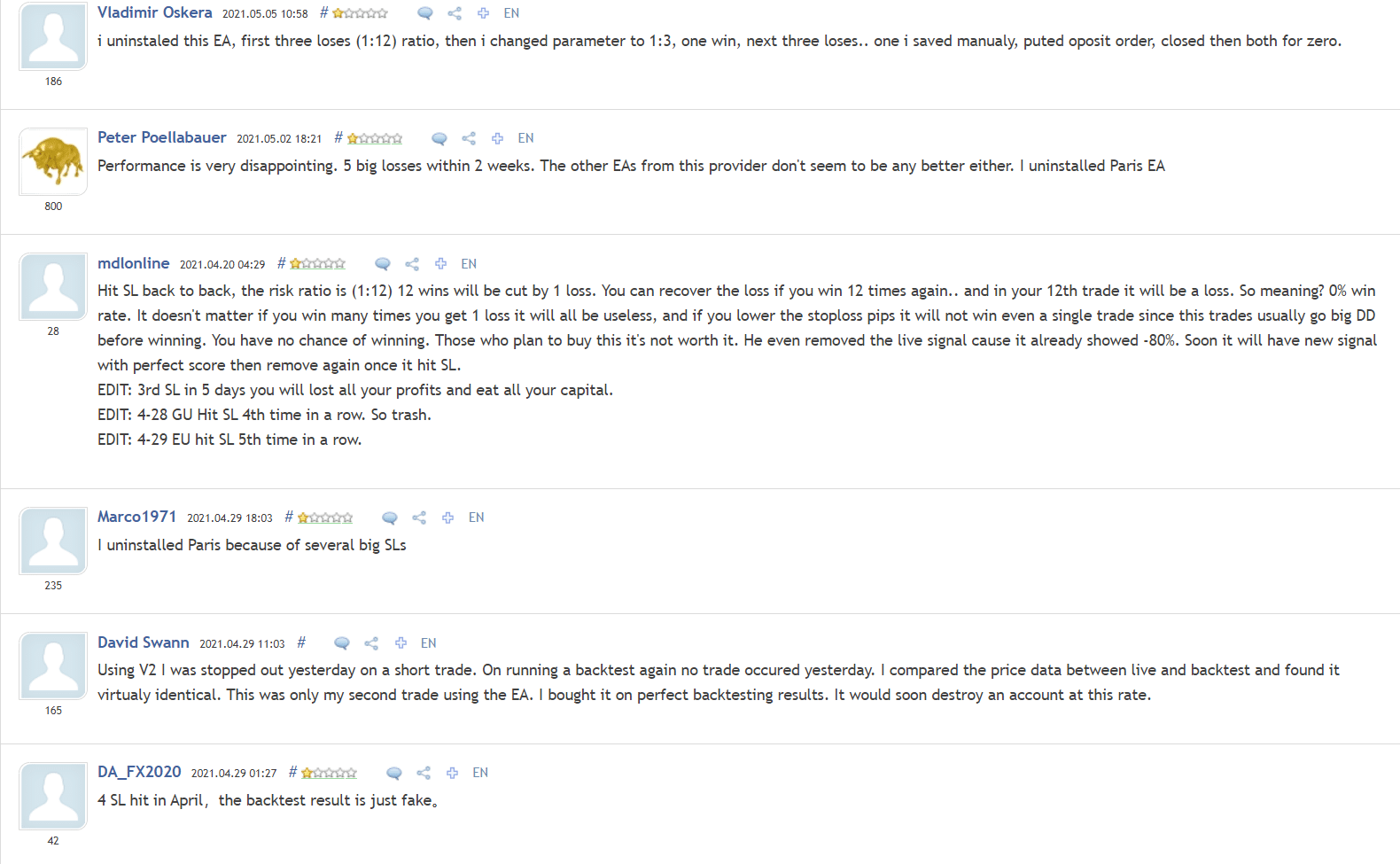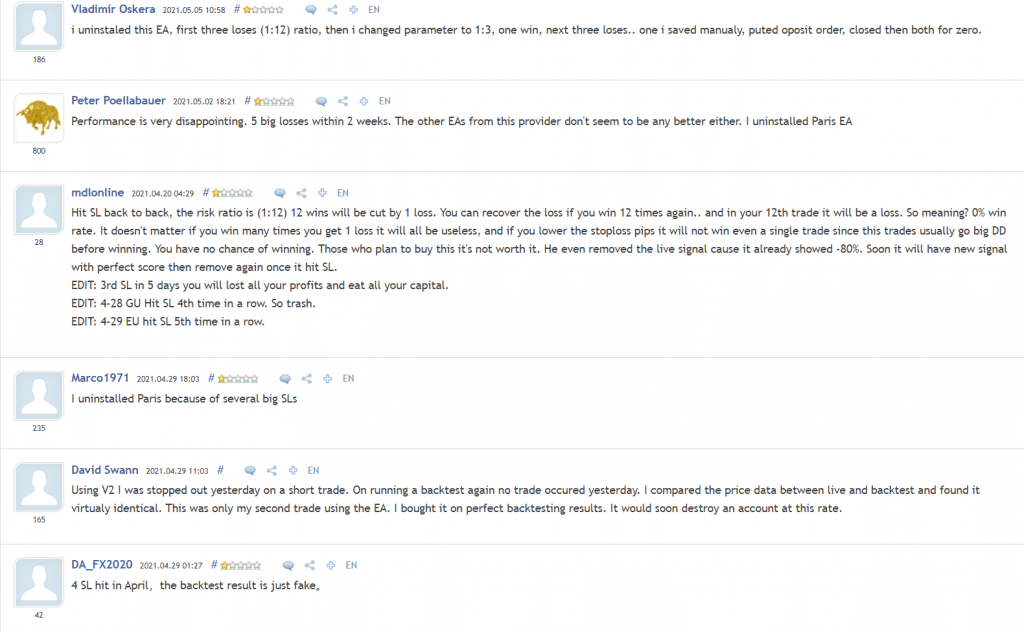 Many people were scammed in April 2021.
Summing Up
Strategy – score (2/10)
Functionality & Features  – score (2/10)
Trading Results – score (2/10)
Reliability – score (2/10)
Pricing – score (2/10)
Conclusion
Forex Paris 2021 is a scam advisor that used to use SL twelve times bigger than TP, and it has blown the account. The advisor hasn't worked even a month before everything is gone. There's nothing lost for a developer. The system scammed just a $100 account. Many clients used it on much bigger account balances.