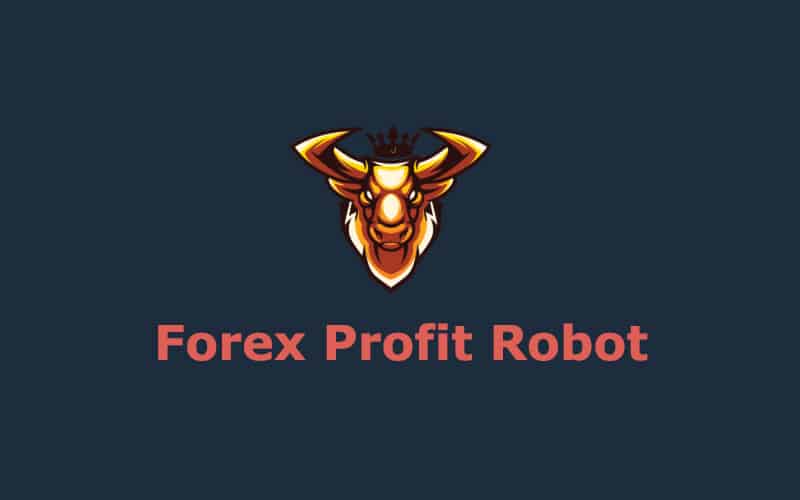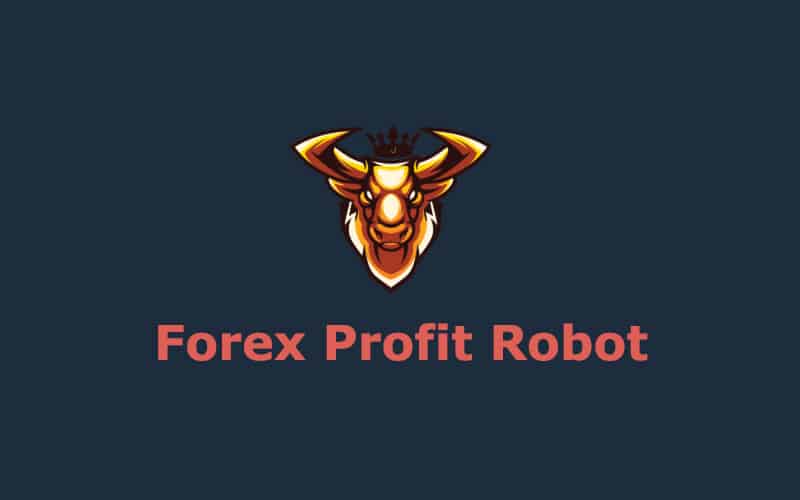 Forex Profit Robot can constantly generate profit while using its technical Analysis based on various Algorithms. The robot closes trades within 24 hours, making live profits after profits. This MT4 tool offers a full money management system.
With so many EAs available in the market today, choosing the best and the most profitable trading system is a challenge, especially for beginners who have little to no trading experience. Therefore, our experts have analyzed this EA to provide you with all the necessary info you have to know about this expert advisor. We will reveal the truth behind the aggressive claims of its developers to decide whether this is a reliable trading tool to invest in.
Is Forex Profit Robot a Good EA to Invest?
The robot is an unprofitable, risky, and dangerous trading solution. Traders have to steer clear of it. It is a total scam with Martingale and Grid on the board.
Company Profile
To begin with, let's analyze their product presentation. Their website design is very minimalistic and does not provide any information about the vendor or team behind the system. Backtesting data or trading strategy details are not provided too. There are only a few words about the robot. To get in touch with support traders need to fill out an online contact form where they have to fill in their name, email address, subject of the message, and the message itself.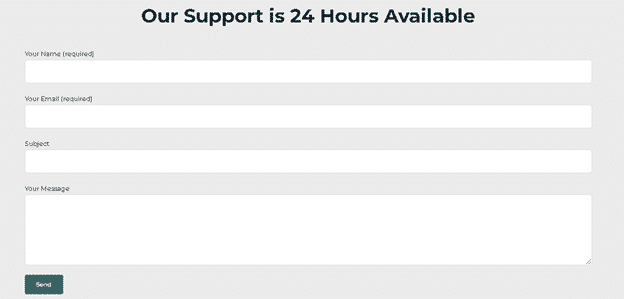 Main Features
The trading strategy is undisclosed by the vendor. Thus, we are unable to know about the type of advisor this Forex robot belongs to. Although the developer mentions technical analysis based on various algorithms, there is no in-depth info on the exact approach used. Among the other features of Forex Profit Robot are as follows:
This is a fully automated trading system
The robot works on MT4 platform
It closes trades within 24 hours
It has a full money management system
Traders can also custom Lot size
If you want, you can easily disable currency pairs you do not want to trade
The vendor recommends trading with default settings
The robot is based on various algorithms
Although the dev failed to provide any trading strategy details, we have found that Forex Profit Robot runs risky and dangerous Grid plus Martingale strategies
The robot trades AUD/CAD, EUR/GBP, EUR/USD, GBP/USD, USD/CAD, USD/CHF, and USD/JPY currency pairs
The minimum account balance to trade with this EA should be $100
Minimum MT4 leverage should be placed at 1:500
The robot can be attached to 1 chart to work well
For smooth trading, a good Internet connection is required
Price
Two price packages are offered for Forex Profit Robot: 1 license package and 1 license plus MT4 VPS Server package. Both packages have the same features1 license for MT$ demo or real account, free installation, free transfer to other MT4 accounts, and 30 days money-back guarantee. The second package costing $140 includes a VPS server, that is why its price is $40 higher than the one of 1 license package without VPS. Despite the money-back assurance, the price charged per month is too high when compared to the other EAs offering one time payment (most competitor robot systems cost under $300-$350).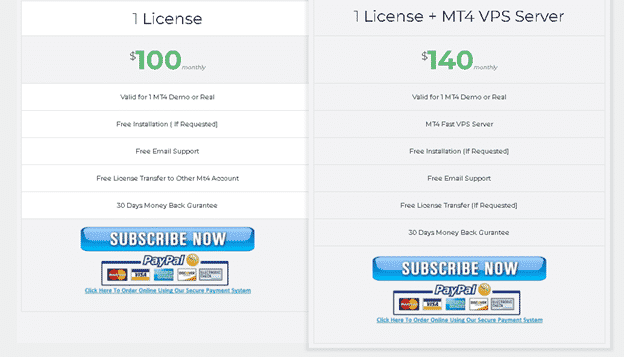 Trading Results
The dev does not provide backtest reports. Therefore, we have no guarantee the robot was well tested on the past tick data before being released.
The account was created on myfxbook.com on January 1, 2021. It was deposited at
$1426 (total deposit amounts $ 6,218.68). The robot works on a Real USD account on FBS brokerage. It trades on the MT4 platform with 1:1000 leverage.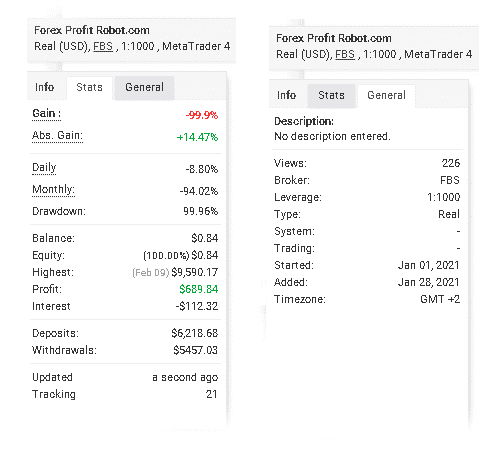 The account reveals a profit loss percentage of -99, 9%, and an absolute gain of 14, 47%. A daily gain of -8,80% and a monthly gain of -94, 02% are provided. The maximum drawdown was 99, 96%. Nothing looks optimistic. It's clear that the account was broken, but let's see what had caused its ruin.
The robot traded 423 trades and won 240 out of them. Its win rate for Long positions was 57%, and 55% for Short positions. The average loss (-21.13 pips/-$57.58) was higher than the average win (7.01 pips/$46.78). The profit factor was 1.07.

From the day of activation up to the middle of March 2021, the robot had been trading stable, generating profit from $31, 74 on January 4 to $4.235K on March 12, 2021.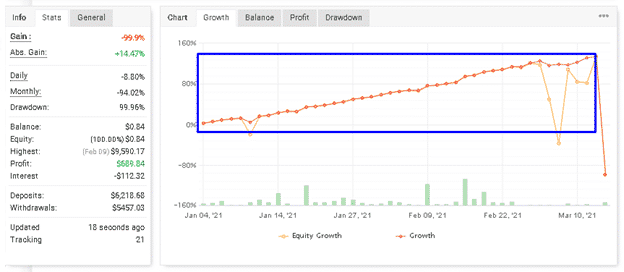 As you can see, March was the month of constant money loss. The robot used Martingale, increasing Lot size from 0,01 to 0,50 to recover, but things went down worse: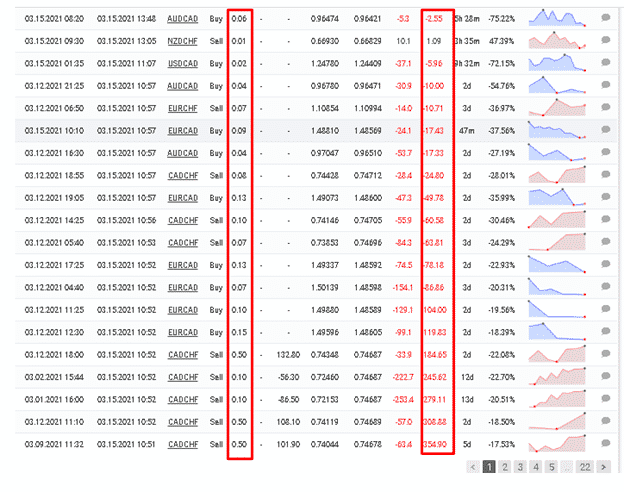 It's so dangerous! The trader lost over $3,5K. Now instead of $4,235K of profit, we see only $689.84.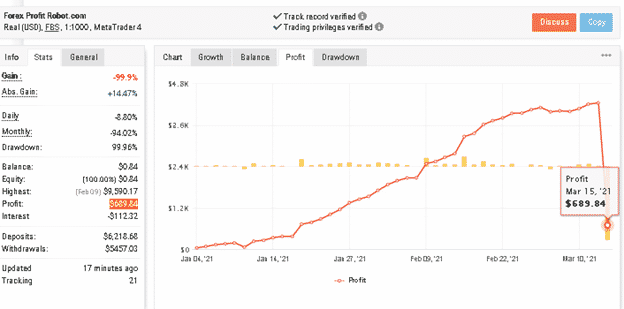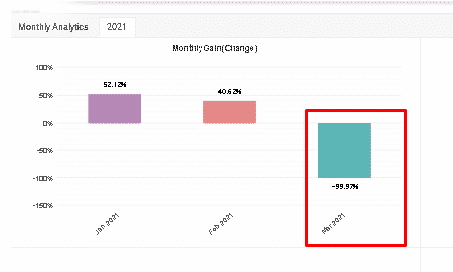 Customer reviews
There is a Forex Profit Robot page on the FPA website. However, there was no review from customers.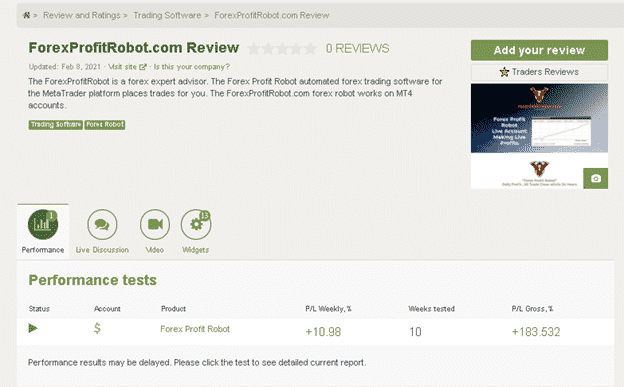 Forex Profit Robot Review Summary
We do not trust Forex Profit Robot. Firstly, we have neither the dev nor team that stands for this expert advisor. Secondly, the dev failed to provide backtesting results to compare them with the live trading results. Thirdly, the robot has risky and dangerous trading approaches on the board. The website presentation is poor and lacks info where it is the most required. To sum everything up, paying $100 or $140 per month for this EA is madness.