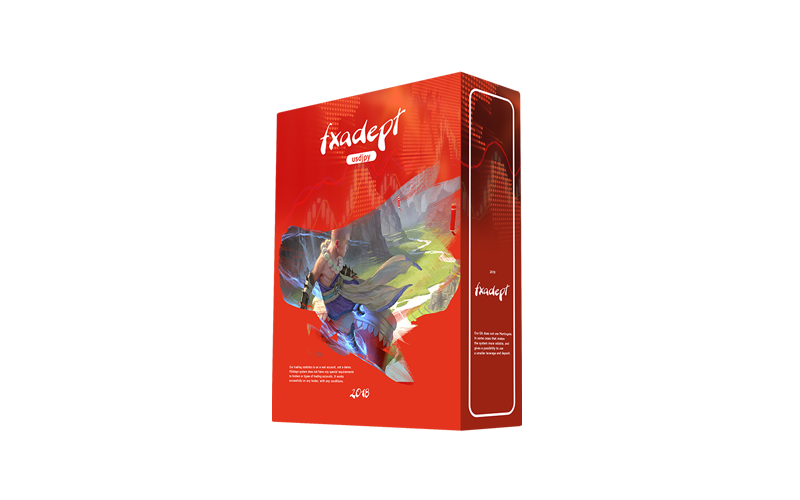 With a claim of being a reliable system that does not use scalping, Martingale, or grid strategy, FXAdept EA assures stable monthly profits. A low deposit and leverage are made possible with this EA, which is compatible with the MT4 platform. Trading only on USDJPY pair, this robot utilizes two fundamental algorithms for its trading strategy.
Is FXAdept A Reliable EA To Invest?
After assessing the information provided on the official website of FXAdept EA and verifying the backtests and real account results provided by the vendor we have concluded that this expert advisor is not worth trying. At the outset, the strategy explained by the vendor seems to be unique but in reality, uses just trend trading which is not a new or effective one for most of the automated EAs using it. There are several other drawbacks we found with this automated trading tool including:
Lack of vendor transparency
Unclear strategy
Expensive Price
Poor performance
Read on to know more about these drawbacks.
Company Profile
We could not find any information about the developer or team behind this automated trading software other than the specification that the site is powered by the Forex store. The absence of vendor information is a clear indicator that this is not a reliable site. Further, the domain copyright is only up to 2019, which is another glitch we found.
Main Features
Trading solely on the USDJPY pair, FXAdept EA assures traders that it has the special ability to provide stable profits without using any of the prevalent strategies, such as Martingale or grid methods.
Two algorithms namely entry point and smart order support are used by this EA. For the entry point, this robot claims it has a precise pattern to spot a prevailing trend and open trades. It uses the RSI indicator in a non-standard way, selective settings, and special filters to open trades that have high profitability. As for the smart order support, the EA identifies unfavorable market movements quickly and stops at minimal loss or breakdown.
Price
FXAdept is available for $269, which is inclusive of a license, detailed instruction manual, and 24/7 support. Traders using this software can change account any number of times online. Compared to the prevailing price levels of Forex EAs, the price is certainly expensive. Further, the vendor does not justify the high price package either in terms of performance or reliability.
Trading Results
From the backtests provided on the official site, it is clear that these are not effective, as the modeling quality used in only 90%. For more accuracy in the results, a 99% modeling quality with tick data is necessary. Furthermore, the results do not give information about the spreads, slippage, etc. Although the low risk and high risk backtests recorded over a 4-year span show considerable profits, you have to keep in mind that historical data cannot be used for predicting future profits.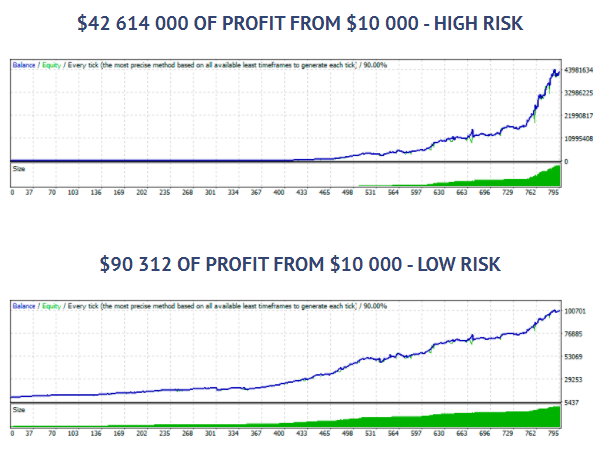 Live verified performance of this EA from the Myfxbook site below shows a trading period of three years with a gain of 338% and a drawdown of 37.23%. The daily and monthly gains are 0.14% and 4.35% respectively. Further, analysis of the results shows the profitability of just 54% with a deposit of $1000 and over 405 trades. The average win occurred at 36.51 pips, while the average loss was at -25.08%. Looking at the trading history we found the gain to be very low and many trades were done at a loss.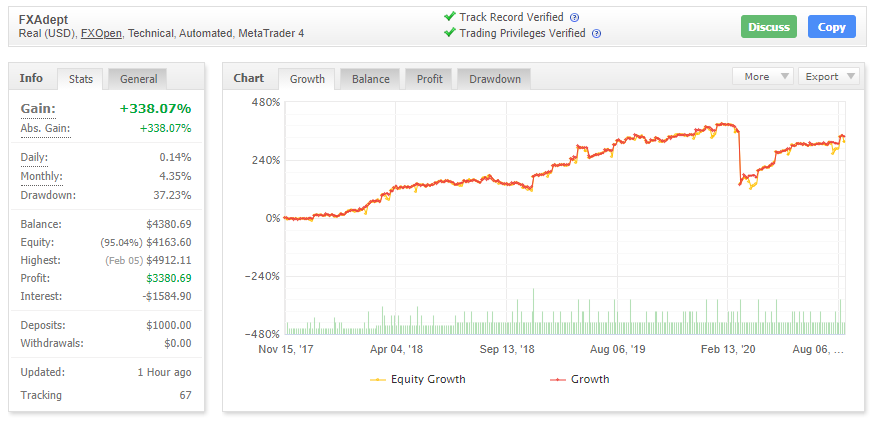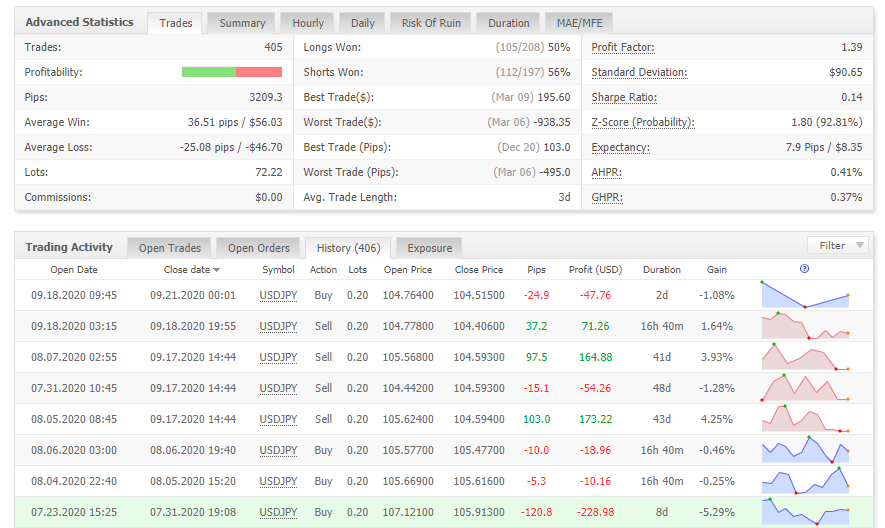 Customer Feedback
We couldn't find any user feedback for this EA. Feedbacks help traders assess the efficacy of the system and whether they could trust it or not. For an automated trading tool that has been in the market for over 2 years, the absence of feedbacks looks suspicious. We consider the complete lack of user feedback a big warning sign that this trading software is not to be trusted.
FXAdept Review Summary
Concluding our FXAdept review we find that this EA is not to be trusted. Having failed in various important aspects of reliability like vendor transparency, effective strategy, and high performance, this Forex robot is also overpriced. The trading performance despite being verified on Myfxbook does not instill confidence in the EA's effectiveness. Considering the expensive price it is offered at, the EA is simply not worth the money for traders of any level.