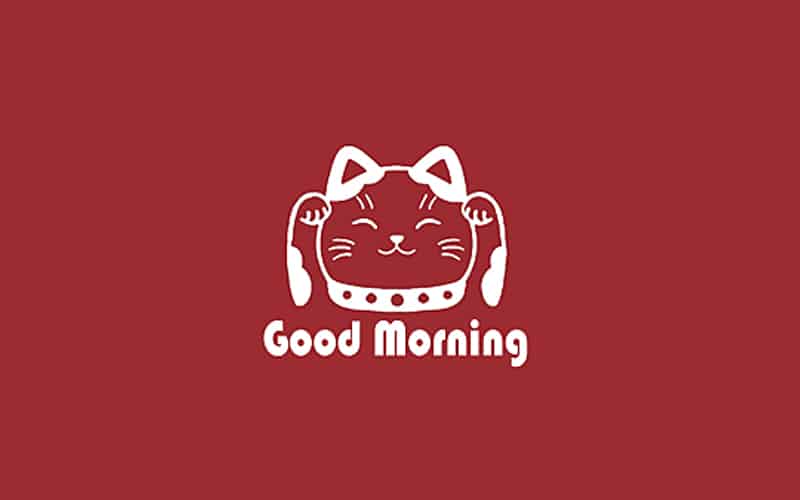 GoodMorning EA is a Forex robot that does not work with martingale or grid strategies. It is designed to enter and exit trades for two hours daily. The vendor has integrated two trading modes into the EA; the basic strategy and the smooth strategy. Enabling the smooth mode allows the robot to configure the trading pairs automatically without your intervention. The mode also shows you the best currency pairs to work with.
Is investing in GoodMorning EA a good decision?
The robot supports many currency pairs, which increases your chances of earning more profits in the market. However, the EA's real performance cannot be determined because the available live results have not been verified by a trusted third-party site.
Company profile
GoodMorning EA was created by a China-based developer called Wei Tu. She has already published nine signals and two trading systems on MQL5. Wei doesn't have any trading experience, and there are no other details about her professional background.
Main features
The major features of the EA are outlined here:
It trades on many currency pairs, such as AUDCAD, CHFJPY, EURAUD, EURCAD, EURCHF, EURGBP, EURUSD, GBPAUD, GBPCAD, GBPCHF, GBPUSD, and USDCHF
The recommended timeframe is M5, while a minimum deposit of $50 is used
Works on both the MT4 and MT5 trading terminals
All symbols can run on a single chart
Has multiple exit mechanisms
It is fully automatic, so it is able to match the currency pairs monthly
The EA requires good brokerage conditions, such as low spreads and slippage during rollover
An ECN account type is preferred
You should run it continually on a VPS using a latency of no more than 100ms
The EA works with the night scalping strategy while applying smart algorithms to ensure it makes safe entries when the market is very silent. It also attaches a dynamic take profit that is based on market conditions whenever it enters the market. The robot makes exits using several modes. A strict rules-based trading technique is implemented where a single order is opened at a time, and a stop order is attached to every trade.
Price
GoodMorning EA is priced at $699. A rental package is also available at the cost of $199 per month. Unfortunately, the system does not come with a money-back guarantee.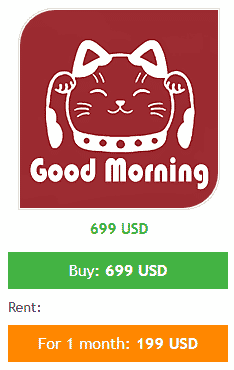 Trading results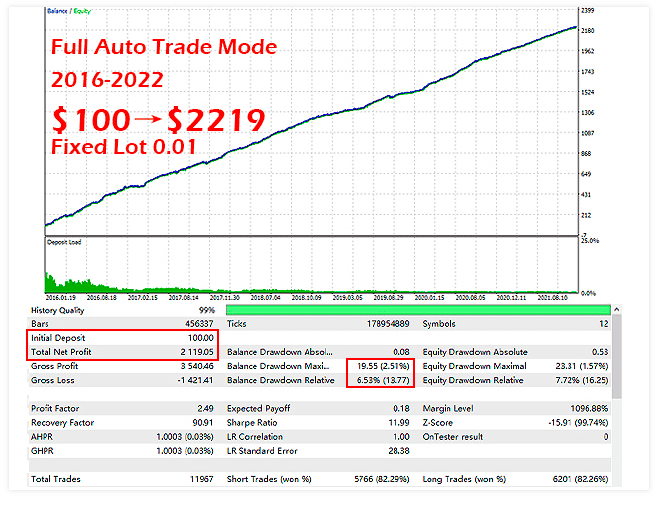 During this backtest period, GoodMorning EA traded on 12 symbols between 2016 and 2022 using a fixed lot size of 0.01. It completed 11967 orders and generated a small drawdown of 2.51%. Clearly, trading risks were very minimal, which is a good thing. A total net profit of $2119.05 was made from a deposit of $100. We have noted that the income was relatively small, considering the EA traded on six years worth of data. This means that it made about $300 yearly.
We could not find the live trading stats for this system on independent sites like FXStat or Myfxbook. So we decided to just evaluate the data availed to us on MQL5.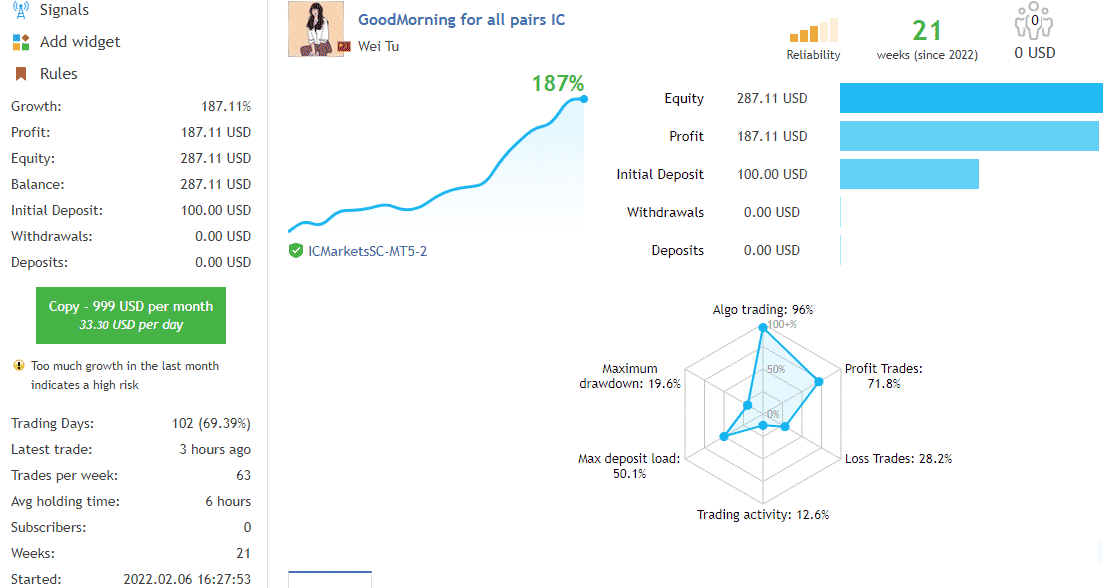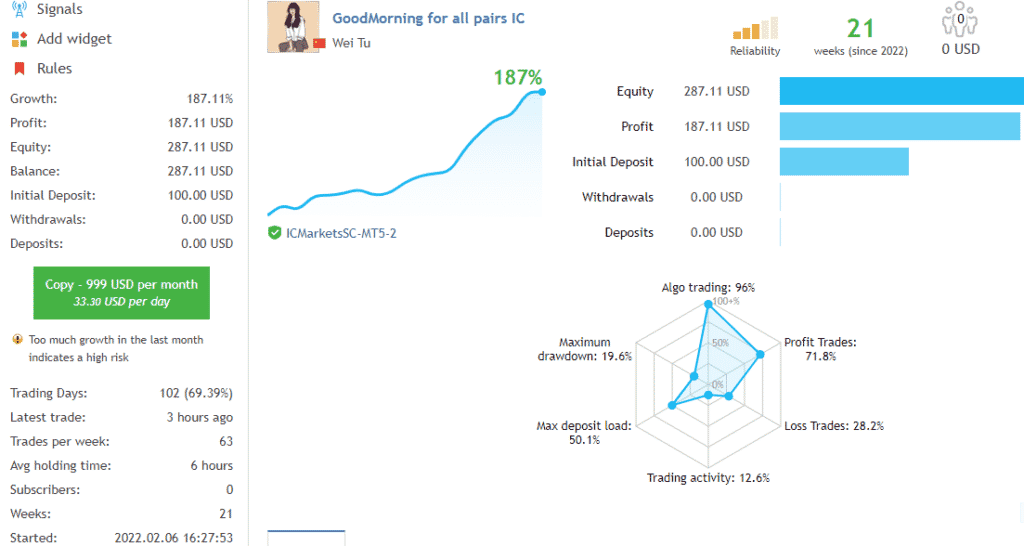 The EA has been running this account since February 2022 while being hosted by IC Markets. It has used a deposit of $100 to generate a profit of $187.11 for the owner. So, we now have an impressive growth rate of 187%. The account balance has also increased to $287.11. Within 102 trading days, the robot has produced a drawdown of 19.6%, which is substantially higher than the one reported in the backtest period. This tells us that the trading risks are relatively high in the live market.
There are 755 completed trades with a profit factor of 1.61. The best trade has produced a profit of $13.53, while the worst one has incurred a loss of -$13.12. The robot prefers to work with short trades (55.50%) compared to long trades (44.50%). For now, the system's profitability rate stands at 71.78%.
Customer reviews
The robot has a total of six reviews on MQL5, and five of them are positive. Some of the traders state that the system is good, has a good profit/ratio, is intelligently written, and is safe. There's a trader who disagrees with these sentiments, though. According to this user, GoodMorning EA is expensive and loses more than it wins. In fact, the developer is accused of removing the performance of the tool on a live signal when it makes losses. She then replaces it with a winning signal.

The Review
Some of the good sides of the robot are that it doesn't use risky strategies, is loved by current users, and has a backtest record. The drawbacks are that the EA is expensive and features live trading results that haven't been verified by third parties. Vendor transparency is also inadequate, so we don't know if the developer can be trusted or not.