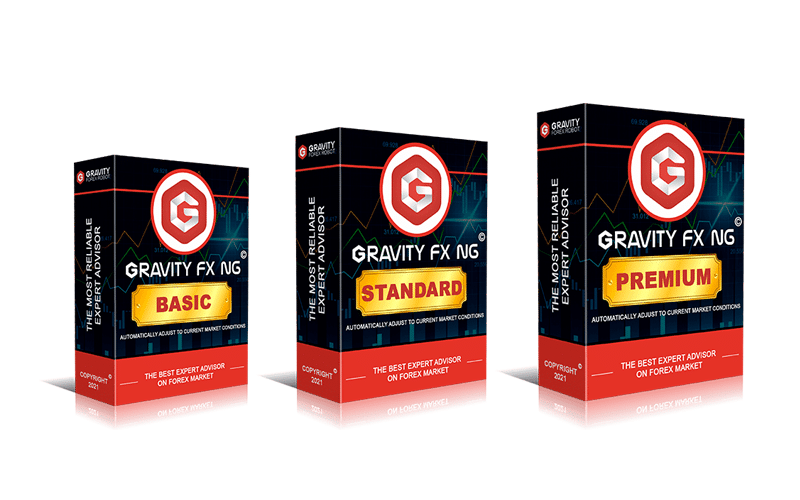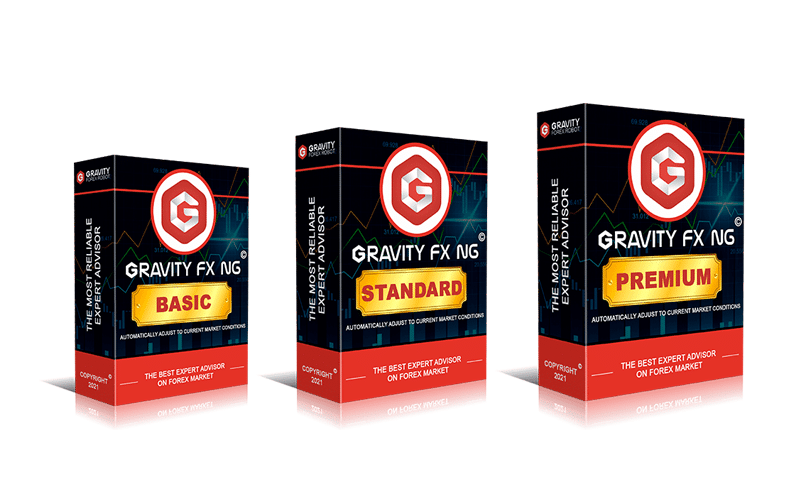 Gravity FX NG is compatible with ECN brokers and uses a hidden stop loss and take profit to protect stop hunting from the brokers. It uses a low-risk scalping approach that follows short and medium trends. Our article will discuss the main features of the algorithm and see if it is profitable in the markets or not.
Is investing in Gravity FX NG a good decision?
To analyze the performance of the software, we have gone through verified trading records and backtesting results. After careful analysis, we conclude that the EA is not good enough for your investment.
Company profile
The company doesn't present any information on the developers. We do not know the experience of programmers in the software sector and trading. They have left their email id for contacting them through skype or mail.
Main features
The software come with the following main features:
Detects four and five-digit brokers automatically
It has an inbuilt stealth bode and broker spy detection module
It is set up within five minutes
To install the robot, traders have to place the ex4 file sent over by the developers within the experts' directory of the MetaTrader platform. Later on, refresh the expert's tab and place the EA on respective charts to begin trading. Do not forget to enable the auto-trading button, otherwise, the algorithm will not open trades.
Price
The robot is available through a subscription plan for six months and a year. The basic program for six months costs $599 and comes with a single license, while the one for a year with three licenses requires $999.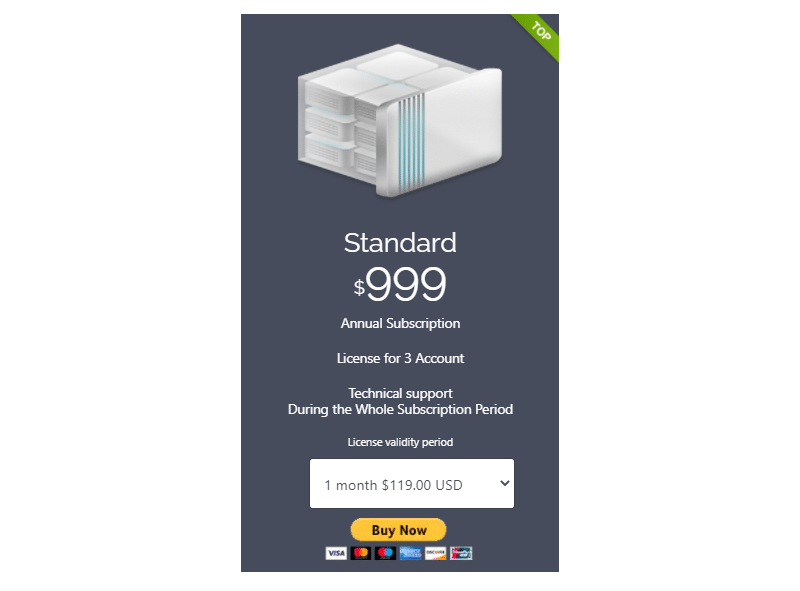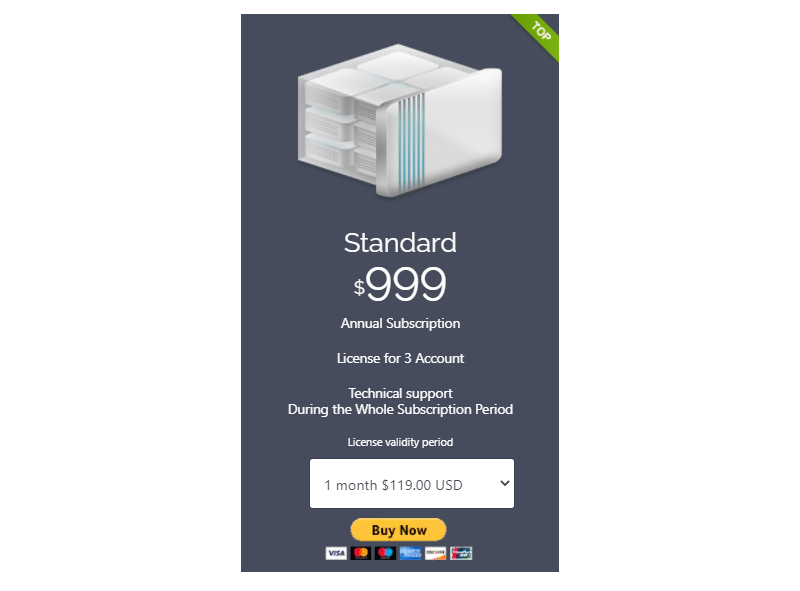 Alternatively, traders can also purchase a license for seven accounts at $1299. There is no money-back guarantee with the program.
Trading results
Backtesting results are available for unknown currency pairs. The duration of all the tests is one month, but the year is not mentioned. Statistics are available for the complete year of 2020. The developer presents backtesting results by showing multiple images. There is no detailed statement available which is a big turn-off. For 2020, the robot had a maximum drawdown of 11.13% and turned an initial deposit of $50000 into $161385.17. It had a winning rate of 84.77% with a profit factor of 1.40. The average amount of profitable trades was $34.01, while the average amount of losing deals was -$135.04. There were a total of 9443 trades executed during this period.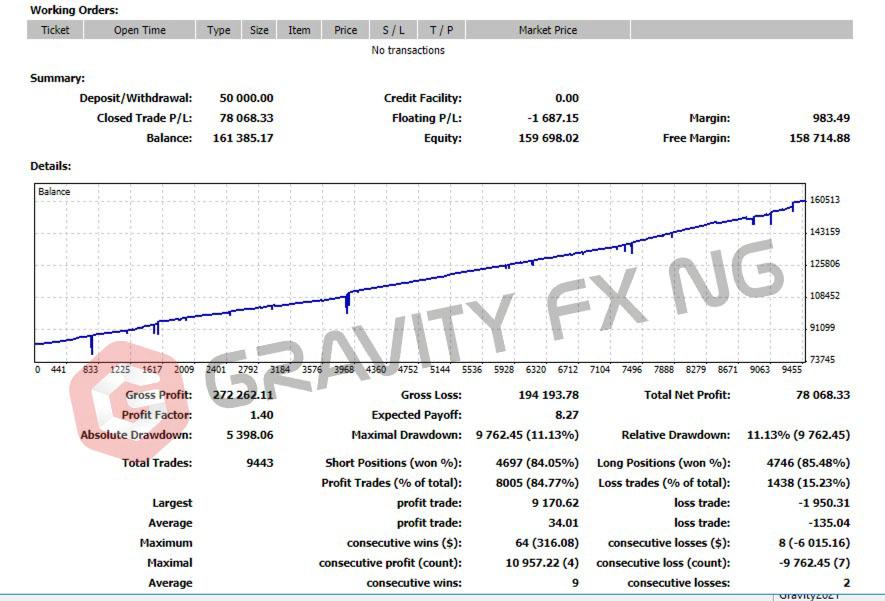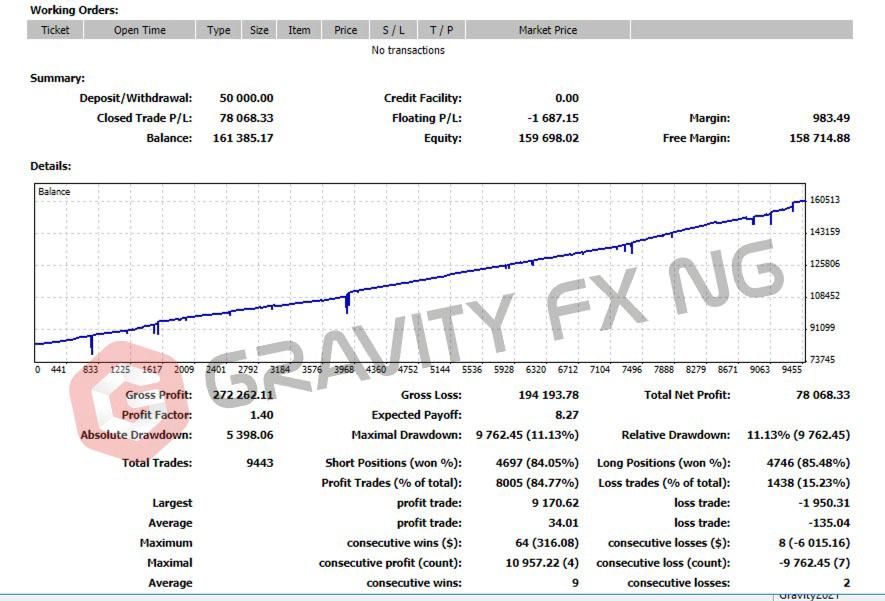 Live trading results are available on Myfxbook, which show performance from June 2, 20210, till July 16, 2021. The robot had an average monthly gain of 9.61%, with a drawdown of 23.18%. There were 15209 trades in total, with 5989.80 lots traded. The expert advisor traded with a winning rate of 85% with a profit factor of 1.41. The best trade was 15539.80 Euros, while the worst one was -3172.42 Euros. It is interesting to note that the results are on a demo account.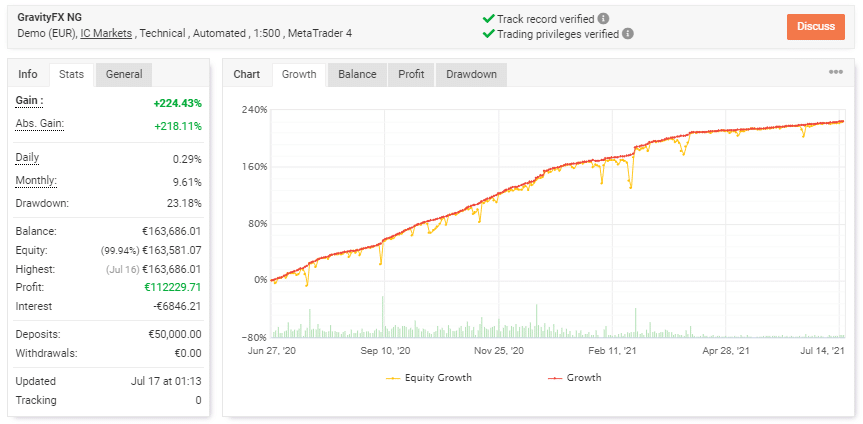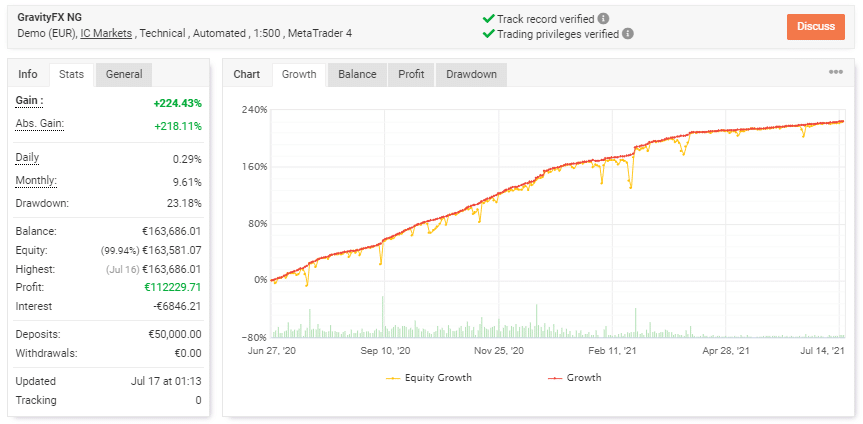 The trading history shows that the robot uses a grid and martingale strategy. It is evident when we look at similar pairs closed at the same time. Average trade duration of 6 hours and 52 minutes meaning that most of the positions are closed within the same day.


Interesting facts
There are no customer reviews available on Forex Peace Army and TrustPilot. This shows that traders are not trusting the algorithm as there are no live records that can depict its performance. Virtual portfolios do not respect real market liquidity and slippage; therefore, the output on a live account can differ by a big margin.
Summing up
Gravity FX NG is not a reliable system as there are no live trading records available. The developer fails to showcase his portfolio and whereabouts, which is a big turn-off. Stay away from the algorithm if you value your money.