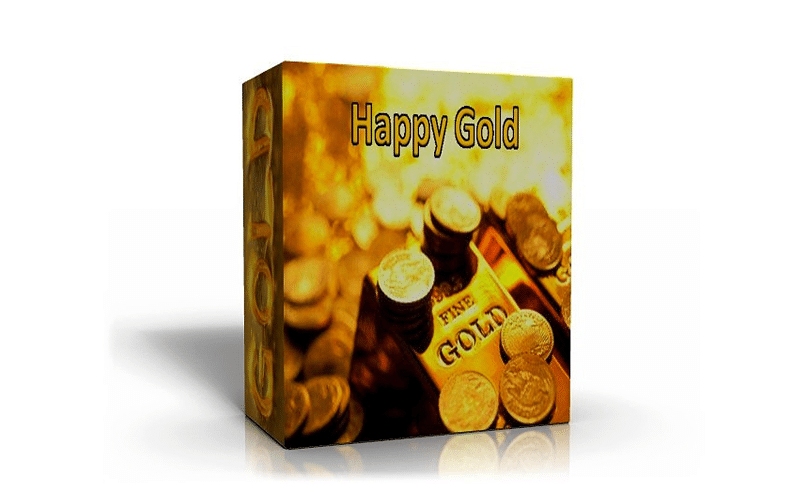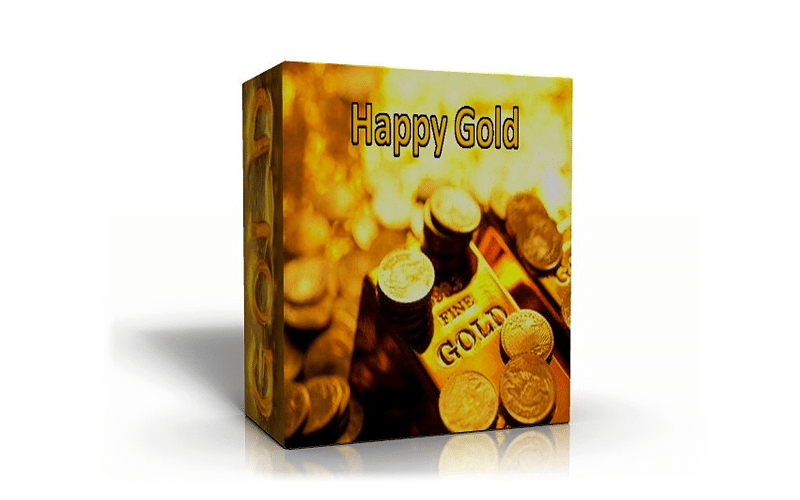 Happy Gold is a gold-trading expert advisor that is backed by 12 years of backtesting results. As per vendor claims, it is a highly profitable and reliable trading system. Of course, before we reach a final conclusion, we need to analyze the various aspects of the EA thoroughly to see whether it is truly trustworthy.
Is investing in Happy Gold a good decision?
To analyze the performance of the robot, we have looked into things like price, presentation, vendor transparency, features, trading results, and customer reviews. We can see that the EA follows a risky strategy that leads to a high drawdown. Also, there is a lack of vendor transparency and brand reputation. Hence, our first conclusion is that this is not a reliable system.
Company profile
The presentation on the official website is a bit haphazard. After giving a short introduction to the robot, the vendor has listed the latest updates that have been made for the system. Next, we have the minimal requirements and the main features of Happy Gold. The vendor has also shared the pricing details, along with multiple links for backtests and live trading statistics.
Happy Gold is a product from the Happy Gold team which is based in Germany. We have virtually no information on this company's service history and the vendor has not shared any contact details on the official website. Also, we don't know anything about the team members working for this company, so this robot does not impress us from a vendor transparency perspective.
Main features
Happy Gold works on multiple operating systems like Linux, Mac OS, and Windows. You can use it on MT4 or MT5 and it supports ECN accounts. The vendor recommends making an initial deposit of $100 while trading with this robot. It can perform quo-quote detection of 4 or 5 digits.
This is a 100% automated system that avoids risky strategies like martingale, grid, and hedging. After purchasing the robot, you get a user guide in English as well as installation instructions. This EA uses a combination of grid news, swing, and scalping strategies. It also uses a modified ZigZag indicator. You can use Happy Gold to trade in XAU/USD for H1, H4, M15, and M30 timeframes. This indicator joins the extreme ends of the chart, with the distance being equal to or higher than the specified price scale percentage.
Happy Gold uses dynamic take profit levels and stop-loss based on the market sentiment. The vendor recommends trading with low slippage and a maximum spread of 20 pips.
Price
There are two pricing plans for this Forex EA. The first one gives you access to 2 licenses for 299 Euros, while the second one offers 5 licenses for 499 Euros. When you purchase this robot, you get the EAs Happy Forex Full Pack containing 10 EAs for free. The license is for the first month after which it is renewed automatically. There is a 30-day money-back guarantee offered for this product.
Trading results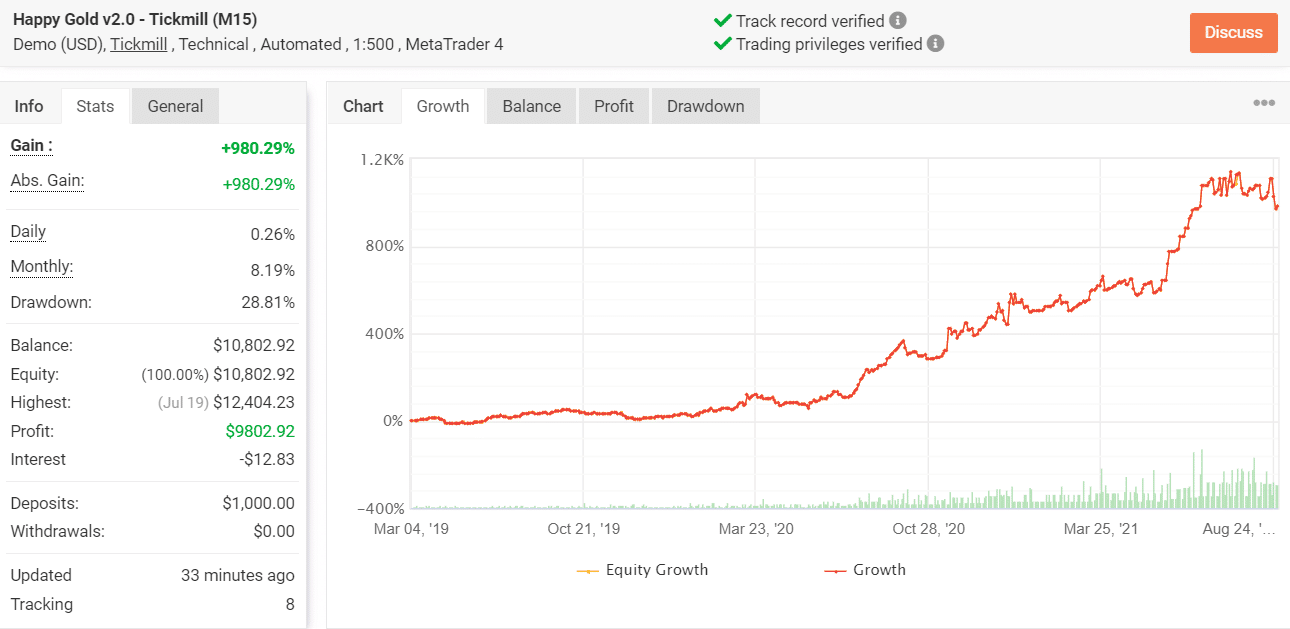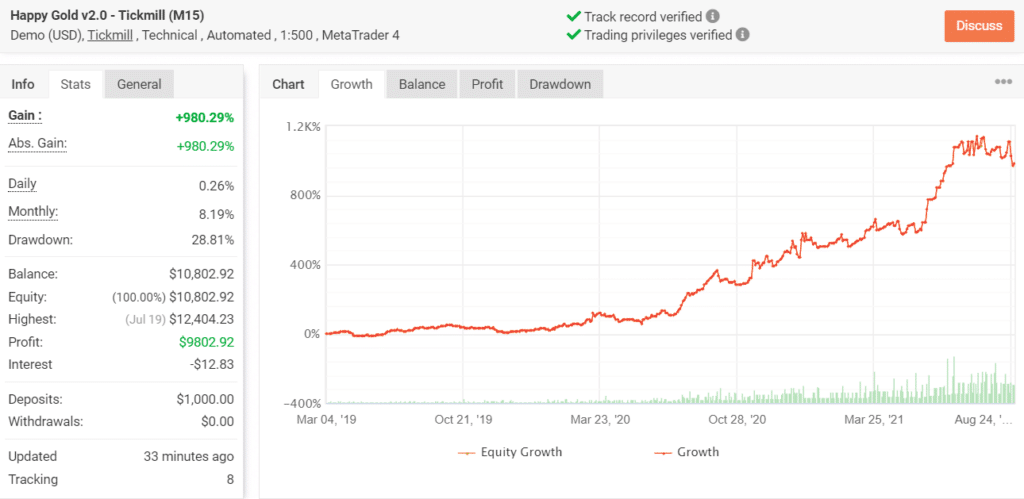 Here we have a live trading account for Happy Gold that has been trading since 2019. The win rate for this account is 65% and the total profit generated is $9802.92. The drawdown is a bit high at 28.81%, and this indicates a high-risk trading approach. This account has a profit factor of 1.46.
At this moment, the daily and monthly gains are 0.26% and 8.18% respectively. The EA has placed a total of 801 trades, winning 521 out of them, with the average win and loss being 64.17 pips/$59.49 and -61.28 pips/-$75.69, respectively.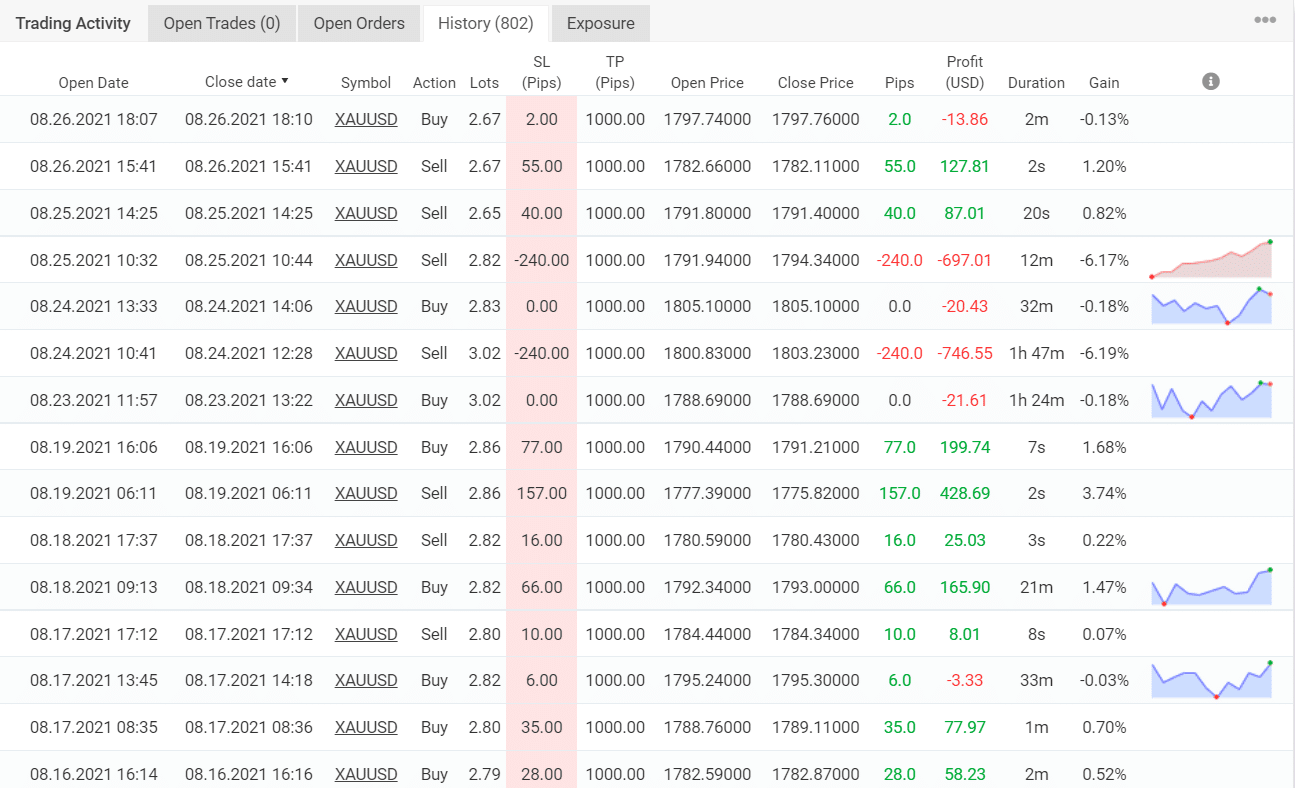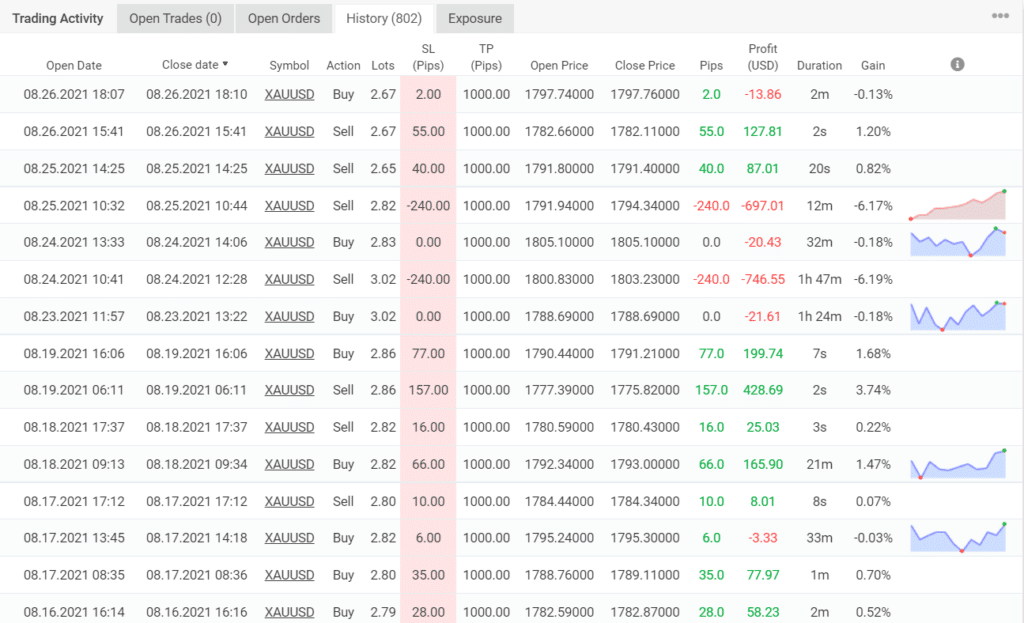 By checking the recent trades, we can see consecutive losses. It is also evident that the robot usually generates very small profits from each trade. Overall, it doesn't look like a highly profitable trading system.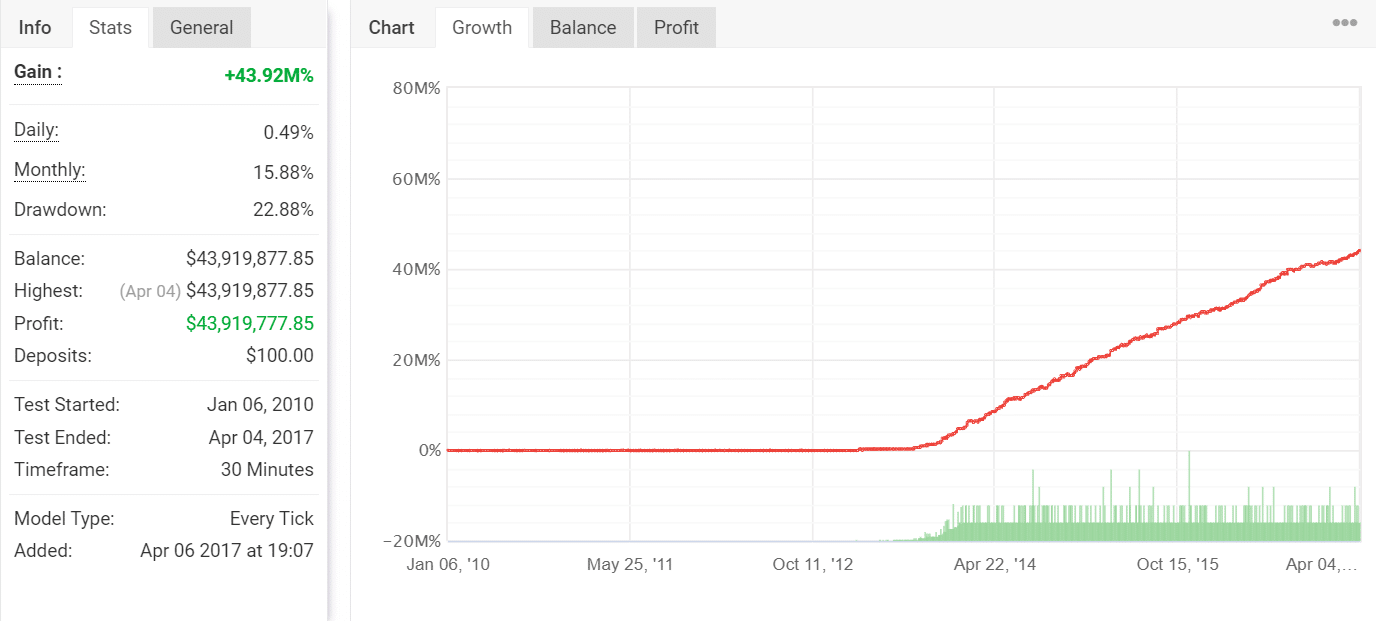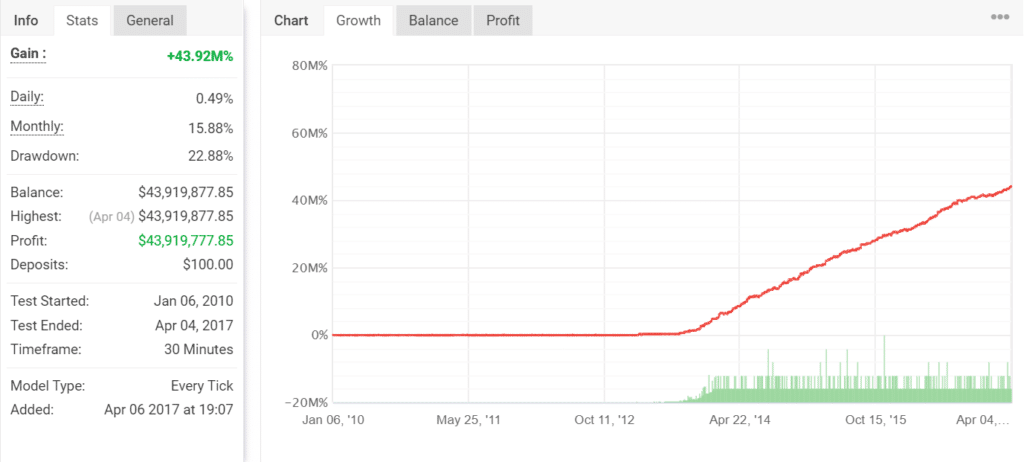 Compared to the live results, the win rate for the backtest is much higher at 93%. We can also see a higher monthly gain percentage and a lower drawdown. It was conducted over 7 years during which the EA placed 1676 trades and generated a total profit of $43919777.85.
Customer reviews
There are user reviews for this EA on third-party websites, which indicates a lack of reputation. This is yet another reason to stay away from Happy Gold.
Summing up
Happy Gold is not a trustworthy Forex EA because it uses a risky strategy that causes a high drawdown. We have very little information on the vendor and the pricing plans are not too cheap. Therefore, it's better to look elsewhere for reliable trading systems.