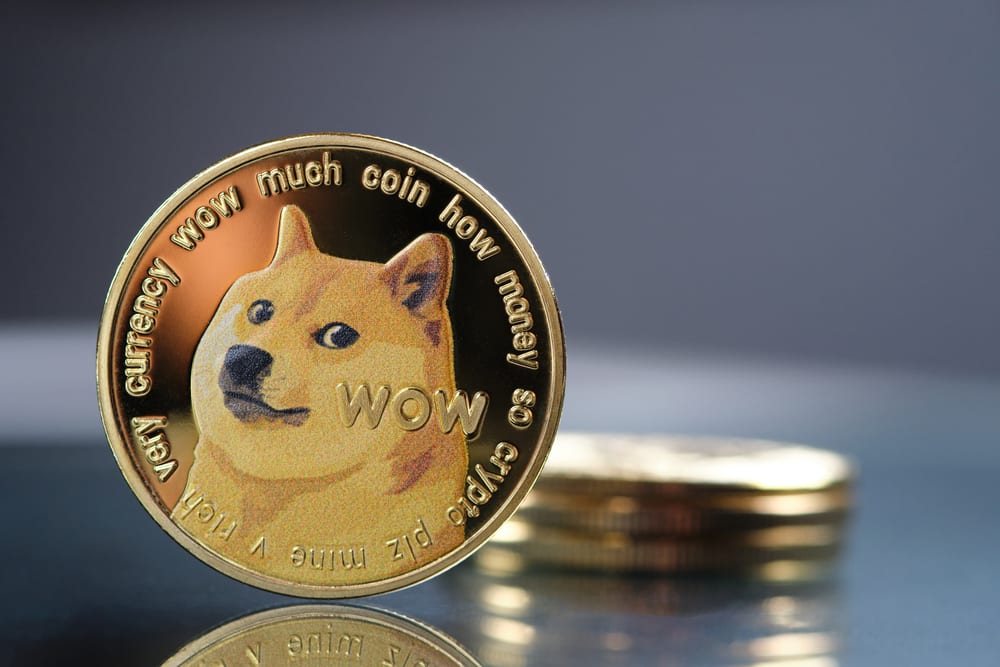 Cryptocurrencies have been making headlines for a while now, which has seen them attract investors aplenty. To the novice investor, profiting from their trade is as simple as buying a coin and hoping its price rallies with time. However, oftentimes these digital assets enter a bear market, which sees such investors lose their hard-earned capital. However, thanks to shorting, one doesn't have to make losses when the price charts go red. Before we explore the meaning behind this shorting concept, let's break down what is meant by meme coins.
What are meme coins?
At its core, a meme coin is a cryptocurrency like any other. However, it differs from mainstream crypto in that it is created as an homage to a meme or funny idea captured in an image, video, or other media file. They typically have little to no real-life utility but instead are designed to go viral, like the memes they mimic. This hype is what gives them value.
Dogecoin was the first meme coin to launch. Originally, it was created as a joke to mock the likes of BTC and other major cryptos. In the beginning, the coin's users mainly used it to tip their favorite content creators on the internet. However, when Elon Musk and Mark Cuban started promoting the coin, its value skyrocketed virtually overnight, which increased the coin's popularity as a medium of exchange. Nowadays, there are upwards of 200 meme coins in existence. These meme coins are marked by extreme levels of volatility, which attracts traders aplenty.
About shorting
We've established that meme coins are characteristically highly volatile. This means that they could spike today and experience an even bigger dip tomorrow. Shorting allows you to make money when crypto prices are falling. It involves borrowing a coin and selling it at the current high market price, then repurchasing it later on after its price plummets. Since by borrowing the coins, you are effectively short x amount of crypto, this is the reason this trading technique is called shorting.
Traders often short cryptocurrencies when they expect their value to decline. Crypto markets are highly unpredictable, which makes shorting a very risky endeavor. This is especially so because a subsequent rally would put you at a loss, and a meme coin's price could potentially rise infinitely. This means there is no cap on how much loss you can make from shorting. Its profits, in contrast, are finite since a coin's value cannot drop below zero.
Why short crypto?
Valuation
Oftentimes, you may notice that a certain cryptocurrency is in a price bubble or that its price is not at par with its utility. For meme coins, this can happen when the hype around a coin is extremely high, such as when Elon Musk was actively pushing Dogecoin. Such hype is often short-lived, and any gains a coin makes are just as quickly negated. Risk-tolerant investors may take such an opportunity to short the coin, which could yield attractive profits. When shorting potentially overvalued coins, always consider a coin's fundamentals and its intrinsic value against its current price.
Volatility
It is not uncommon for crypto prices to stage sudden spikes. More often than not, such spikes will be followed by downturns. By studying a coin's chart, traders can predict when a potential trend reversal is about to manifest and place short trades to that effect.
Hedging risk
If you hold a significant amount of a cryptocurrency, then a downturn in its price will very much leave you counting losses. Rather than sell your holdings, you can opt to open a short position on the same cryptocurrency to counterbalance any losses. By using leverage, you can ensure the profits from the short position equal, or even exceed, any losses you incur on your holdings.
How to short meme coins
Bollinger bands + ADX strategy
The Average Directional Index is a popular indicator that is used to show trend direction and momentum. By using its directional indexes (DI), one can tell whether the market is bearish or bullish. The ADX line then speaks to the strength of bullish or bearish momentum. Bollinger bands, on the other hand, are useful in identifying trends and their reversals by using three bands – middle, upper and lower bands.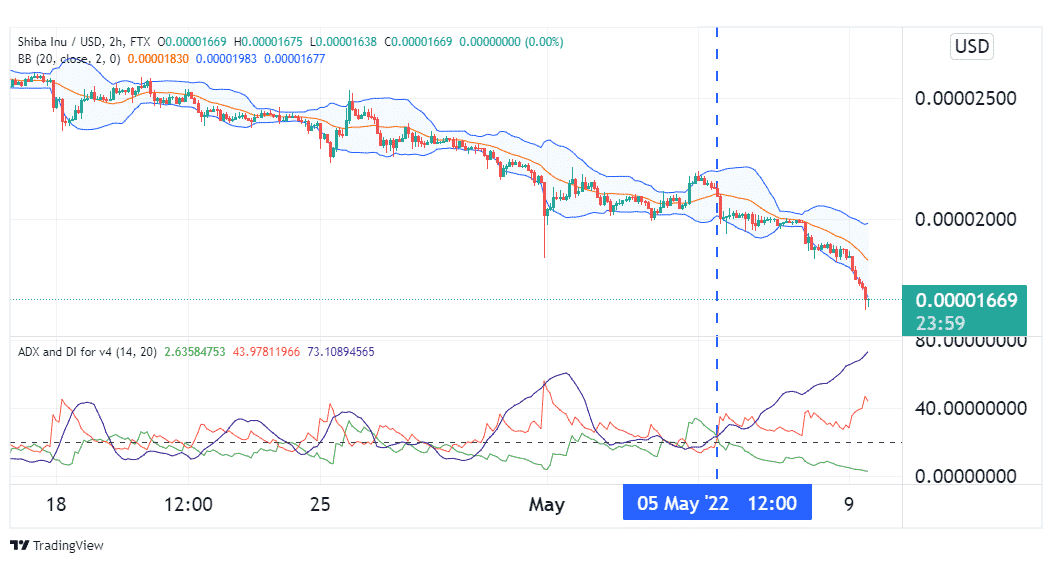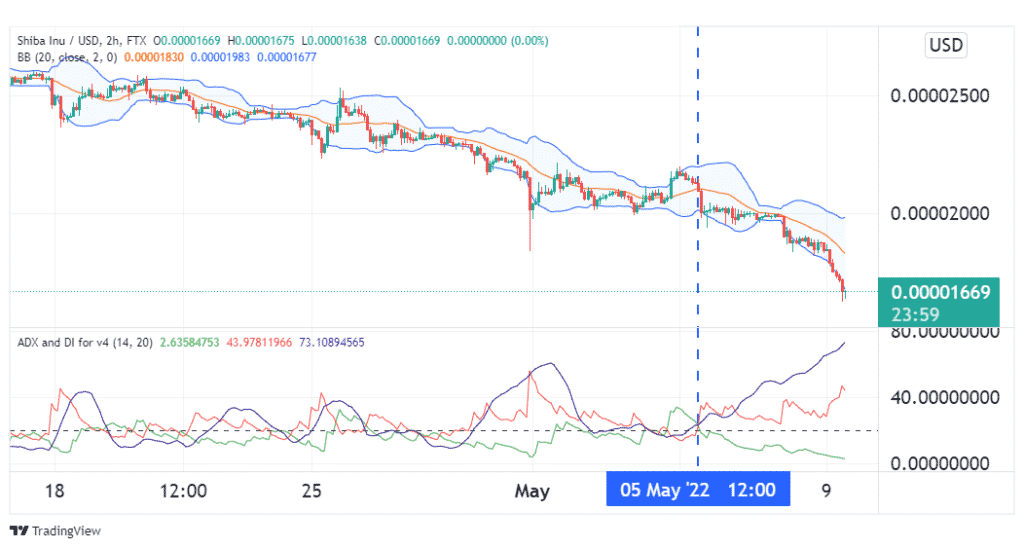 The illustration above shows a 2-hour SHIB price chart. On 5th May, the green + DI line crossed below the red -DI, indicating that the coin's price was in a downturn. At the same time, the ADX line was above its 25 threshold, which indicated that SHIB's bearish momentum was strong. As confirmation, prices broke below the middle Bollinger band to adhere to its lower band, another bearish flag. This called for the entry of a short trade. A suitable exit would be marked by prices breaking above the middle Bollinger band and the DI lines manifesting a bullish cross.
The EMA + MACD strategy
In this strategy, we'll be using the 20-period and 50-period EMAs, as well as the MACD with default settings for signal confirmation. This is illustrated in the chart below.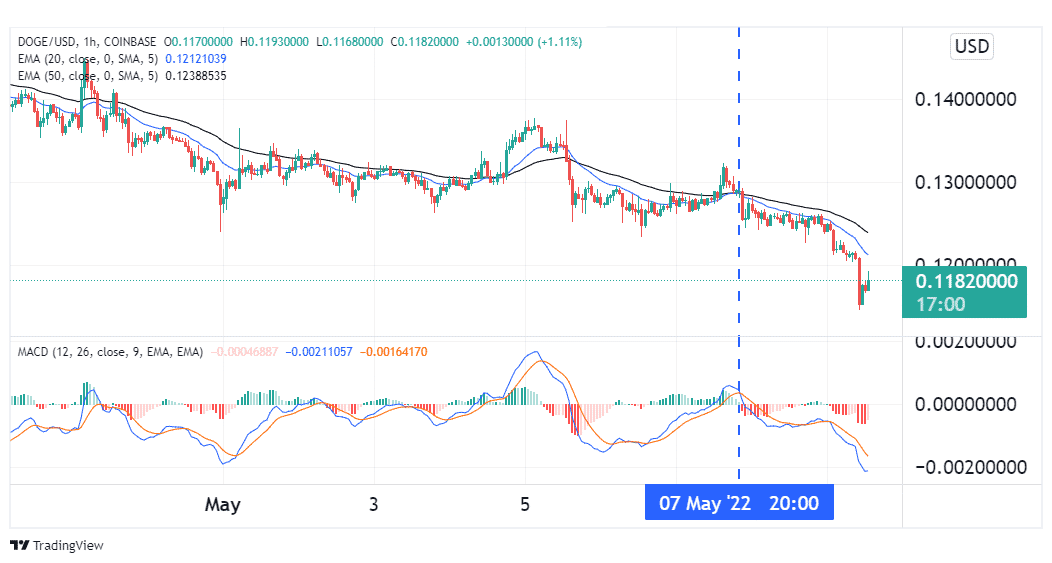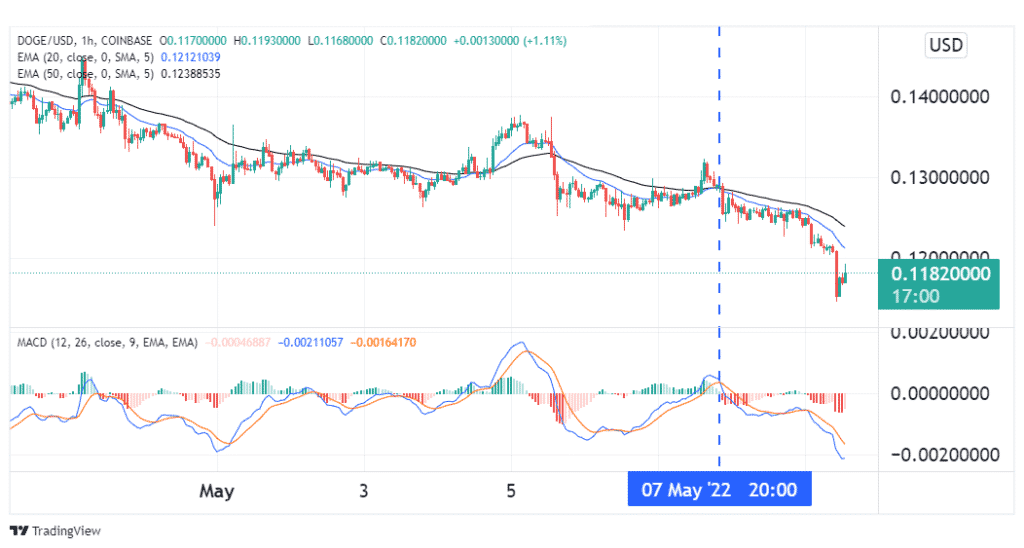 In the image above, 7th May saw the 20-period EMA cross below its 50-period counterpart after a short rally in Dogecoin's price. The blue MACD line also crossed below the red signal line, which is another bearish flag. This confirmed the signal to go short on the meme coin, and true to the signal, the coin went on a downtrend. A suitable exit would be marked by a bullish MACD and EMA cross.
Conclusion
Meme coins are cryptocurrencies that have little to no utility, and their valuation often depends on the hype around them. They are characterized by high volatility, which makes them suitable for short-term trades. To short them, you can use a combination of indicators such as ADX, Bollinger Bands, EMA, and the MACD.