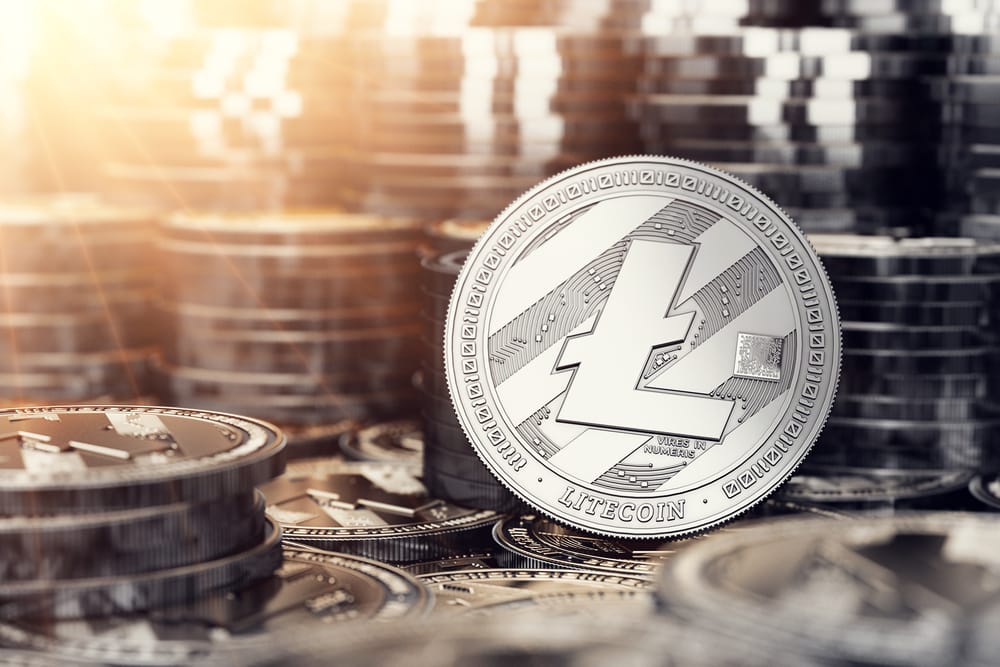 Disclaimer: Although we think digital assets are a great trading and investment tool, we do not suggest any particular decisions on how to your funds. You are fully responsible for their financial investments.
What is Litecoin LTC?
Litecoin is an alternative cryptocurrency released in 2011 by former Google engineer Charles Lee. Adapted from Bitcoin's open-source code, it features several modifications designed to enable fast, secure, and low-cost payments. While featuring the Bitcoin protocol, it comes with a different hashing algorithm and different block transaction times.
Litecoin came into being at a time of growing concerns that Bitcoin was becoming centrally controlled. Therefore, it was seen as an alternative designed to make it impossible for large-scale mining firms to gain the upper hand in the mining process. However, specialized machines have seen enterprise miners control a good share of Litecoin mining in the recent past.
LTC is the native token that powers the Litecoin network. It acts as a medium of exchange on which transaction fees are settled. In addition, miners who engage in LTC mining are rewarded with LTC tokens.
Just like Bitcoin, it comes with a maximum supply capped at 84 million. Currently, there are about 70 million LTC tokens in supply. It is the 21st largest cryptocurrency with a market cap of $7.15 billion.
The number of LTC tokens in supply increases with each newly mined block. Every 2.5 minutes, a new block is generated in the Litecoin network. The new block is verified by mining software before entering to become part of the big chain.
Should I buy Litecoin today and what is the current LTC market sentiment?
Litecoin is currently trading in a downtrend after a 60% plus pull back from all-time highs. The coin has been under pressure for the better part of the year, having shed more than 30% in market value amid soaring selling pressure.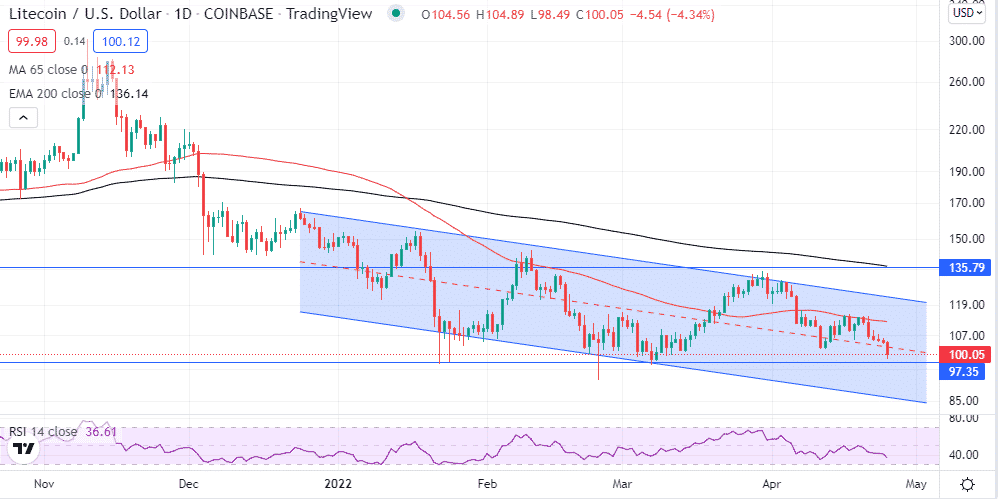 After the recent slide lower, the coin is staring at strong support near the $100 level. A slide below the pivotal level could leave LTC susceptible to further losses. The coin is trading below the 200-day moving average, so it is likely to slide below this level.
In addition, the Relative Strength Index is pointing lower after sliding below the 50 level, affirming bearish momentum. Conversely, now may not be the best time to buy the token even though it is trading at a significant discount relative to its all-time highs.
Nevertheless, LTC finding support above the $100 could trigger renewed accumulation, resulting in the coin rerating higher. A close above the $113 would make LTC a bounce-back play offering an exciting entry-level after the deep pullback. Below $113, it is important to be extremely cautious.
What is Litecoin LTC price prediction for a year?
LTC's short-term outlook is bearish. The prospect of the coin losing value is high as it continues to flirt with the $100 psychological level. However, immediate estimates indicate the coin could bounce back as the year progresses on the overall cryptocurrency bouncing back after months of sell-off.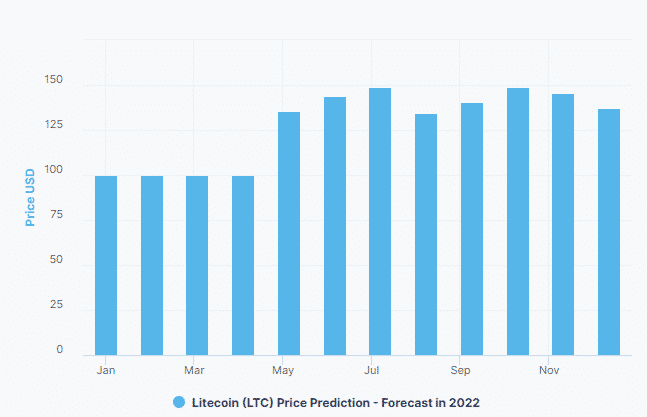 Analysts at Digitalcoinprice.com expect Litecoin to average $132 in 2022 and could rise to highs of $144, representing a 40% plus bounce back from current levels. In addition, estimates on Walletinevstor.com indicate LTC could increase to highs of $156 before year-end.
What is Litecoin LTC price prediction for 2025?
The medium-term outlook is even more bullish, with Litecoin expected to more than double in value by 2025. The bounce back is highly dependent on the overall sector bouncing back after the recent deep pull back from all-time highs.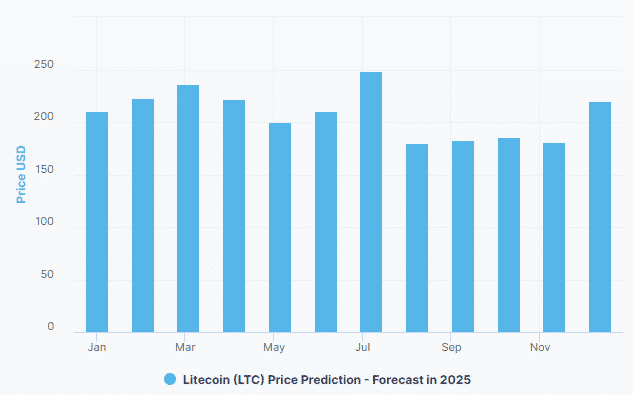 Litecoin is expected to surge to highs of $211 a coin by 2025 representing a 100% plus gain from current levels, according to digitalcoinprice.com. However, it would still be trading at a discount, considering it rallied to highs of $285 in 2021.
What is Litecoin LTC price prediction for 2030?
The long-term outlook is even more bullish, with Litecoin expected to appreciate significantly on the back of crypto and blockchain adoption in the mainstream sector. Estimates on Walletinvetsor.com indicate that LTC could be worth more than $321 over the next five years.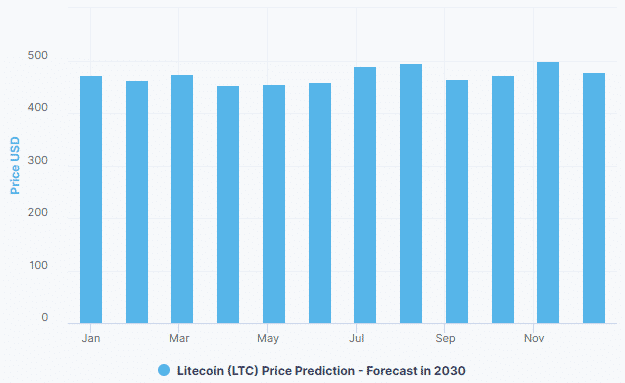 Analysts on Digitlacoinprice.com, on the other hand, expect the coin to appreciate fourfold to $481 a coin by 2030, representing a 400% plus gain from current levels.
Litecoin LTC Q&A
Will the LTC coin appreciate in a year?
Yes, the expectation is high that the LTC coin will appreciate over the next year and could reach highs of $152 a coin following the deep pull back from all-time highs.
How much will Litecoin be worth in 5 years?
Litecoin could be worth more than $320 a coin over the next five years, going by how volatile cryptocurrencies are.
Where do I buy Litecoin LTC?
Litecoin can be bought on a variety of cryptocurrency exchanges, including Huobi Global, Binance, Coinbase Pro, OKEx, and Kraken.