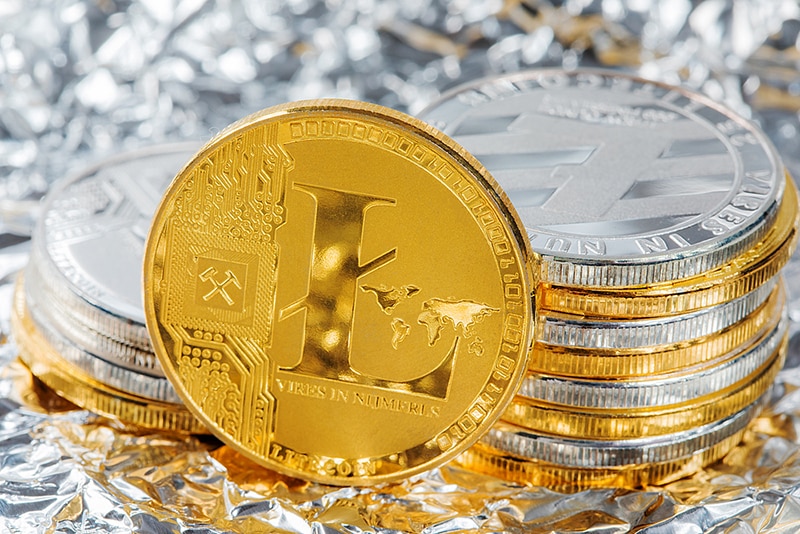 What Is Litecoin and What Is LTC Coin?
Litecoin is an open-source blockchain project developed as an alternative to Bitcoin. It came into being in 2011 to complete transactions on the digital ledger quickly and cheaply.
Developed from Bitcoin source code, it is often seen as a Bitcoin alternative. It operates under the proof-of-work consensus mechanism whereby miners leverage immense computing power to solve complex mathematical problems and thus earn the right to verify transactions.
Litecoin also operates as a peer-to-peer payment network not controlled by a central authority. It allows people to send and receive the money within the shortest time at the lowest cost. Its low transaction fees make it suitable for micro-transactions and point of sale payments.
LTC is the native coin that powers all the operations on the Litecoin network. In addition, it acts as a medium of exchange through which transaction fees are settled. The total amount of LTC coins that will ever be in supply is capped at 84 million. Currently, there are about 70.3 million LTC coins with a market cap of $4.89 billion.
While LTC coins are released into the market as rewards for the generation of new blocks, halving helps slow down the creation of new coins. This is because the halving price involves reducing the number of LTC coins awarded by one-half.
Should I Buy Litecoin Coin Today: LTC Market Sentiment
Litecoin coin is down by more than 80% from its all-time highs of $421 registered more than a year ago. The coin has been under immense pressure ever since the broader the market corrected late last year after one of the longest bull runs.
A drop below the $100 a coin level attests to how investors and traders are increasingly shunning the coin. The sell-off has coincided with investors shunning riskier assets such as cryptocurrencies amid the inflationary pressures and concerns about the global economy's health.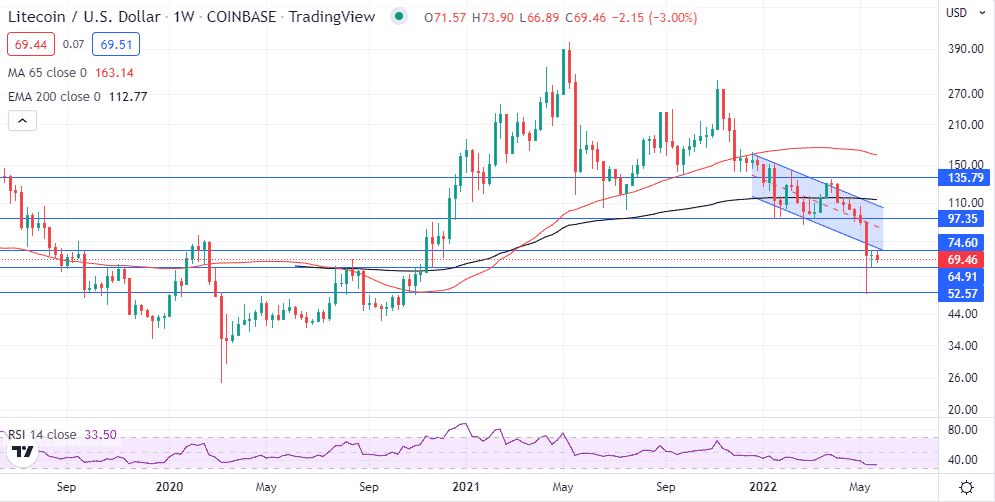 TerraUSD stablecoin imploding in recent months also appears to have sent jitters all but sparking a sell-off of the LTC coin. As the coin remains below the $80 level, it remains susceptible to further losses. Consequently, now may not be the best time to buy the currency as short-sellers remain under control.
The best time to buy LTC would be when it powers through the $80 handle and finds support above the pivotal level. The crypto crash dust must also settle, and riskier asset demand improve to support any substantial price gains.
What Is Litecoin LTC Price Prediction for a Year?
Litecoin's short-term outlook does not look positive, especially with the broader industry under immense selling pressure as investors continue to shun riskier assets such as cryptocurrencies. However, the sentiments are expected to improve significantly over the next year.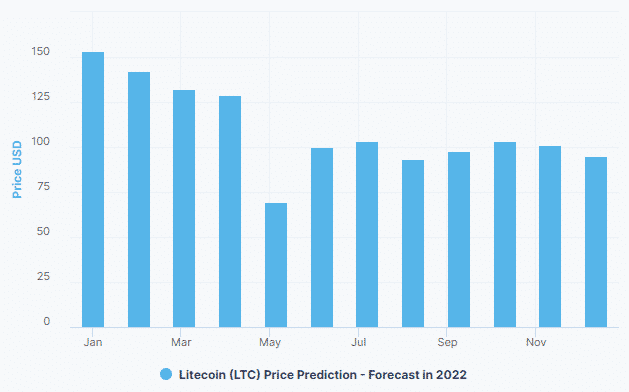 Analysts at Walletinvestor.com expect the coin to bounce back above the $100 psychological level and reach highs of $104 a coin over the next year. Similarly, analysts at Digitalcoinprice.com are also optimistic of the coin bouncing back and reaching highs of $99 before year-end. The rallies are dependent on the overall industry bouncing back after a recent crash.
What Is Litecoin LTC Price Prediction for 2025?
The medium-term outlook is even more bullish, with Litecoin expected to explode over the next three years. Expectations are high that the coin could hit highs of $144 a coin by 2025, representing a 100% plus rally from current levels.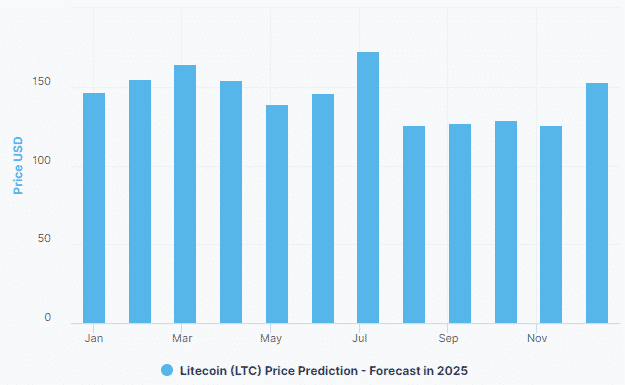 Going by how volatile cryptocurrencies can be, LTC has what it takes to power through the $200 a coin level over the next three years.
What Is Litecoin LTC Price Prediction for 2030?
Cryptocurrencies are seen as the future of the mainstream financial sector. Increased adoption and use of virtual currencies in facilitating peer-to-peer payment and international payments is one factor that affirms their long-term prospects.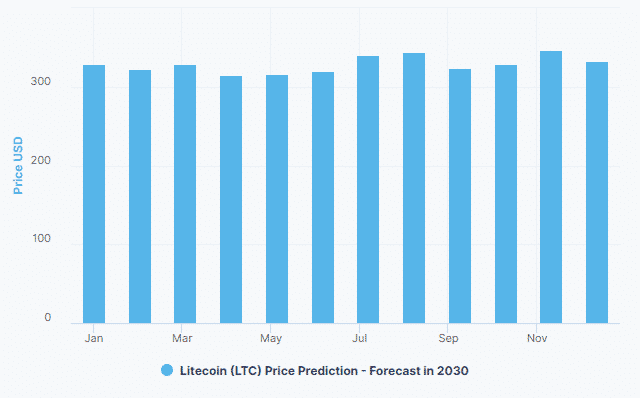 Litecoin is one coin with tremendous potential, given its ability to process payments quickly at some of the lowest fees. Consequently, it is seen as perfect for peer-to-peer payments. Demand for the coin is expected to increase significantly amid the limited supply going forward.
Therefore, it does not come as a surprise that LTC is expected to rally past the $300 a coin barrier by 2030. Given that the coin has already powered through the $400 barrier in recent years, there is no doubt that it could also be worth more than $500 a coin over the next eight years.
Litecoin LTC FAQ
Will Litecoin coin appreciate in a year?
The chances are high that LTC could appreciate in a year as it looks oversold at current levels. The coin is already attracting interest as a buy on the dip.
How much will Litecoin be worth in 5 years?
Litecoin is expected to be worth more than $200 a coin over the next five years.
Where do I buy LTC Token?
Litecoin can be purchased in several cryptocurrency changes, including Huobi Global, Binance, Coinbase Pro, OKEx, and Kraken.