About Fantom and FTM coin
Fantom is a leading smart contract platform that seeks to become a better place for developers to build high-performing decentralized applications. It is an Ethereum-killer that uses a proof-of-stake technology to ensure that apps built in the network are fast and cheap.
Fantom has grown rapidly in the past few months. The FTM token has grown its total market capitalization has risen to over $2.5 billion. It has a fully diluted market value of more than $3.25 billion.
Fantom has been used widely to build all types of applications in the Decentralized Finance (DeFi), non-fungible tokens (NFT), and even the metaverse. DeFi apps built using the platform have a total value locked (TVL) of over $5 billion, making it the 6th biggest platform after Ethereum, Terra, BNB, Avalanche, and Solana. Some of the best-known DeFi apps in the ecosystem are Curve, SpookySwap, and Beethoven. At its peak, Fantom had a TVL of over $12 billion.
Fantom (FTM) price history and analysis
Fantom has had a mixed performance in the past few months. The token's price surged to an all-time high $3.72 on October 28th, 2021. At the time, the coin had a market cap of over $10 billion and it was one of the biggest in the industry.
FTM has crashed by over 72% from its all-time high. While this price action is in line with other cryptocurrencies, Fantom's sell-off was due to the crisis that happened in several of its DeFi projects. In Q1, Andre Cronje, a developer of some of its biggest DeFi apps announced his resignation. As a result, there were concerns about the future of the network.
On the daily chart, the coin moved below the 25-day and 50-day moving averages. It has also crossed the important support level at $1.0315, which was the lowest level this year. Oscillators like the Relative Strength Index (RSI) have continued dropping. Therefore, the coin will likely keep falling in the near term.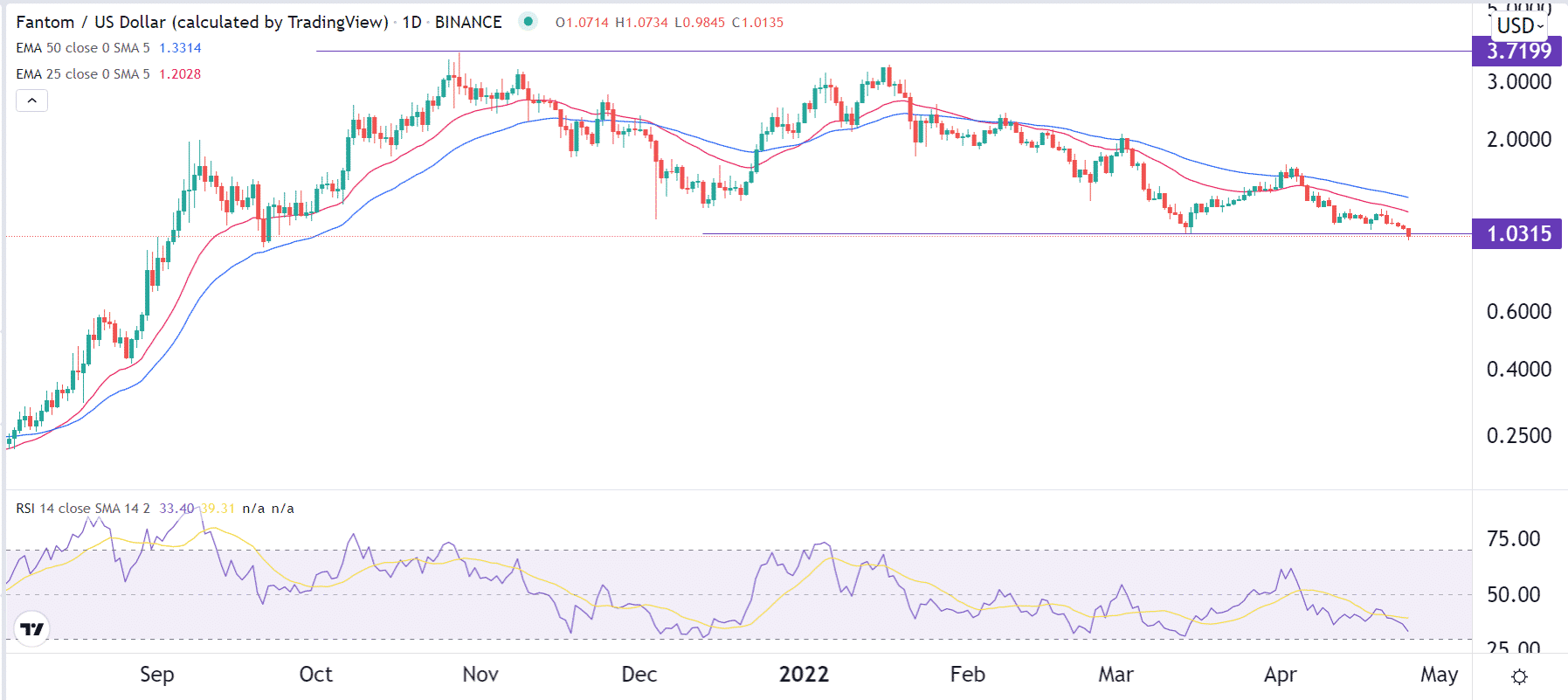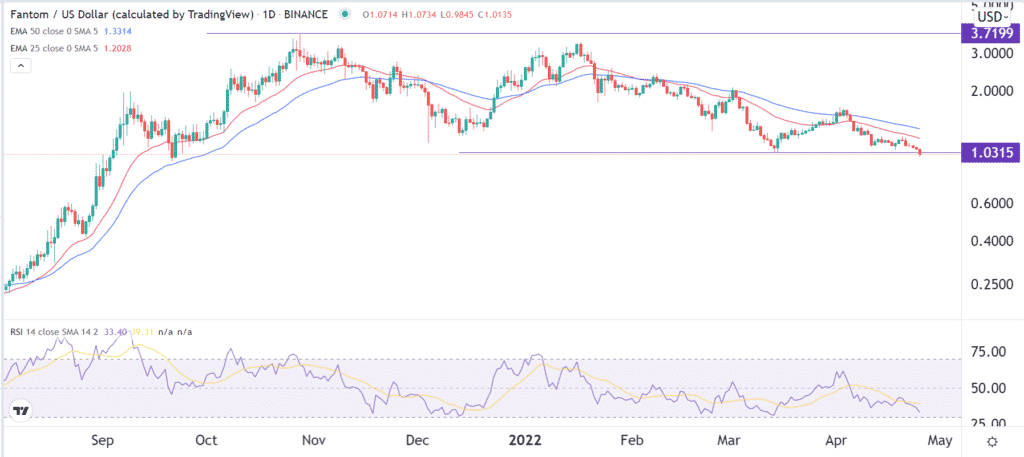 Fantom (FTM) price prediction for a year
Fantom and other digital currencies are expected to have a difficult period in 2022 as the Fed embraces a more hawkish tone. The bank has hinted that it will deliver several 0.50% rate hikes in its battle against inflation. Historically, risky assets like cryptocurrencies tend to underperform in a period of high-interest rates.
Further, as shown in the daily chart below, the coin seems like it is in a classic bearish trend. Therefore, there is a likelihood that the coin will continue falling, with the next target being at $0.3200.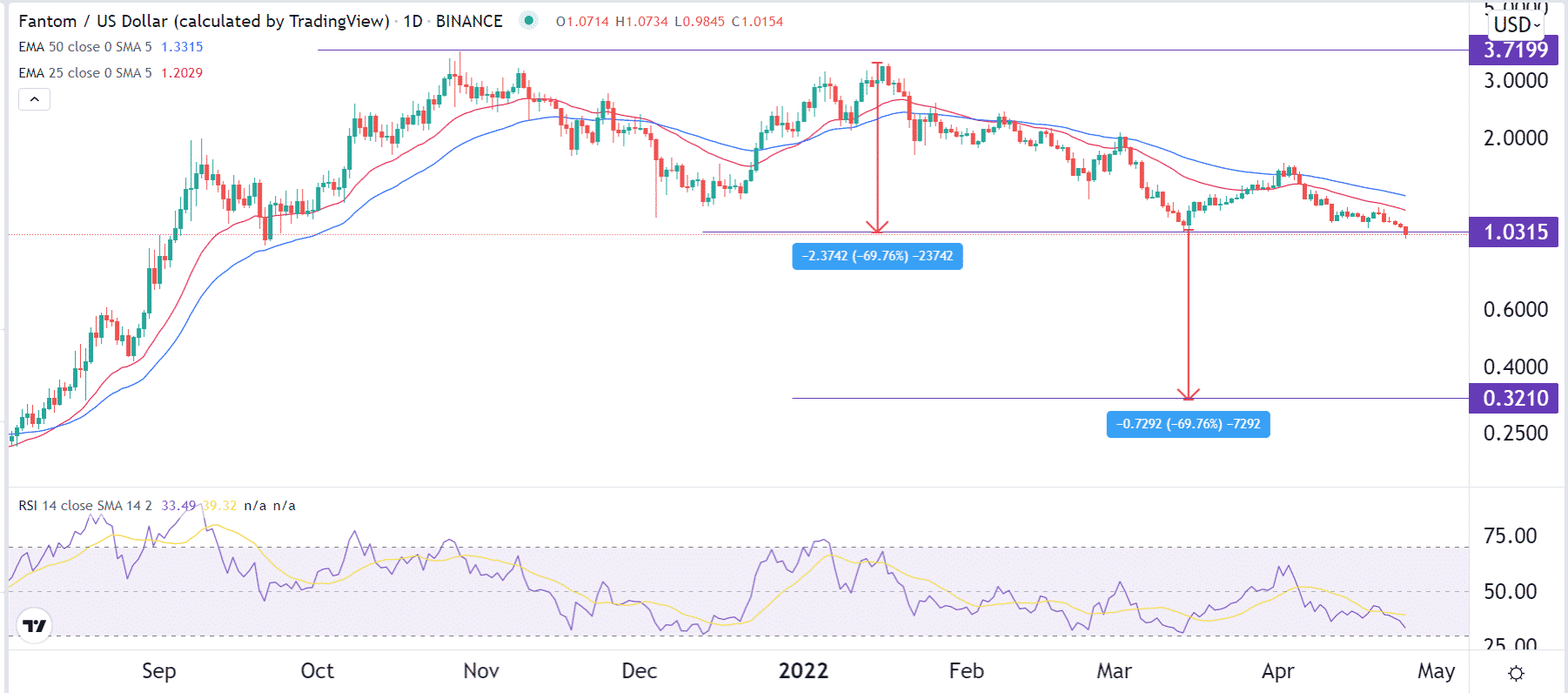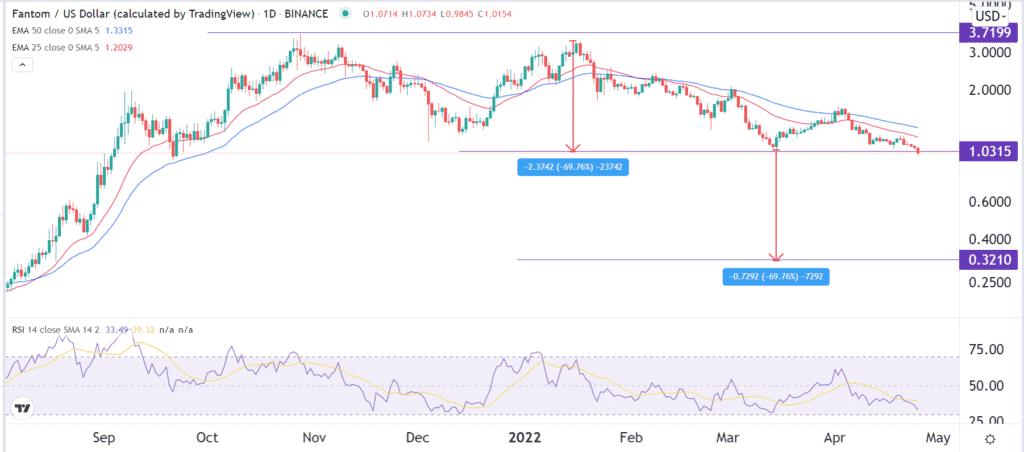 According to Price Prediction, Fantom price will average about $1.75 this year. This price is above the current level. On the other hand, Gov Capital expects that the price will resume the bullish trend and end the year above $2.5.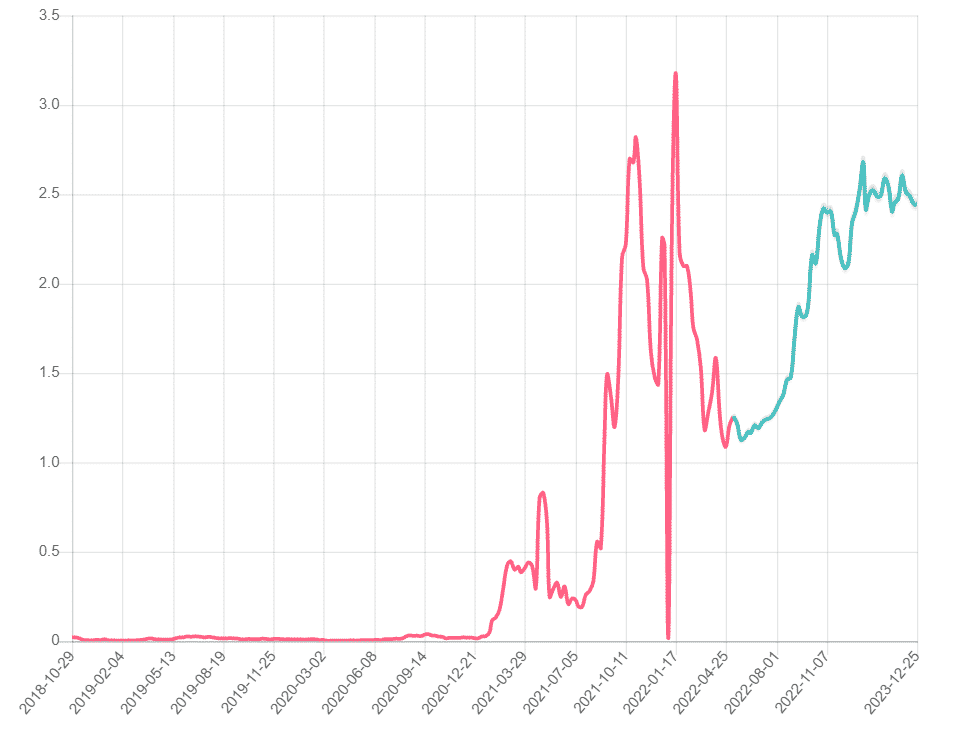 Fantom (FTM) price prediction for 2025
The future of Fantom will depend on how its ecosystem continues growing in the next few years. Recent data shows that the platform is struggling. While the network has over 200 DeFi apps, its TVL is just $5 billion. Other smaller networks like Cronos, Terra, and Tron have over $3 billion in TVL even though they only have a handful of apps.
According to Gov Capital, Fantom will be trading above $6 in 2025. Another estimate by Price Prediction is that the coin will average about $4.8.
Fantom (FTM) in questions and answers
Is Fantom coin real?
Yes. Fantom is a real coin. It is the native token for the Fantm ecosystem that has been used to build popular applications. It is also possible to stake the coin and earn rewards.
Will Fantom reach $10?
Stellar is trading at about $1, meaning that it needs to rise sharply to get to $10. While this is possible, the situation will not happen any time soon.
Should I buy Fantom coin?
Fantom is a difficult coin to recommend because the daily chart shows that the price is in a downward trend. Therefore, it is recommended that you wait before you buy the coin.
How much will be Fantom be in five years?
The future of Fantom is hard to predict, considering that its network is seeing subdued activity in the past few months. Also, competition from other networks like Cronos and Avalanche is rising. Still, since coins move in sync, there is a likelihood that its price will be substantially higher than where it is today.
Where do I buy Fantom?
Fantom is one of the most popular cryptocurrencies in the industry. Therefore, it is offered by leading exchanges like Coinbase, Binance, and Crypto.com. You can also buy it in one of the popular decentralized exchanges, especially those in its ecosystem, like Curve and SpookySwap.
This article represents the views of the author. Cryptocurrencies are highly speculative assets, and the author will not be held liable for any losses.