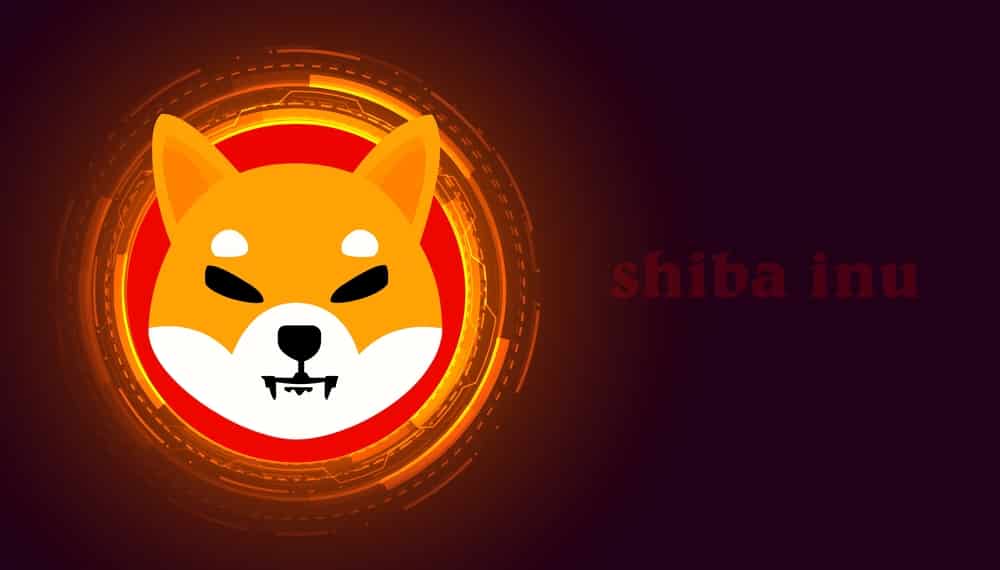 About Shiba Inu and SHIB coin
Shiba Inu is a meme coin that hopes to become a better version of Dogecoin and create utility for its holders by embracing decentralized finance (DeFi). The coin was introduced in 2021 as Dogecoin was gaining popularity. Since then, the developers have launched other coins known as $LEASH and $BONE and also introduced a swapping platform.
Consequently, SHIB has become one of the most popular meme coins in the world. At the time of writing in March, it was trading at $0.000027, bringing its market cap to $15 billion. As a result, it is the 15th biggest cryptocurrency in the world and is a few points below Dogecoin. It has a total supply cap of 1,000,000,000,000,000 coins. This makes it the biggest Dogecoin killer, with the others being Floki Inu, Baby Doge, and Dogelon Mars.
Shiba Inu (SHIB) price history and technical analysis
Shiba Inu has a good history since it was unveiled. Shortly after launch, the coin jumped to a high of $0.000040, and it immediately became one of the top 10 coins in the world. At the time, all digital coins were rising. A few weeks later, its price crashed, and it moved to an all-time low of $0.0000054.
It then rebounded to an all-time high during the meme coin season that took place in the third and fourth quarters of 2022. Today, it has dropped by 69% from its all-time high. It has moved slightly above the 50-day moving average while the MACD is stuck at a neutral level. Also, it is slightly above the 78.6% Fibonacci retracement level. Therefore, there is a possibility that it will bounce back as long as it remains above the support at $0.000017.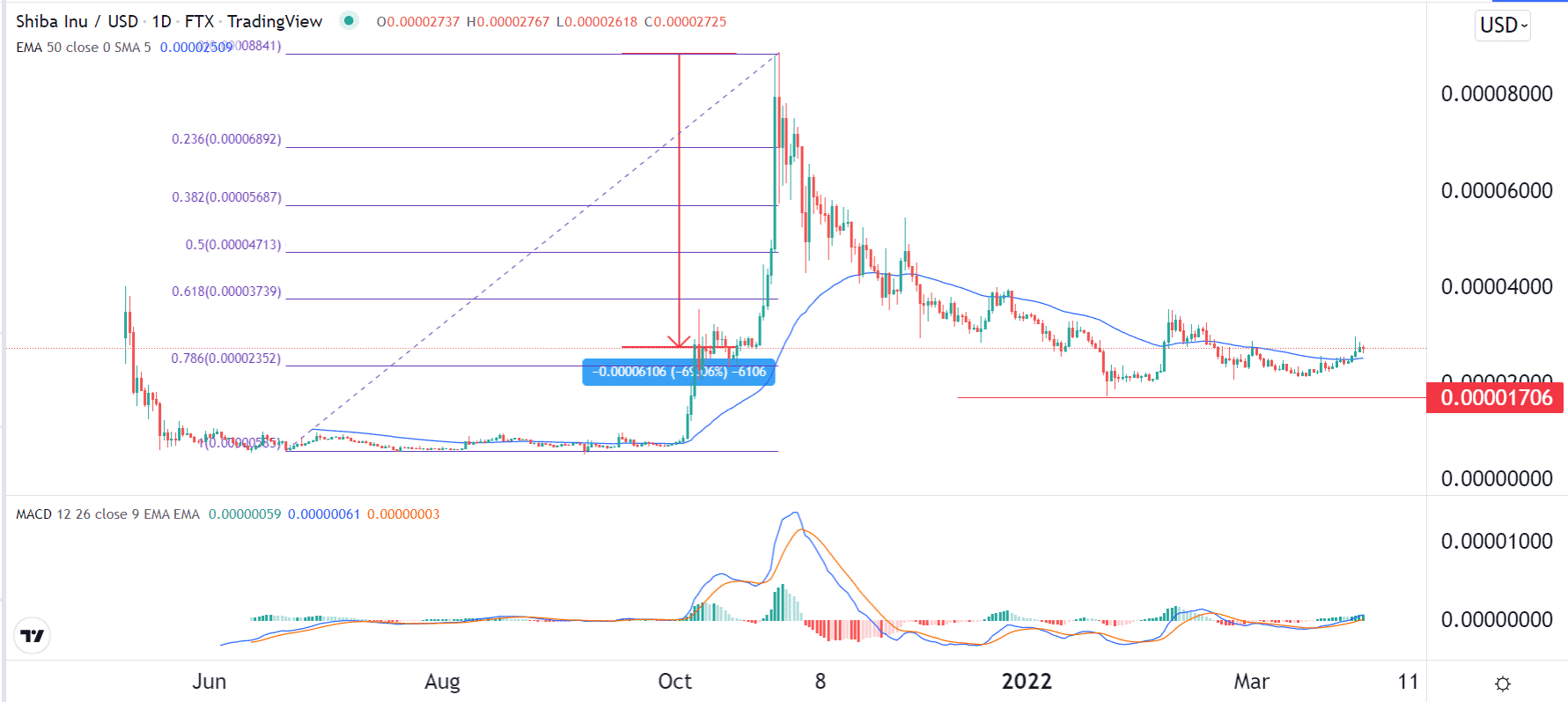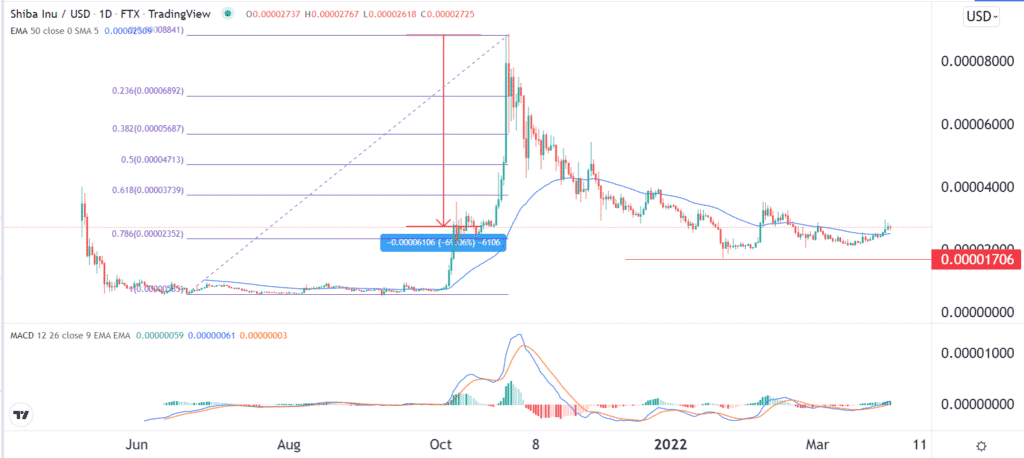 Shiba Inu (SHIB) price prediction for a year
While Shiba Inu has no major utility value, it is a highly popular coin among traders. Therefore, if the cryptocurrency maintains its vibrancy, there is a likelihood that the coin will do well in 2022. In the daily chart above, a likely reference level to watch for the coin in 2022 will be at $0.000054, which was the highest point on November 30th, 2021.
A statistical calculation by Long Forecast shows that the Shiba Inu price will end the year at about $0.000032, which is about 20% above where it is trading at. Another estimate by Digital Coin Price estimates that the SHIB token will average $0.000036 in 2022. Also, this price is equally better than where it is trading at. As shown below, an analysis by Wallet Investor estimates that the coin will end the year at about $0.000040.
Shiba Inu (SHIB) price prediction for 2025
If the past few years are to go by, the cryptocurrency industry is hard to predict. For example, it would have been difficult for anyone to predict that Bitcoin would ever rise to $20,000, left alone $66,000.
Still, while it is hard to predict where Shiba Inu will be in 2025, we can try to estimate. Many analysts believe that the industry will be more vibrant after it has been embraced by institutional investors. There will also be more clarity in regulations.
According to Digital Coin Prediction, Shiba Inu is estimated to average $0.000052 in 2025. Long Forecast has a modest estimate where they expect that the coin will rise to $0.000038.
Shiba Inu (SHIB) in questions and answers
Is Shiba Inu Coin real?
Yes. Shiba Inu is a real cryptocurrency that you can own and trade.
Will SHIB reach $1?
Shiba Inu is loved because of how cheap it is. With $1, you can buy 40,000 Shiba Inus. It is unlikely that its price will rise to $1 since that would mean it rising by over 4.1 million percent.
Should I buy SHIB Coin?
From a fundamental perspective, Shiba Inu is a coin without any major use. But in reality, it is a beloved coin that has millions of holders globally. This, and the fact that its technicals are supportive, makes Shiba Inu a good buy.
How much will be Shiba Inu be in five years?
As explained above, we expect that the Shiba Inu price will be much higher than where it is today. Since cryptocurrencies and other assets tend to retest their highs, there is a likelihood that it will rise to their all-time high of $0.000088.
Where do I buy Shiba Inu?
As one of the leading cryptocurrencies in the industry, Shiba Inu is offered by most online brokers. Some mainstream ones like Binance, Kraken, and Nexo have started offering it. If you want to trade SHIB, you can use decentralized exchanges to do so.
This article represents the views of the author. Cryptocurrencies are highly speculative assets, and the author will not be held liable for any losses.