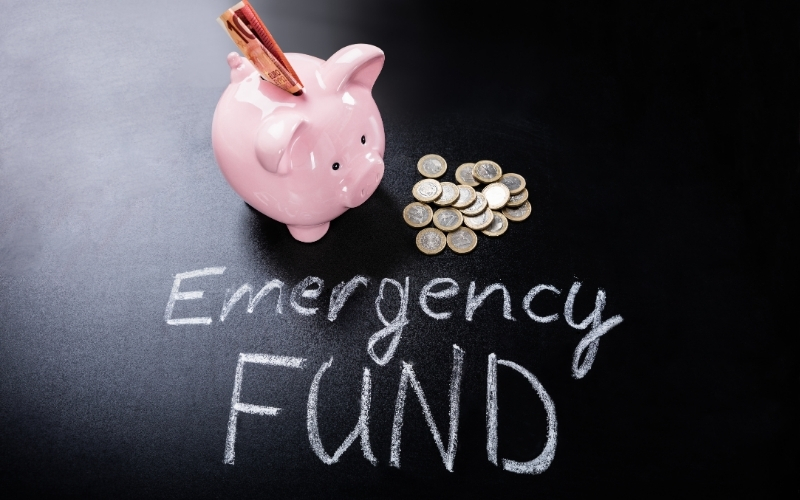 A back-up plan always acts as a safety net one can fall on if the initial plan doesn't pan out the way it was supposed to. Emergency Funds are no different than a back-up plan. The sole purpose of an emergency fund is to have some amount stashed away to protect you from any unforeseen financial crisis and help you cover minimum daily expenses. The range of emergencies, however, is not limited by unemployment or suffering from a serious illness or injury.
What is an Emergency Fund?
One should focus on building an emergency fund that takes into account everyday costs, including bills, obligation installments, and ordinary spending (such as conveyance cost, grocery cost, childcare costs) for at least three to six months.
An Emergency Fund turns into an even more integral part of financial planning if a family has a single income source, or an individual is suffering from a serious medical condition, owns a house, or is self-employed.
What is a Rainy Day Fund?
Rainy Day Funds are considered to be the emergency money stashed to pay for unexpected arrears and various small expenditures – such as paying for your child's braces, buying furniture for your house, or replacing a broken fridge. While these expenses may not seem like much, they can toss an individual's monthly budget. Hence, the dynamic nature of a Rainy Day Fund helps keep the monthly budget vs. expenditures intact.
Why Do You Need These?
Setting up funds for that emergency or rainy day helps you, in the long run, to ensure you enjoy a peaceful sleep at night and to guarantee financial woes don't keep you up at night. The moment you start earning, it becomes your responsibility to carefully plan for the future.
While you enjoy the fruits of your labor in the present, it is prudent to also think of any unanticipated financial demands of the future. This is one of the core tenets of financial planning. While some investments may mature in due time, you should also make some space for liquid funds. These funds serve as a safety net in the time of crisis (such as job loss, major health issues) and do not throw the monthly budget out of whack if any unexpected expenditure is incurred.
Regularly putting away a small part of the income doesn't seem much in the present – but accumulating over months or years, it can collect into a decent amount, enough to cushion you from unexpected blows in the future. Frugal living at present asks for planned expenditure and staying away from reckless financial decisions. Especially in the current times with unstable economic conditions, rising unemployment, and inflation call for some money stashed away for that unexpected emergency.
How to Create These Funds?
Emergency Fund
To get started with an emergency fund, analyze your income, necessary expenses, and choose the amount you can put away without compromising the current needs. For instance, the minimum you may choose to keep aside could be about a quarter of a year's everyday costs.
As every individual's circumstances vary, some may put aside an amount equivalent to a half year's expense. The initial goal is to get started with putting aside money for an emergency and learning how much you will actually be able to put up and work towards it in time.
For instance, if you earn $7,500 per month and incur $4,000 fixed expenses, to set up an emergency fund for a year, you have to save $18,000. If you put aside $1,500 every month, it will take 16 months to fill the Emergency Fund. While sixteen months seems like a long time – but a little money saved over a few months can hold a lot of power. Moreover, use the unexpected earnings that might come your way, such as cash gifts, tax returns, financial inheritances, and bonuses.
Rainy Day Fund
Rainy day fund is based on the same principle as an emergency fund. Forecast the expenses that you might incur in the future – this will help recognize how much money should be put aside. Make this decision while considering your specific expenses – such as home repairs, or medical needs in the family, et al.
Taking the same example mentioned above, say you are left with a disposable income of $2,000 after taking away monthly expenses of $4,000 and $1,500 as a monthly contribution to the emergency fund. If you aim to set up a $10,000 rainy day fund and can put aside $5,00 every month, it will take 20 months to fill up the fund. You can also cut down on unnecessary expenses and allocate budget spending accordingly to accommodate contributions for the future.
Tips for Setting Side an Emergency Fund or Rainy Day Fund
Here are some practical steps to take to start saving:
Create a Budget. Prepare a comprehensive monthly budget, list all the income sources and forecasted expenses – and stick to it.
Set a monthly goal. After analyzing the money coming in and forecasting the expenses, start putting aside money in small monthly deposits.
Cut down on expenses. Aim to cut down on the expenses incurred on non-essential purchases and should prioritize sticking to the budget.
Use a separate account. The money should be deposited on a different account – this way, it will keep you from being tempted to spend it. The money should usually be kept in high yielding banks or a money market account and maintain liquidity.
Allocate lump-sums. Allocating a huge chunk from any unexpected lump-sum receivables is really crucial. After putting aside a small amount for yourself to enjoy, one should allocate the rest into an Emergency or a Rainy Day Fund.
Final Thoughts
Funds set aside for emergencies or a rainy day can be a huge help as a financial safety net. It saves you from the expected panic if you are slammed with unexpected expenses that might throw your off balance and affect your monthly finances. These funds should be kept fairly liquid as the liquidity allows you to access the funds as and when required. When facing a genuine budgetary crisis or an unforeseen bill, you'll be glad you had these funds ready.