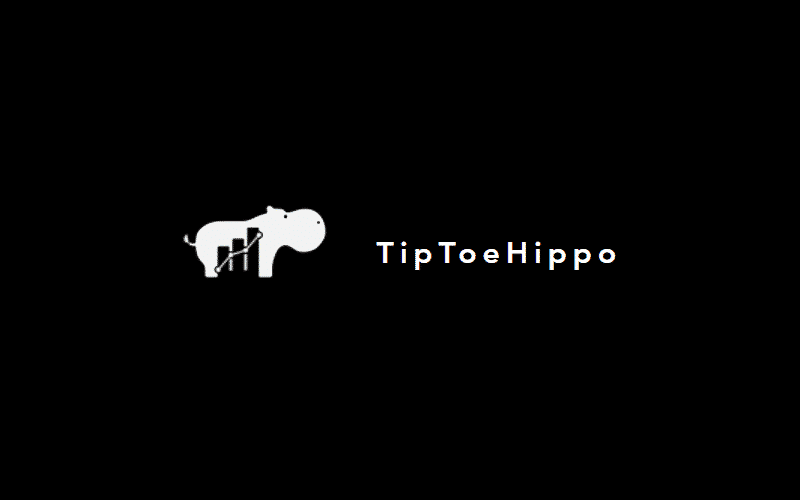 The devs start their presentation by saying that although Tip Toe Hippo has a funny name and that it engages in serious trading. They seem very confident about this EA's workings and do not hesitate to inform the trading community that its account is verified by Myfxbook. Therefore, if you subscribe to one of their plans, the system will copy its trades directly from this platform to your account.
Is investing in Tip Toe Hippo a good decision?
We believe that investing in this robot is not a good move. After the detailed analysis of its different features, including the live trading results, we have discovered that it generates minute gains. So, it cannot transform your Forex trading experience.
Company profile
We do not know the company responsible for developing this product. To our disappointment, the devs do not state the firm they work under. Their profiles or biographies are also not displayed. In this case, it would be dangerous to work with faceless people. They can easily scam you.
Main features
The EA's characteristics are listed below:
Its trades are copied through the MT4 trading platform.
The minimum trading balance is $1000, but for better results, you are advised to deposit $5000.
Customer support is offered.
System upgrades are provided.
The system comes with a manual and a video installation guide.
It is easy to set up.
Traders need constant connection to the company's servers to take trades.
It trades various indices: US30, JPN225, and Ger30.
When it comes to strategy, the vendor acknowledges that the system doesn't apply grid or martingale. Even then, the devs do not give the specifics of the logic being implemented. We suspect that the system engages in copy trading though. This is because they mention "direct automatic trade copying" in their presentation.
The following is also promised:
A 5+% monthly profit.
A low drawdown.
An average profit factor.
Price
Tip Toe Hippo is undoubtedly an affordable EA. You can acquire it at only $50 a month. The quarterly plan is $100, whereas the yearly plan is $250. A 30-day money-back guarantee is present. But is the robot worth this money? Well, it depends on who is asking. Traders who don't mind making tiny profits may find it useful. However, it may not be worth it for traders interested in making large amounts of profits.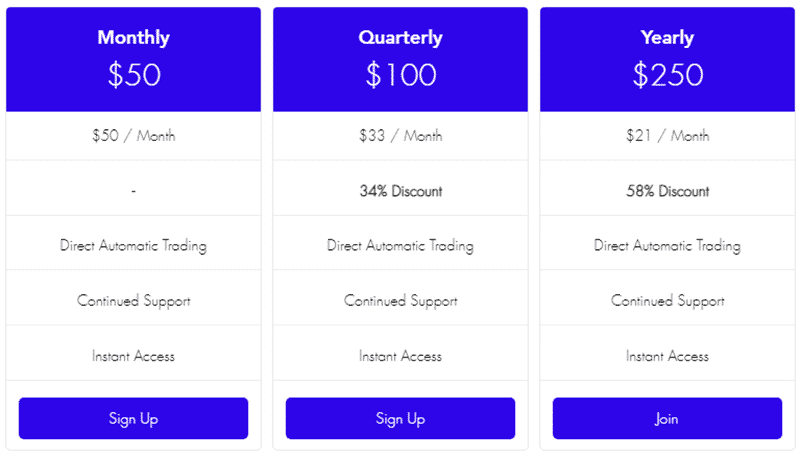 Trading results

This backtest report is presented in a weird way and it doesn't communicate much. Nevertheless, let's see below what the vendor says about the data:
It traded between 2012 and 2020.
It has a 9 year historical test utilizing true tick data.
It has 12 systems that are correlated to minimize downside and optimize profits
The maximum historical drawdown was 15%.
It had consistent equity growth over time.
Unfortunately, the info above doesn't indicate the system's trading frequency, amount of profits realized, and the win-rates for short and long positions, etc.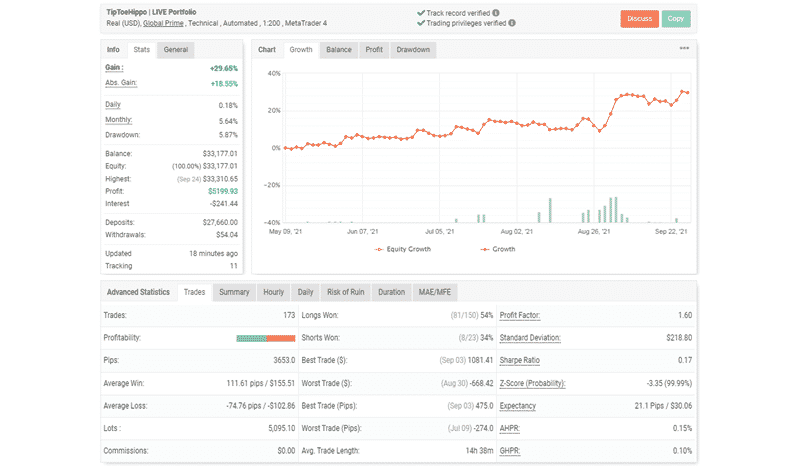 We are provided with a real USD account that is being hosted by the Global Prime brokerage. Its track record and trading privileges are verified. The devs really have confidence in this EA since they have entrusted it with a large deposit ($27,660). Unfortunately, its return rate is very disappointing. It only makes 5.64% monthly. As a consequence, a profit of $5199.93 has been generated in 4 months.
A total of 173 trades have been made till now. Their performance is also substandard. Only 54% of the long positions and 34% of the short trades were successful. The profit factor —1.60 is not promising either.

The number of trades executed daily by the EA varied. However, the system was busiest on Tuesday (46 trades) and least active on Wednesday.

This account is still strong. So, it cannot be destroyed easily.


Out of the 3 indices traded, U30 was the only one that failed to realize profits for short positions. JPN225 was the most profitable as it attained a total of 1911 pips.
Customer reviews
The system's official website does not feature any customer feedback. The EA's customers (if there are any) have also not posted any reviews on sites like FPA, Trustpilot, Quora, or Myfxbook.com.
Summing up
There are a number of things that make Tip Toe Hippo an unattractive trading option. For instance, it has scored poorly in terms of transparency. As such, the devs fail to include their portfolios in the presentation, post reliable backtest results, or even fully describe how the EA works. Its trading performance is also poor as the robot hardly wins trades.