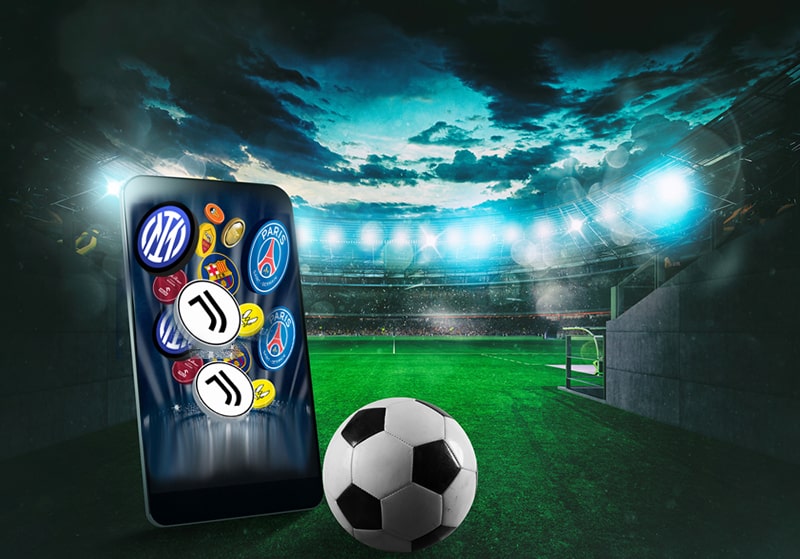 The blockchain industry is changing many sectors of the world economy. For example, cryptocurrencies have become a $3 trillion asset class while decentralized exchanges (DEXes) are disrupting centralized platforms like Binance and Coinbase.
Further, decentralized finance (DeFi) platforms like Maker and Aave are changing the way people access loans and earn rewards. Play-to-earn games like Decentraland and Sandbox are disrupting the gaming industry. It is estimated that most sectors of the economy will be tokenized in the next few years.
The sports and entertainment industry is benefiting from the blockchain industry as well. For example, many teams have already benefited from the non-fungible token (NFT) industries since they have been able to sell some of their products. Another way in which the industry is benefiting is through fan tokens. In this article, we will look at what fan tokens and fan token offerings are.
What is a fan token?
A fan token is a relatively new concept that enables teams and celebrities to create products that help them deepen their interactions with their fans. The token is powered using blockchain technology.
Holders of these tokens can enjoy a number of perks. For example, they can vote on key issues about the club and even get more discounts when they buy products offered like merchandise and tickets. Holders can also get a chance to interact with the team or the celebrity who owns the token. They can also get fan badges to win special awards.
In most cases, fan tokens are issued by soccer teams, online gaming teams, celebrities, motorsport teams, basketball teams, cricket, tennis, and ice hockey teams, among others.
Fan tokens differ from other cryptocurrencies and stablecoins in a number of ways. First, these coins are fungible, meaning that they can be exchanged for other items like merchandise.
Second, these tokens are not backed by any asset. Instead, they derive their value from the demand and supply that exists in the market. Higher demand leads to higher prices and vice versa.
Another key difference between fan tokens and other assets is that they do not represent ownership of the team. The team always remains a centralized organization that makes its own decisions.
What is a fan token offering?
The concept of a fan token offering (FTO) is similar to other popular offerings like Initial Public Offering (IPO) and Initial Coin Offering (IPO). In an IPO, a company sells its stake to the public market, and the stock becomes publicly traded. Some of the most popular companies that had IPOs were Microsoft, Apple, and Alphabet.
An Initial Coin Offering is a process where blockchain developers raise money by selling tokens to willing buyers. For example, in 2017, Block.one raised $4.4 billion by selling EOS tokens to interested parties. People who bought the tokens then held them or sold them in the open market.
Like these two, a fan token offering is a period when a team comes up with a token and then sells it to investors. These investors provide fiat currencies like the US dollar and then get a fan token in exchange.
How fan tokens work
The foundation of fan tokens is blockchain technology itself. It is this technology that enables companies to build their fan tokens. Today, it is possible for companies to build these tokens on a number of platforms like Ethereum and Solana. However, the most popular platforms for building these tokens are Binance Smart Chain and Chilliz.
The process of launching a fan token is relatively easy. First, the team needs to select the technology provider. Most teams so far appear to be supporting Chilliz.
Second, in most cases, the team will reach an agreement with Chilliz, which will help it build the token. This is an important step since most teams don't have the technological resources to build these tokens.
Third, the team then runs and promotes its fan token offering. Most teams use their social media platforms to promote these offerings. In this period, many early adopters are given special terms and discounts. Finally, the token is listed in a marketplace where people can buy and sell them.
Where to buy fan tokens
A common question is on where is the best place to buy fan tokens. In my experience, the best place to buy these tokens is a website and application known as Socios that is owned by Chilliz. The platform has millions of users who can use both fiat and cryptocurrencies to trade the tokens.
Chilliz has a native token known as CHZ, which has a market capitalization of more than $5 billion. The benefit of Socios is that it has hundreds of fan tokens on its platform. Also, the transaction costs when using the CHZ token to trade are reduced.
The other option of buying and selling fan tokens is through your existing exchange like Binance, Coinbase, and Crypto.com. While these exchanges are a good option, they mostly offer a small number of tokens in their ecosystem.
Are fan tokens a good investment?
The idea behind fan tokens is simple and easy to see. However, as an investment, these tokens have been weak performers. As shown below, the prices of leading fan tokens like Paris st Germain, Lazio, and Santos have declined by more than 20% in the past few months.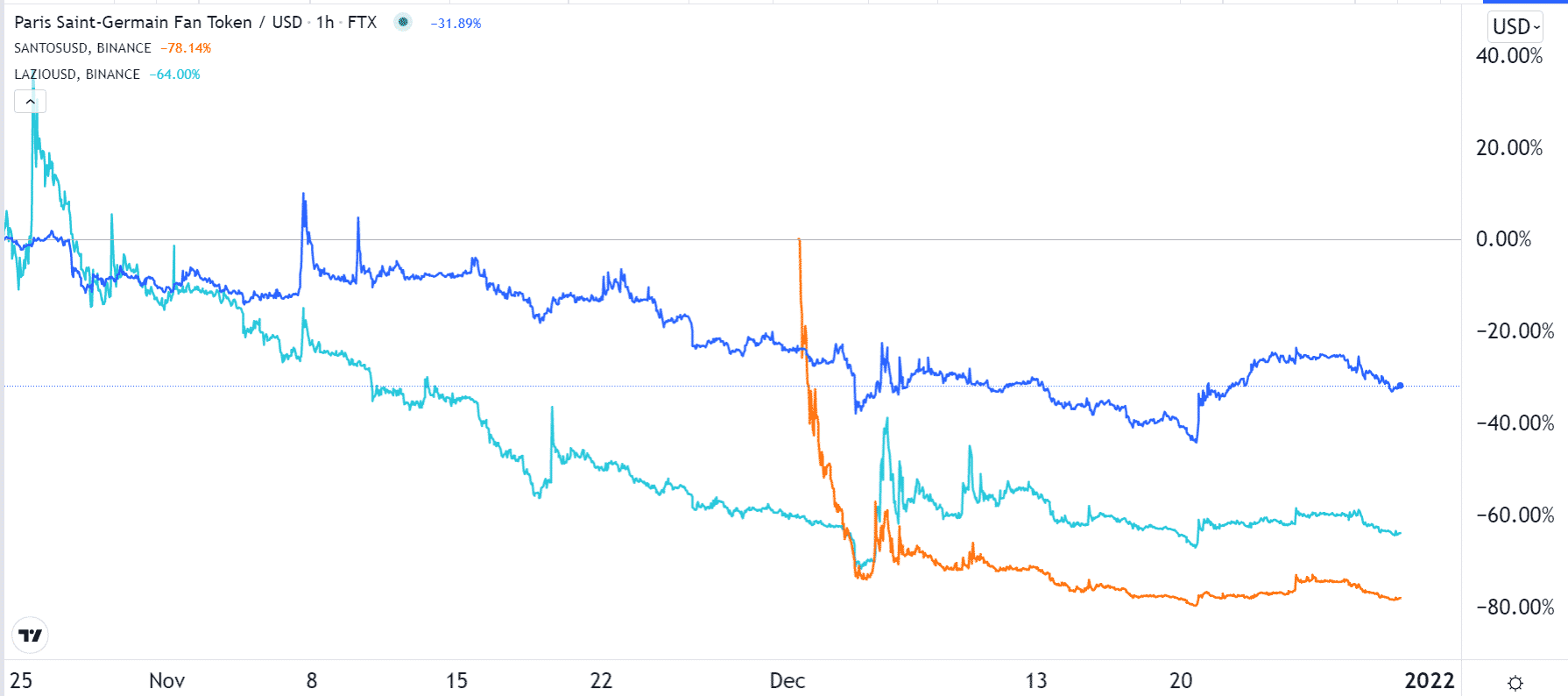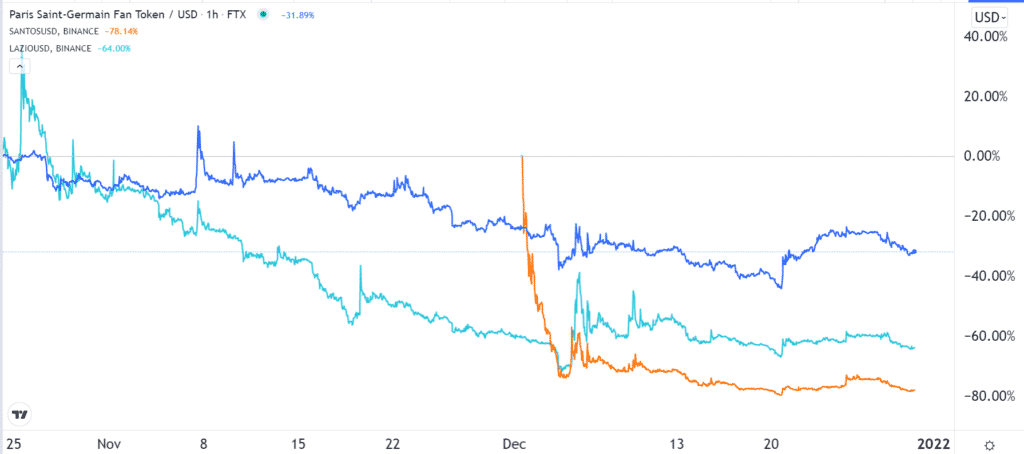 This performance is likely because the industry is a bit small at the moment. For example, according to FanMarketCap, there are 56 tokens in existence that have a market capitalization of $417 million. In comparison, there are more than 11,000 cryptocurrencies that have a market capitalization of $2.5 trillion. This means that there are liquidity problems in the industry.
Summary
The Fan Token industry has a great promise, but investors need to be cautious about it. It is a small industry that is known for its lack of liquidity. In this article, we have looked at how the industry works and identified some of the challenges of investing in it.