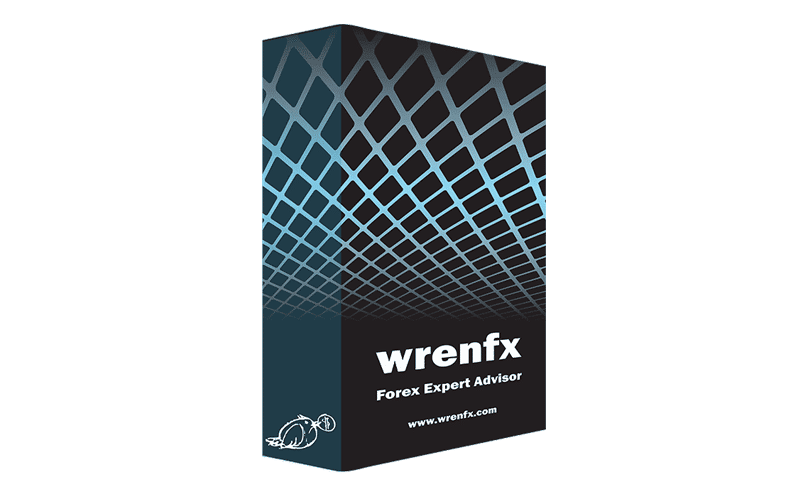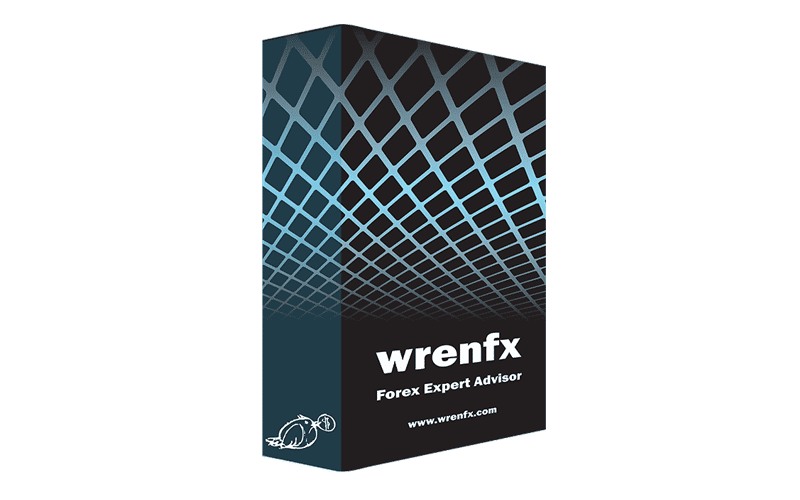 Wrenfx EA is automated trading software that executes trades by following the market trend. Its developer claims to have proven results in the auto trading industry. The developer states that auto trading makes it convenient to manage and track different types of currencies from a single location and help in decision making. The robot can trade 24 hours a day.
The developer further explains that many investors are switching from manual trading to auto trading as it's possible to get fast and measurable results with less chance of errors caused by emotional factors during the manual trading.
Is Investing in Wrenfx EA a Good Decision?
There is very little to no information about the product. The developer is trying to make it sound like it's only through a robot that a trader can achieve consistent profits in the forex market. While looking at the backtesting report, this EA has a high drawdown which can lead to a big loss.
Company Profile
The trading software is sold on wrenfx.com and its authorized reseller is Click2Sell.eu platform. However there is no information provided about the vendor.This is questionable as we don't know what the vendor is hiding that makes him/her remain anonymous.
Inquiries and questions can be directed to [email protected]
Main Features
The Wrenfx EA works on MT4 accounts with any broker. It can run on a minimum account balance of $200.
It uses different techniques but the general strategy Trend Trading where it follows the trend on higher time frames while looking for the reversal points on lower time frames for the entrance.
The system trades EURUSD, USDCHF, EURCHF and USDJPY.
The developer assures that the robot doesn't support hedging or scalping.
Other features include:
Fully automated – There is no human intervention and all the tasks can be performed automatically.
User friendly – It's quick and easy to set up.
Smooth trade managing – The EA performs different activities based on preset rules to manage all the assigned tasks right from sending orders, adjust stop losses and find profit levels.
Smart money management – This helps in better decision making to minimize the risks involved in trading by taking into account the existing market conditions to ensure more profits.
24/ support – The EA offers access to expert around the clock assistance from its experienced and knowledgeable team to resolve any issues regarding installation or using our system.
Price
Wrenfx EA packages include:
Basic – $299
2 Accounts
18 months license
Free updates
Support
Pro – $399
3 Accounts
24 months license
Free updates
Support
Enterprise – $499
4 Accounts
Lifetime license
Free updates
Support
The EA offers a 30 days money-back guarantee.
The pricing of this trading tool is a little bit expensive compared to other EAs with the same features. The fact that a customer can get refunded if not satisfied with its performance sounds better.


Trading Results
In the backtest report below, the robot traded the account from January 1st, 2018 to April 26th, 2021. It made a net profit of $454165.90 from a deposit of $1000. The results were achieved with 296 trades where profit percentage was 90%. It had a maximum drawdown of 33.96%.


The average win and average loss were $2178 and $3971 respectively. It traded the EURUSD currency pair.
Below is a live trading data presented on Myfxbook. The robot has been running on the account since May 13, 2021. There is a gain of 34% so far from an investment of $5,000 in 22 trades.
There is a high drawdown of 42.93% and the profit percentage is above 60%. The total lot size used is 23.23 while the leverage is 1:500.
The average trade length is 3 days which is an indication of swing trading.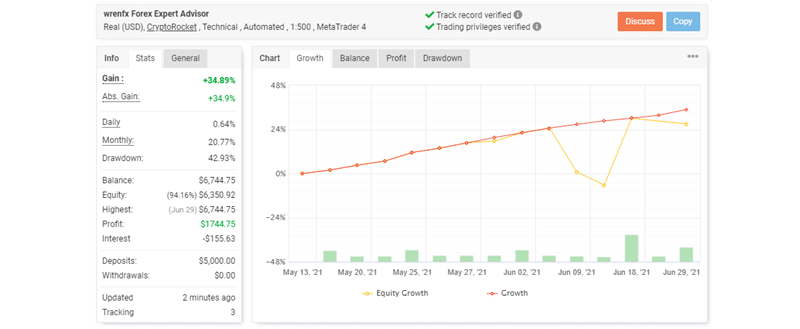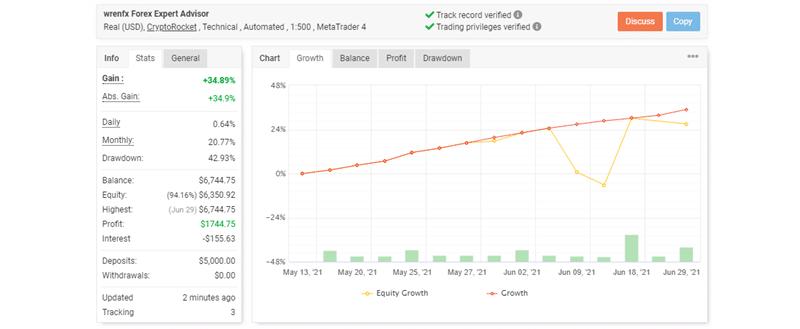 Its risk to reward ratio is 1:1 according to the average win and average loss which are 20.20 pips and 21.52 pips respectively. There is no withdrawal report.


In comparison, there is a high drawdown in both accounts. The profit percentage in both cases is above 50%. In both accounts, the average win and average loss are almost the same.
Customer Reviews
Although the wrenfx EA has a page on Trustpilot, there are no customer reviews. Also we couldn't find any reviews on other platforms like FPA and Quora.


Summing Up
From our point of view, the developer of Wrenfx EA is only emphasizing on why traders should switch from manual trading to auto trading but forgets to provide detailed information on how the robot works and how they stand to improve their trading with it. As much as generalizing may be good, we expected more focus on the product.