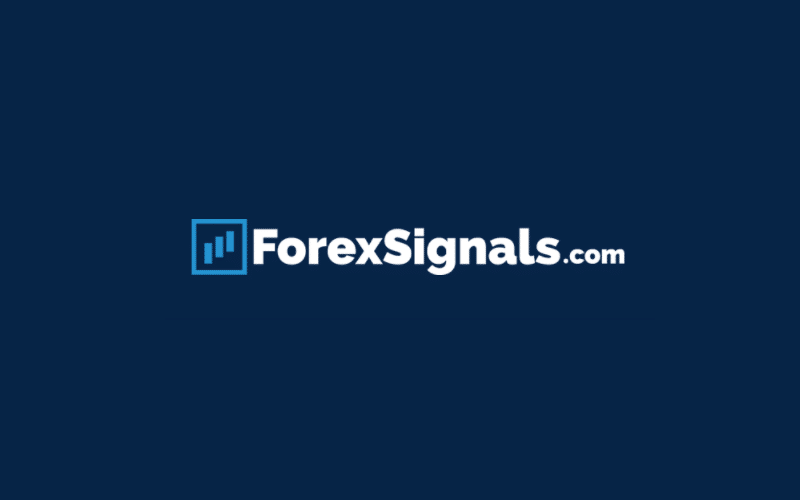 ForexSignals does not necessarily provide trading signals. Rather, it is more focused on providing education, guidance, and mentorship to Forex traders through its trading room. This platform also gives different traders the chance to share their experiences and marketing tips with others. We invite you to read this review to know more about ForexSignals and whether you should invest in it.
Is investing in ForexSignals a good decision?
ForexSignals is not worth trying. We came to this conclusion after carefully analyzing the team behind it, features available, strategies used, pricing, trading results, and customer feedback. According to our findings, ForexSignals services are not valuable to traders who want to make real money in Forex.
Company profile
ForexSignals' website is quite flashy. Their presentation is also well-organized and divided into various pages that talk about the features of the trading room, Forex education, trading strategies, free tools available, and the company's background.
ForexSignals was founded by a person named Nick McDonald back in May 2012. This is after he realized that the Forex market lacked a trading room where traders could interact and discuss the market while also learning from each other. Over the years, he put together a team of developers and professional traders to create and run this platform.
Nick says that more than 500,000 members have registered for this service so far. The company has also employed 52 full-time employees plus 3 mentors that educate traders and provide them with more trading insight through market commentaries.
Main features
ForexSignals offers a variety of services including:
Free courses for new traders.
Live trade discussion with mentors.
Educational videos.
Daily live streams.
Trading signals shared by a community of traders.
Strategy courses.
Downloadable tools that assist traders to find market opportunities.
A 7-day free trial to all new prospective customers.
The company also provides 3 distinct strategies to its client base:
This approach does not use indicators to trade and mainly focuses on price action movements, and key support and resistance levels.
This is an intraday strategy that applies powerful technical indicators to forecast market movements.
This is a swing strategy that assists traders to identify opportunities for trading on the charts.


Therefore, traders who are tired of trying new strategies are invited to learn the above-mentioned methods and discuss them with the mentors and the trading community.
Price
ForexSignals has 3 payment options. We have the apprentice package that costs $97/month, and subscribing to it enables you to access their services for only a month. However, it does not give you everything you would get for a whole year. For instance, you will not receive one-on-one mentor support, Trend Surfing EA, or direct access to mentors.
The professional package is said to be the most popular, and for $564/year, you can access everything this company offers. If you choose the committed plan, you will be billed $297 every 6 months. Although you will receive a majority of ForexSignals services, you will be denied direct access to mentors, Trend Surfing EA, and a license key to Forex tester 5.

Trading results
Neither backtest data nor live trading results have been included in the presentation. Such statistics can boost traders' confidence in the effectiveness of services offered. It would be nice to know if the strategies recommended generate sufficient returns in the live market or if the advice given by the mentors and other traders are worthwhile.
Customer reviews
ForexSignals have received numerous user reviews on both Trustpilot and Forex Peace Army sites. In this case, we have picked out a small sample of the testimonials from FPA. The feedback on this platform is mixed, but a majority of the customers seem to be pleased by the learning side of it. However, the few disgruntled clients cast doubt about the applicability of the lessons in real life. For instance, there are traders who admit that the signals provided by the mentors do not win trades.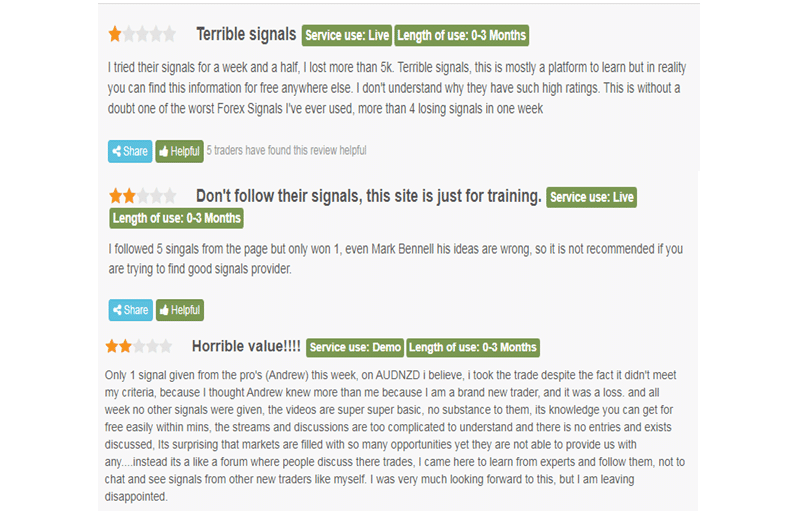 Summing up
ForexSignals appears to be a good platform for learning about Forex. However, customer feedback shows that the education materials, strategies, signals, and advice do not work in reality. So, if you solely bank on them to trade, you will be disappointed big time. Before you subscribe to this service, take time to weigh its costs against benefits, and decide whether it's what you want.