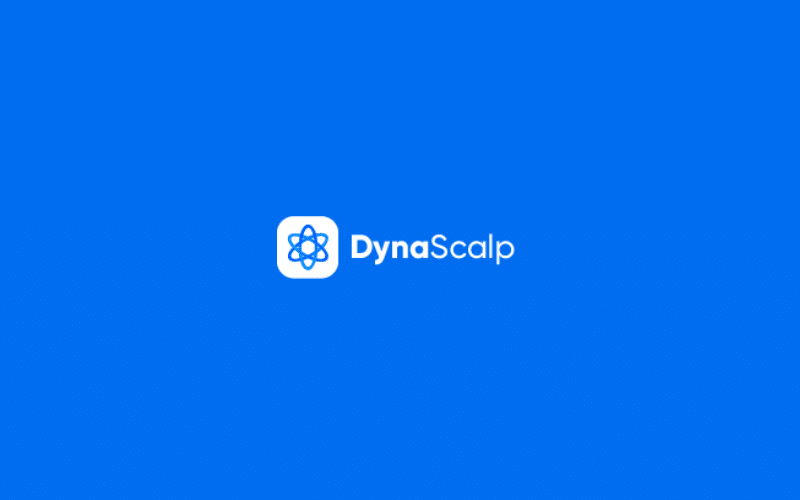 Dynascalp is alleged to be a "super-scalper" system that is able to identify and implement the most lucrative trades automatically. There are claims that the system has produced more than 500% profits with low drawdown on a live account on Myfxbook. So, it promises to make triple digit returns for your account despite your trading experience.
Is investing in Dynascalp a good decision?
Dynascalp is indeed a profitable solution. Our assessment of the robot's live performance has revealed that it has grown a trading account by almost 1000% in almost 2 years of trading.
Company profile
Dynascalp is the invention of a company called LeapFX, which is a provider of automated trading tools in Forex. Arbitron, Trade Explorer, Funnel Trader, AX Trader, and Bounce Trader are among the many systems the company has developed since 2018.
Main features
We highlight the features of the system here:
It is fully automated and beginner friendly.
The system trades on the following currency pairs: AUDCAD, EURAUD, EURGBP, GBPCHF, AUDUSD, EURCAD, EURJPY, GBPUSD, CHFJPY, EURCHF, EURUSD, and USDCAD.
It does not work with the grid and martingale strategies.
The robot has strong news filters and closes all trades before weekends. The goal is to enhance the EA's safety.
It comes with pre-installed settings.
It executes stop loss on each trade alongside a smart trailing stop system.
The expert advisor runs on the MT4 trading terminal.
The robot applies the night scalping strategy coupled with another trading method, which the vendor calls "asset weight management." So, the system initially sets a beginning asset participation point for all instruments involved in trading. Next, it makes updates to each pair based on results. Consequently, pairs that demonstrate continuous profits are used frequently, while the participation of pairs with poor performance is reduced. This approach serves to reinforce night scalping to ensure that it finds the correct pairs for the correct conditions at the appropriate time.
Price
You can buy Dynascalp at $247, but you will have to renew the subscription yearly. The other alternative is to acquire a lifetime license at $397. These are the features the vendor provides for each package: super customer support, a 30-day money-back guarantee, free updates, and best settings and recommendations.
Trading results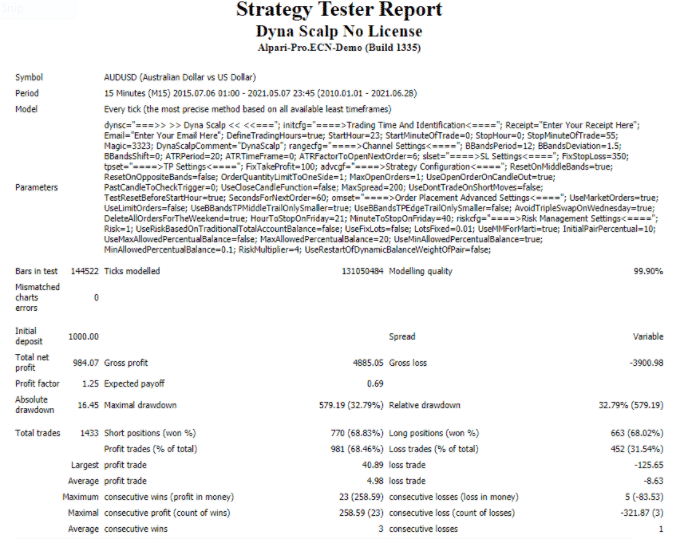 The EA was tested on the AUDUSD currency pair using 2015-2021 historical data on the M15 timeframe. Through a deposit of $1000, the system conducted 1433 trades. As a consequence, the total net profit made was $984.07. The win rates attained for short positions were 68.83% and 68.02% for long ones. A maximum drawdown of 32.79% was reported.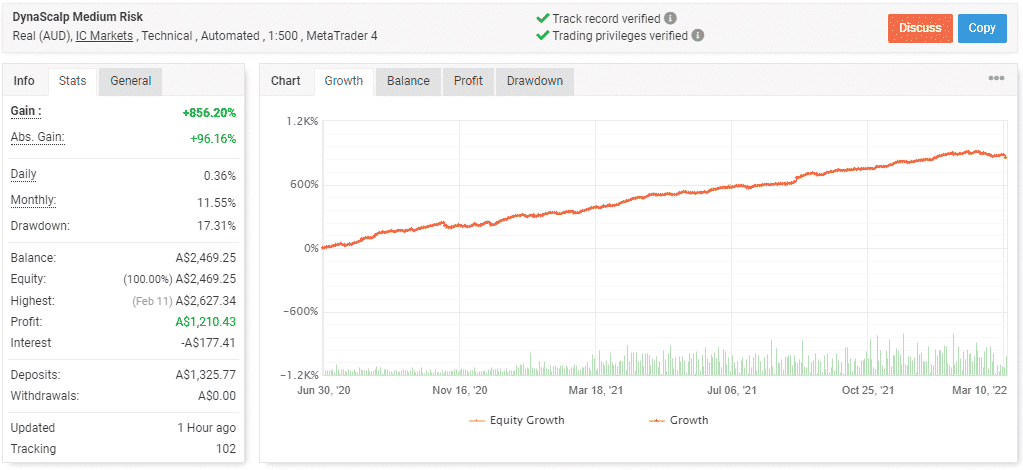 We have a live account that was launched in June 2020, and to date, it has recorded a total gain of 856.20%. This is quite commendable. The monthly gain (11.55%) also indicates that the system has a high profitability potential. The income earned is A$1210.43, and the 17.31% drawdown generated implies that the trading algorithm is safe.


Dynascalp is a frequent trader being that it has completed a total of 4404 trades so far. Consequently, it has won 6660 pips after trading with 113.13 lots. There's a profit factor of 1.67, along with win rates of 69% for long positions and 73% for short ones. The average length of trading is 1 hour and 19 minutes.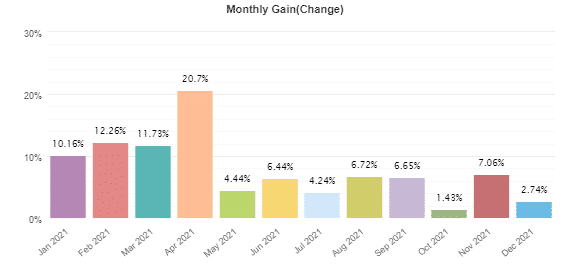 The system increasingly made profits between January and April 2021. It made profits ranging between 1% and 7% in the rest of the year.

The EA's trading activities do not threaten this account's viability.
Customer reviews
This EA has not received any reviews that may reveal to us how it works for customers currently using it. However, the vendor's page on FPA has recorded 16 reviews. The customer rating is 3.226 out of 5, a sign that more than a half of traders are satisfied with its products.
Summing up
Dynascalp is a relatively low-cost EA produced by a reliable vendor. What's more, the available live records on Myfxbook prove that it can grow your account and keep your capital safe. So, you can be assured of receiving a decent income without much effort on your part.