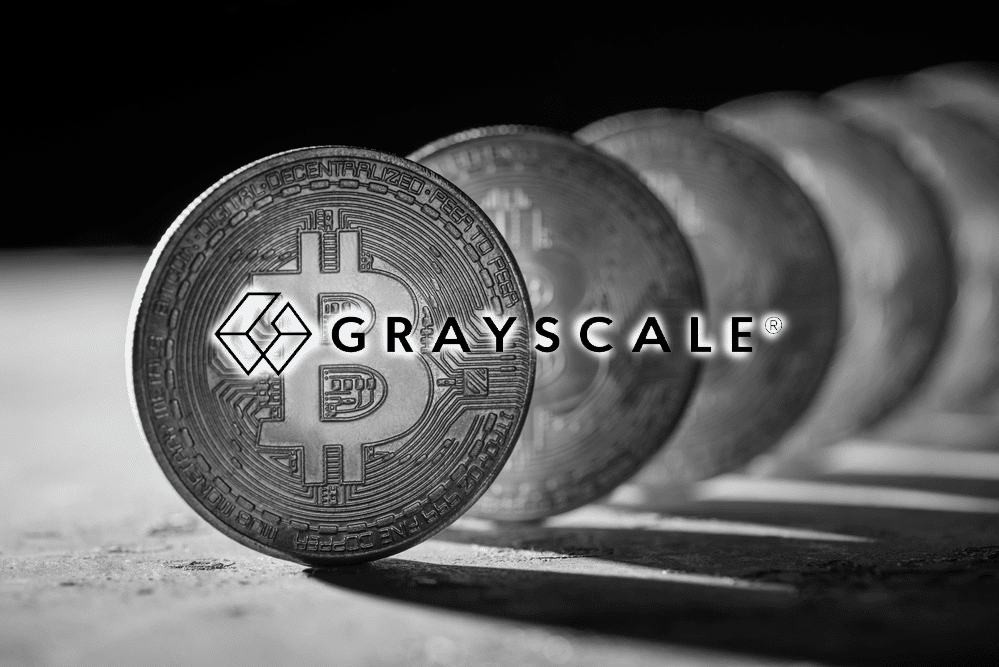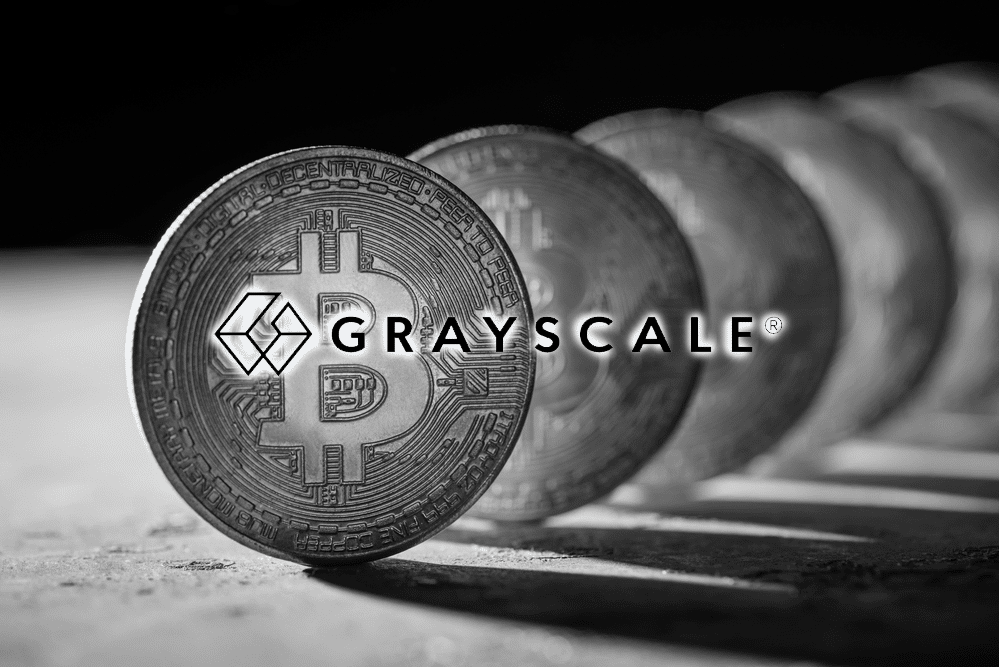 Most traders focus on technical analysis, indicators, news, and expert opinions, but did you know that there are other more sophisticated ways to invest in Bitcoin?
There Is an investment fund called Grayscale that holds over six hundred and fifty thousand Bitcoins. Remember that the maximum supply is 21 million coins, which means that the amount held by this investment fund is significant.
Grayscale claims to be a reliable authority in digital currency investment. Since the price crash in 2018, they have accumulated thousands and thousands of Bitcoins.
Buying and holding Bitcoins can be a problem for many investors, especially in countries trying to regulate or ban cryptocurrencies.
Grayscale makes tax issues less of a headache for investors. Still, not only that, but it also makes it easier for investors to buy and hold Bitcoins.
They have an indicator (index) to know if it is a good time to invest in this deflationary asset. In this article, we will talk about it.
How does Grayscale Bitcoin Trust work?
Instead of buying Bitcoin, Grayscale allows you to purchase shares of their fund dedicated exclusively to buying and storing this cryptocurrency.
They charge a 2 percent annual fee. So, depending on when you decide to buy, you will pay between six and forty percent extra or above the price that a Bitcoin would cost you in the market.
However, it does not sound interesting to be charged a commission. Still, you should know that this fund manages more than 30 billion in assets.
For example, to compare, Tesla reported in January 2021 that it had bought about fifty thousand Bitcoin; this is just one-tenth of what Grayscale owns.
Operating with them is simple. It is like buying shares of a company, where the price fluctuates according to supply and demand. For you to buy those stocks or shares, someone has to sell them to you.
There are two levels of investors in the GBTC. The first is for investors selected by the company; they can contribute with Bitcoin and dollars. They receive in return shares of the fund according to the currency's current value, with no additional cost.
Additionally, it is essential to mention that the minimum amount to invest is fifty thousand dollars. If these investors contribute Bitcoin, they will not withdraw them for at least six months.
After six months, the shares can be sold to the second level of investors who will pay a premium over the original price due to the difference between supply and demand.
If you decide to buy through this fund, you will have advantages in security and taxation because they report to the US Securities and Exchange Commission.
Advantages and disadvantages of investing with GBTC
To own Bitcoin, you need to know where to buy and sell the digital asset. Likewise, to store it securely, you need to manage cryptographic wallets and a private key. If you forget your private credentials or disclose the key to others, you will lose the coins.
Forget about headaches due to tax issues and storage. With Grayscale, you can have exposure to this currency securely, similar to buying a stock.
GBTC shares provide tax-paying conveniences for investors. Therefore, you don't need to worry about completing the tax return, compared to when you hold Bitcoin directly.
It is the first publicly traded Bitcoin investment tool; it became an SEC reporting company in October 2020.
GBTC Premium – the indicator to analyze the institutional interest in Bitcoin
If you do not understand the premium, you should not buy shares. However, here are two rules to consider:
A high premium makes GBTC a risky bet (even more dangerous than BTC); This is because if cryptocurrencies fall hard, the premium can increase your losses.
After a bull run at the end of 2017, the indicator reached above 100%. At this level, it is super risky to buy GBTC. 
Notice how then the price of BTC drops almost seventy percent.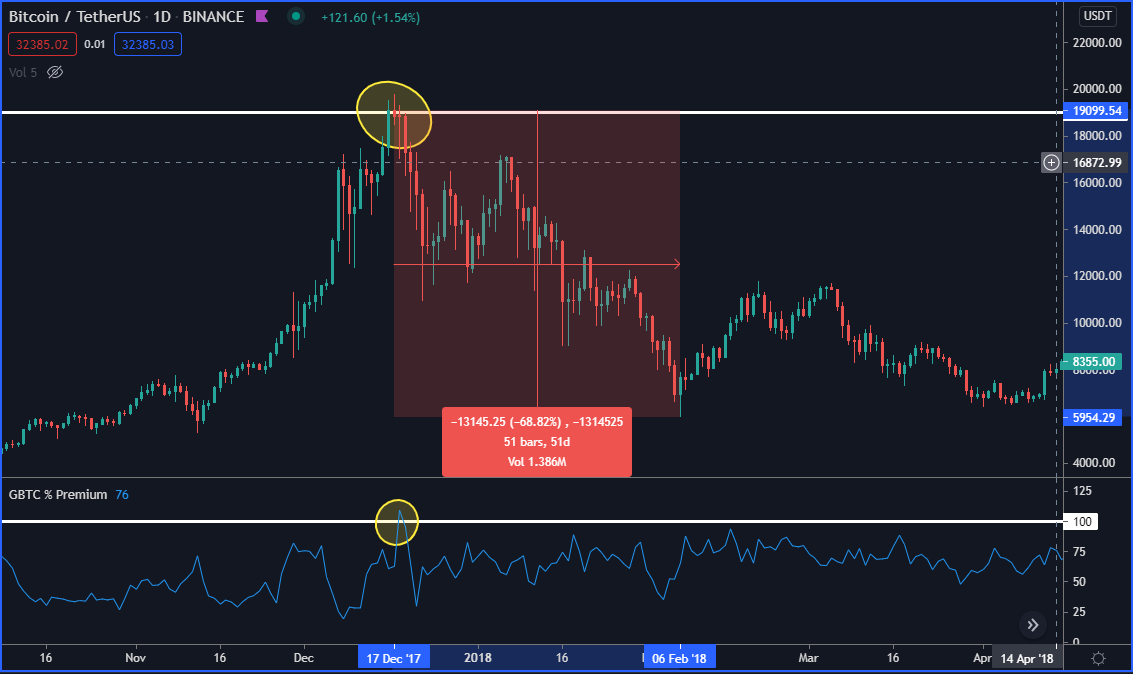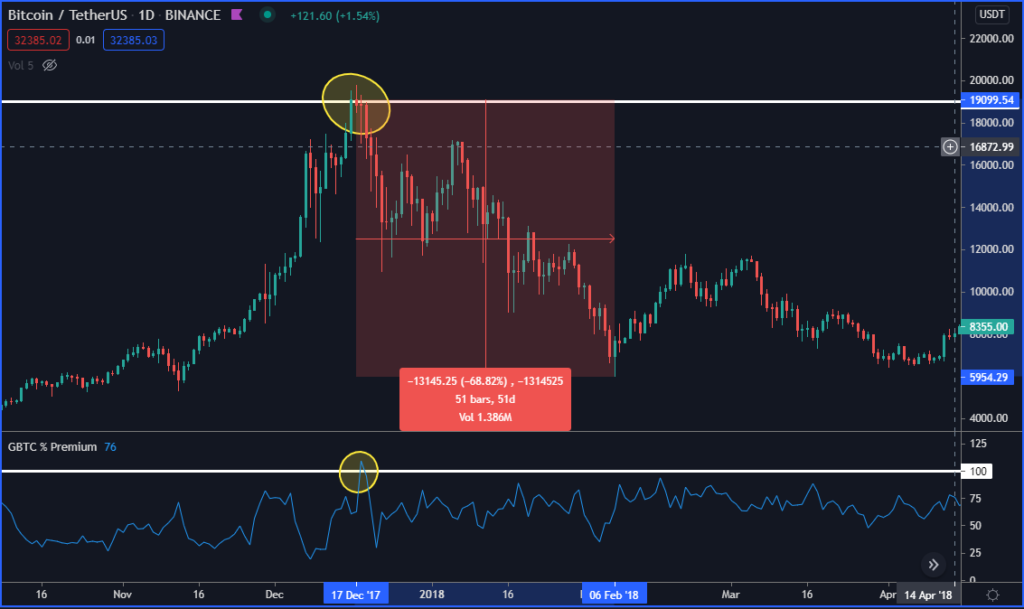 A low premium makes GBTC a potentially profitable bet (even better than BTC); This is because if cryptocurrencies rise, the premium can expand and increase your profits!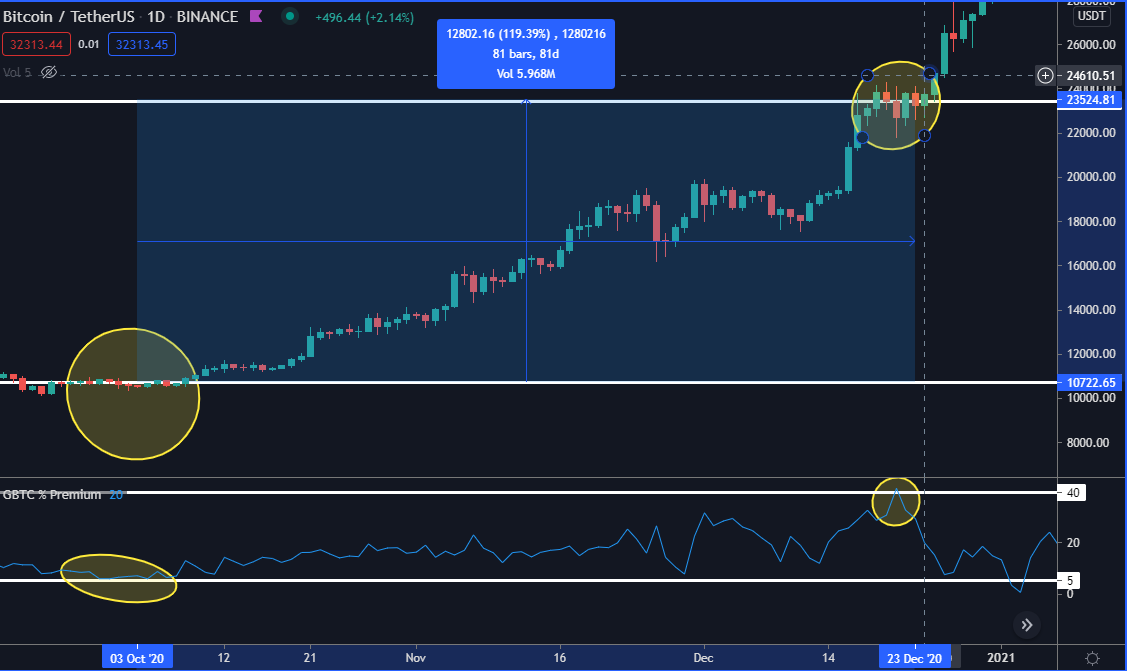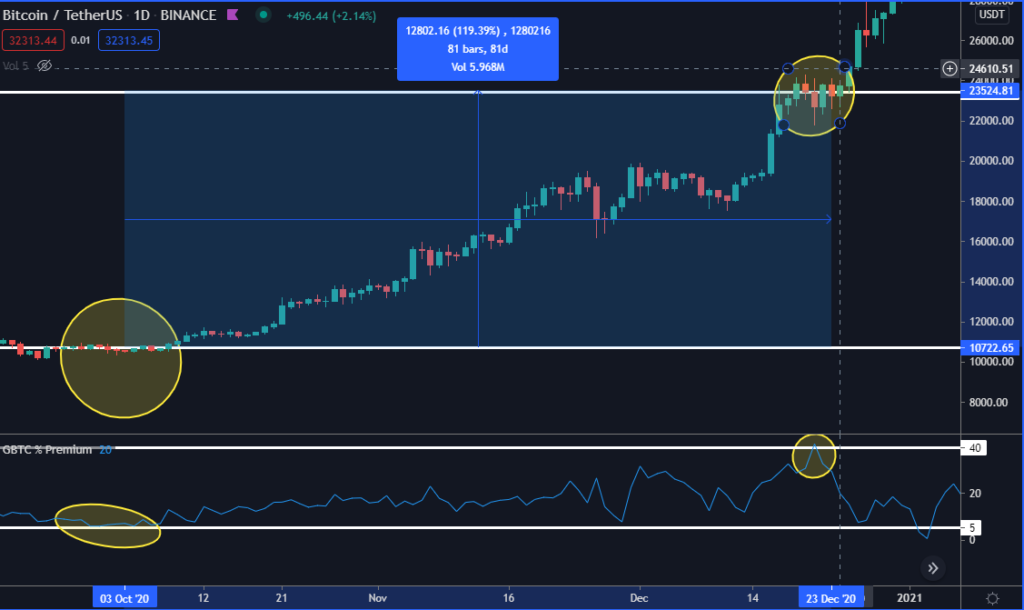 By October 2020, the indicator at five percent was desirable to investors. The price of BTC ended up surging as much as 120% in just two months until the premium reached forty percent.
Conclusion
Undoubtedly, GBTC opens the door to a scenario where you can invest in digital assets without buying, transferring, and storing them in the traditional way. Instead, obtaining BTC becomes a process similar to buying a stock.
If you are one of the people who have little capital to invest in, it would be challenging to buy shares. However, you can use the index to buy and sell Bitcoin through a cryptocurrency exchange.
There is a dispute between the advantages and disadvantages of investing in this fund. Of course, it is more advantageous for someone with a lot of money because of tax issues. While for a retailer, the advantage is slight because he will pay more money for the asset.
Remember that cryptocurrency investments are risky due to volatility. So, don't put in more money than you can afford to lose, and always do your research.