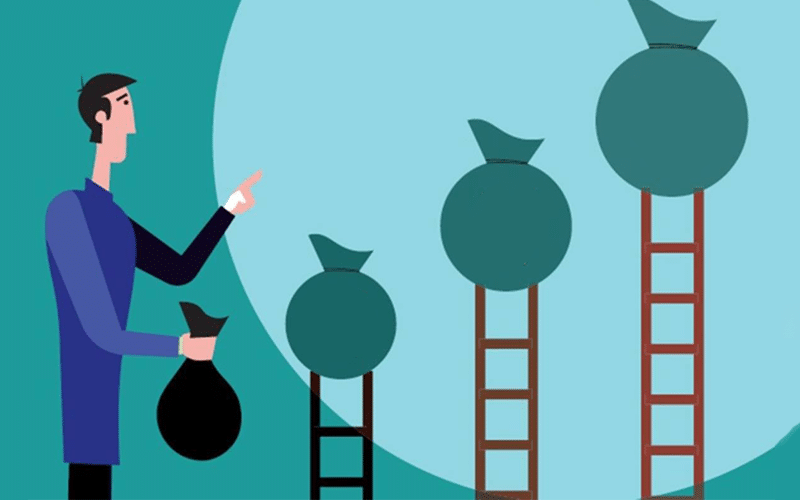 Long-term investors have set financial objectives and an appetite for risk that varies considerably from short-term investors. To become a successful long-term investor, your best bet is to research the market by yourself and figure out the right strategy. Investing for the longer term will reap greater returns for you in the due course of time. Given below are 5 tips to guide you to invest successfully in the long term. 
Diversify Your Portfolio
Successful investors always advise anyone who's starting out to diversify their portfolio instead of shelling out your hard earned money in one place. By investing in one sector, you are preventing your funds from growing considerably and also subjecting yourself to unnecessary risk. Portfolio diversification is a great method to manage your trading risks. By investing your funds in a few different sectors and multiple types of securities, you can make sure that any fluctuations in the pricing mechanism of one sector does not lead to major loss to all your investments.
Some experts advise not to put more than 10% of your funds in one place. Using this strategy, you can use a combination of large-cap and medium-cap companies, invest in a combination of stocks and bonds etc. To allocate your risks into smaller bite sized portions, research about mutual funds, index funds, and hedge funds and invest accordingly.
Stick to a Strategy and Contribute Regularly
The most vital part of planning long-term investment is having a defined strategy and sticking to it. No strategy is better than the next. Different investors have varying financial goals and the ability to take risks. For long-term investments, the key is to realise returns by using time to benefit you and remaining consistent. Changing your strategies over and over will prevent you from accumulating returns over the longer term.
Investors also need to develop the habit of saving regularly. If you save enough and do it regularly, you'll ensure higher returns as time passes. Saving certain amounts randomly here and there with no particular plan in your mind will not create a large and fruitful investment. You only need to invest as much money as your income can allow, while living a decent lifestyle. You only need to be smart and invest according to what you earn. For this you can switch to automated trading – allowing you to automatically deduct a set amount from your account and invest it. If you're not able to see your money, you won't be able to make unnecessary transactions.
Research Before investing
Always heed advice from multiple reliable sources. Invest in some companies whose products and strategies you like and support. There are many sites for comparison and other resources on the internet to help you analyse different methods of investments. Learn to apply technical and fundamental indicators to your investments decisions. You can also refer to investment advisers and online robots to help make better decisions.
Past performance is no guarantee of future performance but investors should generally choose an asset that has been a strong performer over the last two years. Use the financial statements published by companies to see their historical performance and future prospects. If you are looking to invest on a budget, go for assets with low management fees.
Focus on the Larger Picture
Focus on the future of the company and whether it will survive the test of time or not. There are sectors which are less risky than others. If you want a less risky portfolio, go for mutual funds or sources of investments that offer less-moderate risk. Investors with a high risk appetite can go for equities. You will be tempted to try your hand at short-term easy trades but they do not offer returns as high as long term. They are also generally riskier than long-term investments.
Plan your budget effectively with an elaborate income and expenses column. Start maintaining a journal for your investments to keep track of all your plans. Here, you can also write down your trading decisions and check for past mistakes. You can also repeat profitable decisions in the future.
Be Open-Minded
It is crucial for long-term investors to have an open mind about the companies they are investing in. Always look for brand value and quality instead of quantity. Don't go for expensive stocks just because the company is doing well right now. Look at the company's long-term objectives and see if it is a sustainable brand for the future. Also look for smaller companies with growth potential. There are thousands of small companies all over the world that have the capability to become the blue-chip names of tomorrow.  In fact, small-cap companies have shown greater returns than large-cap companies. In the U.S., during 1926-2017, small-cap stocks returned an average of 12.1% while S&P 500 returned 10.2%.
Final Thoughts
For long-term investors, investing strategically is crucial to earning good profits with time. Different sources provide different levels of returns but they also come with a variety of risks. Doing market research and understanding how your investments work becomes very important. Experienced investors advise novice investors to diversify their portfolio with a definite investing strategy that leads to steady returns in the future. With these tips, it is also important that investors apply a set of technical and fundamental indicators to understand market situations better and make informed decisions about their investments.