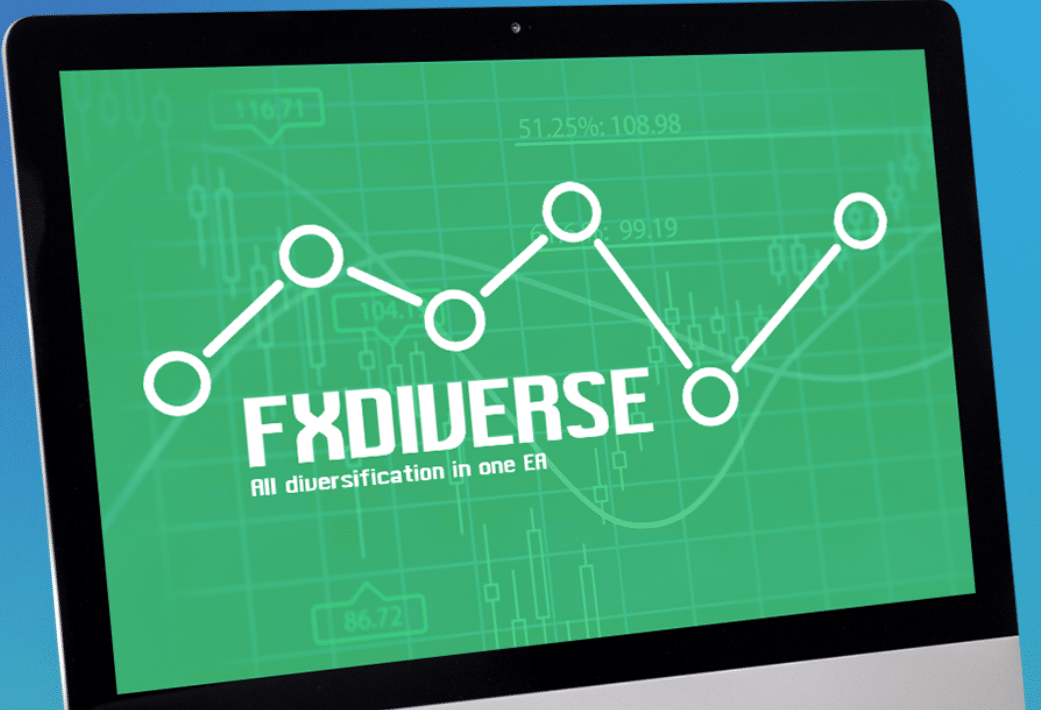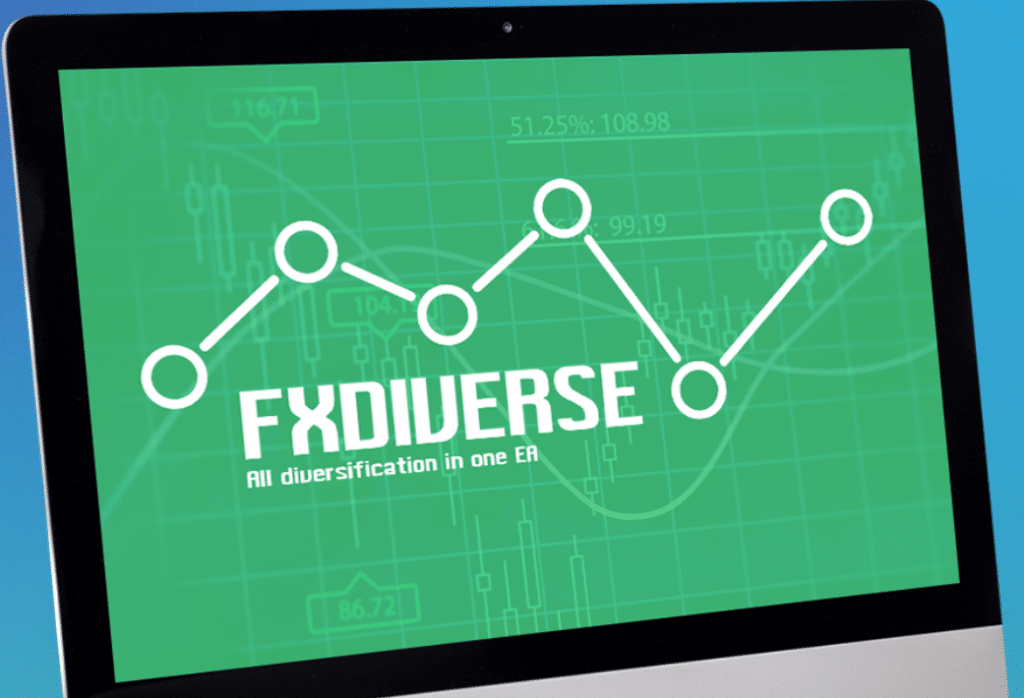 Today's review will be about an FXDiverse robot. The presentation looks quite short, but we're going to find every important intel to share with you. So, you can make a wise decision about the EA.
As we can read, the robot sells through a ForexStore site where owners look attentively at what they offer to traders.
Is FX Diverse a Good EA to Invest?

According to theForex Store, its rate is 7/10. So, there are risks that you have to accept. Good-to-go EAs usually have a 9/10 rate in the store.
Company Profile
The company calls FXDiverse too. It's been working since 2016 on the Forex market.
Main Features
The root is introduced like a system that lets us trade as we like (this is nonsense), how frequently we like (nonsense too), profitability (?), and standard options like symbols and risks.
The EA has got the next features:
There are myfxbook-verified trading results for both packages.
The chart of account growth shows that the robot can make profits.
We can manage risks to get a more predictable monthly profit.
The robot allows us to trade up to 28 currency pairs (almost all available symbols).
We can start without experience and learn by looking at the EA's performance.
We can run the EA on any broker, including an NFA one.
Price




The robot sells in two packages with two different prices. The basic package with a lifetime license costs $200 on Forex Store and $235 (one-year license) on the site. The same we have with FXDiverse Unlimited. The onsite price is $275 for a one-year license. In the Forex Store, the lifetime one costs $206. There will be a 30-day money-back guarantee if the EA is not profitable. We can get our payment asap if drawdowns are higher than 40%. In general, pricing is okay. There's nothing special.
Trading Results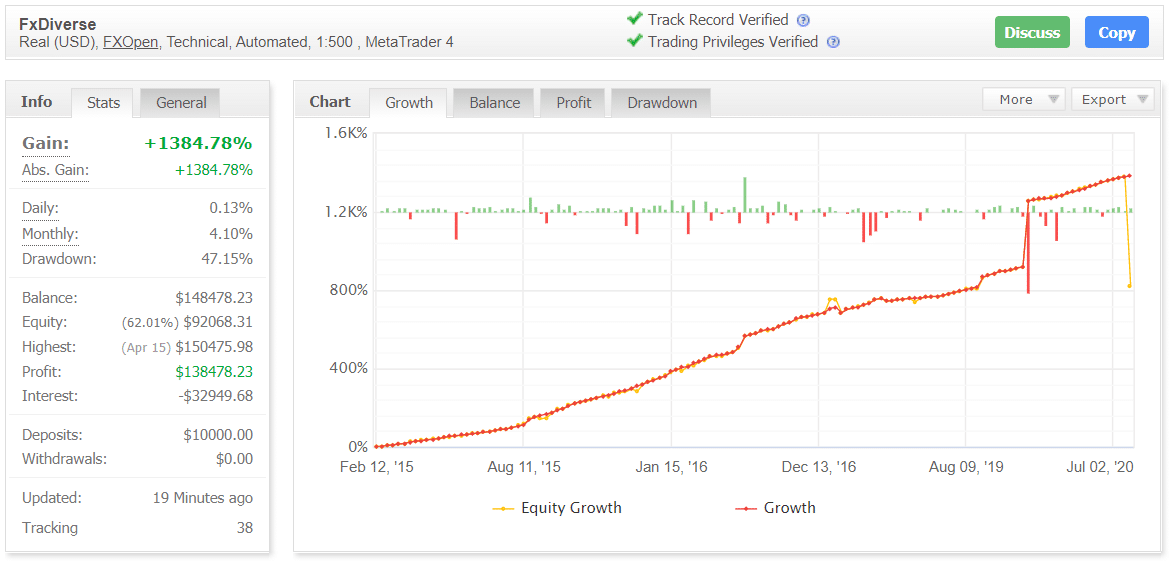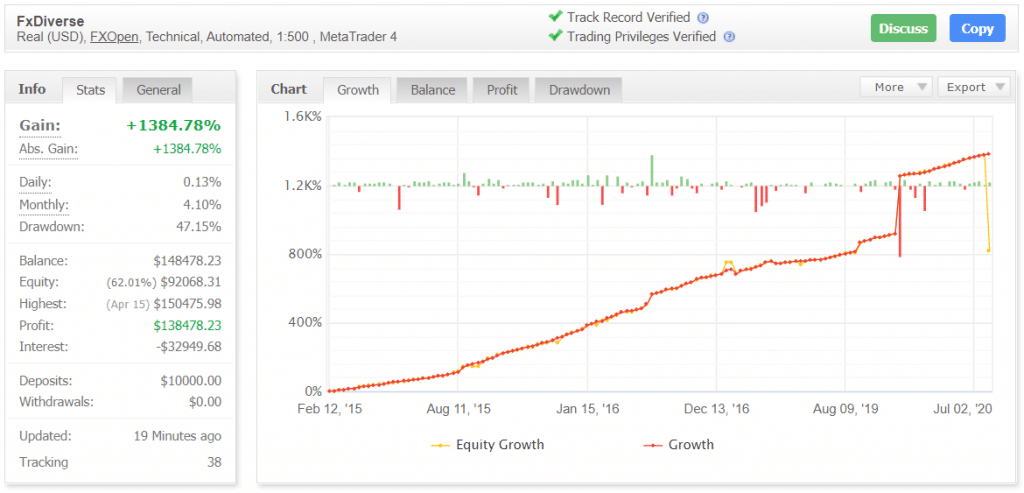 Let's take a look at this real USD account on FXOpen with the maximum leverage (1:500). The robot works on the MetaTrader 4 platform. The account has been running since February 2015. It's a long life robot across EAs. An account was deposited on $10k. For five with a half years, FX Diverse could make +1384.78% of the account gain. The average monthly gain is 4.10%. The maximum drawdown was little until now (47.15%). One or several aren't closed deals draw the margin quite well.


The robot has a quite low win-rate 54-57%. Fx Diverse performed 2222 deals with 1251 pips. The average win (126.30 pips) is a bit less than the average loss (-156.77). An average trade length is over half a month (17 days). As a result, a Profit Factor is 1.32.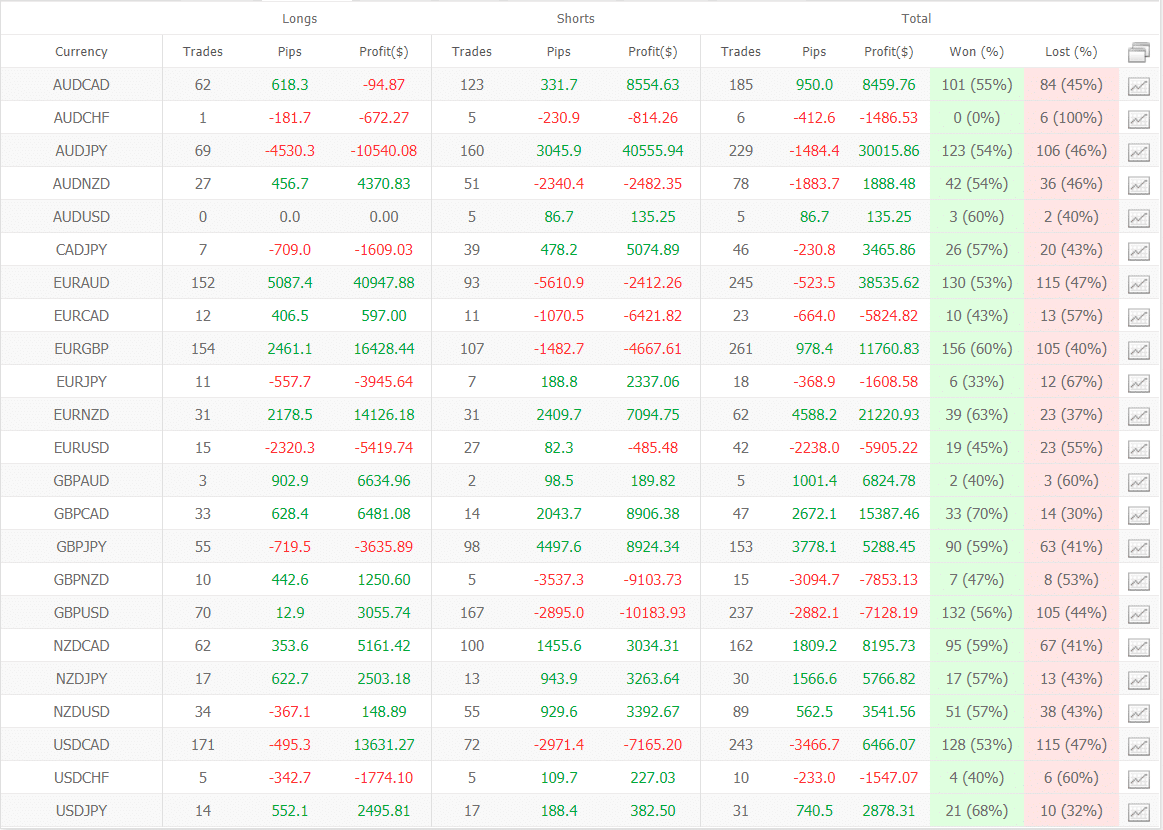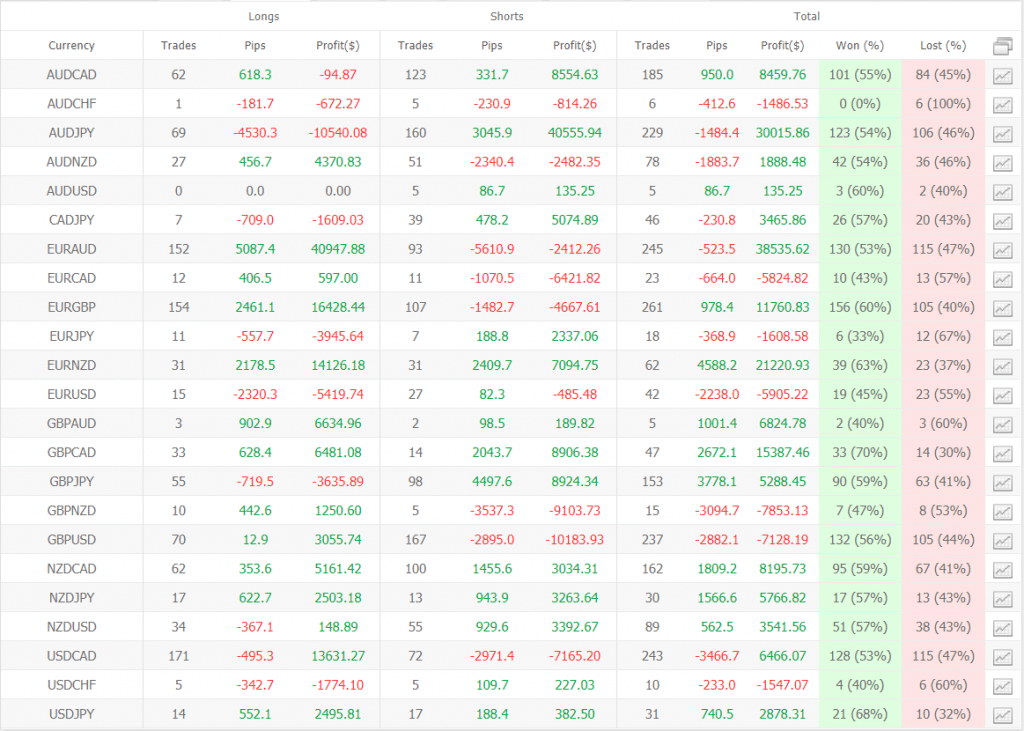 The robot has different profits for every symbol. The most profitable trading pairs were EUR/NZD, AUD/JPY, EUR/AUD, and GBP/CAD.


It opens trades all day, even at the end of the Asian trading session.


Tuesday is a favorite day to open trades.

The account is run with quite high risks.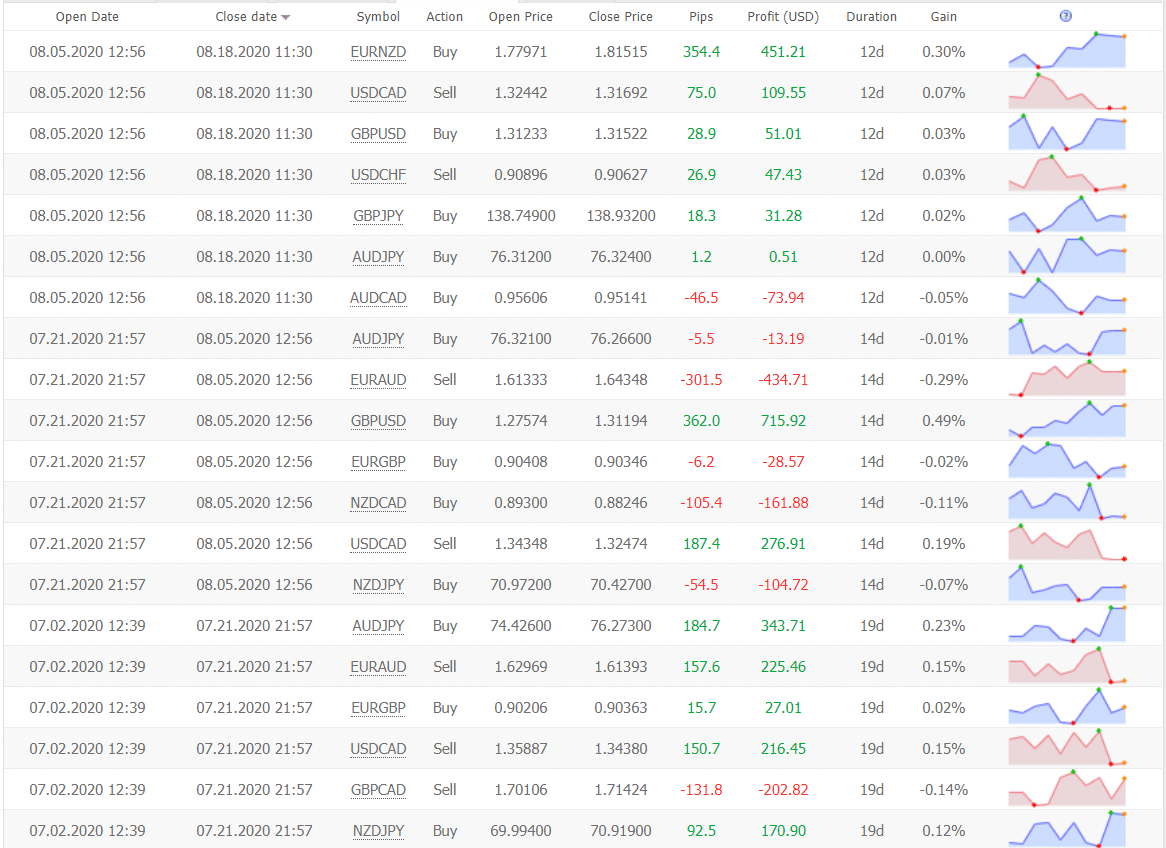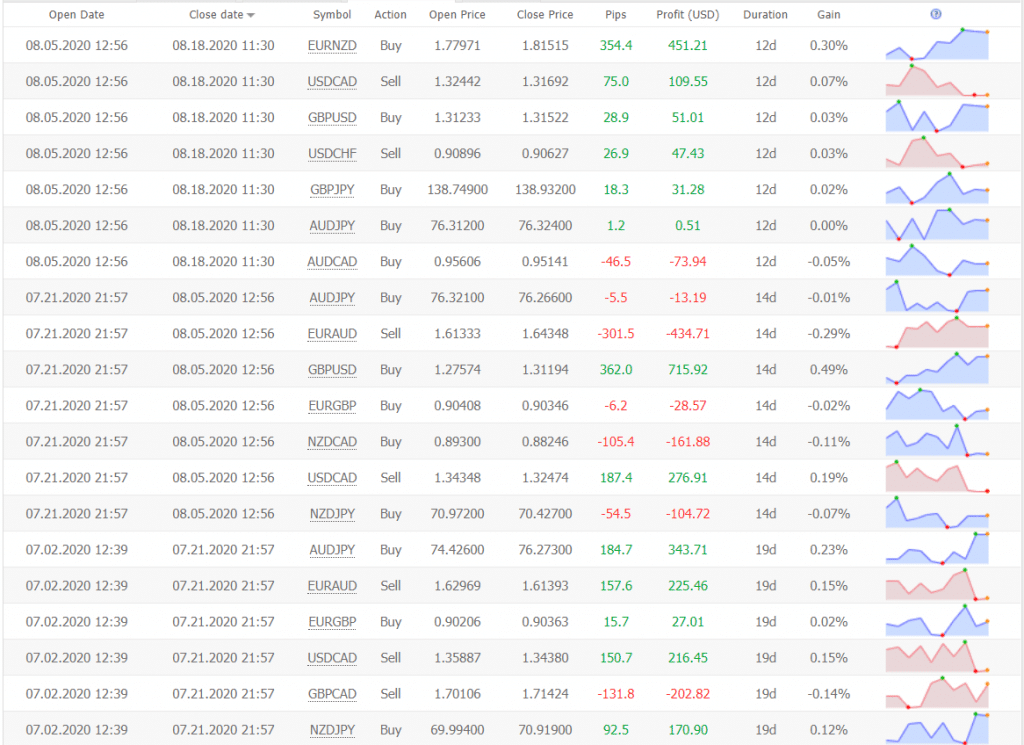 Trade length tells us that the robot most likely trades on a daily chart.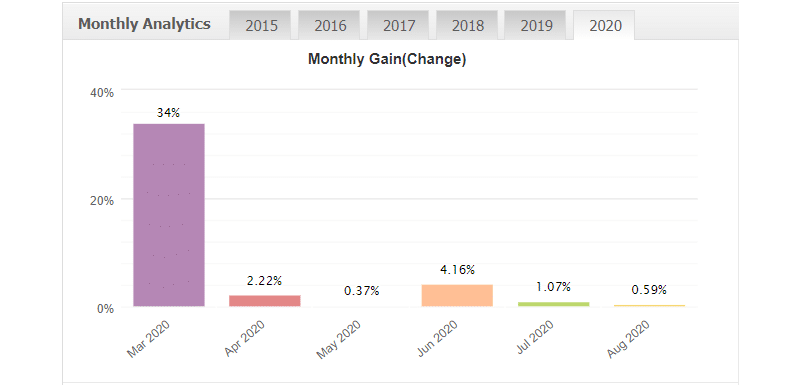 If we take away March trading results and look at the rest, we can notice that even with medium risks the robot ended its trading adventure with a mediocre +0.59% monthly gain.
FX Diverse Review Summary
Now, it's not an EA that you have to buy asap, and there are several reasons for this. The first one is that we know anything about strategy or strategies behind their requirements to the system, broker, margin, and so on. The second reason is that FX Diverse was stopped several months ago with open deals. As a result, we can see some trades open that draw margin very quickly. The fact that the EA didn't close them since August should warn us that something went wrong. First, if you still want to experiment, you have to write the devs and ask this question, and second, you have to ask about an investor password to this account to see everything on your own.