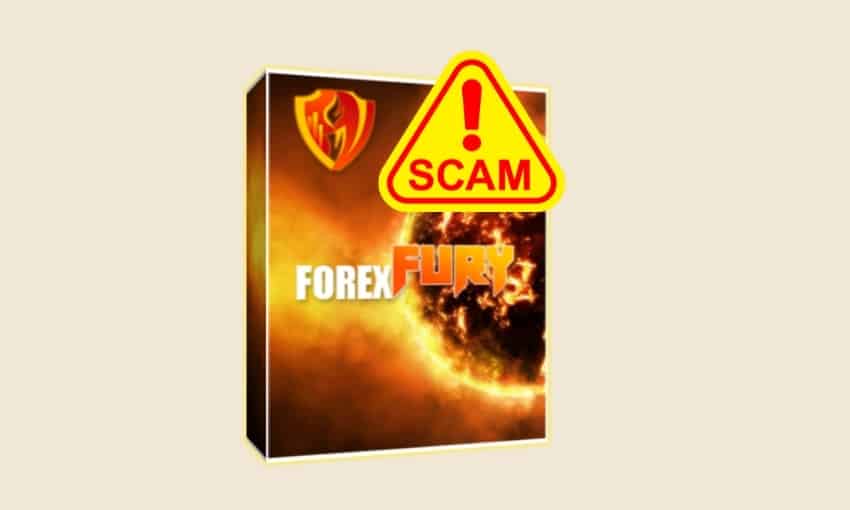 Forex Fury is an automatic expert advisor available in the marketplace since 2015. The EA supports NFA, FIFO rules, ECN accounts, and can trade on multiple currency pairs. In this review, we will analyze the system and its efficacy and reliability for trading different currency pairs.
Is Forex Fury a good EA to invest?
Forex Fury shows a high drawdown in live trading results that currently nears the 50% market. This depicts a big loss of your capital. The customer reviews on multiple review forums show a poor response from the general community for the robot.
Company profile
The website only mentions the team of developers, including Patrick Ryan as CEO, Joe Damien as Head Analyst, and Haroon Mir as a head developer. They present links to their LinkedIn profiles. Over there we can observe that they have a limited number of followers and connections.


Main features
Following are the main characteristics of trading with Forex Fury:
It aims to generate 10-20% per month.
It provides unlimited demo licenses in each subscription plan.
The platform includes various settings like stop loss, take profit, reverse strategy, etc.
Support for MT4/MT5 platforms.
The algorithm trades for a limited while working on the charts. According to the developers, this approach is used to maintain its profitability and drawdown.

From Myfxbook records, we can observe that the EA opens multiple orders with the same lot size, usually at the end of the New York session. The robot uses a virtual stop loss and take profit for trades. The total gains for the account are quite low ranging between 0,03-0.05%. While taking into account the high lot size the current output is quite low. Without the use of a proper stop loss any trade can result in a potential margin call if the market moves in the wrong direction.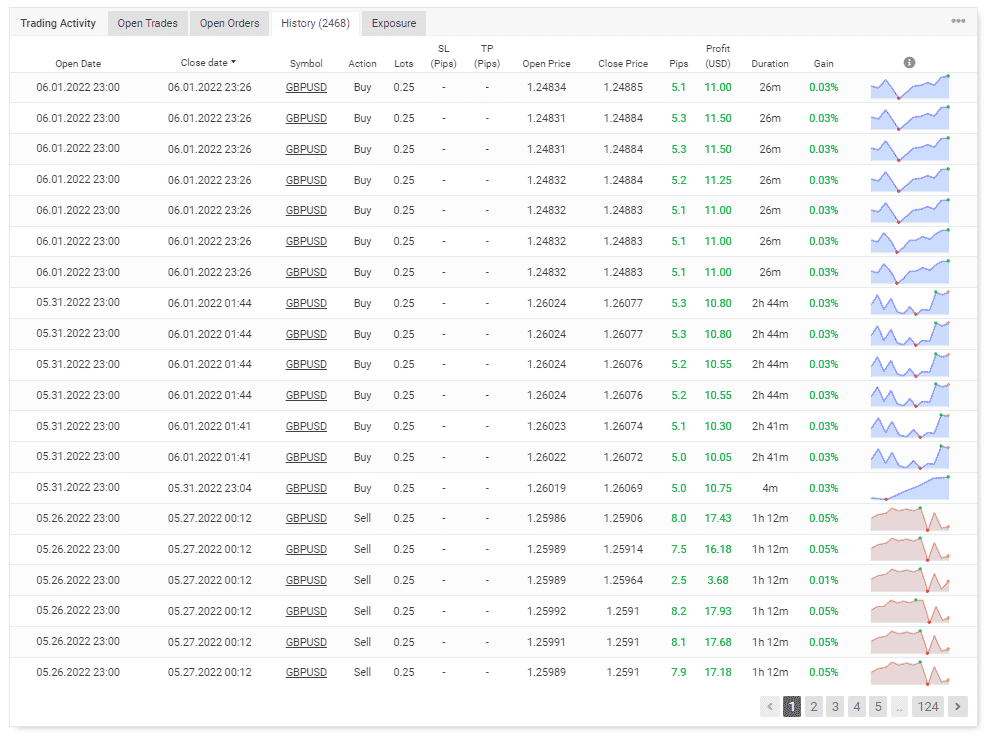 Price
Traders can purchase the Forex Fury trading bot in two-lifetime pricing plans. It does not offer a free trial and there is no money-back guarantee. There are hidden charges, and the company accept payments through credit card or Paypal.
Gold: $229.99/1 live account license/settings/lifetime membership/tutorials/unlimited demo licenses.
Diamond: $439.99/2 live account licenses/same services as gold plan.
Trading results
The algorithm has no backtesting records. This is a poor practice from the developer that raises many questions on the performance of the EA.
Since October 3, 2017, until now, the Forex Fury has been active on Myfxbook. The account indicates a daily and monthly gain of 0.04% and 1.16% which is against the promised value of 10%-20%. With a deposit of $30,000 and withdrawals of $9000, the balance stands at $44,493. The trading results for GBP/USD pair show a drawdown of 41.90% which is extremely high. It depicts that it can cause a big loss in equity while trading.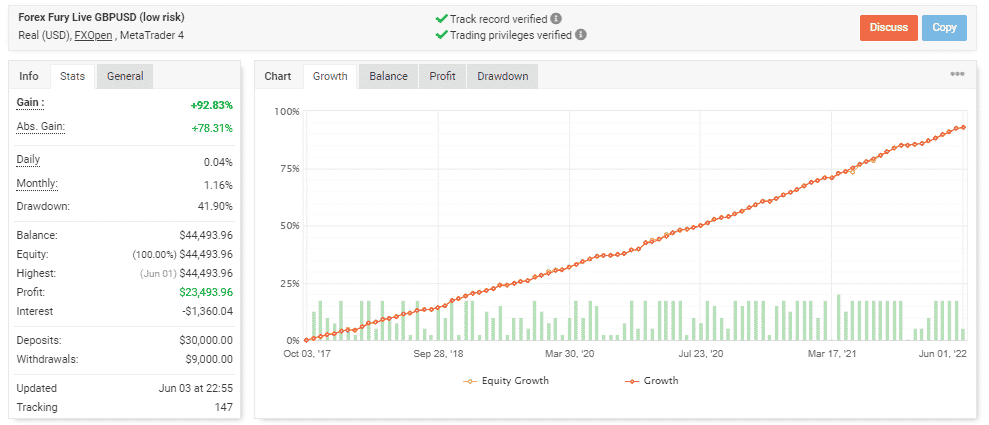 Looking at the monthly chart, we find that the system produces a puny output ranging between 0-3%. This goes against the initial claims of the developer which promised 10-20% each month.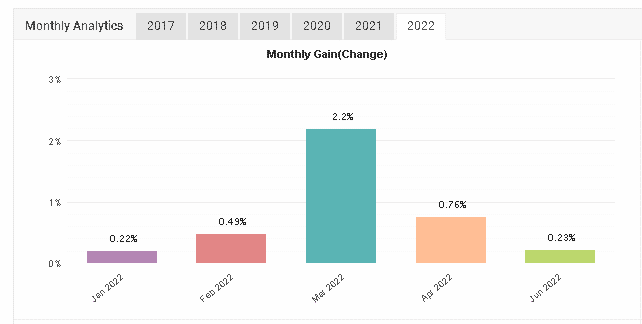 Customer reviews
Forex Peace Army, a trusted third-party website, shows verified customer reviews for Forex Fury. It has a total of 143 feedback from past traders with a rating of 2.7/5. The traders do not consider the system reliable. Most of the traders complain about this EA and say that this robot only blows their trading accounts.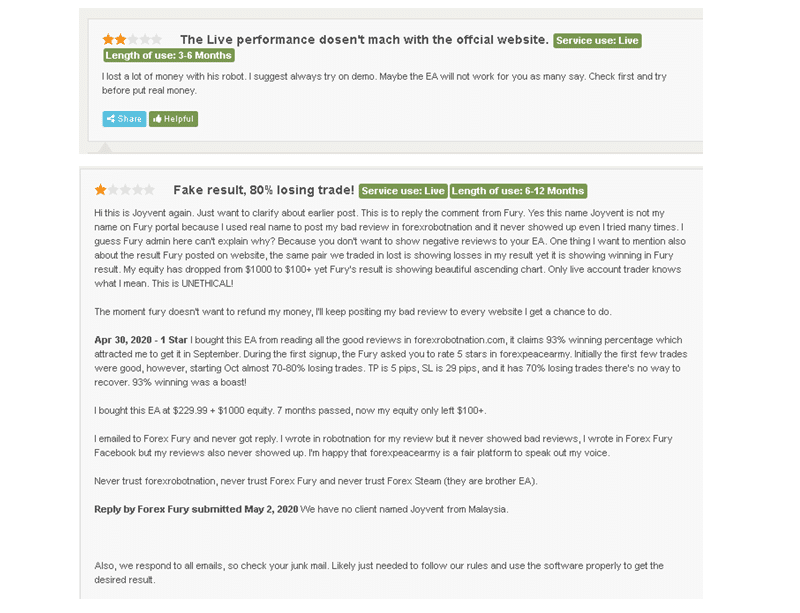 The platform also mentions that multiple suspicious and fake positive testimonials were noticed in 2016, which raises further questions about its authenticity. One user wrote that it generated profits in the first month, but after that lost all his investment. They recommended investors not to waste their money.
Forex Fury EA Review Summary
Forex Fury lacks transparency on multiple factors such as backtesting and strategical approach. The algorithm has a high drawdown and low monthly gains according to the live records present on Myfxbook. It provides little details about the vendors and does not offer refunds or a free trial.