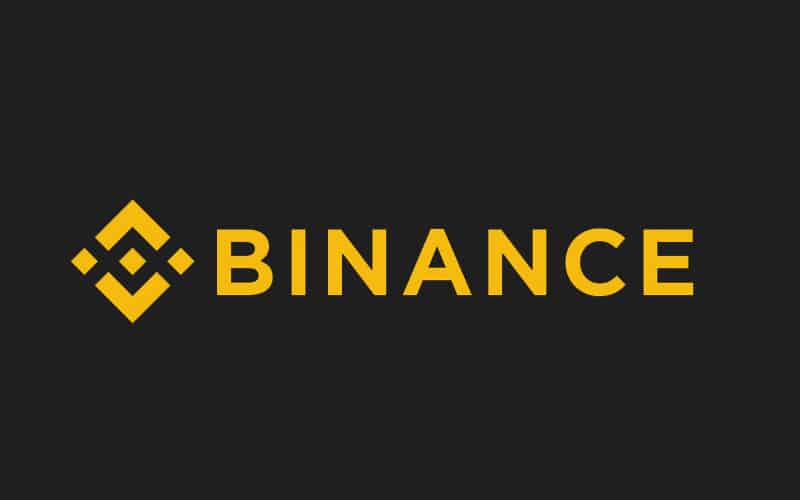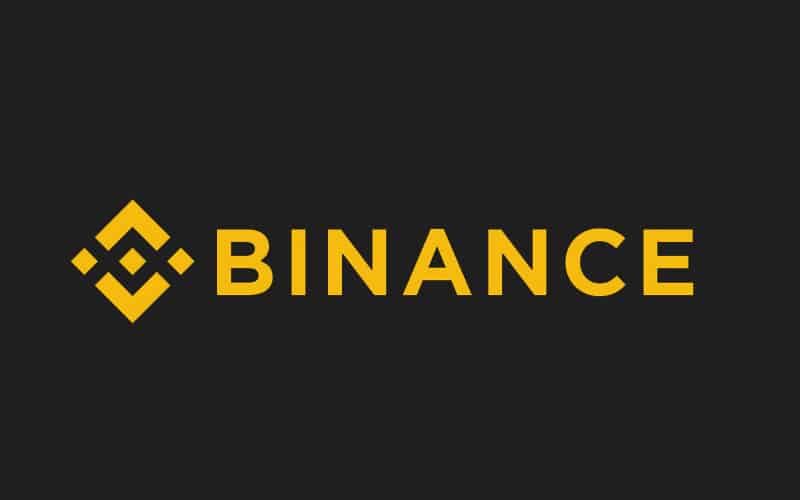 With crypto adoption picking up pace, as a cryptocurrency trader and investor, you are constantly looking for the best exchanges for your investment needs. Crypto is inherently risky, and it's important to use a reliable and responsible exchange. Binance is one such exchange that places security and customer satisfaction above everything else.
What is Binance?
Binance was launched in 2017 by Changpeng Zhao (aka CZ). He raised $15 million through an ICO (initial coin offering). As of December 2021, Binance is ranked by SimilarWeb, as the 839th most-popular website, ahead of other big brands such as Investopedia, Vanguard, and TD Ameritrade. The number of visitors was a whopping 48 million.
With institutional clients growing by 46% since the end of 2019 and trading volumes shooting through the roof, Binance has achieved a lot in the four years of its existence. The ICO price of the Binance coin upon launch was $0.1, and today BNB trades at $57.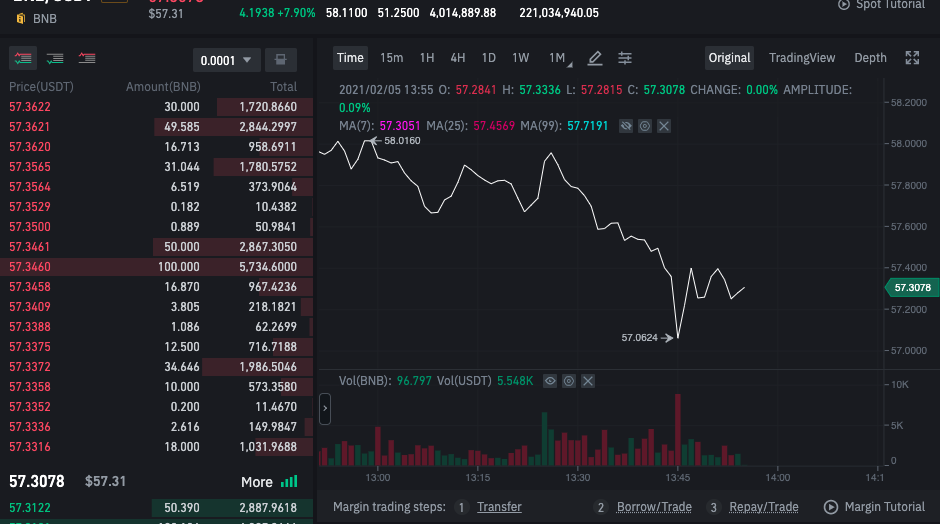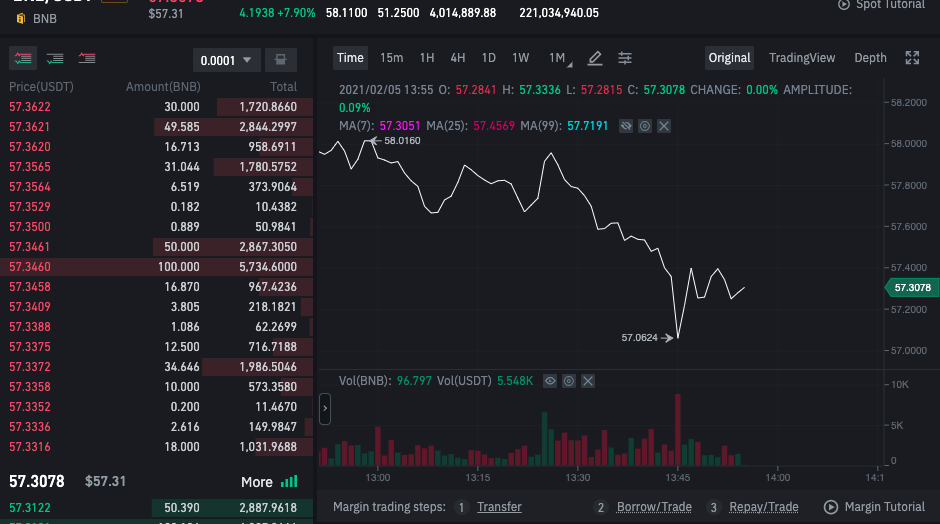 If you want to enjoy trading at an exchange that offers not just trading but also numerous options of earning passive income, it is time to delve deeper into Binance.
How to Use Binance?
I had personally used many exchanges before turning to Binance. One of the exchanges went into liquidation, sealing part of my investment. This was disturbing, and I went on a massive search to find a secure place for trading. I came to know of Binance from a Discord group.
A clean layout, quick transactions, and a huge number of crypto assets – it was love at first sight for me. As of writing this, I have been using Binance for three years for trading. I use Bittrex and Kucoin once in a while, but that's only when the coin is not listed on Binance. As I don't believe in putting all the eggs in one basket, my short-term and long-term investments are always locked away in a hardware wallet.
Binance Registration: A Step-by-Step Guide
You can sign up for a Binance account through their website or the Binance app. Here's a short guide to help you.
Registration: Register using a valid email or mobile. I suggest using an email as it is more reliable. 
Two-Factor Authorization: Withdrawals are enabled only 24 hours after you set your 2FA methods. Two methods of authentication should suffice.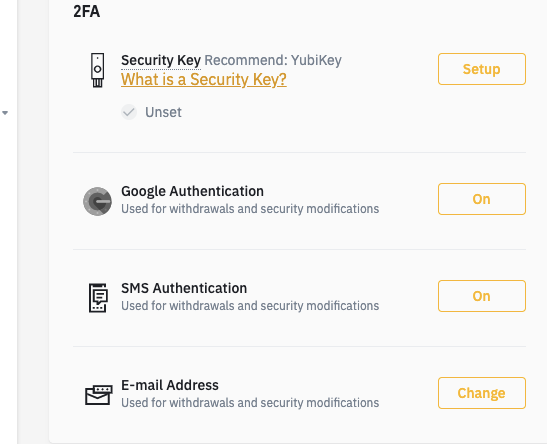 Identification: You will be required to take a selfie, submit a valid proof of address (POA) and other information. I suggest you complete the verification immediately after registration. It is mandatory for some of the fiat-crypto exchange methods and also for using some parts of the trading platform.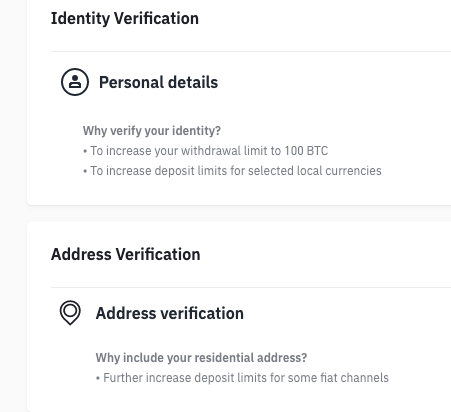 Binance Deposits
After verification, you have to deposit fiat to buy BTC, USDT or other cryptocurrencies. Link your credit card, debit card or bank account to exchange fiat for a crypto asset.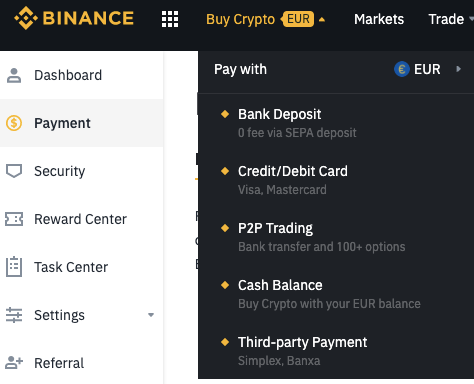 Credit Card, Debit Card: Binance is working with Simplex to make credit card and debit card payments possible. However, at 3.5%, the fees are very high. 
Bank Transfers: SEPA and bank transfers are a better option as they carry no transaction fee. Silvergate is the latest payment method on Binance. It allows only SWIFT transfers of USD through local bank accounts. 
P2P Trading: The P2P (Peer-to-Peer) method is very convenient, where fiat and cryptocurrencies can be transferred between two parties, using a variety of payment options. 
Brave Browser: Brave browser has a Binance Widget that allows trading through Binance. 
WazirX: In 2019, Binance acquired WazirX, a leading Indian cryptocurrency exchange. You can send Indian rupees from an Indian bank to WazirX, exchange to a cryptocurrency and transfer to Binance (no fee for Binance transfers). The entire process takes less than five minutes.
Binance Services
Binance is at the forefront of innovation and constantly bringing out new products or improving upon existing products.
"I feel like we are still working on the basement level of a new building, and haven't even started to build the floors above ground yet. There is still much more work to be done." This was the New Year message of the CEO.
This sentiment reflects clearly in their offerings.
Binance Trading
You can trade spots and futures on Binance. You will find a wide range of cryptocurrencies in Binance spot markets, paired with BTC, ETH, BNB, XRP and USDT among others. You will also find a few crypto/fiat pairs.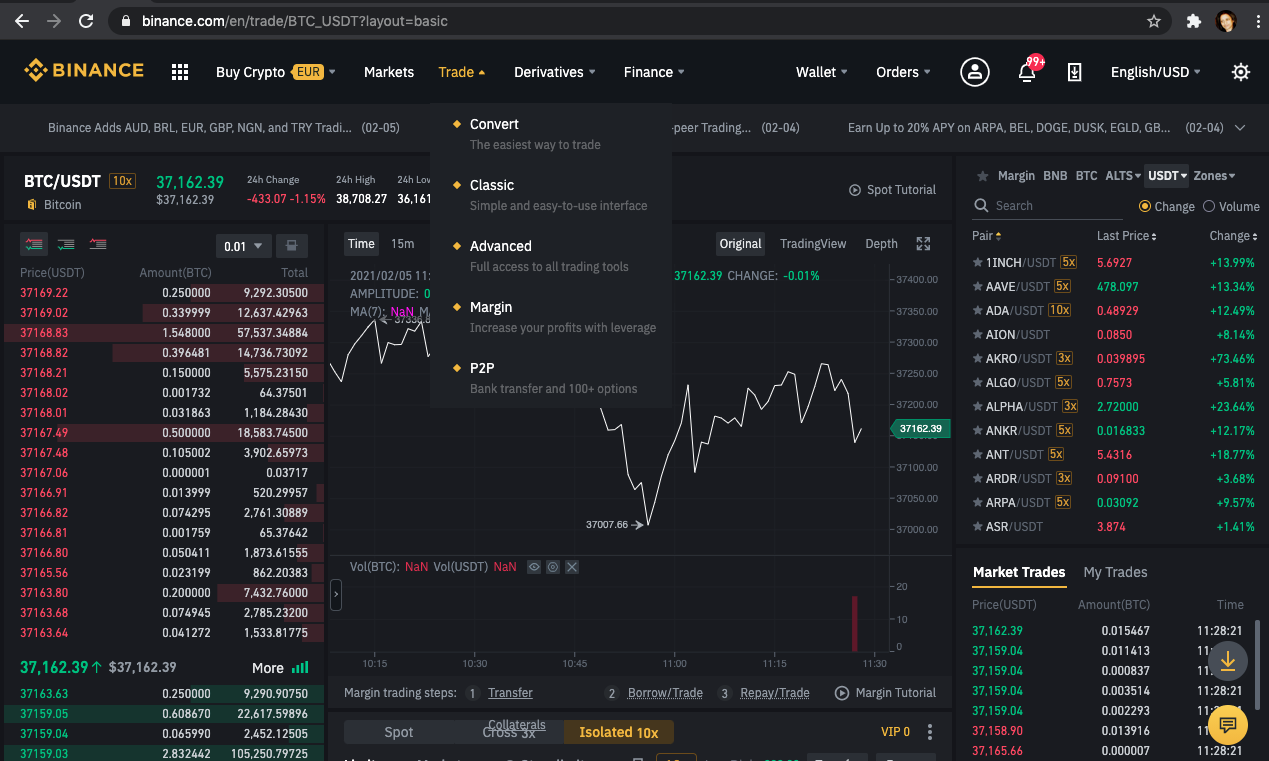 Spot Trading: The convert option allows you to swap coins directly without entering the trading interface. Classic is the basic trading interface and Advanced offers more tools and advanced charting. For most new and experienced users, Classic is all they need.
Margin Trading: You can trade with a leverage of up to 10x. The range of  cryptocurrencies available here is fewer when compared to spot trading. But Binance is continuously adding more. 
Futures: Binance Futures are contracts that allow you to speculate on whether the price of the crypto asset will rise or fall in the future. A high leverage of up to 125x is offered on futures trading. The first level (VIP 0) charges 0.02% maker fees and 0.04% taker fees. 
Derivatives: Binance derivatives are leveraged tokens that can be traded without getting liquidated. 
Futures Battle: Binance has recently introduced a fun element to futures trading. The first trading pair launched is the BTCUSD perpetual contract. You can open either a long or short position and compete against other users.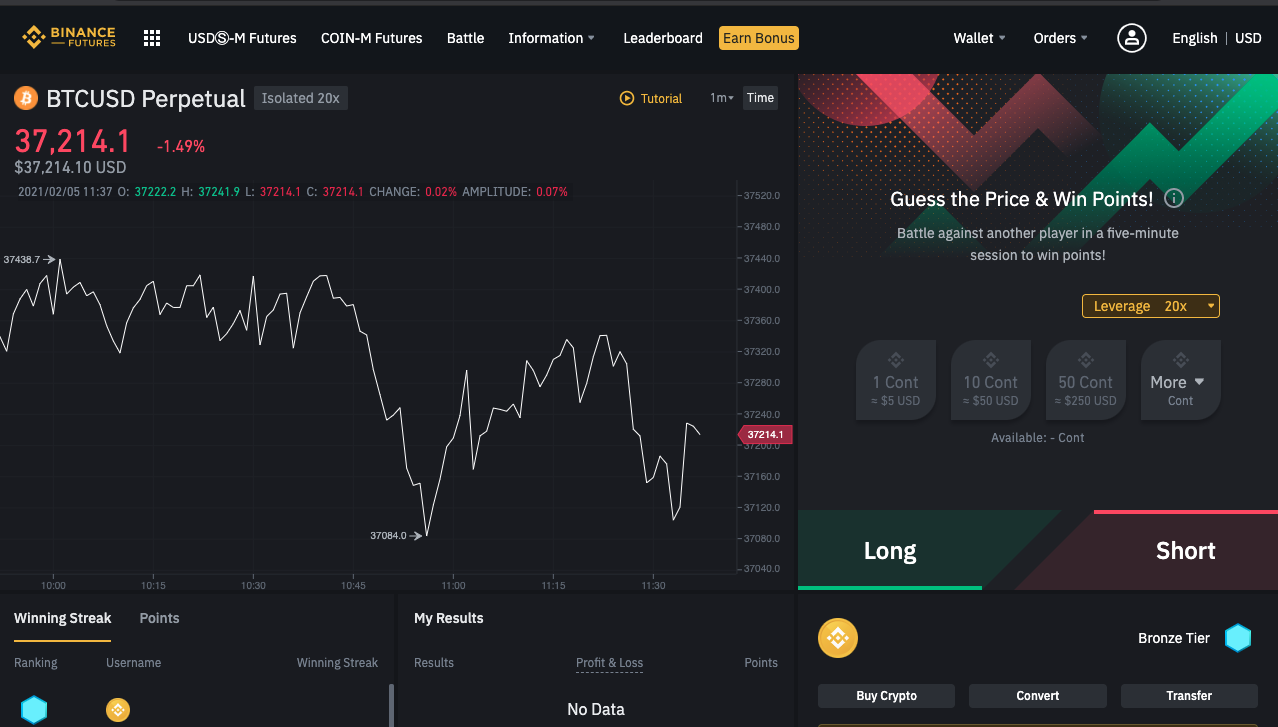 Before venturing into margin trading or futures and derivatives markets, please read all about how they work. I'm impulsive by nature and gained knowledge the hard way, after losing a lot of money in liquidations, but it doesn't have to be that way.
Binance Finance
At Binance, you can not only profit from trading and investing but also earn through a variety of finance products.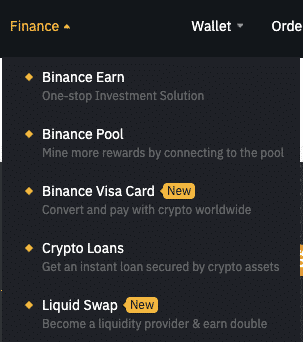 Binance Savings: It is possible to earn double-digit interest rates for locking in your crypto assets, unlike what traditional banks offer. 
BNB Vault: Once you deposit BNB in the vault, you are automatically entered into the Launchpool rewards, Binance Savings, DeFi Staking, and other Binance projects. You will also be eligible for airdrops and VIP benefits. Binance guarantees the best APY returns. Income is calculated every 24 hours and distributed to the spot accounts.
Binance Staking:  "Proof-of-stake" is locked staking, where your coins are locked for a fixed amount of time and added to a staking pool. In "DeFi Staking," Binance invests your staked coins in a few DeFi products, and the rewards are distributed among the stakers at the beginning of each month.
Liquid Swap:  Binance Liquid Swap is based on the principle of Automatic Market Maker, where users become the market makers. It has many liquidity pools with two digital tokens or fiat assets in each pool. You can earn passive income in the form of interest and transaction fees by providing liquidity to the pools. You can also quickly trade/swap the two digital tokens or fiat assets from the liquidity pools.
Binance Launchpool:  For every new coin that is launched on Binance, you will be given a chance to stake your BTC, BNB, and BUSD tokens in different pools and farm the new tokens. Farming usually begins a few days before the launch, and the rewards are distributed daily. The earned tokens can be sold upon launch.
Binance Smart Pool:  Several cryptocurrencies are mined using the same algorithm. It automatically switches to the profitable coin of the moment without any user intervention. Income from mining is given to the miners in BTC.
Binance Crypto Loans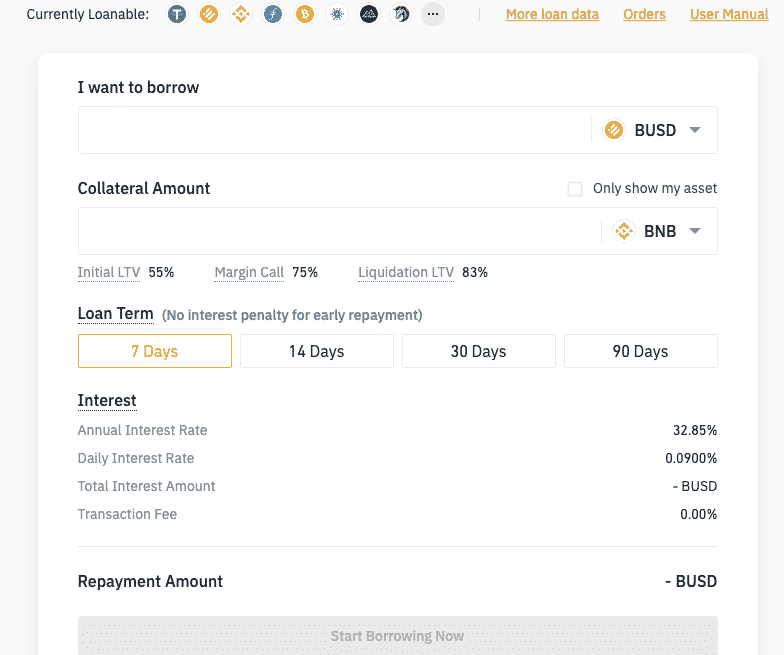 You request a loan, provide the collateral in the form of a cryptocurrency and get the loan. You can borrow and use as collateral a variety of crypto assets. Loan tenure is from 7 to 90 days. Advance repayment is allowed, and interest is only charged for the days borrowed. I've never used this service, but it does come with great reviews from people who have.


Binance Payments
Binance Visa Card: Just transfer your crypto assets from the spot wallet to the card wallet and shop. Merchants worldwide are on board. Only KYC Level 2 verified users are eligible. I would love to own this card, if only for the "Satoshi Nakamoto" name imprint.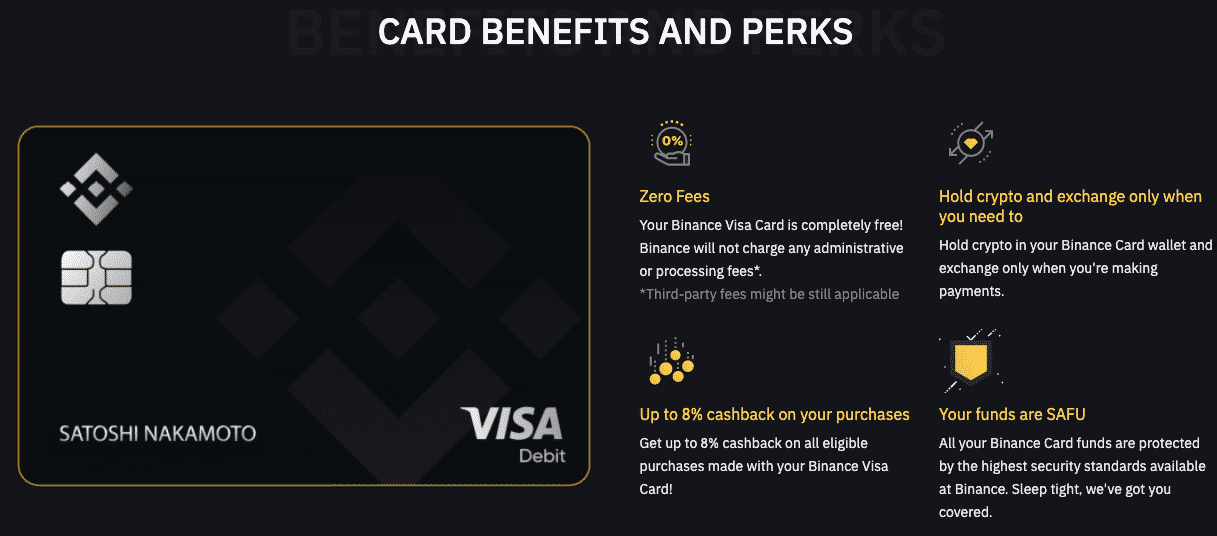 Binance Pay:  Recently launched (Tuesday, Feb 2, 2021) in beta mode, Binance Pay allows users to make and receive payments in five currencies (BTC, ETH, SXP, BNB, and BUSD) and the Euro.  Binance registered users can download the Binance Pay mobile app.
Binance Fees and Commissions
It is advisable to keep a watch on the fee schedule as it changes based on market conditions.
Spot Trading Fees: A fixed fee of 0.1% is charged on all trades. But you get a discount when you pay your transaction fee in BNB. To enjoy this benefit, you have to enable that option and hold BNB in your account. Further, there is a 50% discount on the fee for trading BNB.
Futures Trading Fees: The maker's fee ranges from 0.020% to 0.000% depending on the trader's VIP level. The more the trading volume, the lower the fee. Similarly, the taker's fee ranges from  0.040% to 0.017%. 
Deposit and Withdrawal fees:  Binance does not charge any fee on deposits. The withdrawal fee depends on the VIP level, the volume traded, and the prevalent blockchain transaction fee at the time. 
Binance Exchange Pros and Cons
It is easy to be biased when writing about an excellent exchange like Binance. But I'll try to be objective and give you a fair idea of the good and the bad.
Pros
Trading Volume and Liquidity: In 2020, the total trading volume across Binance is said to have reached $3 trillion USDT. High trade volume implies greater liquidity. 
Security: Binance is known to prioritize security over everything else. 
Transaction Fees: Charges some of the lowest fees when compared to other exchanges. 
Cryptocurrency Range: Offers an extensive list of cryptocurrencies and pairings to trade. 
Communication and Feedback: Binance constantly communicates with users on social networking sites, especially Twitter. User feedback is taken into consideration, and the CEO is personally involved regularly.
Customer Support: From experience, I can tell you that they have excellent customer support, one of the best I have seen. 
Cons
Lagging: I have personally experienced lagging when there is a sudden spike in volume for a coin, especially in the event of news. Binance is constantly upgrading its servers to cater to the increasing traffic.
Binance.us: Binance US site is still in its nascent stages and doesn't offer the complete list of cryptocurrencies offered on the main website.
Regulatory Problems: Currently, Binance US does not offer services to people from NY and a few other states in the US due to regulatory requirements. Binance hopes to resolve this soon.
I hope this article helps you understand how to use Binance and what the exchange offers. I need to say that I am not qualified to tell you where your money should be invested. We have to make these decisions for ourselves.