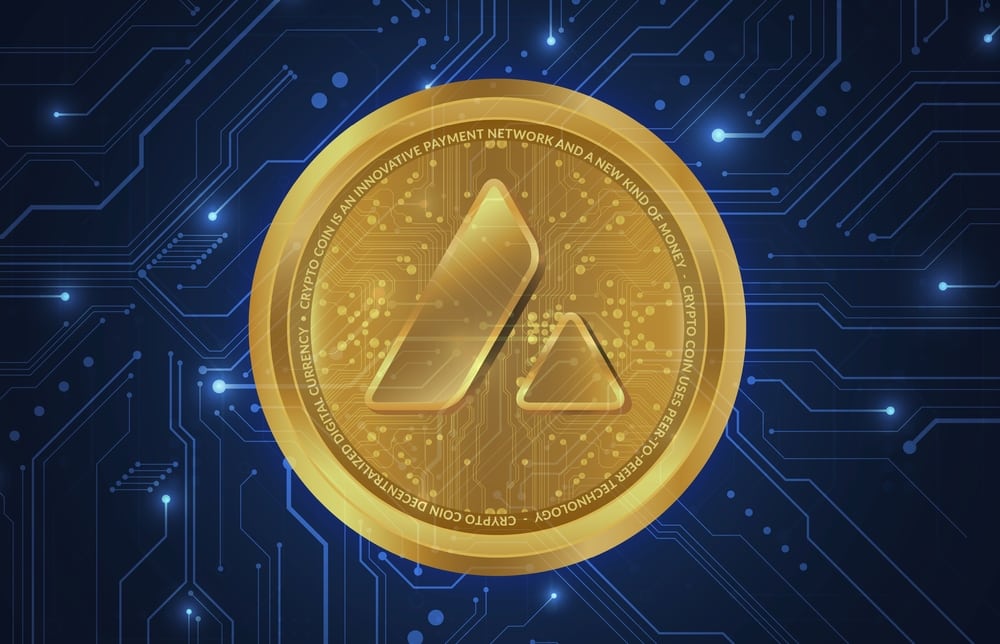 Disclaimer: Although we think digital assets are great for trading and investing, we do not suggest any particular decisions to our reader, who is fully responsible for their financial investments.
Meet Avalanche and AVAX Coin
Avalanche is a blockchain project designed to enhance the development of smart contracts and decentralized applications. A rival of Ethereum, it came into being in 2020 focused on delivering a scalable blockchain solution while maintaining decentralization and security.
It rivals Ethereum as its blockchain can process up to 6,500 transactions a second while not compromising security and scalability. Avalanche comes with three unique blockchains, X-Chain, C-Chain, and P-Chain, all designed to enhance scalability on the network.
The Exchange Chain X-Chain enables the creation and exchange of AVAX tokens and other tokens on the network, while Contract Chain C-Chain is designed to handle smart contracts and decentralized applications. The Platform Chain coordinates network validators allowing the verification of transactions.
AVAX is the native token that powers the Avalanche network acting as a medium of exchange. Operating as a currency on the network, people can use AVAX to settle transaction fees. In addition, holders can stake the token to participate in securing the network, therefore, stand to earn rewards in the process.
The total number of AVAX coins that will ever be in circulation is capped at 720 million tokens. Users govern how fast new tokens are minted by voting to adjust the amount of AVAX paid as rewards on the addition of a new block to the Avalanche blockchain. Currently, there are about 266,908,692 AVAX tokens in circulation.
AVAX is currently ranked as the 10th largest cryptocurrency with a $21 billion market cap. The total value of AVAX tokens locked in decentralized finance platforms stands at $11 billion.
AVAX market sentiment – the latest movements
AVAX was one of the best-performing tokens in 2021, rallying by more than 7,000% to all-time highs of $146. The explosive move came at the backdrop of a strong crypto boom. Fast-forward, the token has come under immense pressure shedding more than 40% in market value from all-time highs.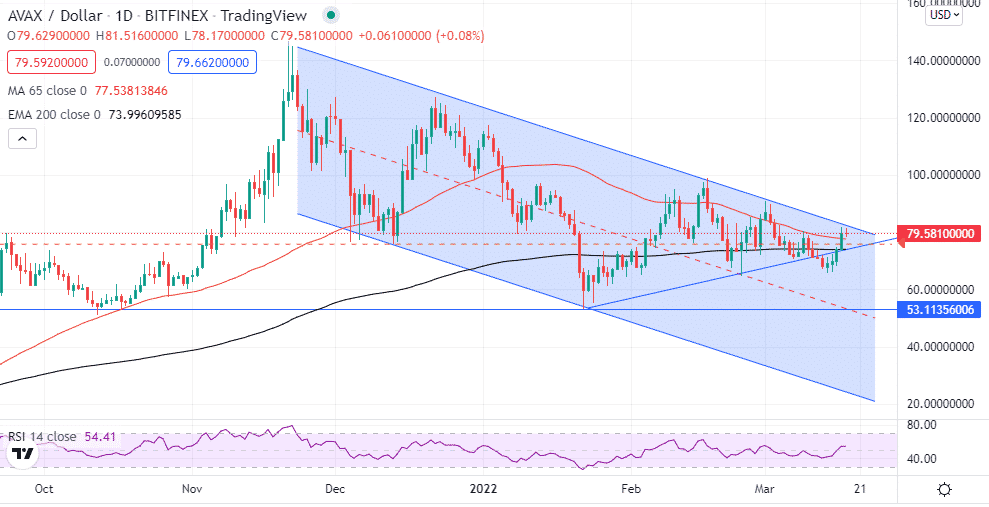 The deep pullback has coincided with the overall cryptocurrency sector coming under pressure and correcting lower from record highs. After correcting to three-month lows of $53 a coin at the start of the year, AVAX has bounced back in recent weeks as the bearish pressure continues to wane.
AVAX finding support above the $70 a coin level is once again fuelling suggestion that it is a bounce-back play and well-positioned to edge higher. Consequently, the coin is a solid buy at current levels, having already powered through the 200-day moving average.
The Relative Strength Index powering to highs of 54 is already signaling a buildup in buying pressure signaling further price gains.
What is Avalanche AVAX price prediction for a year?
According to algorithm-based forecasting site Walletinvestor, AVAX has what it takes to appreciate significantly in 2022 after the recent bounce back. The coin could reach highs of $152 a coin before year-end, representing a 90% plus bounce back from current levels.
Estimates on digitalcoinprice.com also indicate that AVAX could rally above the $100 a coin level before year-end. The site indicates that the coin will average about $101.64 for the better part of the year and could hit a high of $107.20 a coin.
What is Avalanche AVAX price prediction for 2025?
While Avalanche coin has been under pressure in recent months, its long-term outlook remains bullish. The smart-contract-based blockchain network is expected to experience significant adoption and use, resulting in the underlying token appreciating significantly.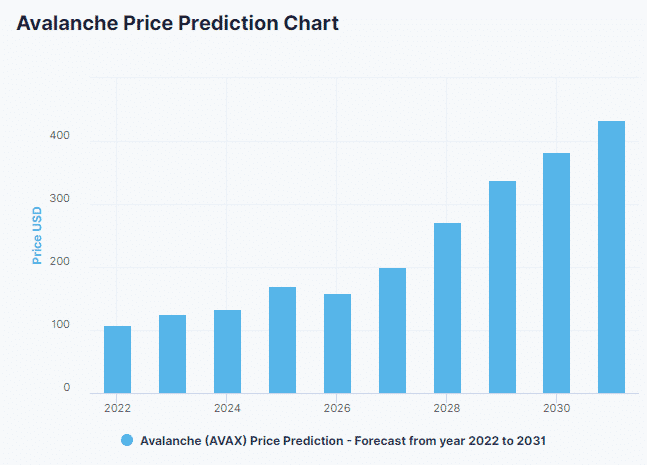 Considering that the coin appreciated by more than 7,000% plus in 2021 to record highs, anything is possible over the next three years. Consequently, estimates at digitalcoinprice.com indicate that the coin could rise to record highs of $169 a coin by 2025 and an average of $157 a coin in 2025.
Algorithm-based prediction site Walletinvetsor.com on the other hand indicates that AVAX could appreciate by more than 300% from the current levels to highs of $360 a coin.
What is Avalanche AVAX price prediction for 2030?
AVAX's long-term outlook is even more bullish amid the expected blockchain adoption in the mainstream sector. Increased deployment and use of smart contracts and decentralized applications could trigger significant AVAX price appreciation.
According to estimates on digitlacoinprice.com, AVAX could average more than $365 a coin by 2030 and reach highs of $383 a coin. Walletinvestor.com, on the other hand, indicates that the coin could be worth more than $500 a coin by 2030.
Avalanche in QA
Will Avalanche coin appreciate in a year?
The prospect of Avalanche coin appreciating in a year is high, given that it rallied by more than 7,000% in 2021.
How much will Avalanche be worth in 5 years?
AVAX coins could be worth more than $400 a coin over the next 5 years, given the volatile nature of virtual coins.
Where do I buy AVAX Tokens?
AVAX token can be bought in some of the biggest cryptocurrency exchanges, including Binance, Bitfinex, and KuCoin.