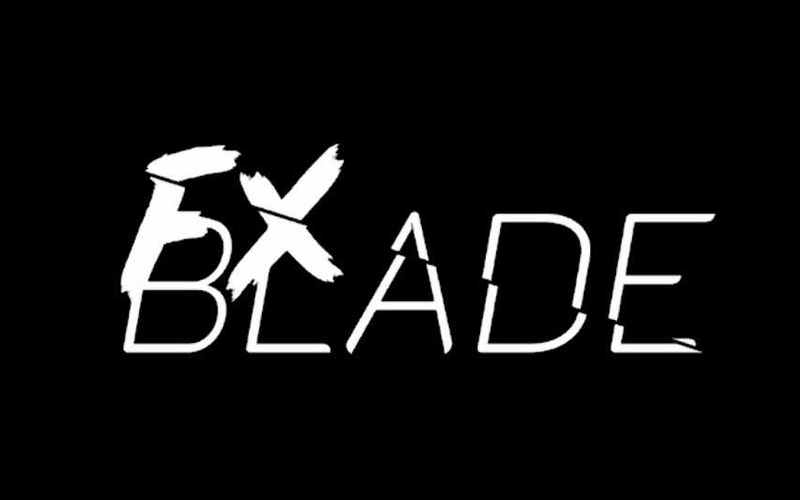 Forex Blade LLC is a relatively new developer in the Forex marketplace, offering EAs and educational courses. They claim that knowledge is power, thus their main goal is to help traders by providing them with detailed trading courses designed to enhance their trading skills quickly. The site does not look professional. There is no focusing on any of their services, just fluff and meaningless wording about everything good against everything bad.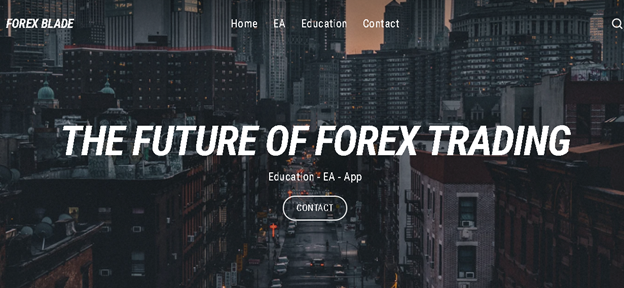 Today we will be providing our readers with a detailed Forex Blade LLC review, where we are going to analyze the company, its services, efficacy as well as the quality of their EAs and courses they offer.
Is Investing in Forex Blade LLC a Good Decision?
No. Our verdict is based on:
Undisclosed trading strategy
No backtests provided
No verified trading results provided
Little reputation in the Forex market
No pricing details provided
Fake positive feedback
Company Profile
Their website presentation looks disjointed and contains very little information where it is the most required. One thing we noticed throughout their presentation is that the team members of Forex Blade LLC lack the skills and experience to be what they claim to be.
Forex Blade LLC was launched in 2019 and established by the 'group of individuals who have a combined experience of 20+ years in the Forex Industry'. Andrew Narouz, Dylan Draxten, Waqas Zafar, and Martin Contreras run the Forex Blade LLC. Andrew Narouz, the creator of the company, started demo trading in 2015. In 2 years, he earned $72K. He says: 'That was enough to pay for my four years of college tuition'. Although the story sounds great, we'd like to see some proof of this gain. The company's headquarters are located at 3898 Silver Spur Drive York, Pennsylvania.
Main Features
The courses they offer are divided into Forex Blade EA v3 and ForexBlade University. Both of them are introduced using a "lesson" template.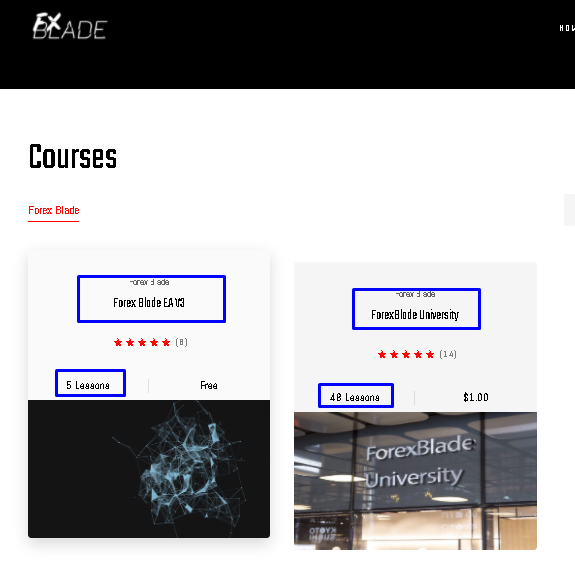 If you click on the EA, you'll find yourself on the 'course curriculum' page.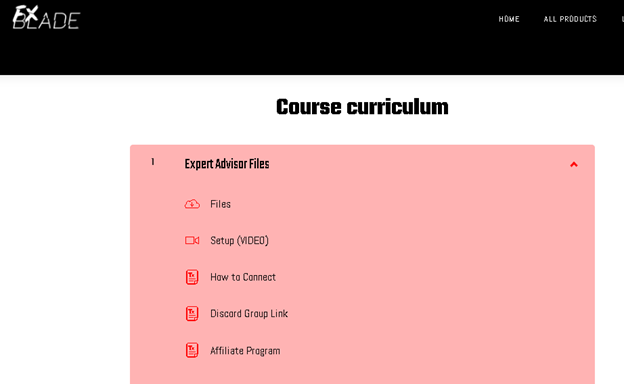 The dev failed to provide detailed product information. We know very little about the robot:
It uses Martingale trading strategy
It can work on Demo and Live accounts
The dev offers a 30-day free trial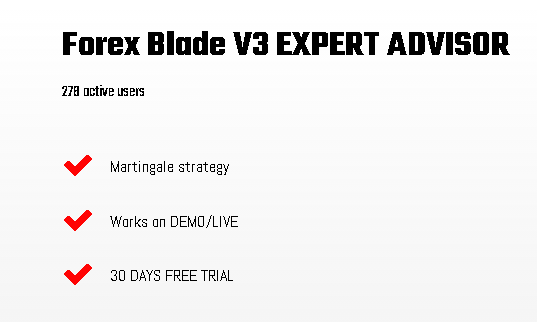 ForexBlade University is an educational program that is said to have 'everything you need to become a profitable and independent trader'. It includes videos, powerpoints, quizzes, other courses, and e-books.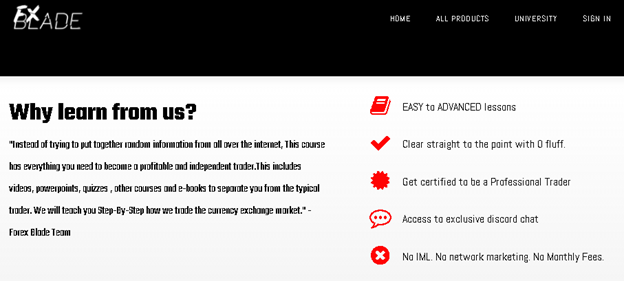 The course curriculum is made of 6 chapters. They are: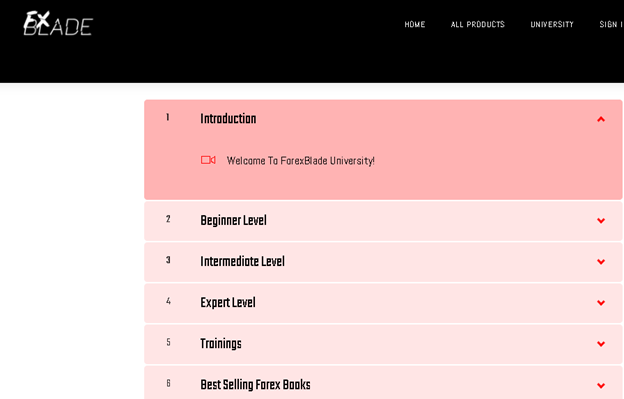 Their EA uses Martingale's trading strategy. This is all we know about their trading approach. The developers fail to provide an in-depth explanation or insight into how their strategy works.
Price
Oddly, but the website presentation doesn't include pricing details for their EA. We are only provided with a 30 day trial period.
Trading Results
Although Forex Blade LLC offers expert advisors, they failed to provide verified trading results on their website to show clients how their trading system works. We've searched for live trading accounts on myfxbook, fxblue, and fxstat to find at least something to analyze. Unfortunately, no results were founded.
The vendor skipped providing backtest reports to the community. Most likely, they were not performed or showed very horrible trading results. In any case, it is a huge con, as we cannot analyze the EA or be certain the EA was tested before release.
Customer reviews
Customer reviews are a vital instrument for us to offer up a quantitative review and analysis of any trading system. We've searched for customer feedback to see what their clients say about the system. As a result, we've found 13 reviews on Trustpilot. Ninety two percent of them are positive ones. However, all of them are fake.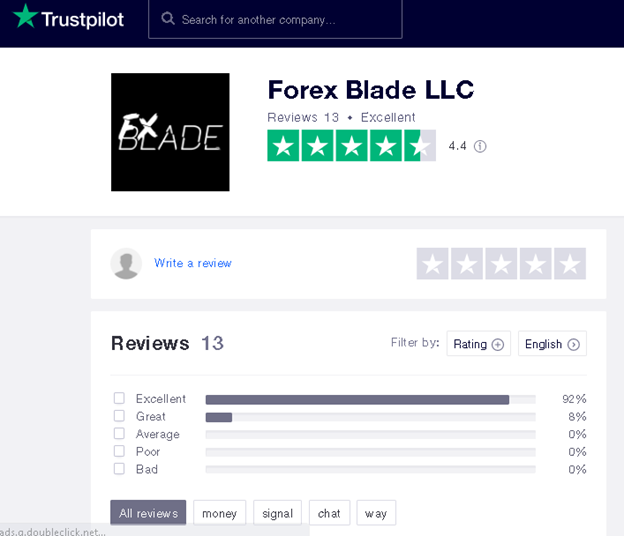 There are many reviews like this one: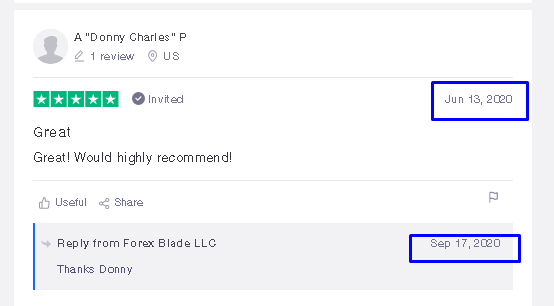 Many reviews were commented at the same time: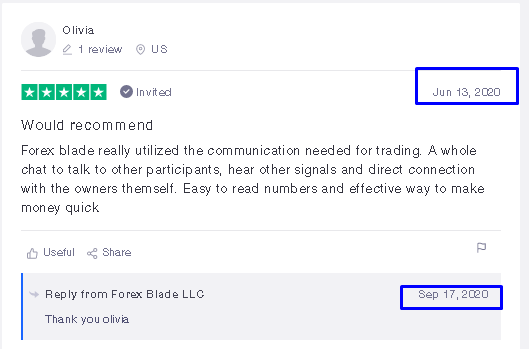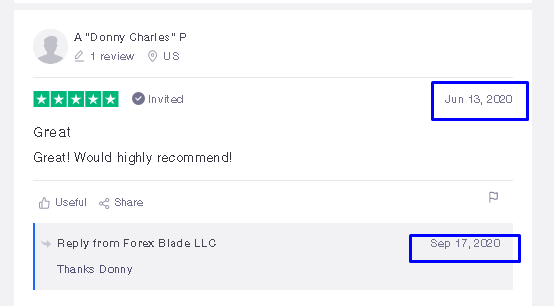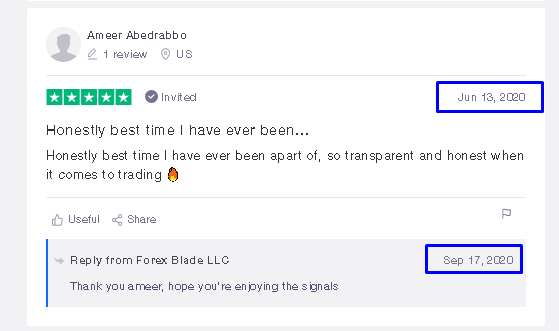 Forex Blade LLC Review Summary
After going through all aspects of Forex Blade LLC, they do not satisfy us with gaps between what they promise and what they deliver. We are not provided with detailed trading strategy insight or pricing details. The devs failed to share backtests or verified trading results on their website. We will not be recommending Forex Blade LLC, as we can't trust the developer.