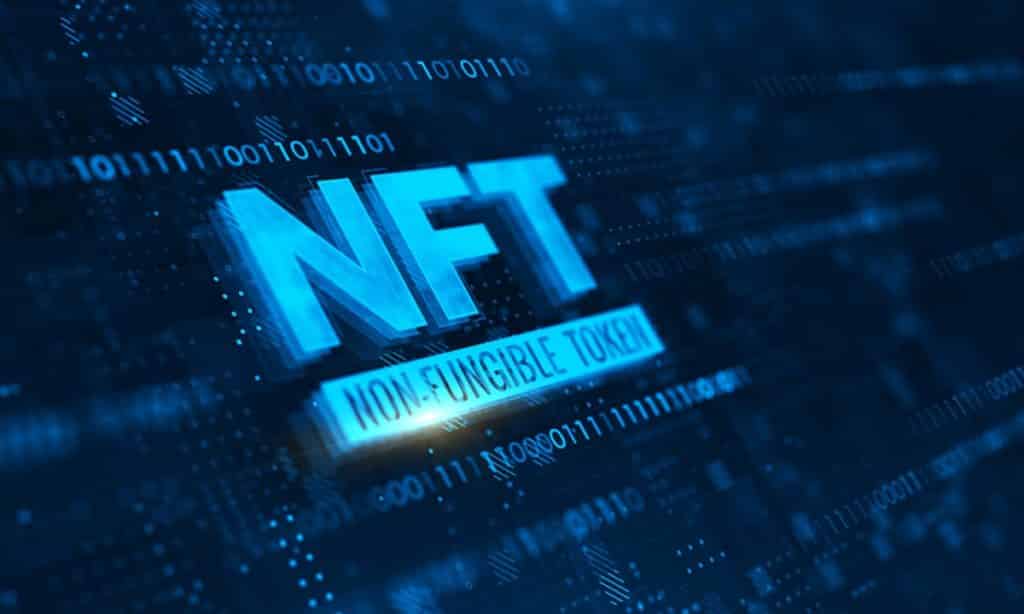 NFTs have grown in popularity over the last year, and this crypto sub-sector has seen phenomenal growth. In 2021, the entire global market revenue of the NFT sector was estimated to be over $41 billion. The upward trend is expected to continue in the next years, providing even more chances and growth for the industry's investors and creators. The NFT world is adaptive and adapts with each of its use cases, allowing for additional growth in the sector's streamlined, niche divisions.
In this article, we explore the best 5 NFTs, and although we think they're good assets, we are not offering any professional advice on investment management. If you choose to invest in them, you're fully responsible for your funds.
Decentraland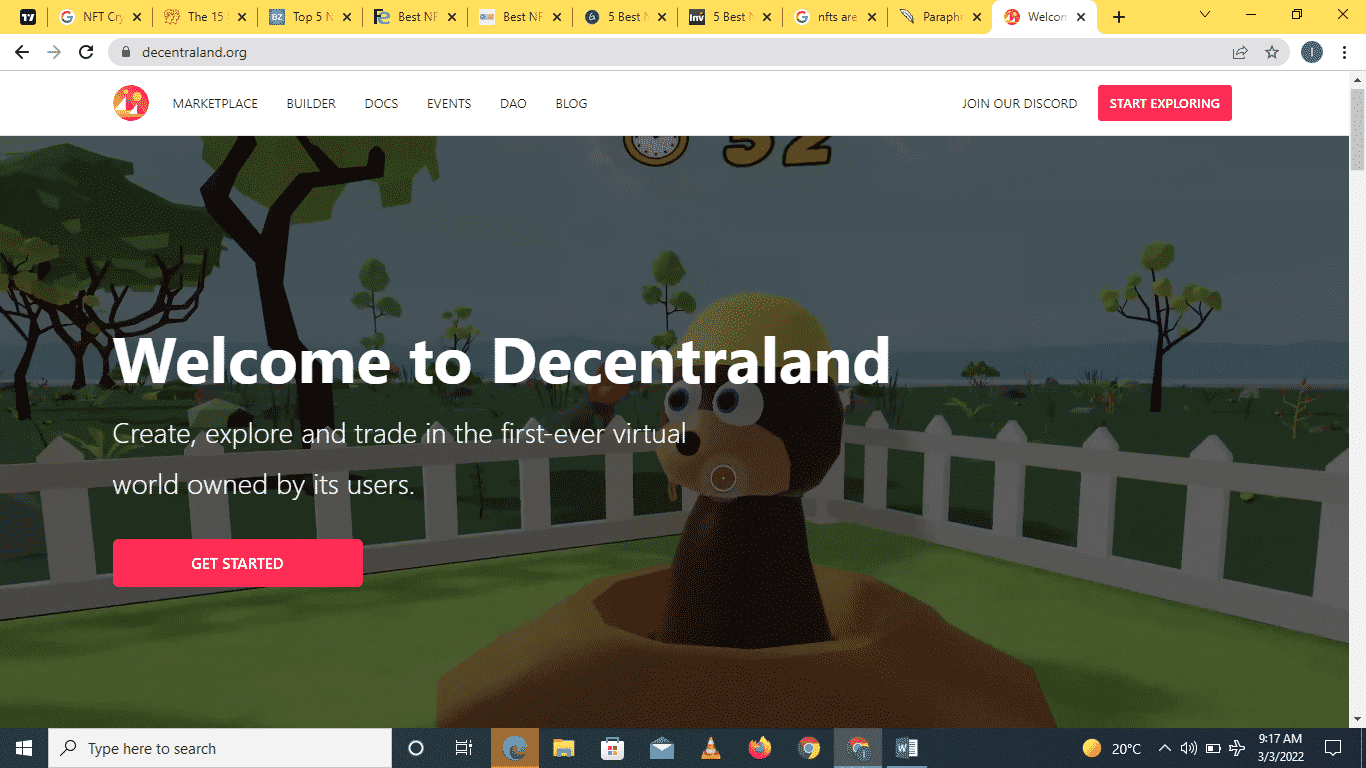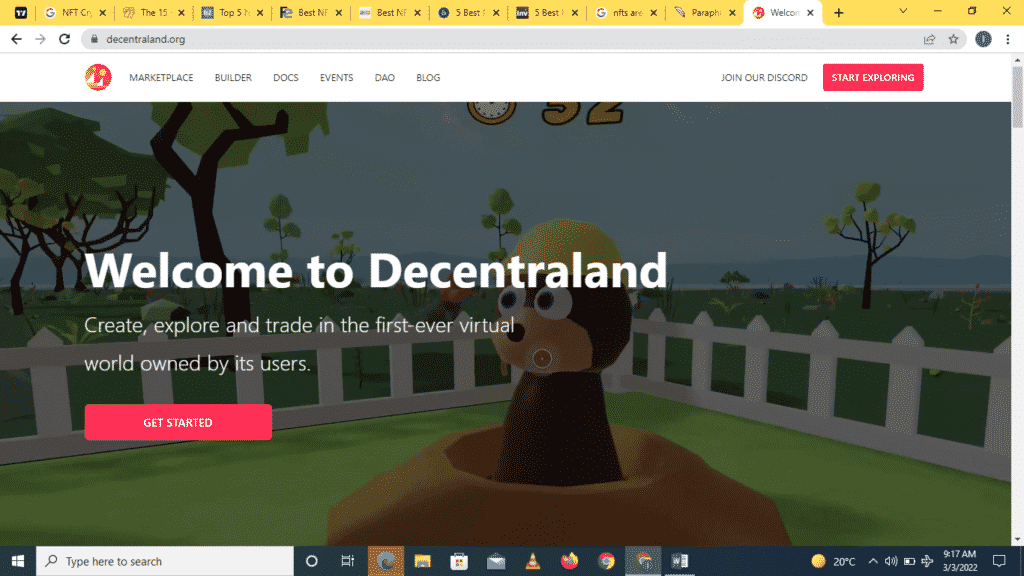 Decentraland is an Ethereum-based project that aspires to unite a global community of users to administer a shared virtual environment. It was founded by Esteban Ordano and Ariel Meilich in 2015.
Users of Decentraland can purchase and sell digital real estate while exploring, engaging, and playing games in this virtual environment. Because of the platform's growth, users can now use interactive apps, in-world payments, and peer-to-peer chat.
The space that a user interacts with is known as LAND. It is a finite and transferable 3D virtual space that is an NFT that customers may purchase and own permanently. Owners of LAND can do whatever they want with their plot of land, including constructing dynamic scenarios, applications, and games.
The MANA token is Decentraland's in-game currency as well as the platform's cryptocurrency. It allows users to buy, sell, and exchange LAND in the virtual world, as well as pay for goods and services. Through the Decentraland Marketplace, the token may be used to buy estates, avatars, wearables, and unique names.
Sandbox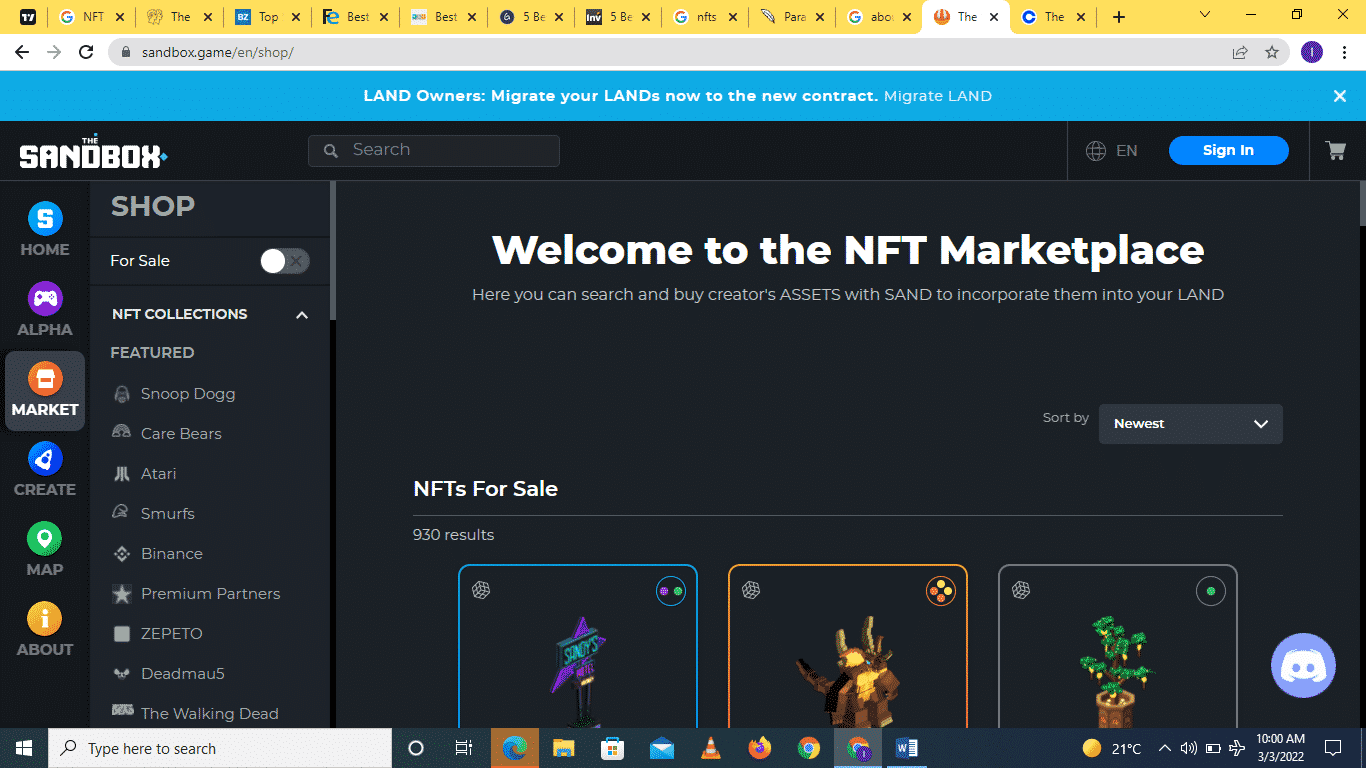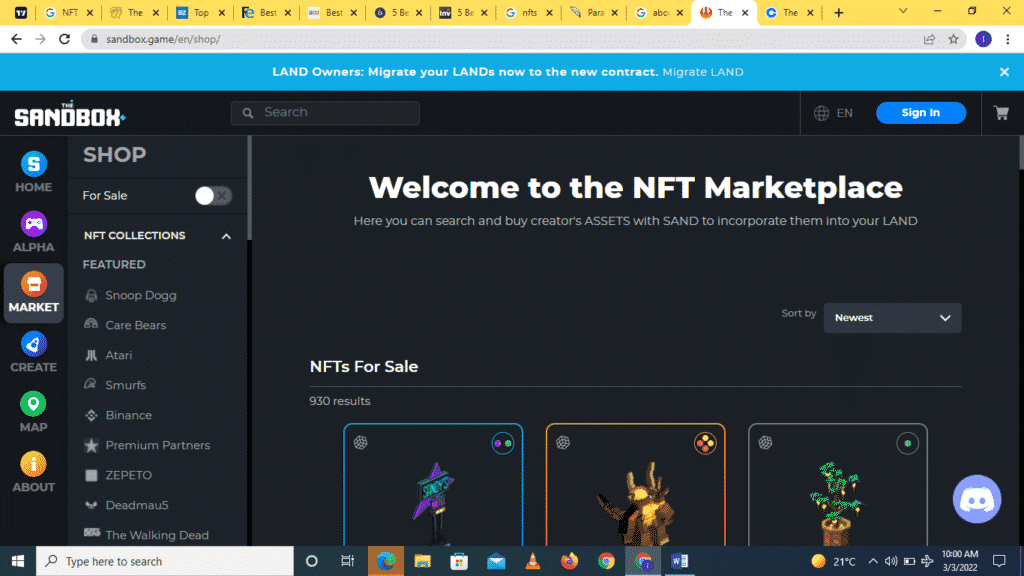 The Sandbox is a play-to-earn blockchain game that allows users to construct a virtual environment using NFTs on the Ethereum blockchain. It has a market cap of 3.7M. Players can create their own avatars to access The Sandbox metaverse's various games, locations, and hubs.
The Sandbox was first released in 2011 by Pixowl as a mobile gaming platform meant to compete with Minecraft. Arthur Madrid and Sebastien Borget, the company's co-founders, agreed to investigate the possibility of constructing a 3D metaverse on the blockchain in 2018. Their goal is to let users truly own their creations as NFTs and earn rewards while participating in the ecosystem.
Along with Axie Infinity and Decentraland, the new Sandbox project was introduced in 2020 and quickly became one of the fastest-growing games in the crypto market. The Sandbox received $93 million in funding from investors led by SoftBank, the Japanese mobile company, in November 2021. Over 50 partnerships were established for the game, including Atari, a well-known gaming firm, CryptoKitties, and hip-hop artist Snoop Dogg.
Axie Infinity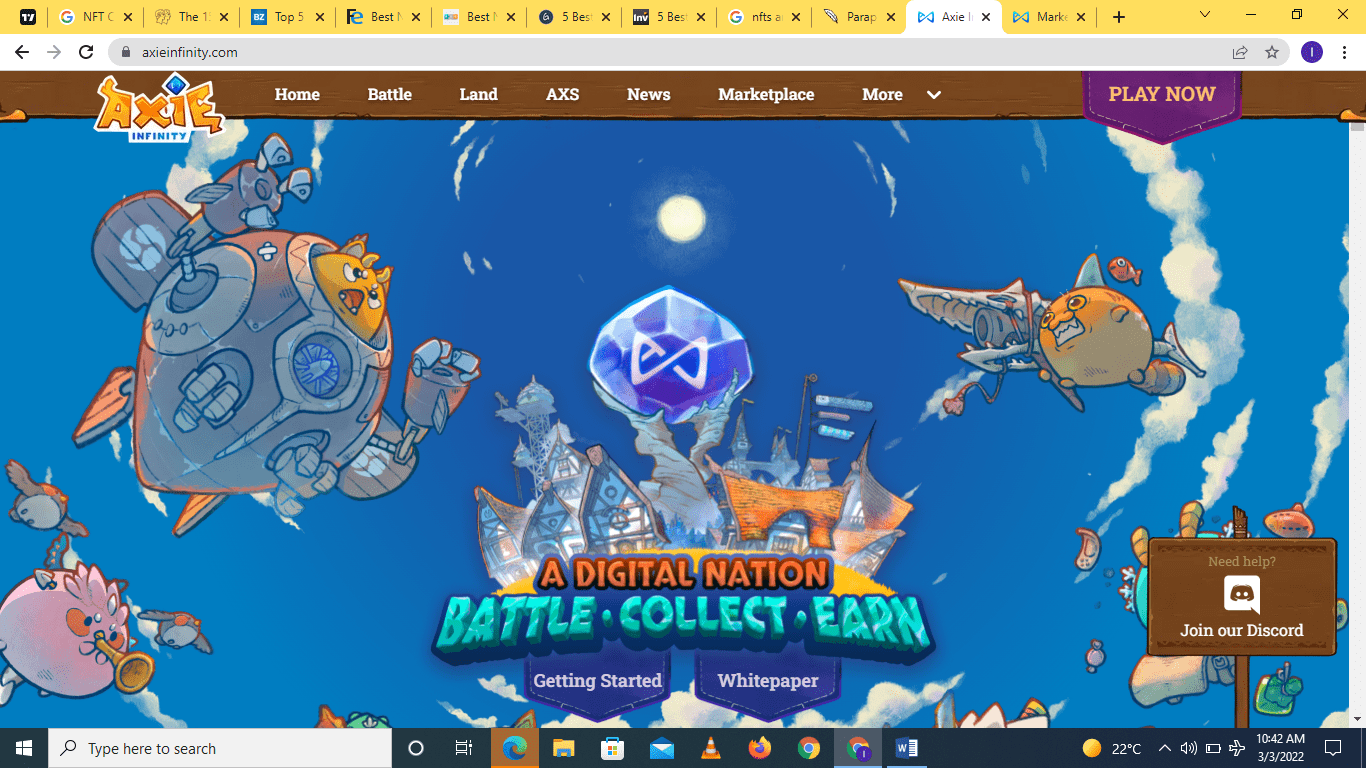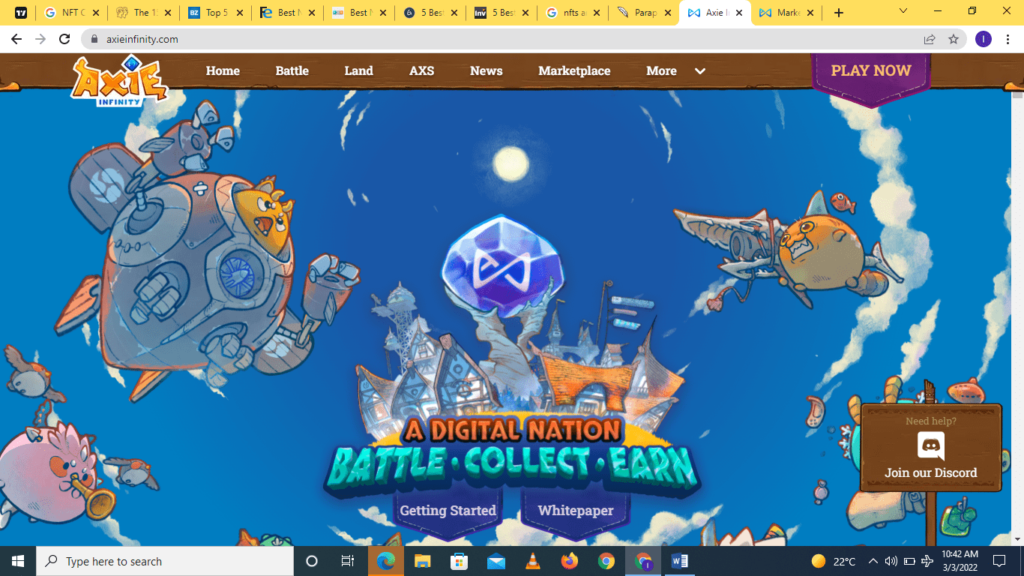 Axie Infinity is a monster-fighting game in which you compete against other teams of charming monsters known as Axies. It has a market cap of 3.3B. To play, you collect cute monsters to battle within Axie Infinity. The game uses Ronin, a sidechain that helps reduce transaction fees and delays, to run on the Ethereum blockchain. It focuses on turn-based fights against either computer-controlled Axie teams or live opponents over the Internet.
NFTs are used to represent in-game objects. In the case of Axie Infinity, these cryptographically unique tokens can be linked to digital content, such as the Axies and land plots that populate the game. Unlike other in-game commodities, the NFT gives the buyer ownership; Axies can be traded for real money on the game's marketplace. Axies can also be bred, allowing you to create potentially more powerful teams while also generating more NFTs to sell on the market.
Axis Infinity Shard (AXS) is Axie Infinity's native governance token. AXS can currently be used to pay for breeding fees. AXS token holders will be able to vote on game decisions and development in the future, as well as stake AXS tokens, to gain rewards within the game.
Mutant Ape Yacht Club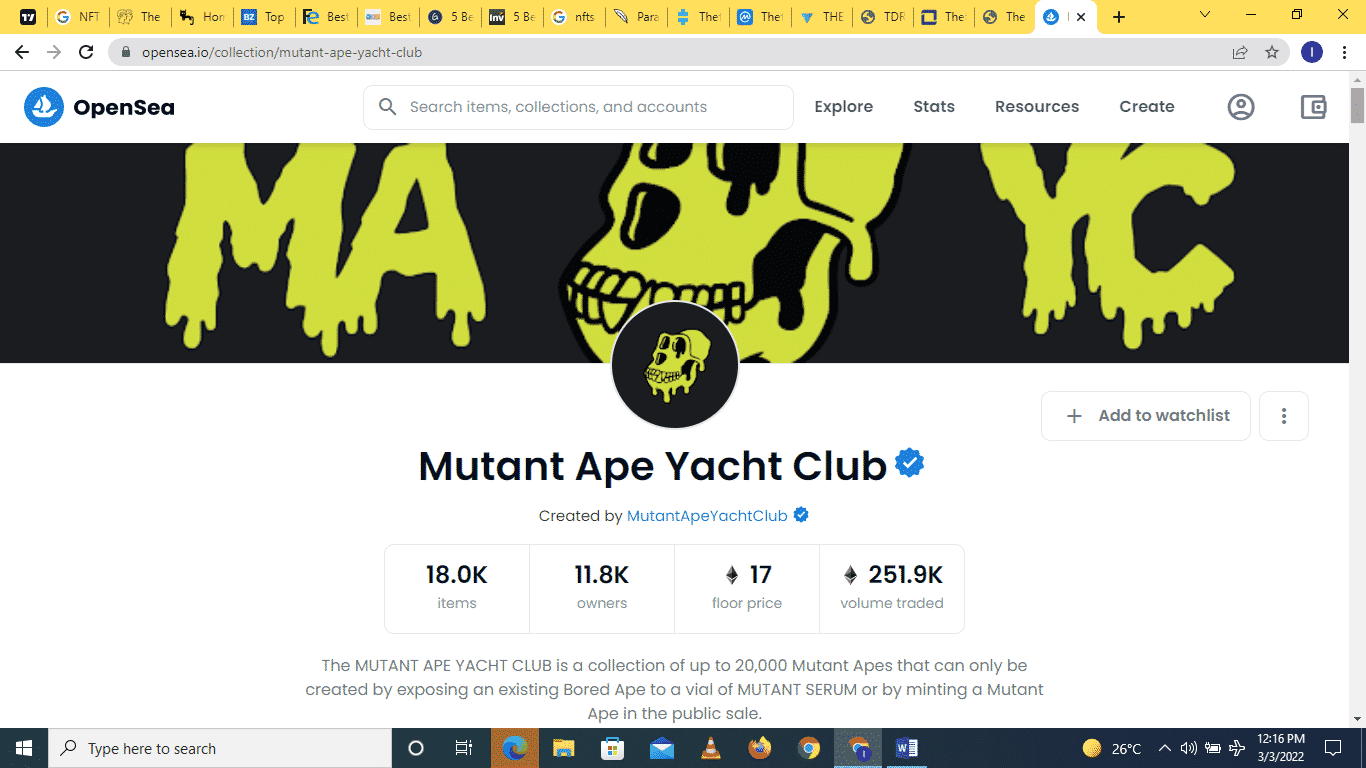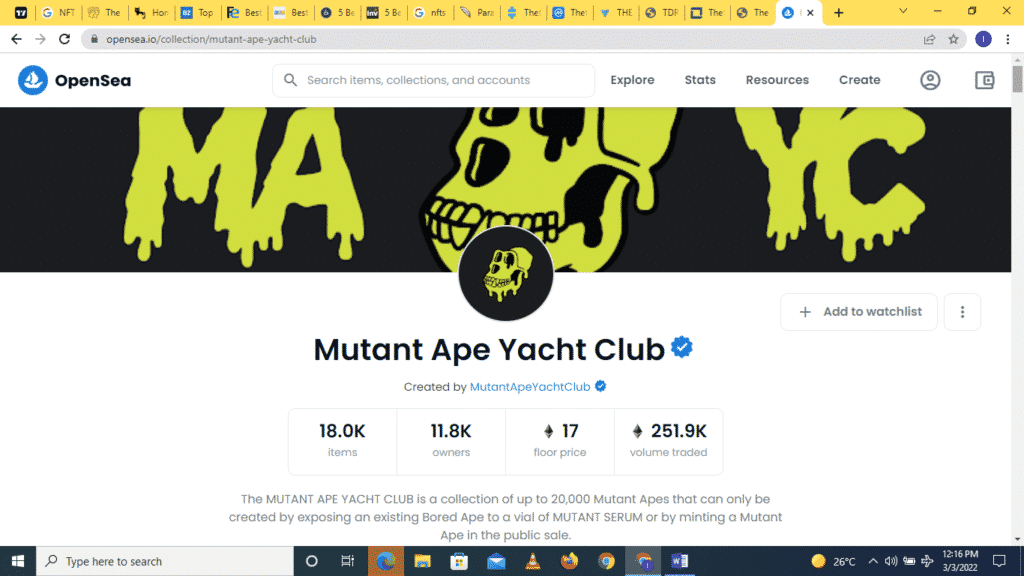 The goal of this project was to reward owners of the Bored Ape Yacht Club collection while also providing the possibility for newcomers to access the Bored Ape ecosystem at a lesser cost. The initiative began in August 2021, when "Mutant Serums" were airdropped to members of the Bored Ape Yacht Club.
These mutant serums might be utilized to create a new Mutant Ape NFT, and the serum itself would be burned. During the creation of these Mutant Apes, the original Bored Ape remained intact and uninjured in any manner. A total of 20,000 NFTs make up the Mutant Ape Yacht Club.
For a lot of factors, Mutant Apes may perform well in 2022. The Bored Ape Yacht Club has a reputation for having one of the top NFT collections in the world. It may have the most active community of any NFT project. You will gain admission to an elite community if you own a Mutant Ape.
CryptoPunks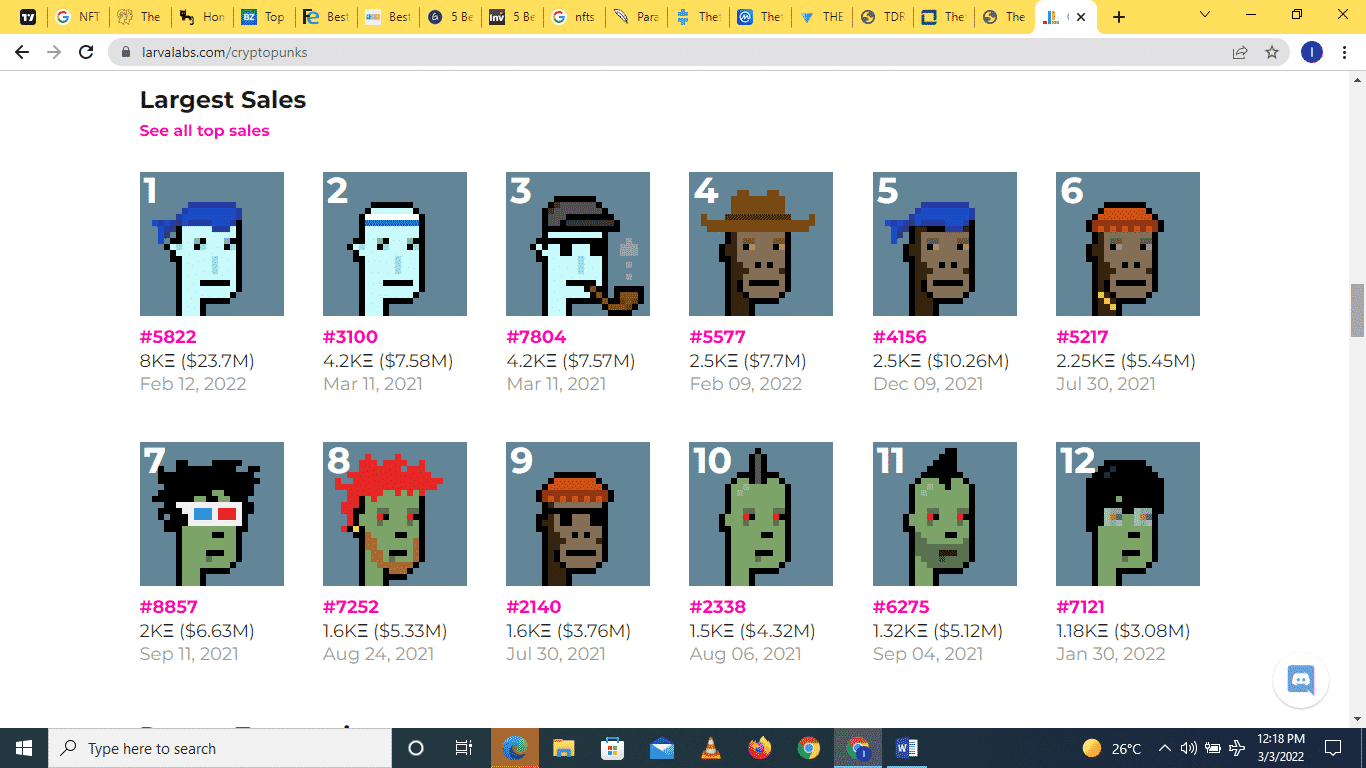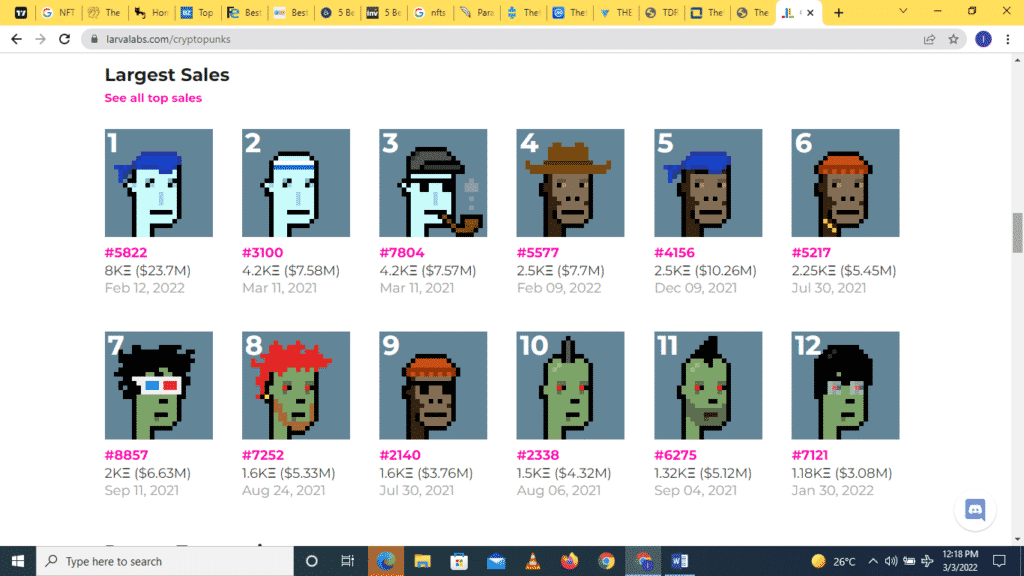 CryptoPunks is one of the first Ethereum-based non-fungible token projects. The project comprises of 10,000 24×24 pixel photographs created by an algorithm with random qualities such as a person wearing a hat or smoking a pipe. While you could get a CryptoPunk for free (less a transfer charge), the digital pictures' scarcity and growing demand for NFTs have caused the price to soar.
Each CryptoPunk is created at random from a list of dozens of features, resulting in a wide range of designs, including people, zombies, apes, and even aliens. Aliens and zombies are two of the most popular avatars, with some of the most expensive sale prices to date.
In the end, supply and demand define the price of CryptoPunks portraits. With supply fixed, NFT investors must decide whether they believe demand will continue to rise or if we've reached a saturation point.
Since some CryptoPunks have been auctioned at Christie's and Sotheby's, it's possible that they will go from being a niche collector's item to mainstream art. It's possible that this will attract new bids for the popular NFTs. However, it appears that individuals who are interested in the tech/art initiative are already aware of it.
Summary
The non-fungible token market had a fantastic year in 2021, according to most analysts. We saw widespread adoption of this technology, and the value of many NFT projects skyrocketed. This year, the market is expected to keep growing. Decentraland, Sandbox, Axie Infinity, CryptoPunk, and Mutant Ape Yacht Club are the best NFT projects for 2022.