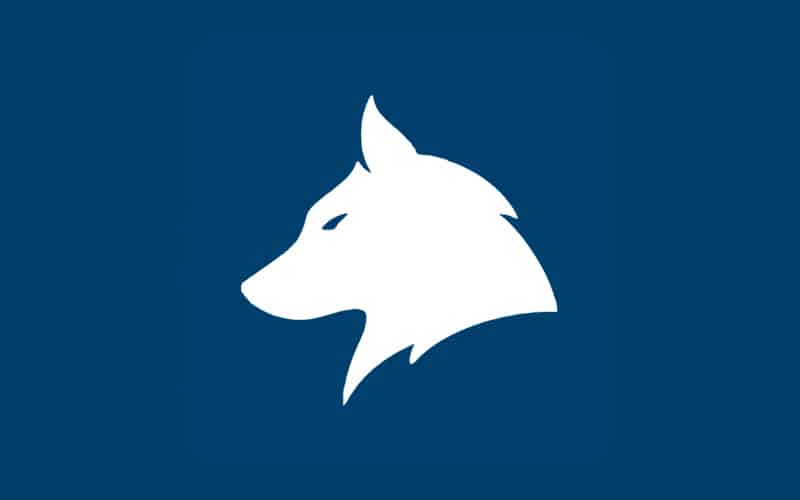 We live in a technological era where automation is becoming the order of the day. This, of course, applies to digital currency trading. One tool here is WolfBot, an automated crypto trading software service.
This review will look at the main features of this product and whether it's worth your attention.
Quick summary
Let's summarise WolfBot by listing its key features.
Automated 24/7 trading
Cloud-based
Backtesting/strategy testing functionality
Trade analysis records
Trade notifications
Wide range of strategies
Web and social media plugins for trending coins
Multiple trading modes supported
WolfBot: pros and cons
Here's an overview of the main benefits and drawbacks of WolfBot.
| | |
| --- | --- |
| Pros | Cons |
| 24/7 cloud-based automated trading | No free trial |
| Mobile trading available | No simulated or demo account |
| Supports 25 popular exchanges | More expensive than other bots |
| Open-source | No performance track record |
What is WolfBot?
WolfBot is AI-powered automated crypto trading software with various trading modes:
spot
margin
futures
arbitrage trading
even lending
The platform claims to use machine learning technology to anticipate future price movements.
WolfBot's code is open-source, with developer contributions from several pseudonymous members on GitHub like Ekliptor and Moritz Kirschte.
| | |
| --- | --- |
| Price: | $90, $480 or $700 |
| Withdrawal fees: | Varies based on exchange |
| Deposit option: | Varies based on exchange |
| Supported countries: | Works in any country where crypto trading is allowed |
| Supported exchanges: | 25 |
| Free trial period: | No |
| Multiple currency support: | Varies based on exchange |
How does it work?
WolfBot has bots executing positions in the markets based on several pre-programmed strategies using technical indicators, along with day trading, take-profit, long-term, and other strategies.
Because execution is performed automatically, you need to connect an existing and funded exchange account to WolfBot using API keys. Afterward, you select your preferred strategy and leave the rest to the bot.
The service comes in 1-month, 6-month, or yearly subscriptions with no free trial.
Pricing and fees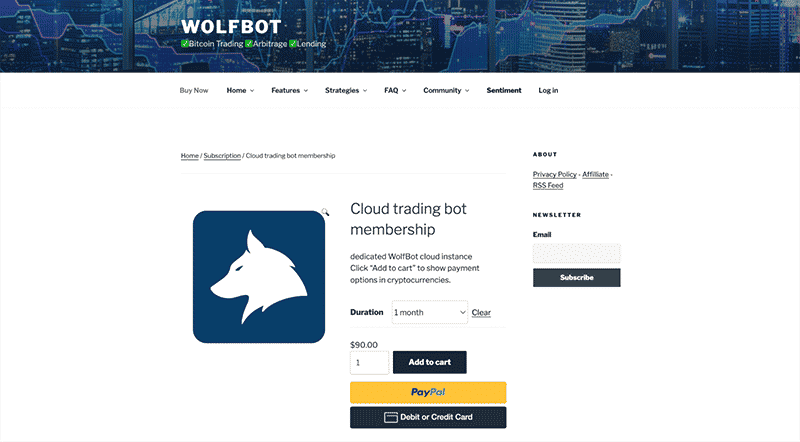 WolfBot is undoubtedly one of the pricier bots on the market. The service costs $99 monthly. If you pay over six months, it costs $480 (saving you 10% overall); if paid over a year, it costs $700 (saving you 30% in the long run).
You can pay your membership via PayPal or debit/credit card. WolfBot doesn't charge any other fees.
Privacy and security
Like virtually all websites, WolfBot collects various information on its visitors like IP addresses, usernames, email addresses, and comments. Such data is necessary to prevent spam.
Also, the company has legal, administrative, and security obligations to collect these details. Cookies will save the login information so that you don't need to fill it out each time you access the site.
WolfBots' privacy policy doesn't mention anything about data encryption or two-factor authentication. However, the site doesn't have access to your funds as they are kept with your exchange.
Reliability
WolfBot isn't particularly reliable for several reasons. Firstly, you cannot see any verified or accurate live trading results to assess the profitability potential. This makes it risky to invest in such a product.
Also, no tangible information exists on the developers, founding year, and location address of WolfBot, as much of its creation and maintenance is open-source.
How to start trading using WolfBot
After you've purchased a subscription, the website directs you to a page where you'll find the URL of your preferred bot. A configuration section should appear where you add the API keys of your exchange.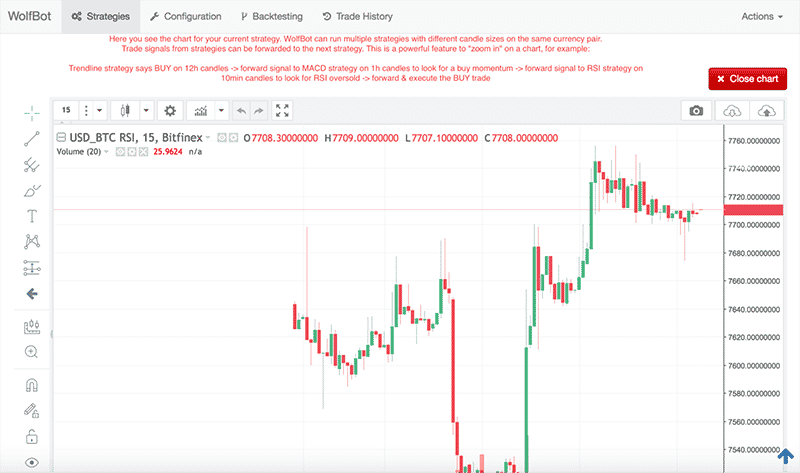 Who is WolfBot suitable for?
WolfBot is ideal for those with an above-average understanding of automated crypto trading systems. While beginners don't need the knowledge to use bots, understanding how the system works may be challenging.
WolfBot support
You can contact WolfBot support via email and Discord. The website states only customers with active memberships can receive customer service.
WolfBot community
GitHub and Discord are the two recognized community platforms for crypto bots. Sadly, we couldn't find any user reviews on WolfBot to learn customers' actual experiences in using this service.
This is undoubtedly a major red flag and raises a lot of doubt about the legitimacy of this bot. It also suggests there may be very few people using WolfBot.
The Review
Ultimately, using automated trading systems is not risk-free and comes with a high chance of losing money in the volatile crypto markets. Plus, WolfBot leaves us with more questions than answers and will raise some concerns to potential customers. These include insufficient vendor transparency, lack of user reviews, and lack of a performance track record.
Review Breakdown
User Interface:

0%

Ease:

0%

Price:

0%

Features:

0%

Support:

0%