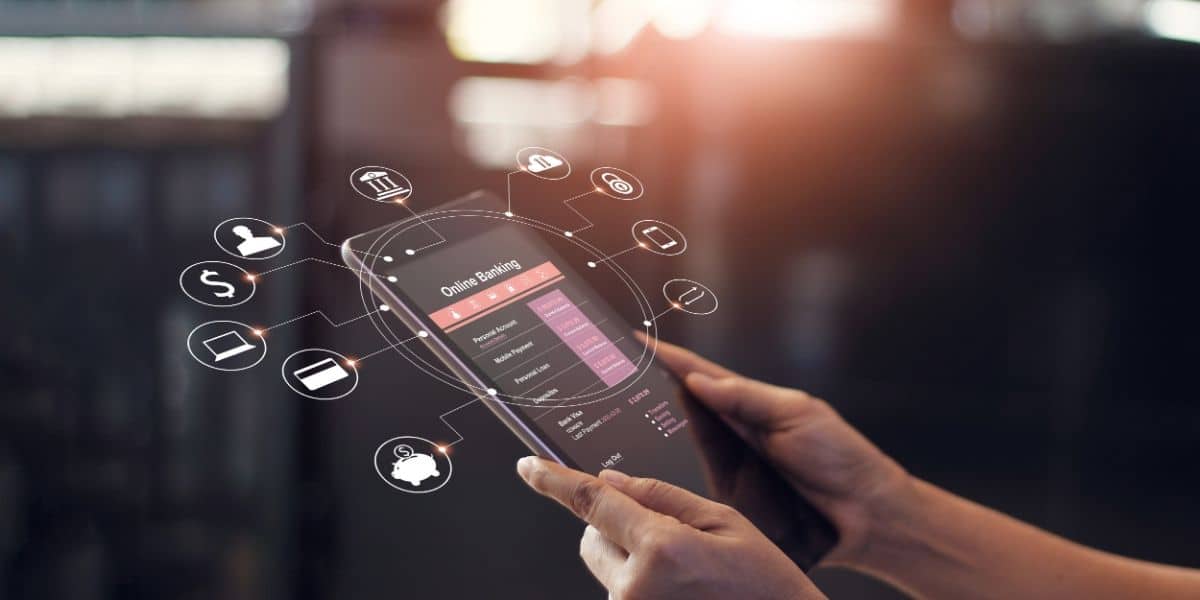 Many modern gadget users know that online banking is a great opportunity to control all your finances on the Internet without the need for standard accounting methods. You only need your computer or any portable device.
First of all, it is interesting that you can refuse to visit ordinary banking organizations and can solve all your financial affairs at home. You can also carry out quick transactions, open deposits, or take loans at favorable rates from anywhere in the world. Here are some online banking benefits:
Pay bills online;

Transfer funds;

Apply for loans;

Fast deposit checks

All transactions in one place
The main advantage is that you need to visit a bank branch to register. You can quickly organize the entire process on your smartphone or computer and download all the necessary data for verification. Here you can pay bills, pay taxes, create a deposit solution, and use online lending. Also, here you can use deposit boxes and keep abreast of all your activities. It is worth noting that detailed statistics of each transaction greatly simplify the control of personal finances and help you solve many everyday issues.
How does online banking work?
The principle of operation of any online bank is very simple. Each user gets access to the banking environment with the ability to carry out various transactions, arrange deposit and credit lines. At the moment, there are several options for how you can register with an online bank and use the application or the Internet site to work with your accounts. Here are some basic parameters you will need to make.
Register an account on the bank's website.

Upload documents and various supporting papers online.

Wait for verification and open an account automatically.
As a rule, most banks do not require you to have paper documents and classical conclusion of an agreement. However, you will have to sign all papers online. Some banks nevertheless require you to have a personal presence in the nearest branch to solve several issues and legally legalize the work process. In general, the registration procedure should not take much time. You can immediately use the banking application for your smartphone or tablet and a full Internet site to control all your activities. This option is very convenient since you can always be in touch with your manager and gain access to the online consultation.
Advantages of mobile banking
Let's first look at the main advantage of online banking. First of all, it is one hundred percent awareness of your accounts. You can set up special pop-up notifications on your smartphone to know about all transactions. You don't need to use the classic methods of checking the account or the terminal to check whether you received the money in the account. You can also use personal services, create deposit boxes, or send checks. Modern applications for smartphones and tablets work as efficiently as possible so that you can count on stable access to your bank accounts around the clock.
You can easily solve all the main problems with obtaining a loan and find out your rating. It is worth noting that most banks offer credit cards that can be issued directly in the application. You do not need to go to the nearest branch to solve your problem. Nevertheless, there are several nuances that you need to know before creating an account and using online banking services. First of all, you will need to have a computer or portable gadgets to manage all your accounts.
Also, some banks have several restrictions on operations conducted through mobile platforms. You have to choose the bank that provides the best opportunities and register. In some cases, you still have to visit a banking organization to draw up a debit card or verify your identity. Nevertheless, this is the initial difficulty that cannot, in any way, invalidate all the advantages of online banking.
No paperwork
Many banks have fixed hours and are not available on weekends. Thanks to the use of online banking, you can always solve your financial problems and turn to managers in an online form. For this, you do not need to wait in line or make an appointment with a specialist. Now all your financial issues can be resolved with a few clicks using a single application or online site. Another plus is the lack of documents, receipts, and other checks that are usually needed in the usual department. In most cases, you can use online checks to confirm your payments. You can also use a single transaction history to save all your activities.
Security
At the moment, this is the safest way to store money and organize bank transactions. The fact is that in what you need to use your physical cards to manage your money. Modern computers, as well as portable gadgets, have several degrees of protection and the ability to use antivirus equipment. You can also use your smartphones and tablets with the option to scan fingerprints or your face.
Biometric recognition technology guarantees you a high degree of reliability and the ability to use two-factor authentication. Besides, you can set an additional graphic password so that no one can hack your account. It is worth noting that you can also very quickly manage your bank cards in case of loss. For example, you can instantly block a debit or credit card if someone stole your wallet or you left it at home.
Immediately after this procedure, No one can withdraw money from your account. And you can search your card at home or reissue it at the nearest branch. In any case, you get a reliable interface with the ability to track all transactions and the most secure environment for data transfer. It is worth noting that most sites where bank details are indicated require additional confirmation of payment in your application or on your bank's website. All this will allow you to reliably protect your account and not be afraid of theft of money.
How to contact managers?
Some conservative people may experience several inconveniences due to the inability to contact the nearest bank branch to solve their problem. Nevertheless, now you have many alternative options for obtaining assistance from bank managers. Most of these financial companies have a whole analytical department and a technical support staff that answers calls or communicates with clients in text chats. In particular, you can use several options.
Bots and direct dialogs with technical support via messengers.

Online chat in the mobile application.

The dialog box for communication with managers on the site.
It is worth noting that more and more modern online banks use instant messengers to communicate with customers. It is very convenient since you get a high degree of reliability and can store all your data without restrictions. In particular, you can keep correspondence with screenshots and other questions that will be relevant to you in the future.
Also, such a method allows you to reduce risks for the bank and increase the number of staff who will advise you on financial matters. Thanks to similar technologies and online consultation on websites, you can use the services of a personal manager who will help you solve various problems and help you choose the right investment projects. Overall, it is a good option to control your shields at the moment.
The final words
Modern online banking has become a real innovation and a breakthrough in Internet technologies. Now you can manage your money anywhere in the world using any portable gadget. It allows you to get real freedom of action and the ability to pay for purchases anywhere. You can also quickly apply for a loan, manage your deposits, and use any opportunity to earn money. Control of own funds and the ability to instantly block accounts allow you to feel safe.
Also, modern smartphones and tablets have many degrees of protection, which guarantees you the safety of your biometric data and personal information. It is worth noting that older people may experience some difficulties and the need to purchase technical devices such as smartphones and tablets to use online banking. Nevertheless, this is a modern trend that will become an integral part of all financial transactions in the future. You should be at the forefront of these technologies so as not to miss all the convenient features for managing your finances.