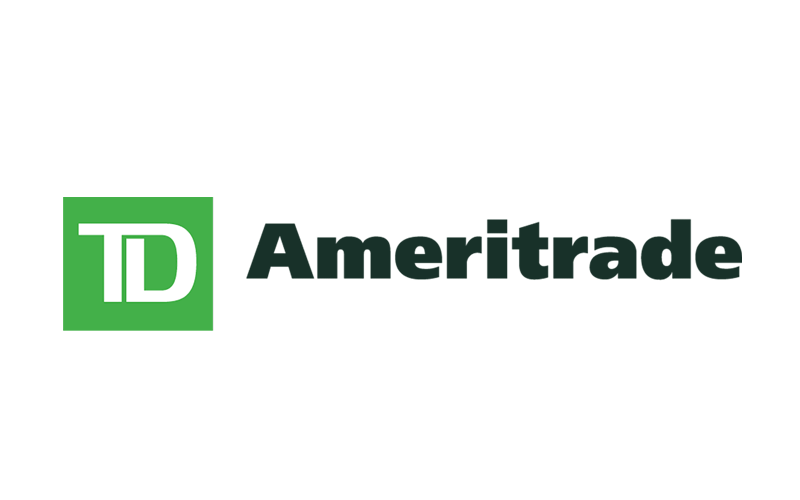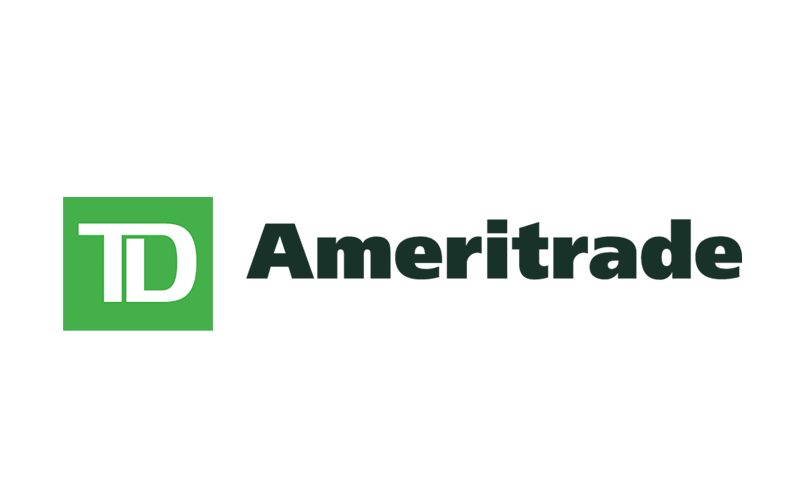 TD Ameritrade remains one of the most popular online brokers by reaching out to prospective customers using social media platforms. After joining this platform, customers can choose between a number of platforms that include mobile applications and the basic website. Here, we will discuss how it fares as a self-governing brokerage and whether it is compatible with your specifications.
What is TD Ameritrade?
With its headquarters located in Omaha, Nebraska, TD Ameritrade consists of several subsidiaries like Scottrade, TD Waterhouse, First Omaha Securities, etc. The company has been built through many mergers and each one of them has introduced new characteristics that have shaped the online broker into its present state.
No matter what kind of venture you wish to make, TD Ameritrade has it all. Here, you can trade in money market accounts, ETFs, mutual funds, bonds, and common stock. It is a broker offering exciting discounts to its clientele and one that has branches located throughout the USA.
Similar to the rest of the discount brokers on the market, TD Ameritrade asks for no commission on online trading with options, ETFs, and stocks. You can reduce tax liabilities through this brokerage and carry out your trading via four different platforms that are suitable for both experienced and novice traders.
Now, let us take a look at its features.
Features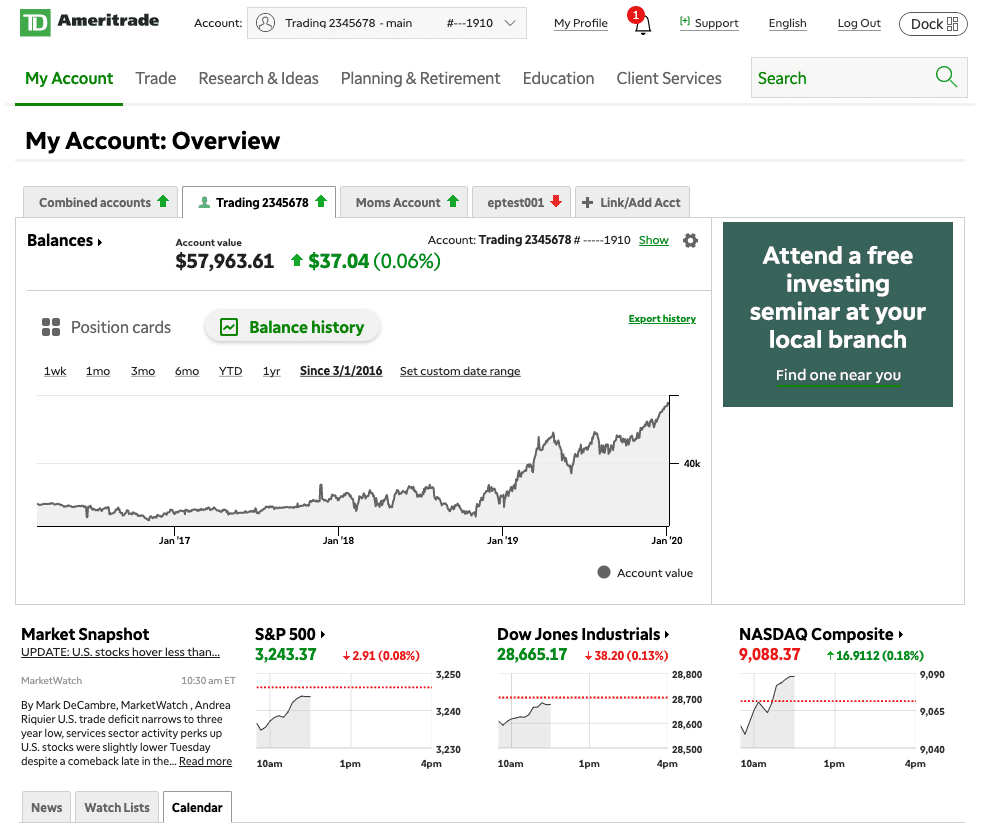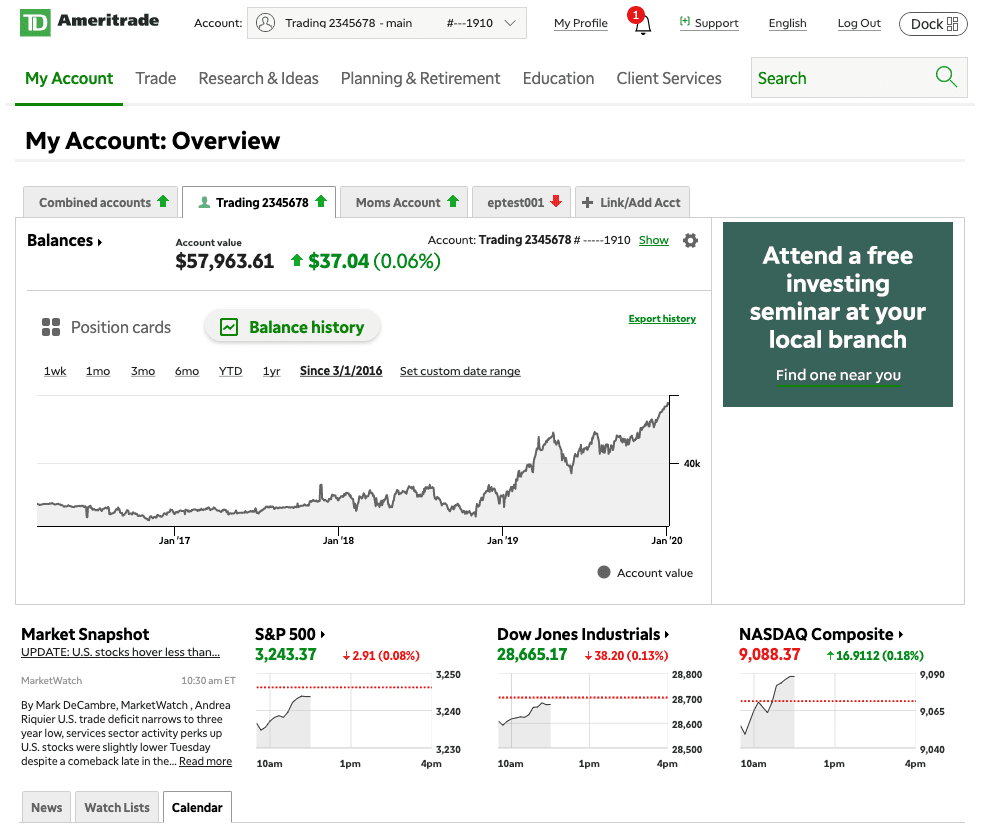 With this brokerage firm, you can get access to a trade ticket that can be used for inputting orders and executing trades. It is very straightforward and thus suitable for short-term traders who wish to finish their dealing and move on. With this online broker, you get programs with sophisticated functionalities.
Web platform: This is the classic platform where you can do all the basic stuff like trading in options, ETFs, bonds, and mutual funds. Furthermore, you get to see the latest financial developments, trading watchlists, and valuable fact-finding from third parties.
Thinkorswim platform: With the platforms, the stakes are raised and you get to trade in additional securities, like futures, and Forex. Some of them are tradable on weekdays and at any hour of your choosing. Here, you can access sophisticated analytics data, charting tools, and hundreds of technical studies that are useful for seasoned traders.
While discussing the features, we should also talk about the trading simulator that comes with this online brokerage. Here, you can use virtual money to put your trading strategies to the test, also enhancing your purchasing power with the help of a margin account.
Customers can use the thinkorswim platform, along with this simulator and even non-customers can access it for 60 days. Using this simulator, you can change the layout, conduct backtesting on your strategies, and perform all the activities that a real platform lets you do.
Who TD Ameritrade is best for?
Whether you are a short-term or long-term investor, there are an endless number of brokerages and EAs you can choose from. There are many brokers offering advantages like low deposits, no commissions, investment resources, but there are other features to consider as well, such as customer service trading platforms, and securities available for investment.
If you are an active trader, TD Ameritrade will suit you perfectly. It has multiple trading platforms and market analysis reports from experts. Furthermore, you can invest in mutual funds without paying any transaction fee.
If you are a passive trader, you can use the automated system of TD Ameritrade, which is known as Essential Portfolios. So, if you are comfortable using multiple platforms for conducting your trades, this is the perfect online broker for you. Since you can get both automated and manual investing accounts with this broker, it is also suitable for those who desire managed portfolios.
Where does it excel?
TD Ameritrade excels in the following departments:
Tradable securities: TD Ameritrade offers you a multitude of investment options, which include Bitcoin and Forex. It has more than 700 mutual funds with an expense ratio of 0.5% or lower. So, it is a great option for novice traders.
Educational resources: With this online broker, you get a wide variety of educational resources in different formats like quizzes, slides, articles, and videos. You can also attend online or offline seminars at branch locations. Plus, you can start your trading education here by selecting your skill level and accessing resources that prove to be useful.
Mobile Trading: Along with TD Ameritrade's desktop application, you can use the mobile app, which holds all the essential features. Moreover, you can get Level II quotes on the mobile platform, unlike the web application. There are multiple alert options, instructive videos, and trading watchlists incorporated with the mobile platform.
What are its disadvantages?
Large number of account types: While this initially appears to be an advantage, some traders get confused when they cannot make head or tail of the various account types and their purposes. There should be some measure of assistance provided to customers in order to help them select the right category of account.
Commission for penny stocks: While trading in penny stocks, you have to pay a fee of $6.95 per trade, which is relatively high.
Fees
Since late 2019, TD Ameritrade has made some modifications to the fees structure and the fee for stock trades is currently $0. Each option transaction now costs you $0.65 only. The updated pricing structure is as given below.

Conclusion
TD Ameritrade is a company that pays attention to technological advancements and makes efforts to implement a good customer experience. Most users give this online broker good ratings and while it has run into a few snags in the past, it continues to maintain a solid reputation among traders. It constantly introduces additional tools and features, which makes it highly desirable.