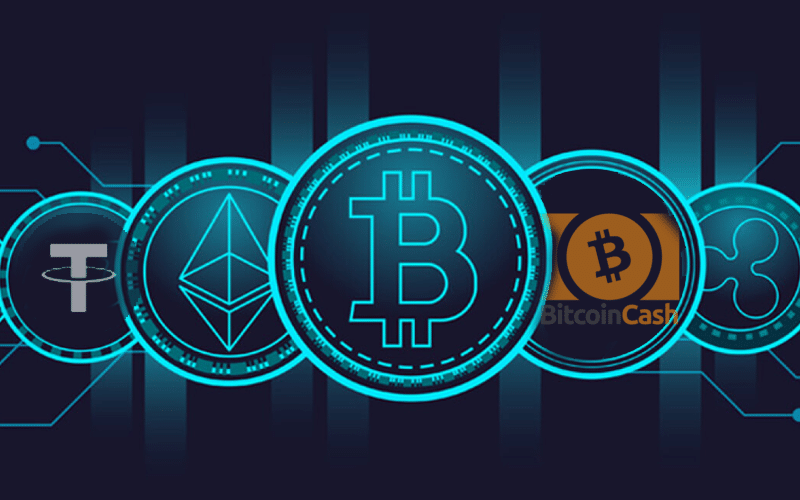 Overview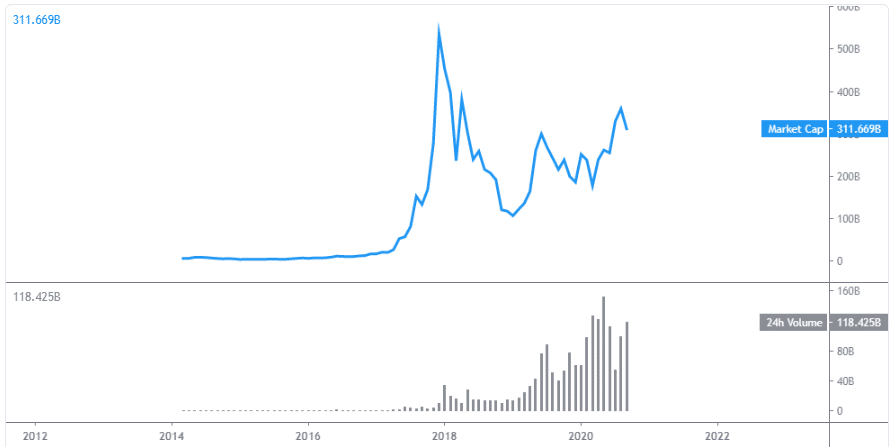 The above image reflects the picture of cryptocurrencies as a whole. When cryptocurrencies were traded on proper exchanges in 2014 for the first time, due to their relative obscurity, fewer people were taking an active interest. These numbers correspond to the low market involvement.
2017 is statistically the busiest period for crypto markets, taking its capitalization from around $17 billion to just above $560 billion in the last month of that year. Surprisingly enough, the capitalization dwindled somewhat quickly for the whole of 2018, which culminated with the selloff of Bitcoin after its record price highs. Several other cryptos all followed suit with drastic reductions in their values. Almost as though to signal its resurgence, crypto's market capitalization picked up right at the start of 2019 and has been on an upward trajectory since.
Greater market capitalization represents more profit potential, greater public interest, and recognition. Currently, the total market capitalization of this instrument sits at just over $310 billion. These are the top 5 cryptos by market cap: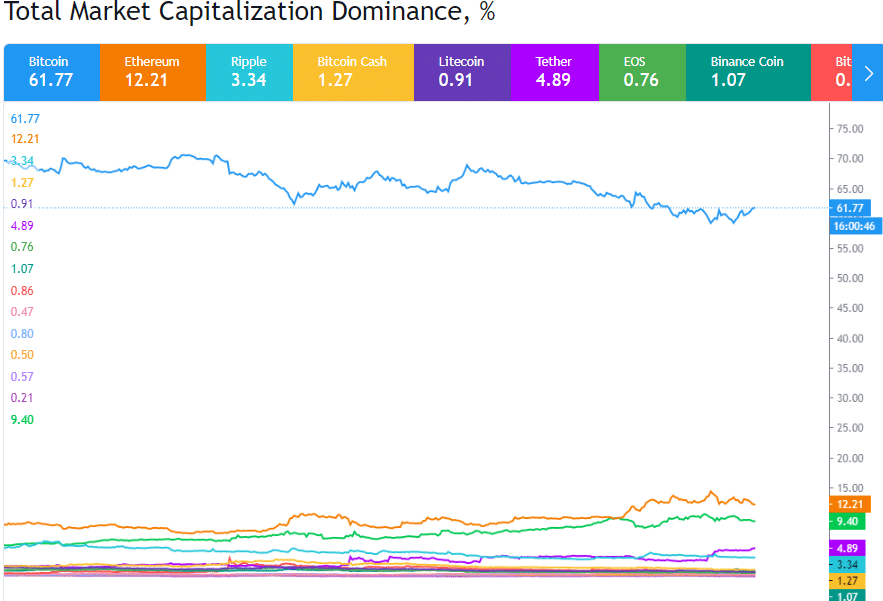 Bitcoin (61.77)
Ethereum (12.21%)
Tether (4.89%)
Ripple (3.34%)
Bitcoin Cash (1.27%)
1. Bitcoin

Without needing any introduction now, Bitcoin owns the lion's share due to its longevity and pioneering the concept of cryptos and blockchain broadly. Bitcoin first went online on the 3rd of January, 2009. While the original creator of the crypto, Satoshi Nakamoto, remains a mystery until this day, Bitcoin has cemented its reputation as a reliable peer-to-peer currency and store of value. 
Bitcoin has remained true to its goal of being a digital currency offering much lower transaction fees than the PayPals of the world. Most notably, bitcoin and other cryptocurrencies are not government-controlled but instead mined by ordinary folk using advanced computers. As Bitcoin became mainstream, this inevitably sparked the flux of many altcoins, further improving the crypto technology and unraveled greater possibilities with digital currencies and blockchain.
Satoshi coded Bitcoin to have a limited supply of 21 million BTC, with 2140 being the year estimated for reaching that target. As with several others like it, the rewards for miners are split in half every four years. At this current time, the Bitcoin network produces 6.25 BTC approximately every 10 minutes.
2. Ethereum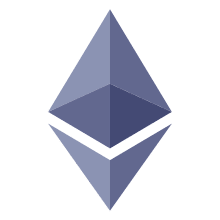 Co-founded by two programmers, Vitalik Buterin and Gavin Wood, Ethereum is the second-largest crypto by market cap. Launched on the 30th of July 2015, Ethereum has grown through leaps and bounds in a mere five years. Comparisons to its predecessor, Bitcoin, are natural, though Ethereum offers more dynamic features.
While both are essentially currencies that can be traded on an exchange or broker and used as a medium of exchange, Ethereum allows for the possibility of decentralized apps and creating tokens using its network. The scope of Ethereum's blockchain lends itself to almost 2000 altcoins, including 47 of the top 100 cryptos by market capitalization. Unlike Bitcoin, the supply of Ethereum is not finite, with 5 ETH created every 14-15 seconds. The processing of Ethereum transactions is also significantly faster, coming in at anywhere between 15 seconds to 5 minutes.
3. Tether

While this coin has faced massive controversy over the years, nonetheless, Tether holds the third spot in dominance. The unique selling point of Tether is as a stablecoin, a different class from other traditional cryptos. Stablecoins have a pegging against fiat currencies, typically the US dollar, but it can also be the yen, the euro, gold, and even another crypto as well. Backing it against these established currencies makes Tether less volatile or more stable than its counterparts. Maintained by a 1:1 ratio against other currencies or commodities, Tether claims that an actual fiat currency backs every USDT in their reserves.
Originally called Realcoin in July 2014, a revamp created the name, Tether, and its first tokens made it online on the 6th of October 2014. The co-founders of the crypto are Brock Pierce, Reeve Collins, and Craig Sellars. Well over 15 billion USDT already exist.
4. Ripple

Released in 2012, making it the second-oldest crypto after, Ripple is another unique addition to the cryptos market. Ripple actually refers to the US-based technology company, Ripple Labs Inc., that created the decentralized cryptocurrency, XRP. While many of its counterparts base themselves on the blockchain protocol, the company describes XRP as a remittance network or digital payment network for foreign money transfers, which is why financial institutions heavily favor the crypto.
Its transaction confirmation speed is very fast (around five seconds), making it a more advanced form of a SWIFT payment. XRP has several distinctions from classic cryptos like not being created through the mining process, as many others do. Much of XRP has already been pre-minted, with an estimated 60 billion still yet to be released and owned by Ripple Labs Inc.
5. Bitcoin Cash

A spin-off from the original Bitcoin, Bitcoin Cash is essentially a sister of Bitcoin created due to the need of increasing the size of blocks in the blockchain. Created by the bitcoin community on the 1st of August 2017, the purpose of Bitcoin Cash was to retain much of Bitcoin's properties except for allowing its blockchain to confirm more transactions per block. The size of Bitcoin's block is 1MB.
Throughout the years, with the massive popularity of the coin, this size was minimal and couldn't keep up with demand. Bitcoin Cash was born due to such limitation, where each block is now between 8MB and 32MB. This increase allows as much as 25,000 transactions per block than Bitcoin's 1,000. Albeit, the processing time for Bitcoin Cash is at least 2.5 hours, compared to the minimum of Bitcoin, which is 1 hour. Like its predecessor, there will be a finite supply of 21 million BCH, and identically, the Bitcoin Cash network currently produces 6.25 BCH roughly every 10 minutes.
Conclusion
As we can see, each of these cryptocurrencies has vastly unique structures and carry with them different market dominance. By a long shot, Bitcoin is well ahead of the pack, and it'll be interesting to see in the near future whether the other behinds it can outperform.