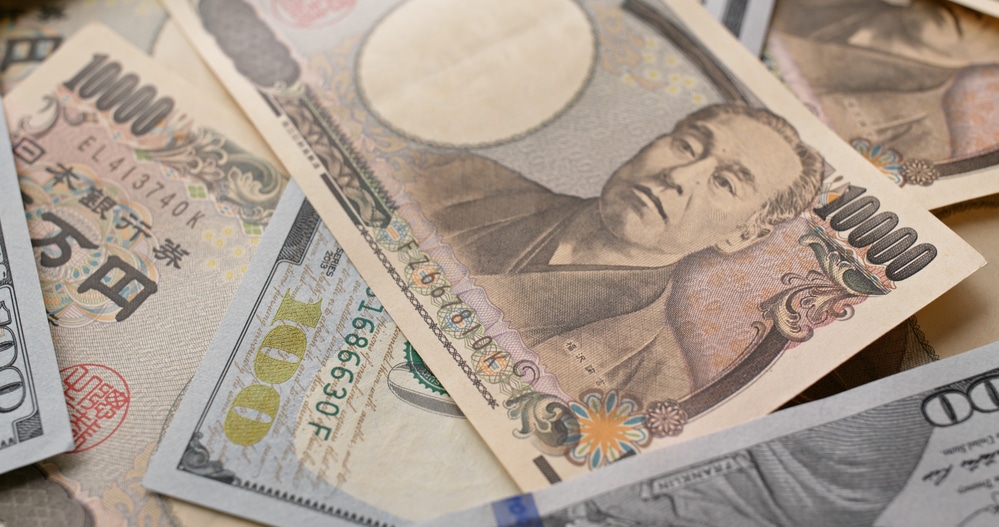 Japan's Covid-19 vaccination rate is 3% against 41.5% in the US.
The Bank of Japan is not considering tightening monetary policy after briefly halting ETF purchases in May 2021.
Consensus estimates put US nonfarm payroll data at 650,000 ahead of release.
The USD/JPY traded at a +0.69% price change on June 3, 2021, from the previous day. It hit a high of 110.33 after opening at a low of 109.83.
Year-to-date analysis shows that the Japanese yen has lost 6.68% against the US dollar in 2021. May 2021 saw the Bank of Japan (BoJ) desist from the purchase of exchange-traded funds (ETFs) after removing the six trillion-yen annual target. 
With its interest rates at -0.10%, the BoJ is still preparing for monetary easing with no sign of tapering.
Slow vaccination rate
Out of a population of 126.3 million people, only 14.8 million have been issued. Approximately 3% (3.78 million) of the Japanese population has been fully vaccinated against Covid-19.


Japan's Covid-19 cases
New Covid-19 cases declined to 2,848 on June 3, 2021, while deaths hit 111 from a 7-day average of 91. On its part, the US has increased its vaccination rate to 41.5%, with up to 136 million people fully vaccinated out of the 300 million vaccines issued. A 4-week average analysis of jobless claims in the US shows a reduction of 6.65% into June 2021 from a high of 458,500 to 428,000. Fewer people are filing for unemployment insurance, indicating an improvement in employment rates. 
Japan recorded increased household spending in April 2021 (year-on-year) from 6.2% to 13.0%. The monthly rate of this expenditure shows an increase of 0.1%. Despite the extension of the state of emergency until June 20, 2021, Japan has eased restrictions after partially reopening departmental stores and amusement centers in Tokyo and Osaka. Workplace vaccinations are scheduled to start on June 21, 2021, with the government hoping to speed up the rollout ahead of the Olympics. 
The Nikkei 225 traded at -0.40% on June 4, 2021, after closing at 28,941.52. Analysts cited upheavals in the technology and export space. There were reduced export sales of steel as of June 2, 2021, due to a widening gap between market bids and offers. A ton of steel scrap fell from a range of 47,000-48,500 yen to 46,000-48,000 yen. 
Investors are eyeing US jobs data
Investors are awaiting payroll data from the US government to be released on June 4, 2021. The data stood at 48,000 for April 2021 (month-on-month). Despite inflation fears, nonfarm payrolls are set to rise from 266,000 in April 2021 to 650,000 jobs in May 2021- based on consensus estimates. 
This increase would boost employment up to 7.6 million jobs shy of the February 2020 peak (pre-pandemic). Additionally, employment increased at an average of 451,000 jobs in May 2021 due to President Biden's stimulus package.
Investors were disappointed in April 2021 when the US economy added 200,000 jobs instead of the expected 1 million jobs. Analysts are looking at the effect of raising the federal minimum wage bracket from $7.25/ hour on the employment situation. Biden's stimulus package included an extra $300 weekly bonus that is seen as a driver of continued home-stay among eligible workers. Nine states (as of June 3, 2021) and the Chamber of Commerce had called for the scrapping of this bonus to increase the labor market. 
Technical analysis
The USD/JPY trading pair is moving towards the 110.831 peaks last seen on April 2, 2021. The pullback has continued to rise above the 9-day Exponential Moving Average (EMA) at 109.628 after finding support at 110.077.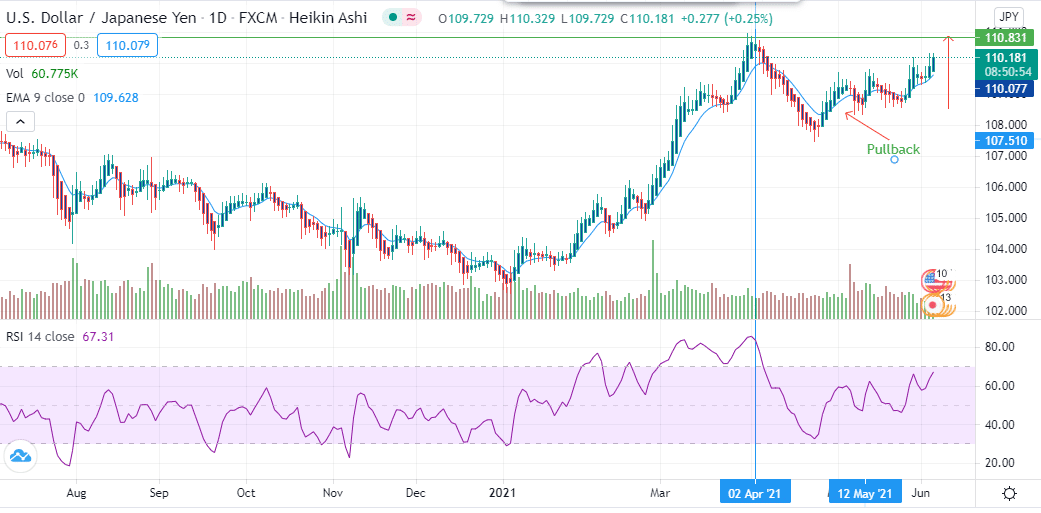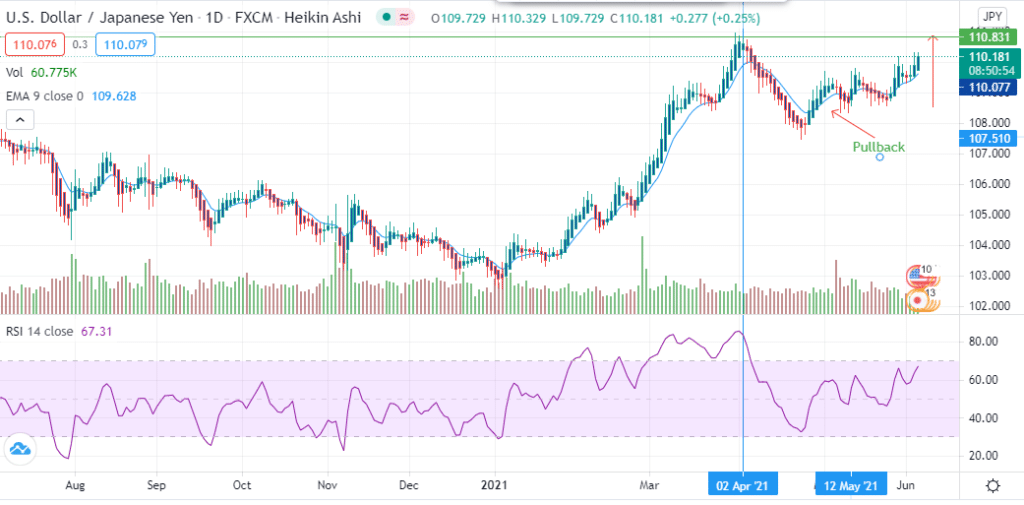 USD/JPY
With the 14-day RSI at 67.31, the pair is likely to consolidate at 110.181 before the upside gains momentum.