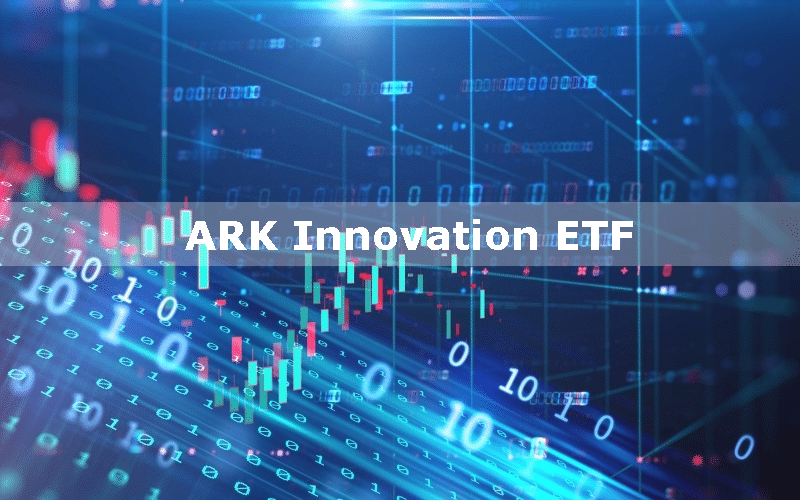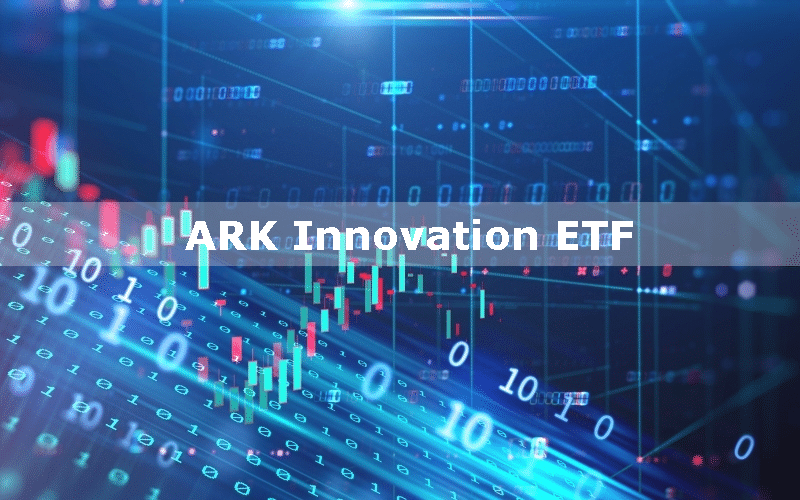 Tech was the central theme and key market driver in 2020 and early 2021. Tech-laden NASDAQ rallied to record highs of 13,900 as the Federal Reserve cut interest rates to record lows and yields tanked. ARK Innovation ETF (NYSEMKT: ARKK) was one of the biggest beneficiaries, more than tripling in value as the tech stocks it holds rallied to record highs.
Impressive returns
The ETF was Wall Street's talk, after a banner 2020 that saw the fund return nearly 150% as the pandemic fuelled rallies in innovation trends. The fund's asset under management ballooned to more than $17 billion.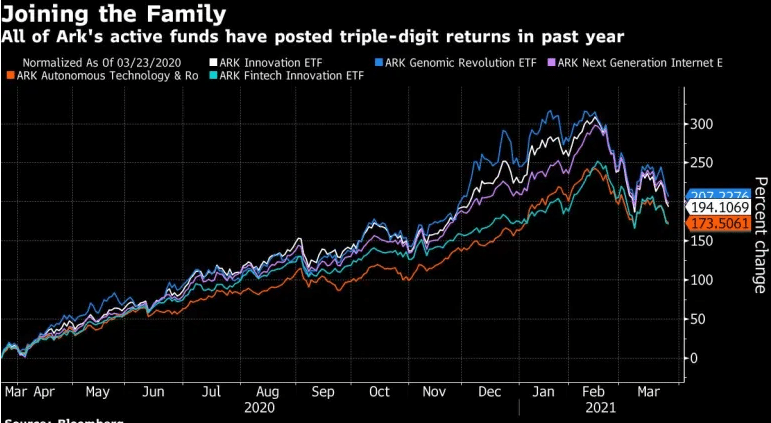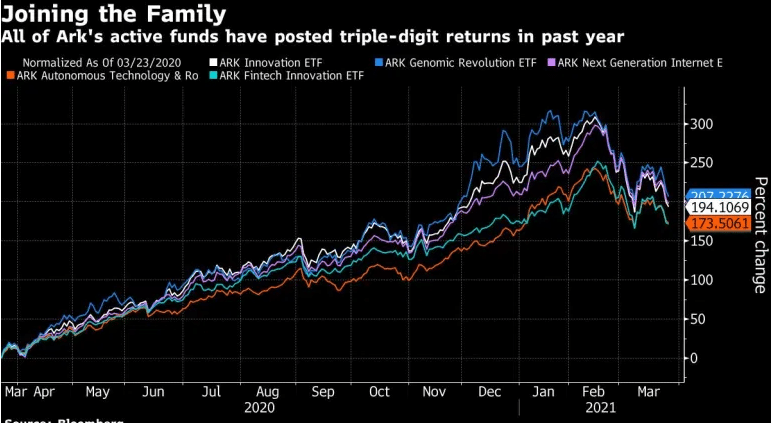 Winning bets on disruptive technologies cemented Cathie Wood's status as Wall Street's hottest fund manager, given Ark Innovation's performance. The accolades are under scrutiny as a correction from record highs in the tech space continues to pile pressure on the ETF.
Ark innovation is an actively managed ETF with between 35 and 55 holdings at any given time. The ETF focuses on high-growth stocks of companies looking to change how the world works with disruptive technologies. Its biggest holdings are in Tesla as well as Square, Roku, and Teladoc.
Ark innovation sell-off
After topping record highs of $154, the tech-laden ETF has come down, tumbling amid a massive correction in the tech-stock sector. The ETF is down by more than 40% from its all-time highs and under immense pressure. Investor sentiments shifting from high-flying tech stocks to cyclical stocks has compounded ARK innovation woes.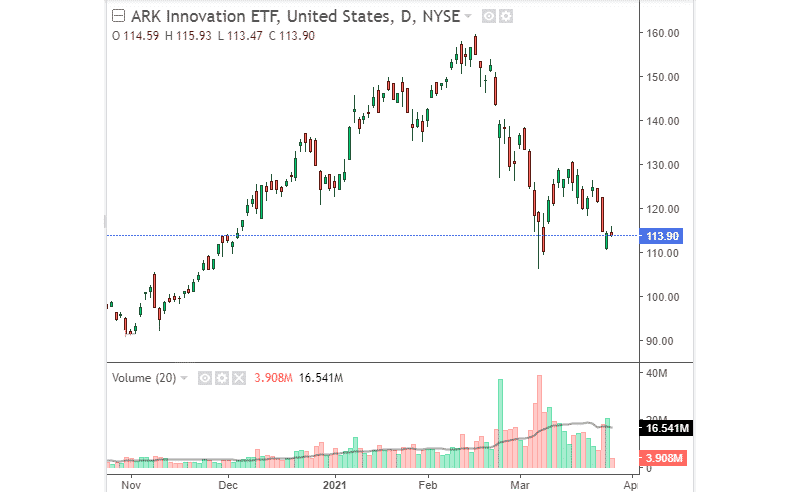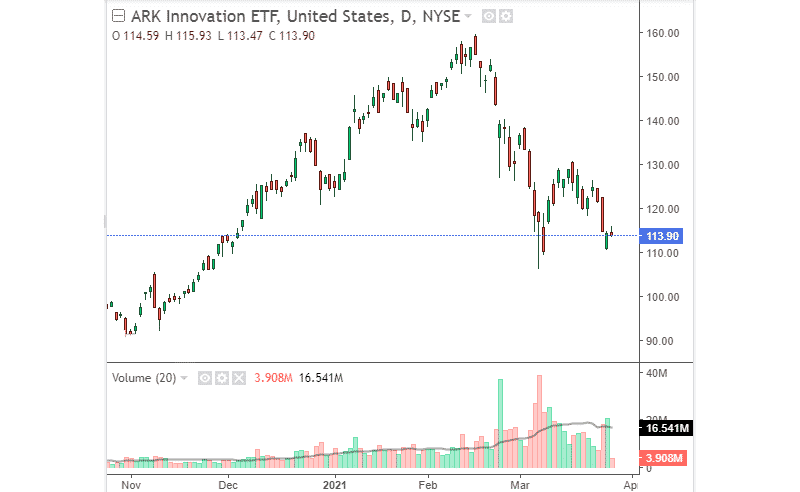 Ark Innovation's sell-off has come at the backdrop of some of the tech stocks it follows getting hammered. A rotation from high-flying tech stocks into cyclical value stocks is the new theme as investors remain wary of rising inflation.
High growth stocks are getting hammered as rising yields and inflation make their future profit prospects less valuable. The lofty valuations at record highs in some of the biggest tech counters are no longer justifiable.
Similarly, some of the ETFs' biggest holdings are down by double digits. Tesla is down by more than 25%; Zoom Video has shed more than 20% while Palantir is down by a whopping 40%. Amid the sell-off, Ark Innovation management founder Cathie Founder says she is not concerned about the recent drops.
The volatile tech sell-off is already fuelling massive capital outflows out of the ETF. In recent weeks, the fund has seen outflows topping highs of $465 million as investors remained wary of the bearish tone around most tech stocks, some of which are big holdings in the ETF.
Amid the optimism, there is no doubt that the ongoing correction could cause more harm than good to Ark Innovation as woods continues to buy dips.
Dwindling prospects
Growing chatter of interest rate hike as the economic recovery continues to gather pace could weigh heavily on tech stocks. Likewise, they could have a significant impact on most of the holdings in the Ark Innovation ETF.
With a higher interest rate and yield, they make shares for huge tech stocks less enticing. They fuel a spike in borrowing costs, for starters, making it difficult for such companies to access cheap capital for fuelling innovation and growth.
A few of Ark Innovation's positions are in small and illiquid shares, all but spelling trouble. This is partly because such shares tend to swing dramatically on an escalation of concerns about yields and interest rates. It thus does not come as a surprise that the fund has experienced a double-digit share decrease in recent months on yields rallying to one 14-month high.
Broad market declines compounded by extra outflows amid the ongoing correction threaten to snowball Arks woes. We could see a few of the funds' illiquid small-cap holdings sharply decline in the near term.
There are already growing concerns that crowded trades mostly made up of tech stocks could continue to lose momentum as the correction from record highs gathers pace. Likewise, this could spell more trouble for ARK Innovation ETF. Treasury notes jumping to 14-month highs over a short period is already making it difficult to justify sky-high valuations, some of which are essential holdings in the ARK portfolio.
The funds tilt into long-term growth means it can no longer focus on short-term profitability. In recent weeks, inflows into the fund have faltered as it becomes clear investors are increasingly shying away from high-flying stocks and more into cyclical and value stocks.
Whatever is happening in the equity markets, according to Wood, has yet again presented great opportunities to buy pure-play names. In keeping up with the promise, the fund manager has already purchased over 700,000 shares of DraftKings.
Ark Innovation ETF Prospects
Amid the outflows and the sell-off that the Ark Innovation ETF has experienced over the past month, there is no doubt that the future could be bright on the tech correction coming to a halt. The fact that the ETF owns stocks of companies with technologies poised to shape the human race for many years to come means it is well-positioned for a significant bounce back once the sell-off comes to a halt.
ARK Innovation expense ratio of 0.75% while a premium is still a small cost to pay for the returns investors are well-positioned to enjoy in the years to come to get going forward. The fact that the ETF has delivered an average annual return of more than 52% over the last three years all but underscores its ability to generate shareholder value.

The steep decline that the ETF has experienced in recent days is more than justified given the stocks Wood has added. Likewise, the ETF will continue to fall harder as the overall market experiences major sell-offs.
However, that should not be a point of concern for long-term investors who can buy and hold through any potential volatility. The ETF is all about companies that are poised to be game-changer in the next few years.