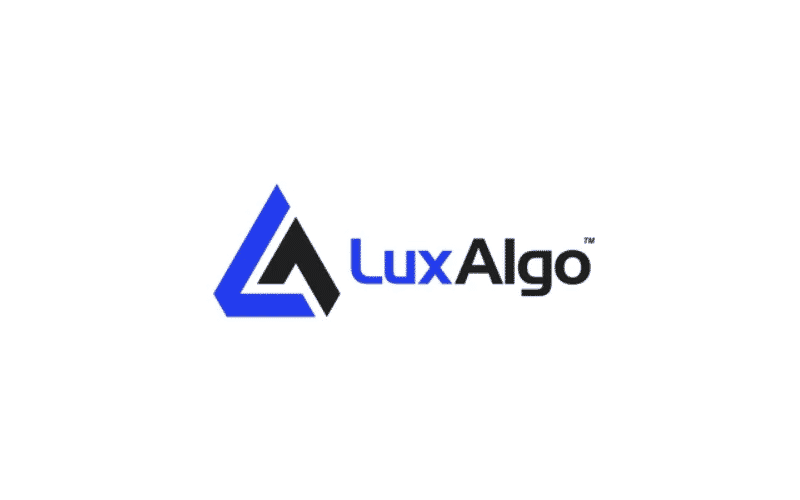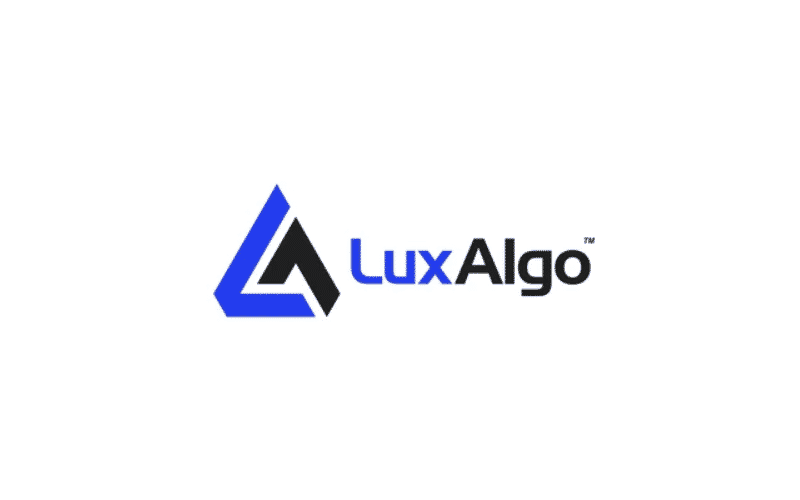 Lux Algo is an indicator that says when to buy or sell a currency pair. The presentation is wide and has much information that can't be understood by beginners. The developers insisted that we can attach it to the chart and start making money "Enhance Your Charts, Get Advanced Signals."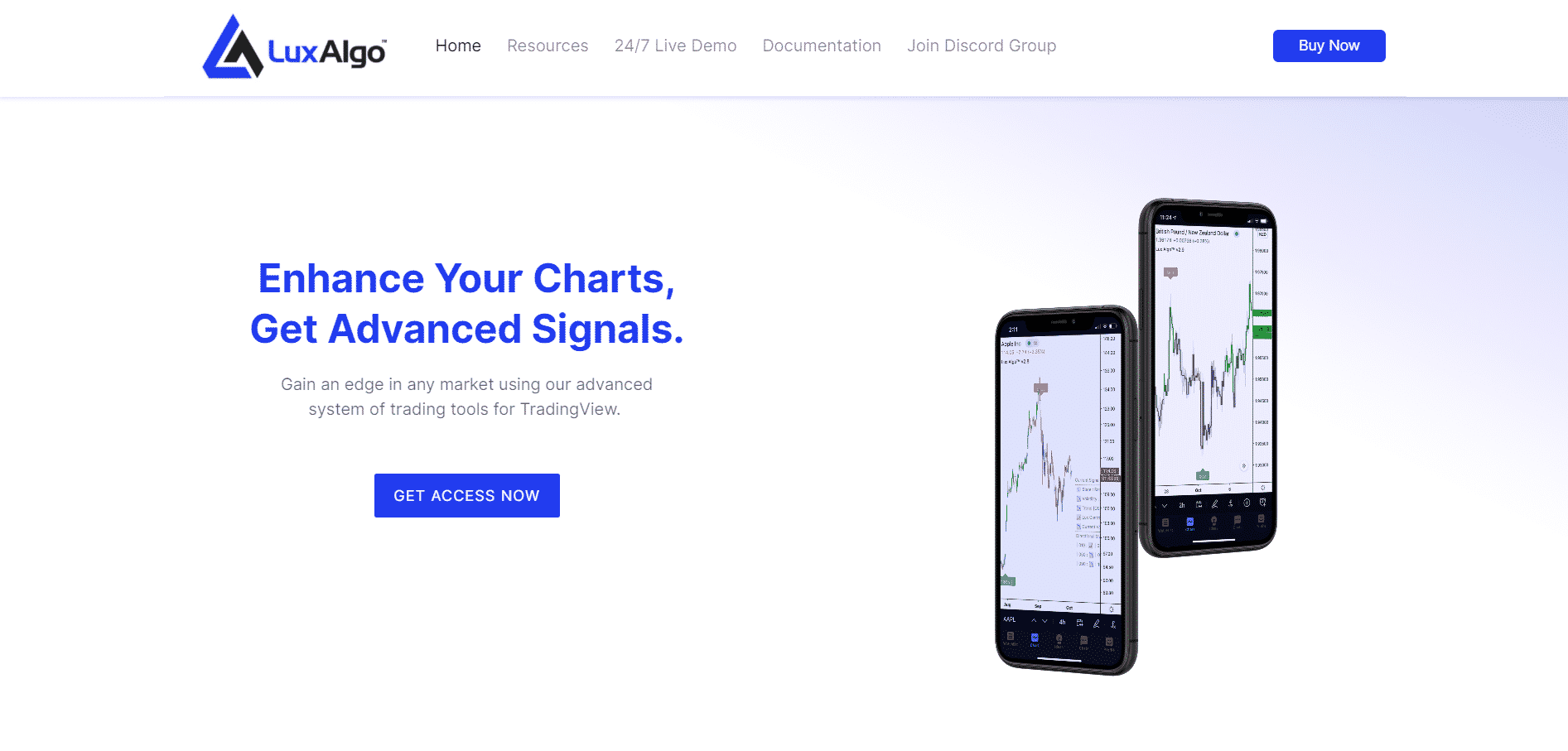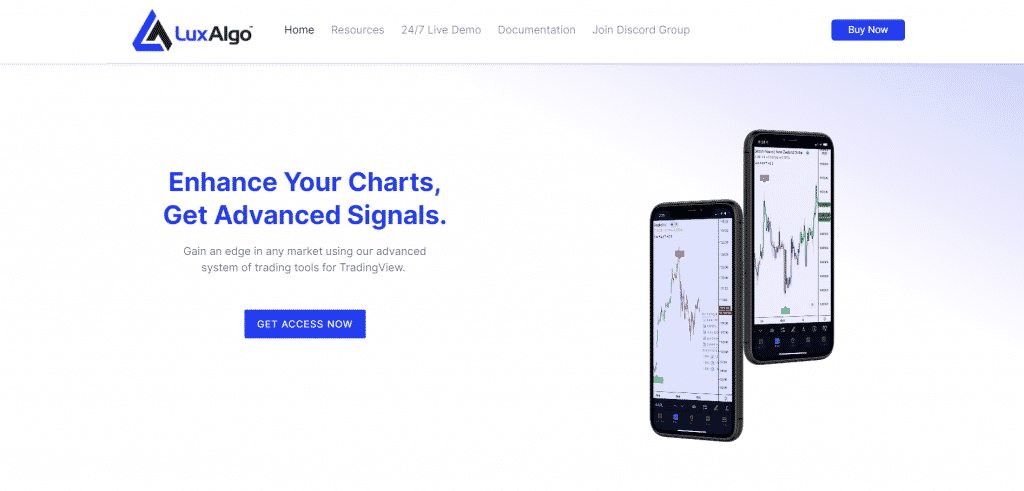 Is Investing in Lux Algo a Good Decision?
The indicator doesn't have proven trading results. The offer is subscription-based. As a result, it's such an overpriced trading solution.
Company Profile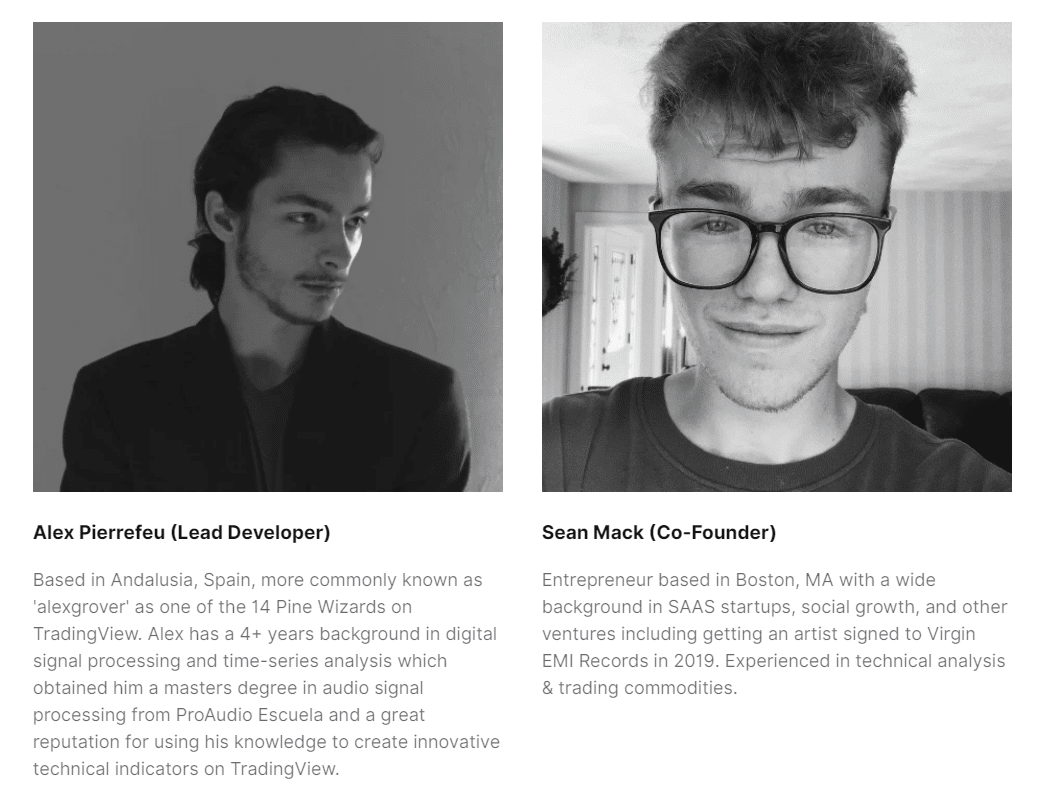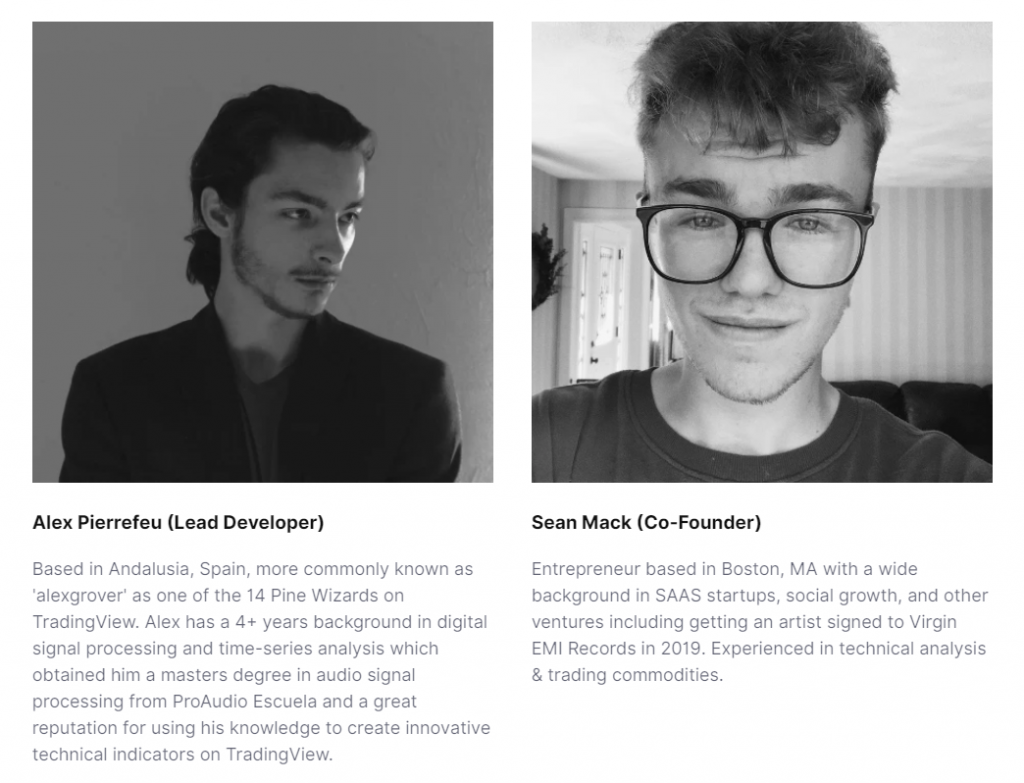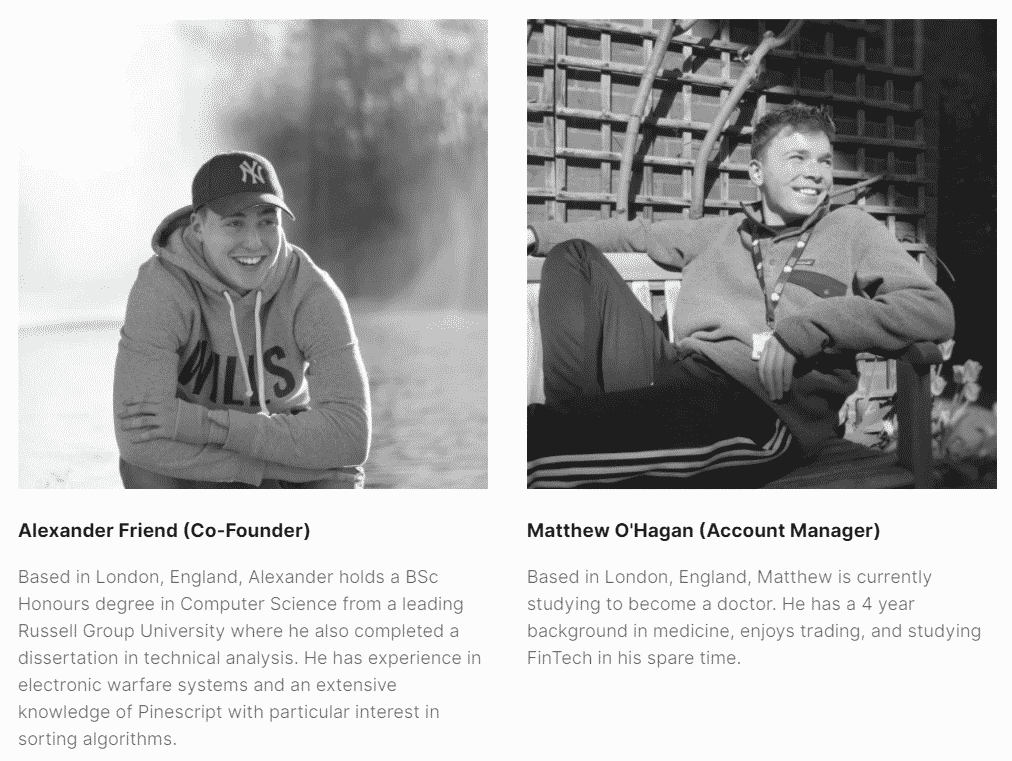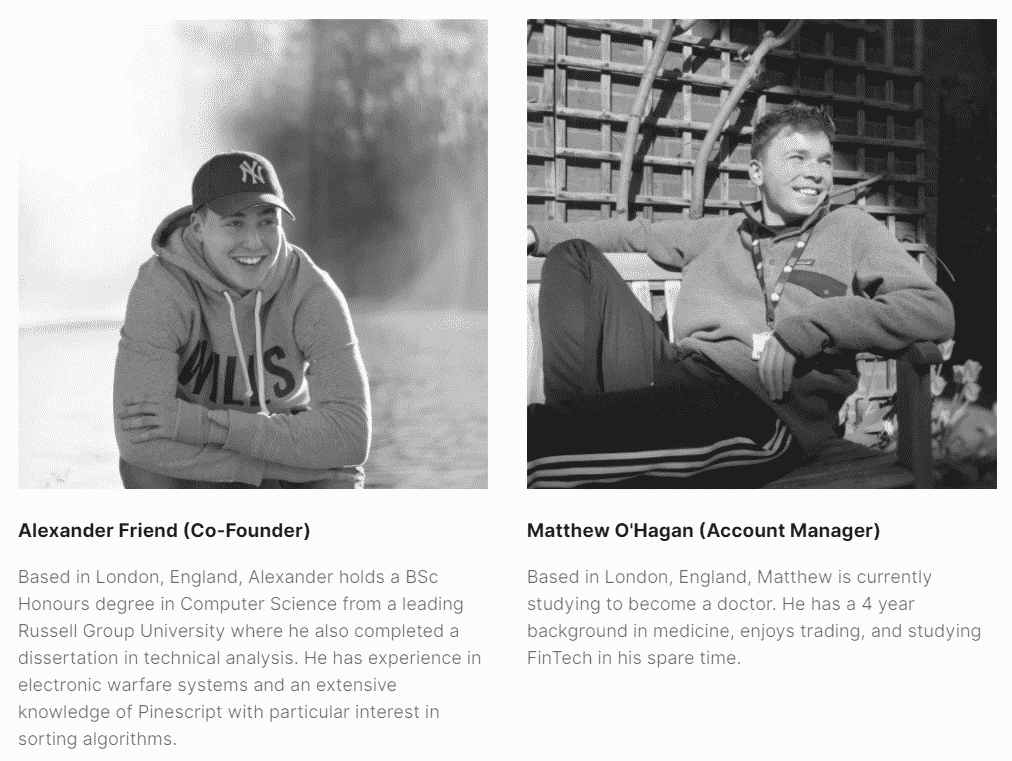 The developers' team looks awkward. First, they look young enough to be experienced traders or market analysts. There are neither their social network profiles nor links on Myfxbook accounts that can prove they know something in trading.
Main Features
We've gathered all available features and explanations of this Forex indicator:
The developers start the presentation with the fact that over 90% of beginning traders are never successful in trading Forex, scaring us to follow their leads.
The indicator works emotionlessly. That's why it is the best option.
The system spots real trading opportunities decreasing chart noises.
There was the third version of the system released.
It allows us to create our own strategy. We have no idea how.
To get this functionality, we have to register on the TradingView platform.
There's a Discord channel with many people subscribed from around the world.
The platform also includes support, free educational programs.
There are signals for all types of markets provided.
The indicator works without repainting. The signals won't be changed after providing.
All the signals are real-time ones.
We can rely on free updates and upgrades for a lifetime. We don't know how it's possible if the service is subscription-based.
We are free to cancel a subscription anytime.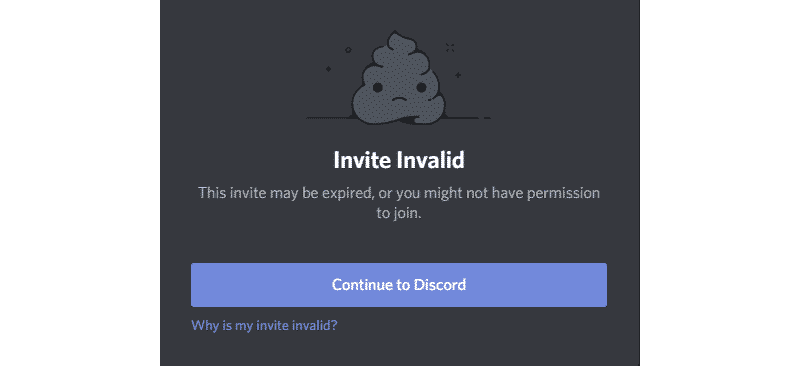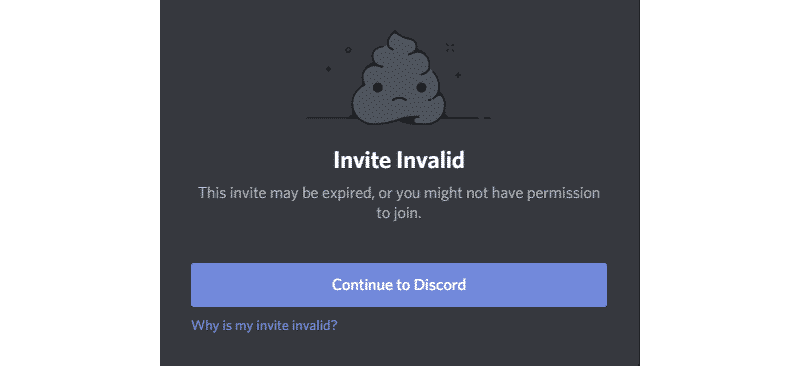 The Discord channel link is broken. Maybe something went wrong.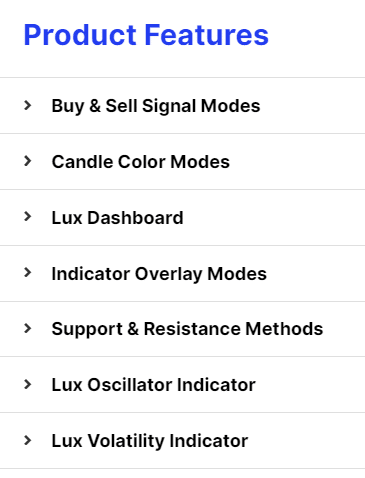 The Indicator includes the following indicators: Indicator Overlay Modes, Support and Resistance Methods, Lux Oscillator Indicator, BUY/SELL Signal modes, Candle Color Modes, Lux Dashboard, Lux Volatility Indicator.
Price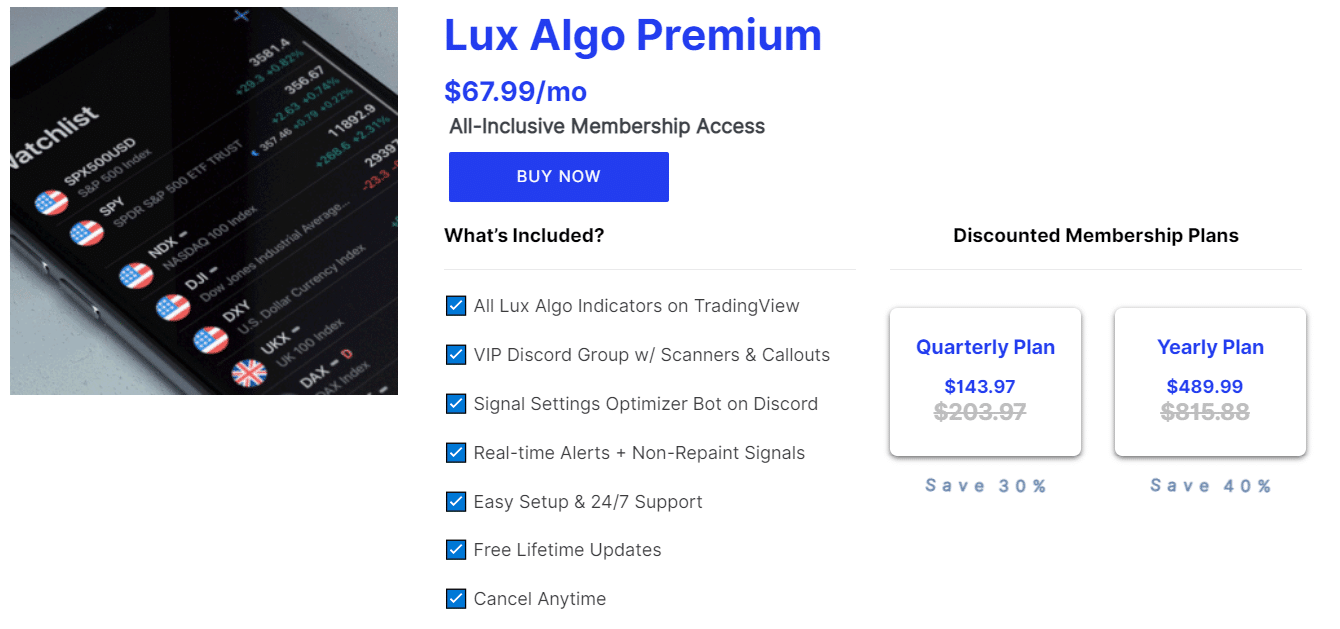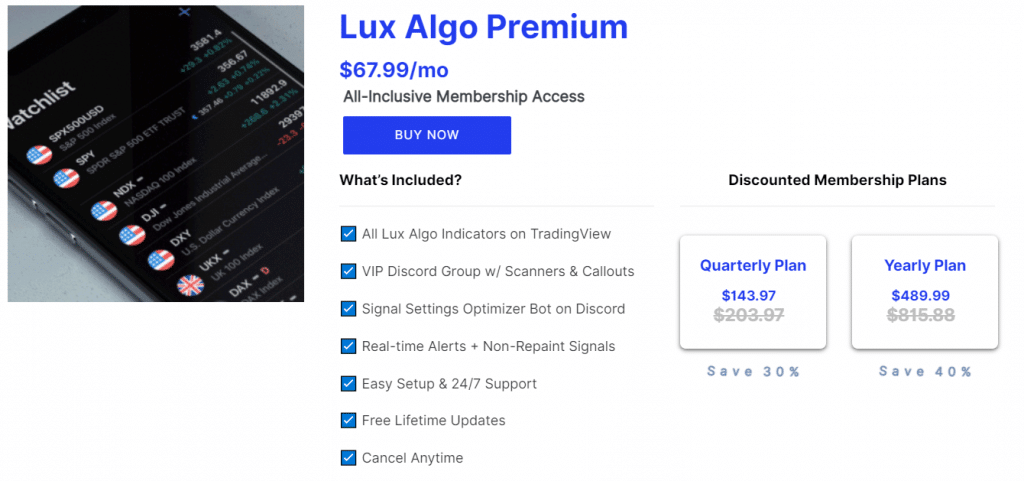 A 20% discount is provided for everyone. There are three subscription-based packages. The Lux Algo Premium subscription costs $67.99 for a month. It includes All-Inclusive Membership Access. The quarterly plan costs $143.97 instead of $203.97. The Yearly Plan costs $489.99 instead of $815.88. The system is not supported by a safe purchasing and refund policy.
Unverified Trading Results
The developers didn't provide backtest reports of how the strategy was tested before it was released.
The same we have about trading results. The devs sell that none of them uses. We noticed that they have never posted trading results that were obtained after trading the signals the system provides. If they are that good to be paid almost $70 monthly, why do the developers not trade their own? So, the answer is obvious.
People feedback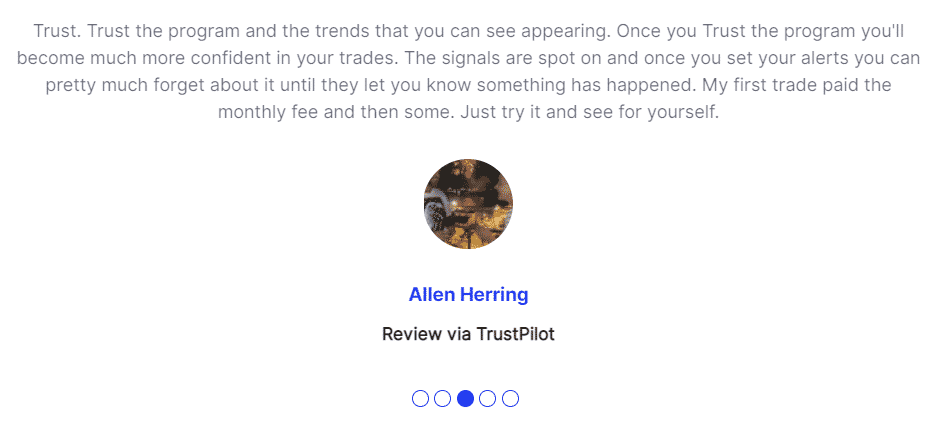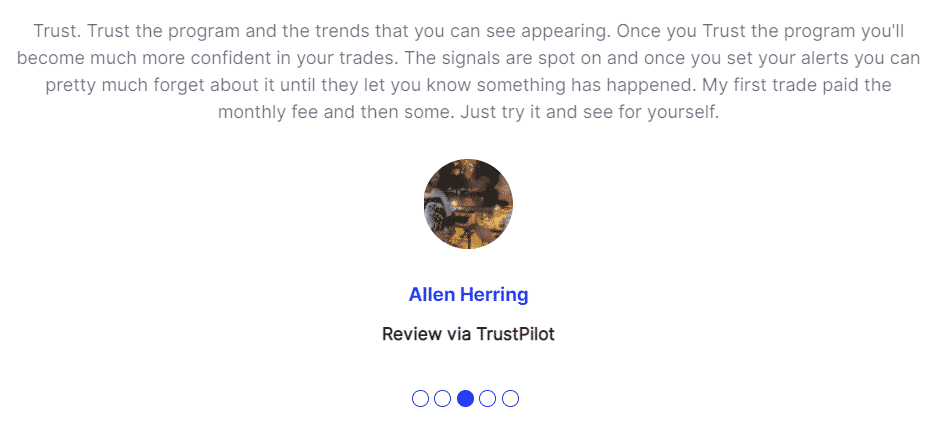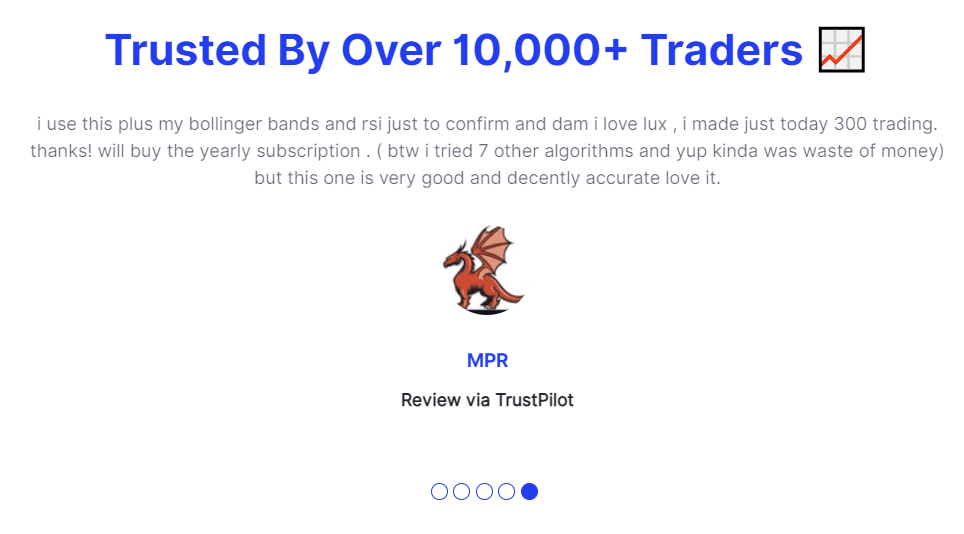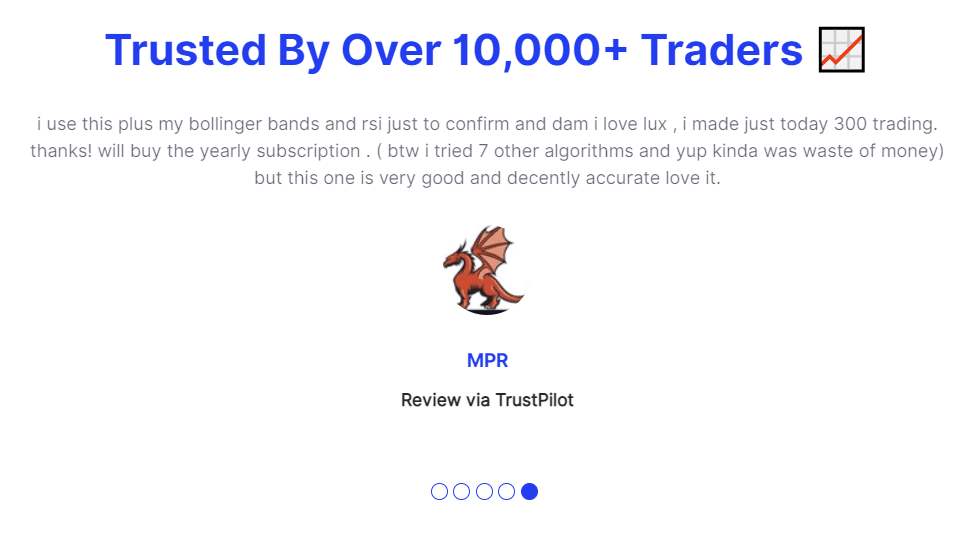 The presentation includes five positive testimonials.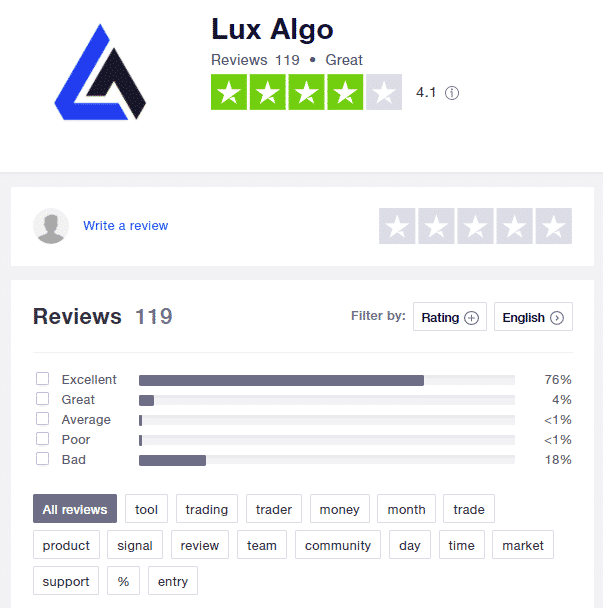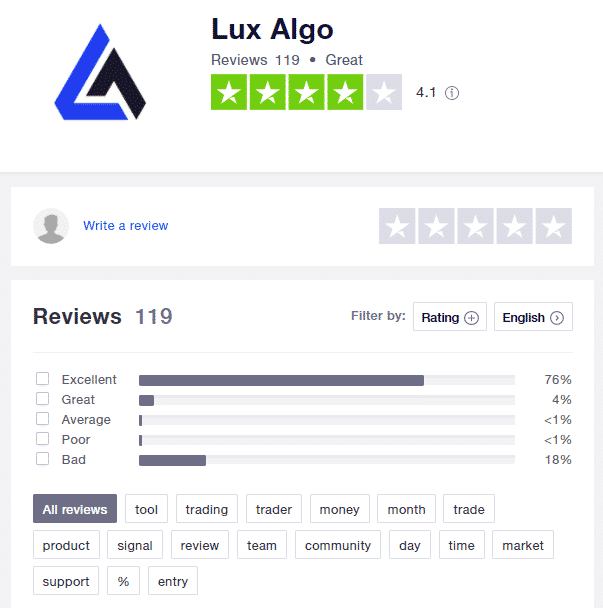 Lux Algo has a profile on TrustPilot with a 4.1 rate based on 119 reviews. As for this type of service, there are many negative testimonials (18%).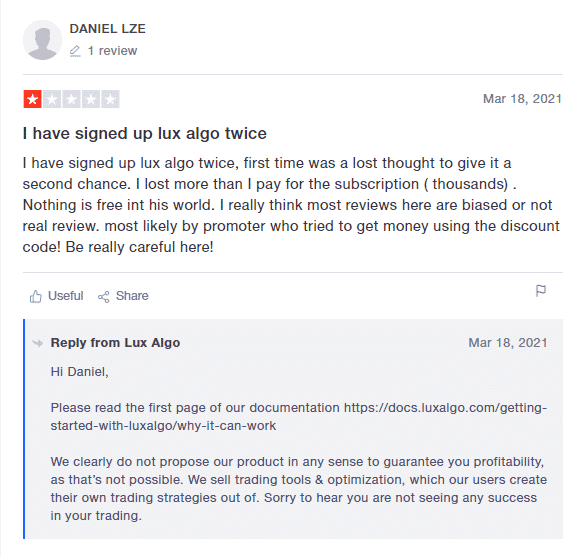 The last comment was about the trader who was tricked by the company.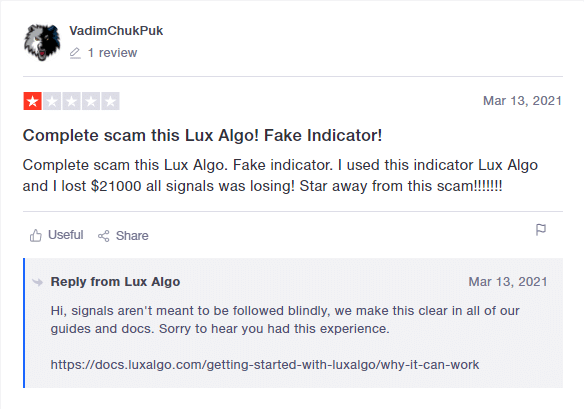 This person lost a lot of money following the signals.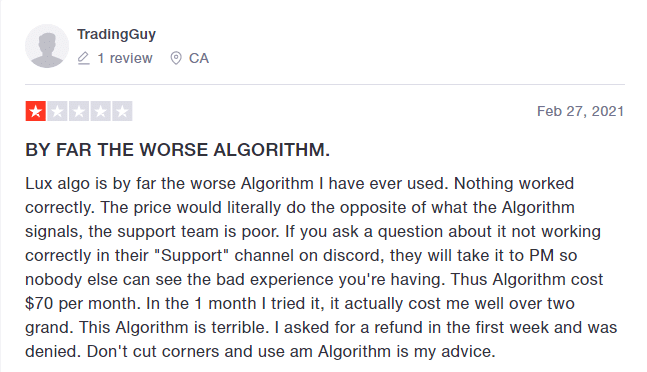 This is another attempt to use this service with no success.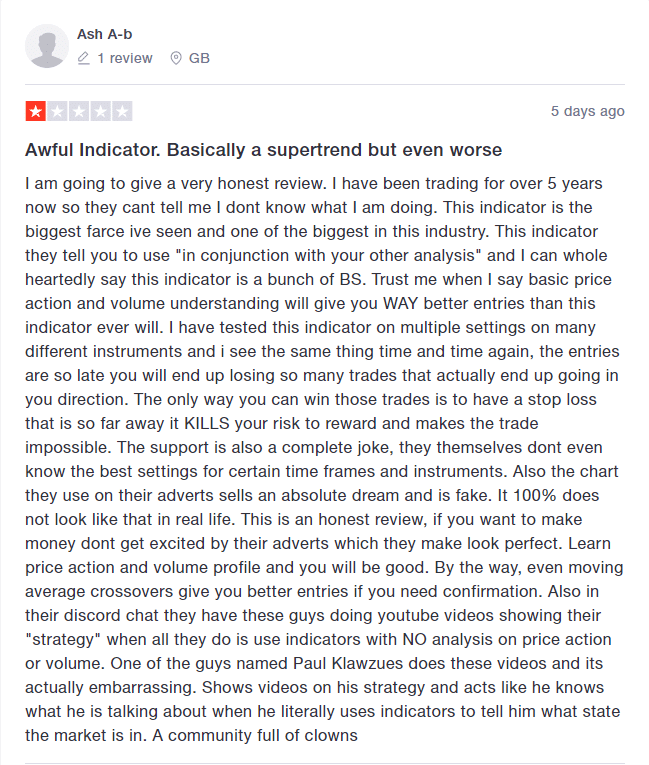 This person mentioned that the indicator is late to inform about a trend. It means the system is super trend-based. So, we can easily catch a reversal trend losing much.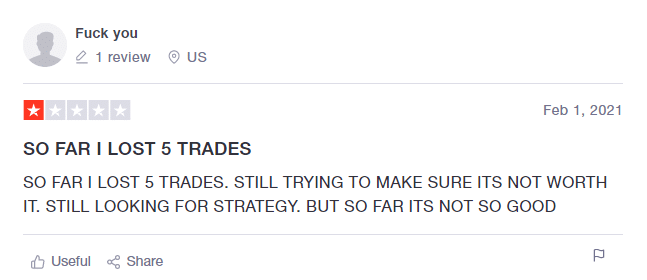 This person mentioned that he lost trades quite often.
Summing Up
Strategy – score (2/10)
Functionality & Features  – score (2/10)
Trading Results – score (2/10)
Reliability – score (2/10)
Pricing – score (2/10)
Conclusion
Lux Algo Indicator is based on the data from many indicators like Signal modes, Candle Color Modes, Lux Dashboard, Indicator Overlay Modes, Support and Resistance Methods, Lux Oscillator Indicator, Lux Volatility Indicator. Alas, the system doesn't look trustworthy. First, the developers' team is so young and can't be experienced in Forex trading for sure. Second, the presentation lacks backtest reports. Third, there's no account connected with verified trading results. So, the developers don't make money using this software. Fourth, the system has insane pricing compared with the same BUY/SELL indicators on MQL5. Lastly, there's no money-back guarantee provided.