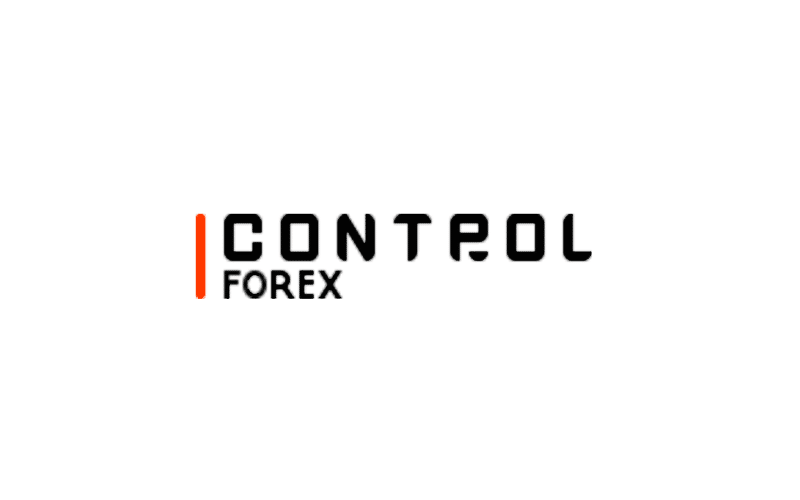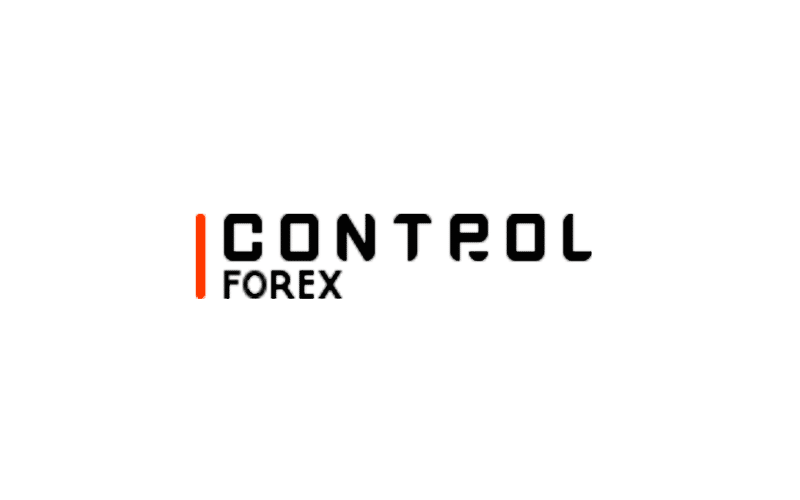 Control Forex is a money management service that promises hedge funds, companies, and now individuals to take control of their funds using professional traders and coders that have a proven track record and over 12 years of Forex experience. They believe that Control Forex 'allows earning 50-200% profit per month when using different degrees of aggressive settings'. In the conservative trading mode with a risk of only 5%, it brings a profit of 2.5% to 10% per month.'


Today we will review Control Forex and let our readers know if it is worth your time and money.
Is Investing in Control Forex a Good Decision?
No, it is not. Our verdict is based on:
No vendor transparency
High minimal deposit required
No setting explanations provided
No backtest reports shared
The system trades with an aggressive Martingale
No customer reviews
Absence of a money-back guarantee
Company Profile
The Control Forex website consists of different sections covering their trading styles, performance, 'about us' page, FAQ section, and a contact form. Our first impression was not good, as the presentation is not very informative. There's a lack of minimum required intel like backtest reports, strategy details, and so on.
Despite claiming to be professional traders and coders with over 12 years of trading experience in Forex, the creators of this service have done very little for us to be able to verify this information. They failed to provide us with detailed information about their headquarters location, as well as did not introduce us to any of their core team members. When dealing with managed account services, this sort of information is imperative. If we do not know who stands behind this service and do not know their reputation, it is very unlikely we will consider investing money with them. We advise the vendor to do something about it to increase the level of transparency and trust.


Main Features
Out from their brief presentation, we could gather the following features of the service:
The devs claim they have earned over 14102% across all systems. There is no proof of it
They claim that their team consists of experienced traders and coders some of whom 'have been working in Forex since 2008'. Unfortunately, they failed to provide their names. So, we cannot check this info and hence rely on it
They claim that they have over 10 verified live accounts managed by different trading systems. It's a lie because there are only 6 accounts
The dev tries to convince us that ControlFX is an 'unparalleled trading system, super reliable and profitable'
Their systems are compatible with MT4 brokers
Traders have to expect 50-200% of monthly profit with Control FX. The devs claim it is possible to use different degrees of aggressive settings
Using a conservative trading mode, traders can obtain 2,5-10% of monthly profit
It uses a power of 3 servers to ' maintain its accurate and reliable operation'. In case 1 server fails, the other 2 will take over its work
The service constantly monitors more than 25 currency pairs
According to the vendor, there are 3 trading styles applied: Conservative, Medium, and Aggressive:


Trading with the maximal 100% risk we can obtain 1000-2000% of annual and 50-200% of monthly income. With a medium trading style and trading with 15% of the risk, we may expect 180-260% of the year and 8-30% of monthly profit. Conservative mode requires us to take 3-4% of the maximal risk, allowing us to get 50-60% of the year and 2-8% of the average monthly gain. We have to contact them to discuss details about our account.
The minimal deposit is 10000- 50 000 dollars and the minimal risk is 5%. When investing 10K dollars we may expect 2.5-5% of the profit that equals $250-$500. The performance fee will be 50%.


Price
The ControlFX company works based on commissions. They say that the performance fees are from 15% (for large investments) to 50% (small investments). The minimum deposit is $10K-$50K.


In case of losses, a money-back guarantee is not predicted.
Trading Results
We have a Control Forex profile on myfxbook.com: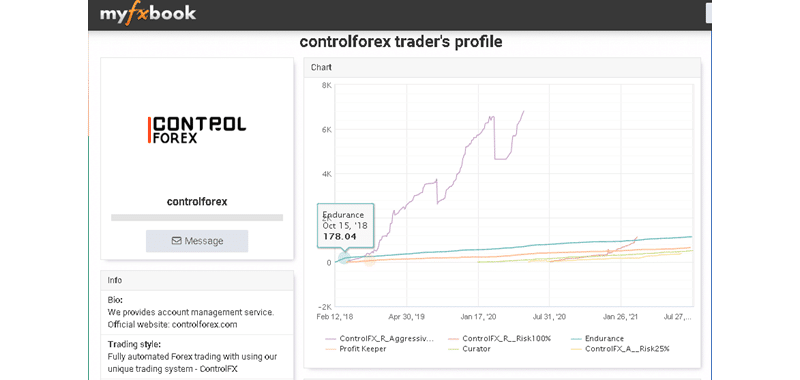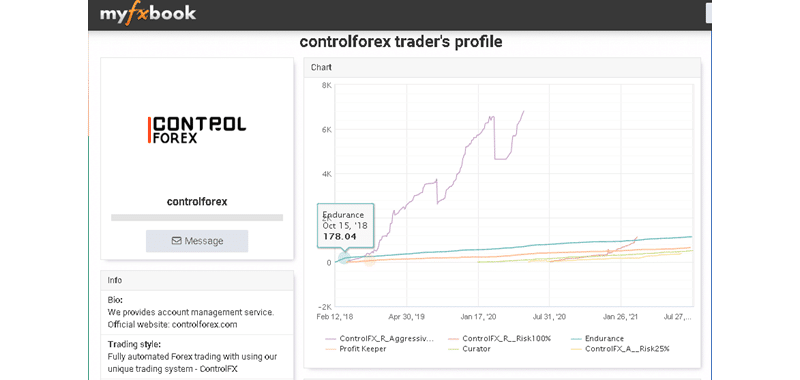 Although the dev claims that they have 10 live trading accounts managed by different systems, on myfxbook we see only 6:



Let's analyze the Profit Keeper trading account. It has both trading privileges and tracks record verified badges. So, we can expect real trading results. This account is trading under FXOpen brokerage on MT4. Its leverage is not mentioned. It was created on October 30 2018 and was deposited at $3100 (why not 10K?) For mostly 3 years of trading activity, its total gain has grown to 652% with daily and monthly gains of 0, 20%, and 6, 27% respectively. Now, the total net profit amounts to $19754, 25. The system trades with a low drawdown – 3%. The peak drawdown was 15, 61%.
The system trades with a 64% win rate based on 46 trades performed. Its average win is 48.17 pips/$131.09 when the average loss is -74.01 pips/-$100.77. Its profit factor is high – 2, 31, and the average trade length is 4 days.


Oddly, but the system trades only 1 currency pair – USDCAD. It trades both long and short trading positions almost equally:

Its trading history looks unoptimistic. The system uses an aggressive Martingale to recover after losses. It can increase its 0,10 lot size to 6, 40: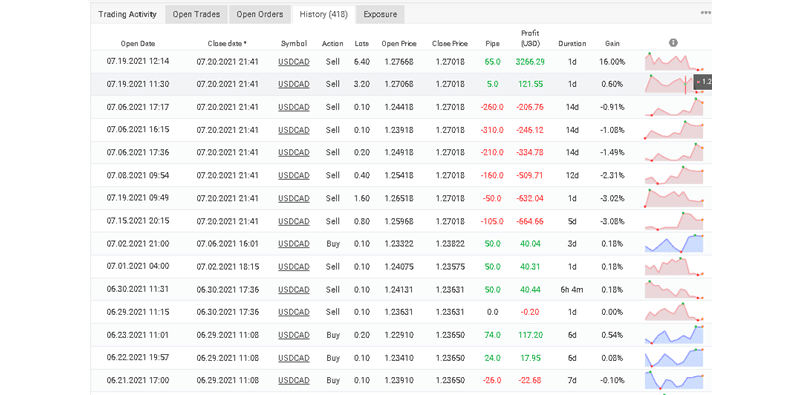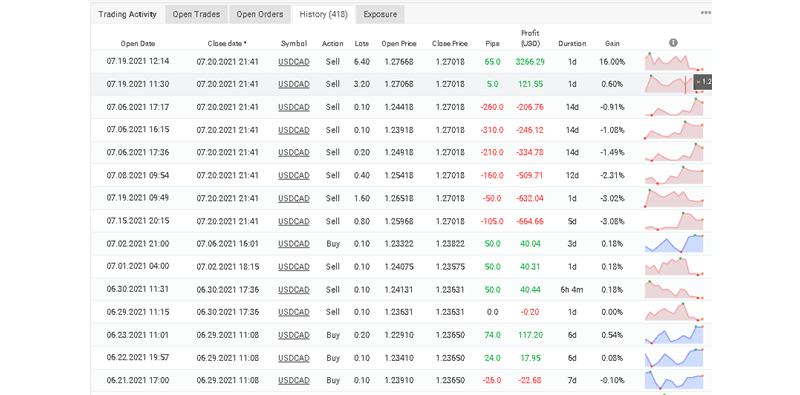 The recent 6 deals have brought nothing but a huge loss that equals approximately -$2600. With the help of an aggressive lot size applied, the system could recover and generate $3366, 29 of profit. This trading approach is extremely risky and dangerous as in case of losing trade it could lead to a huge loss of money.
It is a huge con, as we cannot compare the live trading results with the ones the system had in the past. The devs failed to provide backtest reports which look quite suspicious.
Customer reviews
Unfortunately, we couldn't find any customer reviews on reputable websites like Quora, Forex Peace Army, or Trustpilot. If the service was as good as described, there would be a large hype online.
Control Forex Review Summary
There are several significant drawbacks of this system. Firstly, the dev failed to provide a backtest report that could convince us the system was well tested before release. Secondly, its live trading results have shown that it uses Aggressive Martingale to recover after losses. With a low win rate of 60%, applying Martingale is madness. It can cause a serious problem when an accuracy rate will grow. Thirdly, we cannot trust the developer, claiming to have over 12 years of experience, but failing to provide any proof to back up his words. The commission fee on a low size account is extremely high. The vendor takes no responsibility for possible losses as he does not even provide a money refund.