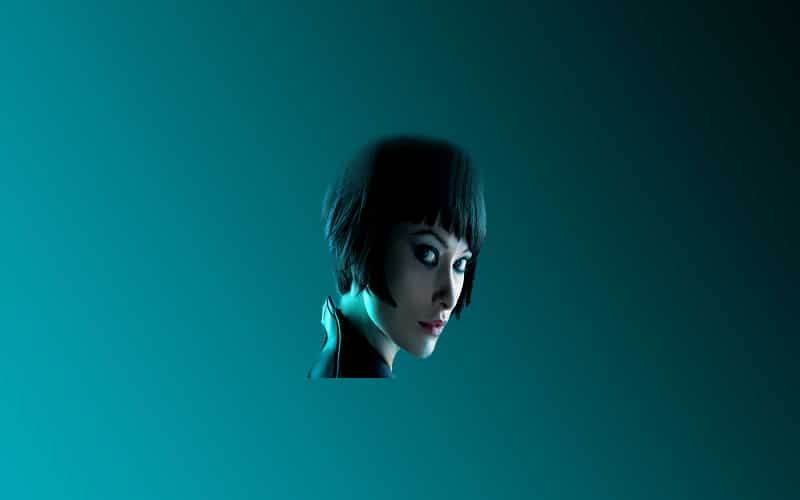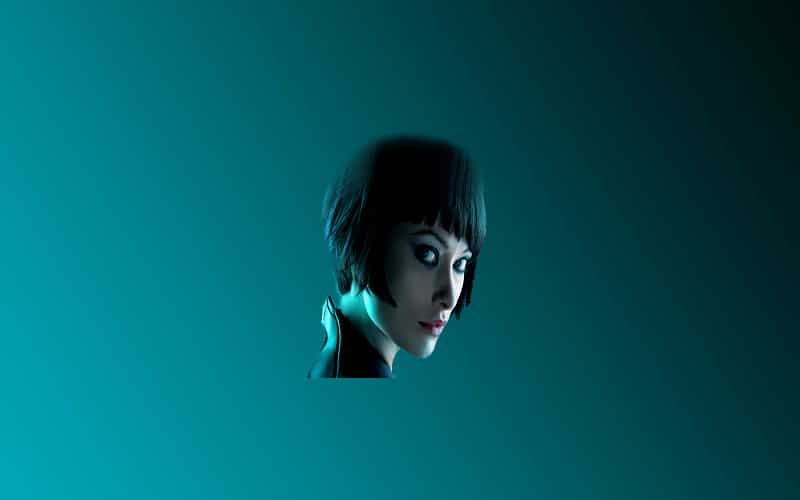 EA Vega is a Forex EA that follows a straightforward method and claims to have a high winning percentage. The developer has used advanced AI and simulated walk forward designs for building this system and you can use it for trading in all kinds of pairs. It promises high rewards while keeping the risks low. But, how does it perform in the live market? We can get an idea about this by assessing each and every aspect of this robot individually.
Is Investing in EA Vega a Good Decision?
In order to analyze this Forex robot, we have looked into things like company profile, features, live trading results, price, and customer reviews. Initially, the tall claims of low risk and high profits seem to be legit, especially since the vendor reveals some details about the trading strategy.
But, as we take a closer look, we can see that the claims are mostly unverified, as there is no legit proof of this system making profits in the live market. Hence, we think it's a bad decision to invest in this system.
Company Profile
EA Vega doesn't have an official website yet and all the information on it is available on the MQL5 page. It was launched on Jan 25th, 2021 by an American trader called Wesley James Petersen li. On his MQL5 profile, it says that he started trading in Forex at the young age of 17 and has more than 35 years of experience in this field.
Mr. Petersen has a trading forum where he answers the questions posed by traders. Apart from EA Vega, he has developed another Forex EA called EA Rigel. Now, there is no way to verify this information, so we cannot say for sure that this person is who he claims to be.
Main Features 
On the MQL5 page, it is mentioned that this Forex EA avoids using risky trading methods like arbitrage, grid, and martingale that can lead to huge losses. It protects your deposit using Take Profit and Stop Loss and uses the M30 timeframe for trading. The vendor recommends using this system for pairs like USD/JPY, GBP/USD, and EUR/USD. It's a FIFO compliant system that can run on all brokers based in the USA.
EA Vega uses the Ichimoku Kinko Hyo indicator for pointing out support and resistance areas and working out future price momentum. It automatically performs a complex analysis of the market and places trades based on the opening and closing prices and candlestick bar ranges.
The default risk for this system is 5%, but you can change it as per your preferences. As per the developer, the system is not too sensitive to latency speed or spreads, but a fast ping and a tight spread enhance its performance. The trading ranges are optimized, but you have the option of changing the pips and the Take Profit target.
EA Vega is not a system that places trades on a daily basis. The developer mentions that this Forex EA uses a long-term strategy, so users cannot expect to make profits all the time.
Price
EA Vega can be downloaded for free. We understand that this is a very recent system and the developer is trying to gain some reputation before setting a price tag on it. Serious Forex traders, however, stray away from free products, since these are often full of technical errors.
Trading Results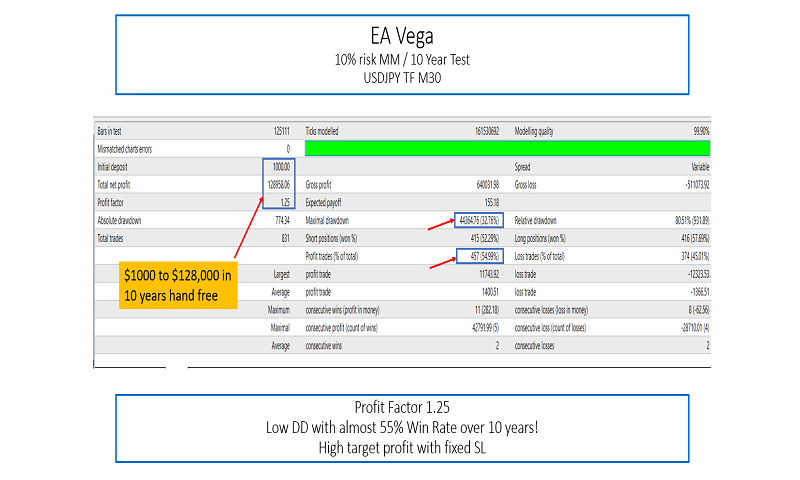 No verified trading results can be found for EA Vega and there are no real or demo trading accounts on websites like Myfxbook or FxBlue. This is truly disappointing since live trading results are something every Forex trader looks for while investing in an expert advisor.
On the MQL5 page of EA Vega, there is a screenshot of a trading profile showing a total net profit of $128,000 being made from an initial deposit of $1000, but there is no way to tell whether it is legit or not.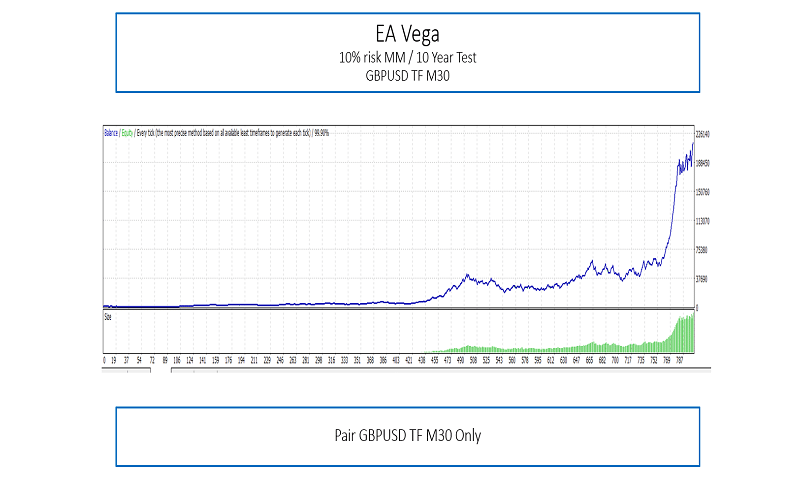 The vendor also provides backtesting data conducted over 10 years for the pair GBP/USD. This shows steady growth over time, but then again it is based on historical data. There is no guarantee that the system can generate profits in a live trading situation. Live trading results are the only way to prove this fact and since they are lacking, we cannot say with confidence that this is a trustworthy system.
Customer Reviews
We couldn't find any user reviews for EA Vega on third-party websites like Trustpilot and Forexpeacearmy. This is quite expected since the service is brand new and there are not many people who know about it.
EA Vega Review Summary
In conclusion, we didn't find too many positive things to mention about this Forex EA. The major disappointment is the lack of live trading results and customer reviews. While the backtesting data looks promising, we think investing in this software right now is a risky proposition.