Healthcare Sector Companies
Companies in the Healthcare Sector are usually companies involved with healthcare services, medical devices, equipment and pharmaceuticals and others. It is a huge sector, including both small and large companies who are either healthcare providers, payers or suppliers of services and products to the industry. 
The healthcare provider category includes organizations or individuals providing direct care to patients. This includes hospitals, physician practices, outpatient clinics, dentists, orthodontist practices, dialysis centers, and many others. The Payer category consists of entities which assist in the coverage of costs associated with healthcare for patients. This includes government payers such as the United States Medicaid program, as well as private payers such as health insurers. 
The last category consists of suppliers of products and services to the healthcare industry. This includes companies that manufacture products to treat patients such as medical device makers and drug companies. 
Specific of investing in Healthcare Sector ETFs
There are several factors behind the rapid growth of the healthcare industry. This includes the declining average age in the US. The introduction of new medical devices, treatment options and pharmaceuticals are also helping extend the average human lifespan, which also increases the lifetime spending of these citizens. 
In the US, government oversight and regulation heavily influence the healthcare industry. For example, the sweeping changes under the Obama administration had broad implications on both healthcare payers, as well as companies providing drugs and medical devices. Any changes to Medicaid or Medicare regulations or rules can have similar effects on the industry.
Medical device makers and drug manufacturers are impacted heavily by the U.S. Food and Drug Administration or FDA.  The FDA regulatory approval process is something that both pharmaceutical drug makers as well as medical device makers stake their fortunes on. The FDA additionally grants certain statuses for the devices or drugs and provides additional benefits for many companies in the space. 
Thus for an investor to successfully invest in the Healthcare sector, he/she must consider watching Washington. The decisions taken by them from the highest to the lowest levels have a direct impact on the success of the Healthcare Industry. 
The Major Healthcare Sector ETFs
The U.S Healthcare segment provides exposure to the U.S. space, with a focus on securities in Healthcare. It consists of 50 ETFs and a combined AUM of $78.69 Billion. 
The Three Major Healthcare Sector ETFs are as follows:
Invesco DWA Healthcare Momentum ETF(PTH):

  PTH is an index that tracks healthcare firms in the U.S., selected and weighted by price momentum. This fund carries considerably more risk and is not much of a trader's fund. It provides lukewarm volume and big spreads. Institutional investors find it preferable because of the underlying liquidity for block execution.
3 Holding/Companies in this ETF along with allocation
Novavax, Inc. – 10.24%
Quidel Corporation – 5.51%
West Pharmaceutical Services, Inc – 5.30% 

Health Care Select Sector SPDR Fund (XLV):

XLV is an index with an AUM worth $24.03 Billion. It is the oldest and largest fund in this segment and dominates it in practically every measure. It has unparalleled liquidity because of its massive trading volume compared to others. It tilts heavily towards mega-caps as it is cap-weighted and fished from the S&P 500 Index. 
3 Holdings/Companies in this ETF along with allocation
Johnson & Johnson – 9.71%
UnitedHealth Group Incorporated – 7.26%
Pfizer Inc. – 5.41%

Vanguard Health Care ETF (VHT):

The VHT is an index which the average investor might find suitable. It tracks the MSCI U.S. Investable Market Health Care 25/50 Index. The VHT has an expense ratio of 0.10% and includes healthcare stocks from the top 98% of the total stock market capitalization in the US. 
3 Holdings/Companies in this ETF along with allocation
Johnson & Johnson – 8.17%
UnitedHealth Group Incorporated – 6.17%
Merck & Co., Inc – 4.33%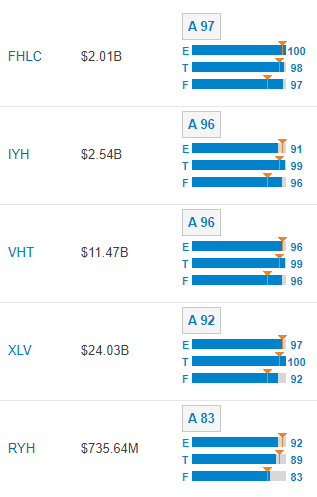 How to trade and how to invest in Healthcare ETFs
The US. Healthcare segment has an average tradability score of 88 out of 100. XLV obtained the highest rating of 100. It has the most liquidity with a daily average trading volume of 991.53 million. The VHT index has $49.54 Million in daily dollar volume. The average expense ratio of this segment is 0.35%. Among them, Fidelity MSCI Health Care Index ETF has the lowest expense ratio at 0.08% annually. The VHT is a fund with tight tracking, which is what investors should look for in funds. 
Many Healthcare companies go international to reduce risk by diversifying their operations. This provides investors with diversified worldwide exposure. For example, the SPDR S&P International Healthcare Sector ETF includes no U.S. exposure and counts Switzerland as one of its largest components (23.4%).
Investors can also find better performance if they take a look at sub-sectors. For example, biotechnology and pharmaceuticals have outperformed the broader Healthcare sector in many instances by wide margins. 
Conclusion
Thanks to a combination of the aging population and increasing spending, we've seen rapid growth in the Healthcare industry. There's no doubt that the government plays a huge role in this industry. However, investors can place money in different sub-sectors or different countries to diversify their exposure. The healthcare industry is non-cyclical because the majority of services and products under it are necessities, not luxuries.  This makes healthcare ETFs useful for taking a strong defensive position in a portfolio.