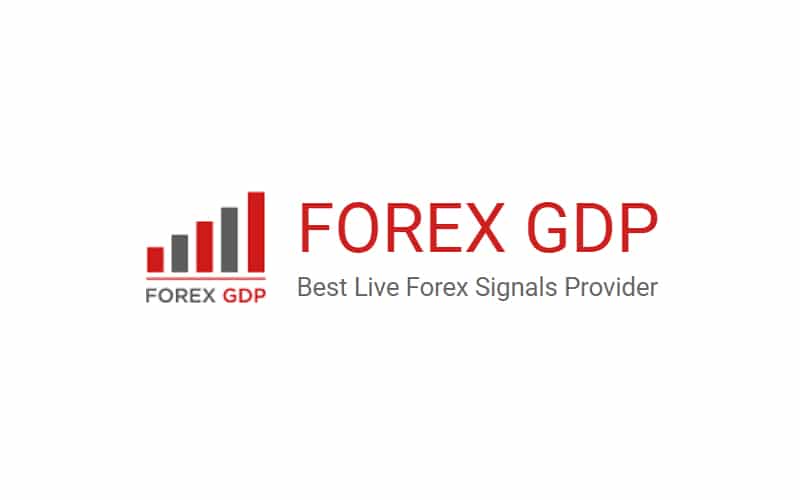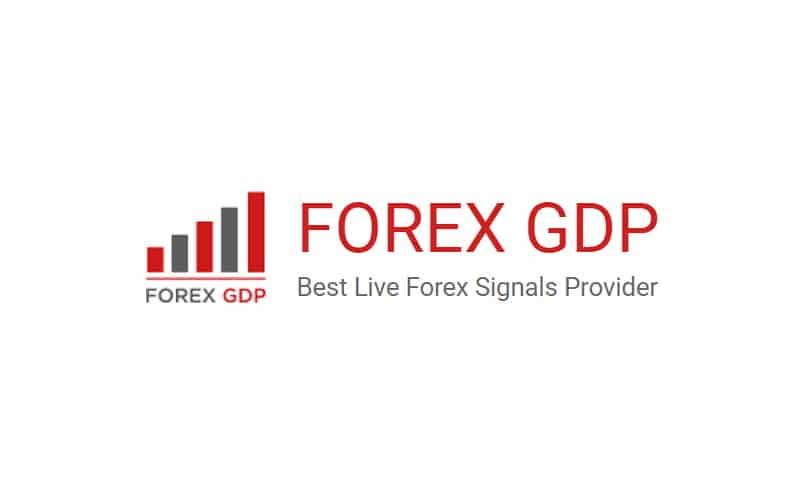 Forex GDP is a service that focuses on providing signals and chart analysis. The main claim is the "Best Live ForexTrading  Signals with Chart Analysis" and "Quality of Trade Signals is more important than Quantity of Trades." So we're going to check it.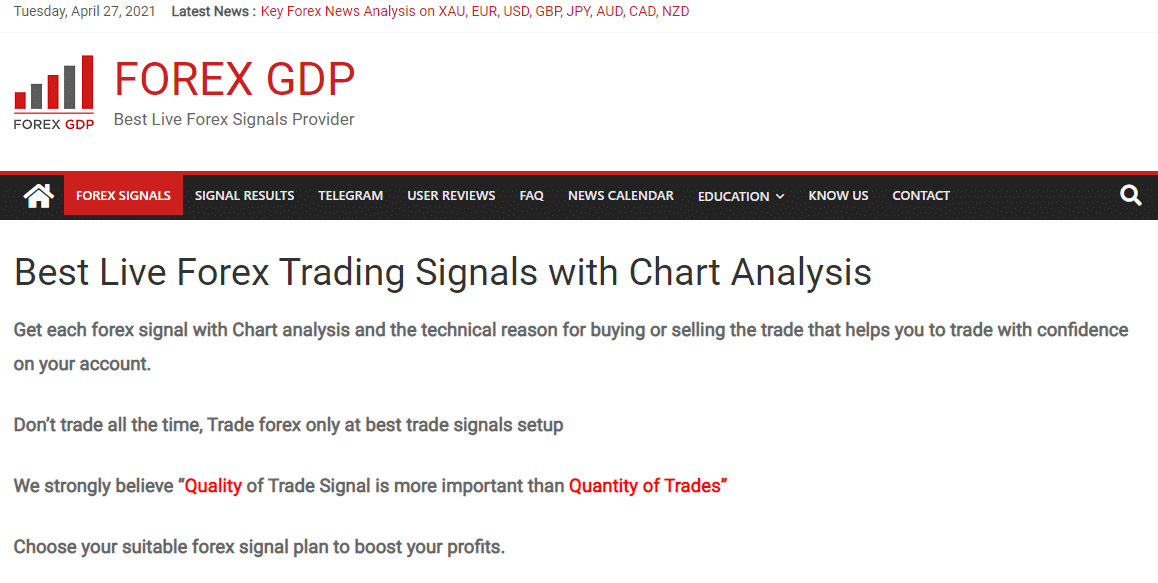 Is Investing in Forex GDP a Good Decision?
Without trading results provided, we can't suggest you buy these signals. You have to decide on your own.
Company Profile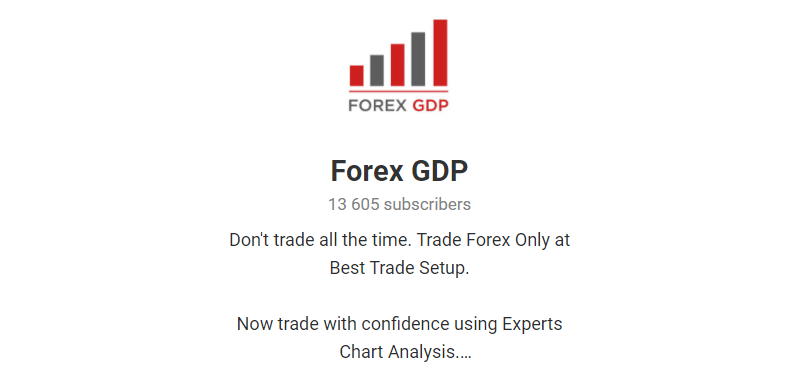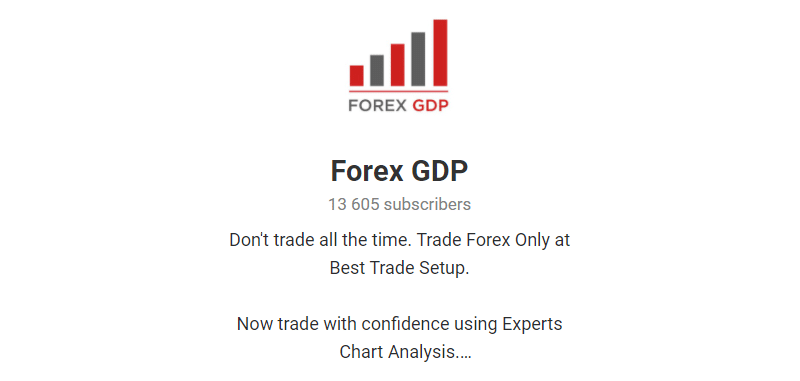 The company runs a Telegram channel with 13,605 subscribers in it.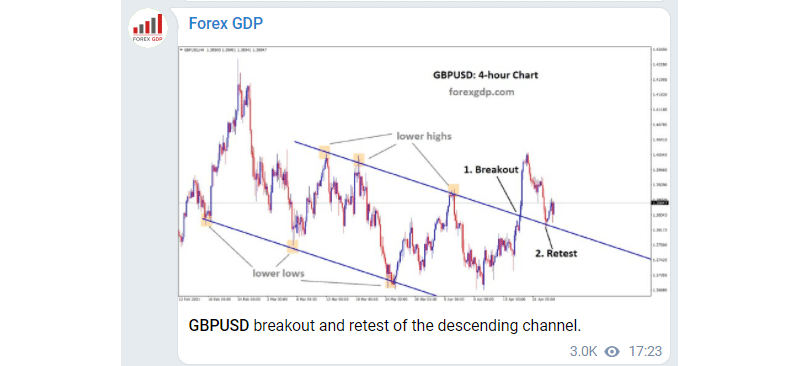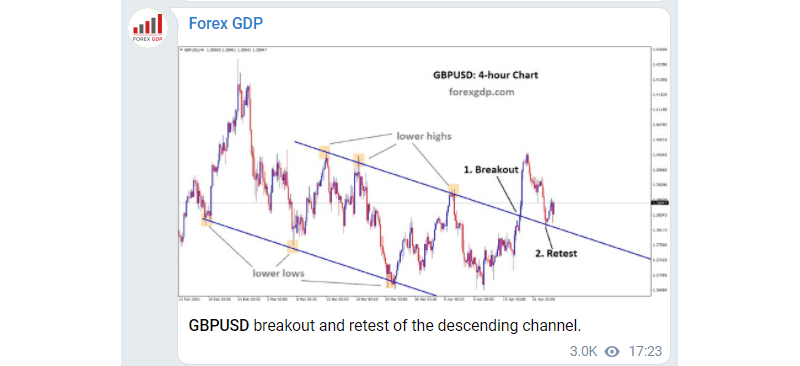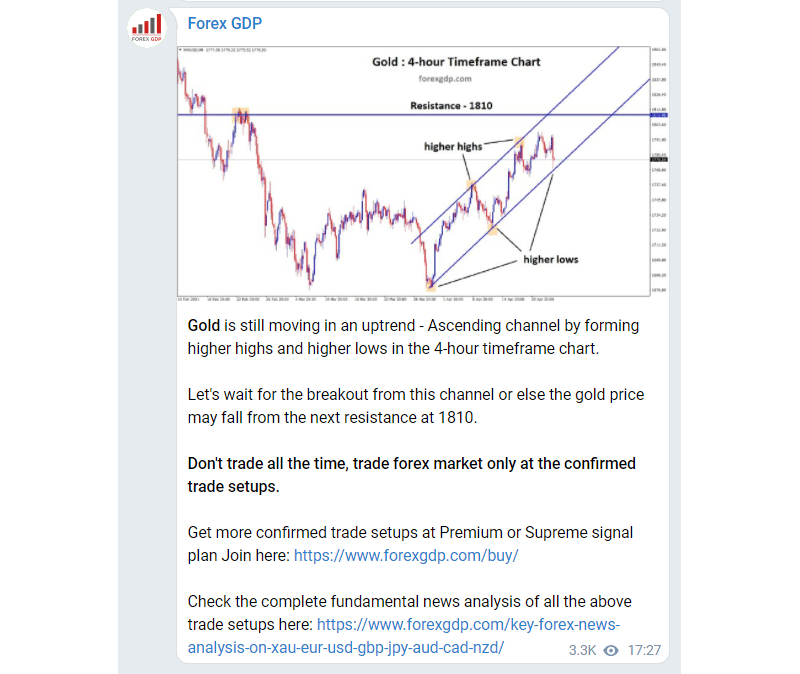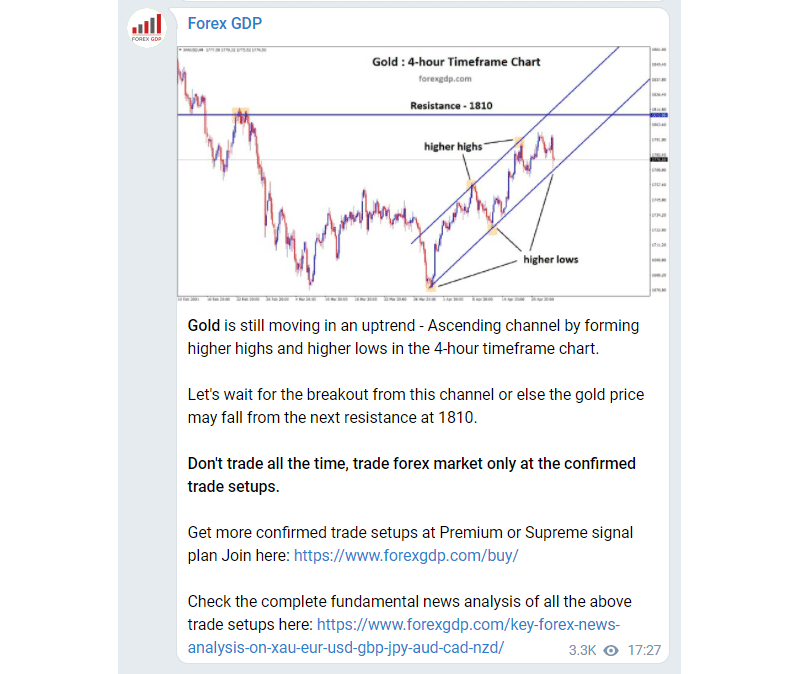 There is an endless wall of market analysis with chartings and predictions.
Main Features
There are features, strategies, and other explanations provided
The accuracy rate should be from 80% to 95%.
The robot can generate great signals like Jack Pot signals with 1:5-1:10 Risk to Reward Ratio.
They are delivered with fundamental or technical explanations.
The signals have the same format that is similar for many signal services: Symbol, Reason, Time, Direction, Entry Price, Stop Loss, and Take Profit levels.
The free signals allow us to check the quality of this service.
The developers provide money-management advice for clients.
The system uses many strategies to spot the best trading opportunities: Day Trading, Swing Trading, Trend, Consolidation, Support and Resistance level, Positional trade strategies, and several others.
There's a team of analysts with 20-year experience behind the signals.
The Take Profit usually sets at 150 pips.
The paid package includes market insights, trading ideas, and technical analysis with charting.
Paid signals include the next types of signals:

Jackpot signals. These are low-risk high reward signals with from 1:5 to 1:10 risk-reward ratio. The Stop Loss is 20 pips, but a Take Profit is from 100 to up to 2000 pips; developers provided an example.
Trend Reversal Signal allows us to catch the moment when the trend turns around. These signals are delivered only after the confirmation.
Big Trade signals are generated based on the significant but predictable market moves.
Commodity Signals are generated for Gold, Silver, Crude Oil, and other similar positions.
News Trading Signals are based on High-impact news.
Price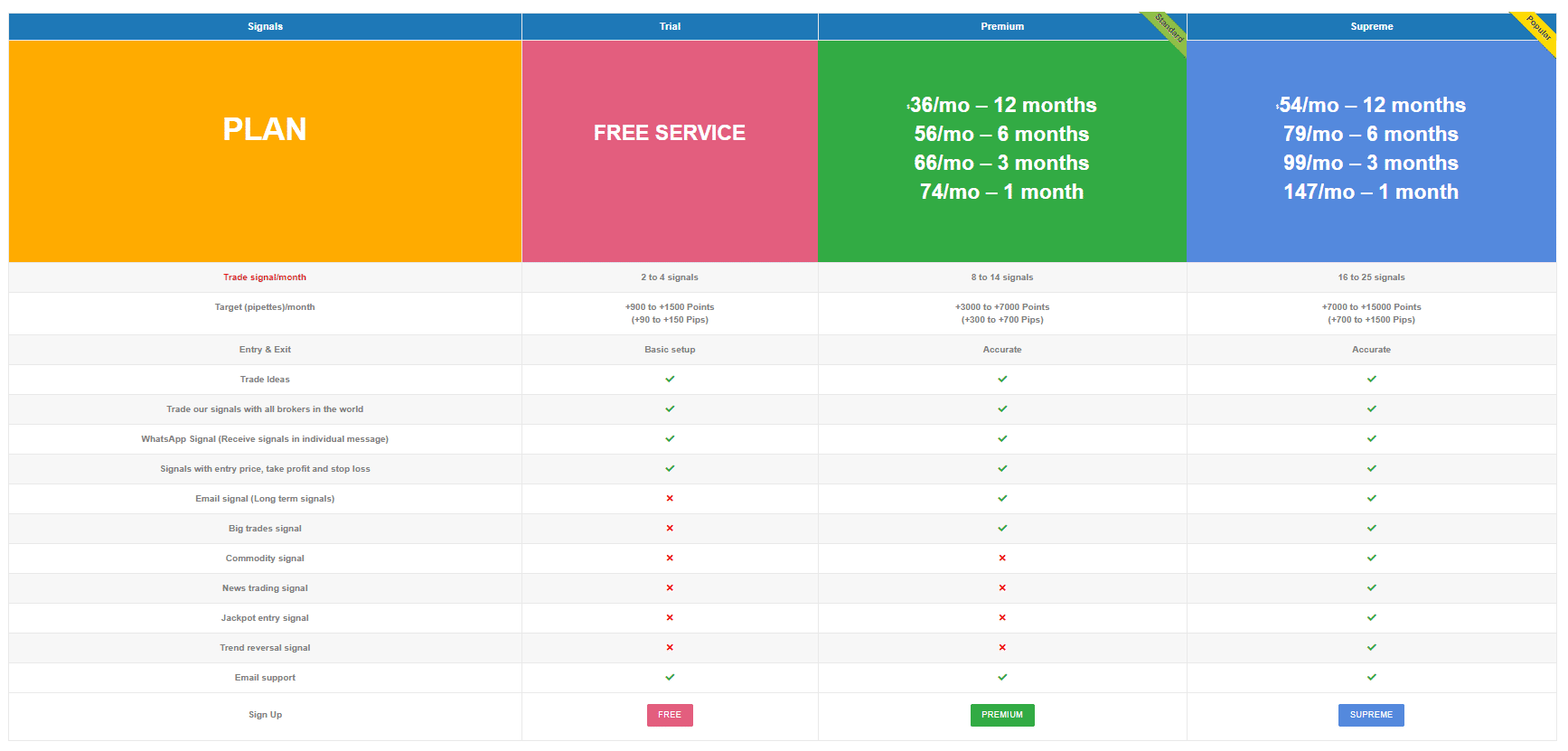 We have three packages with some features on the board published. The Free Service pack is available for free. There are 2-4 signals provided per month. We can expect to get 900-1500 pips monthly. Entry and Exit are based on the Basic setup rules. The premium signal is available for one month – $74, three-month – $66/monthly, six-month – $56 monthly, and annual – $36 monthly. The package includes 8-14 signals monthly. The pips expectations are 3000-7000 monthly. The supreme package is available for $147 monthly, three-month – $99 monthly, six-month – $79 monthly, and annual – $54 monthly. It includes 16-25 signals monthly. We can get 7000-15000 monthly. This pack includes all types of signals.


There are ten paid systems we can use to purchase them.
Unverified Trading Results
The developers provided many screenshots of the success if it's occurred.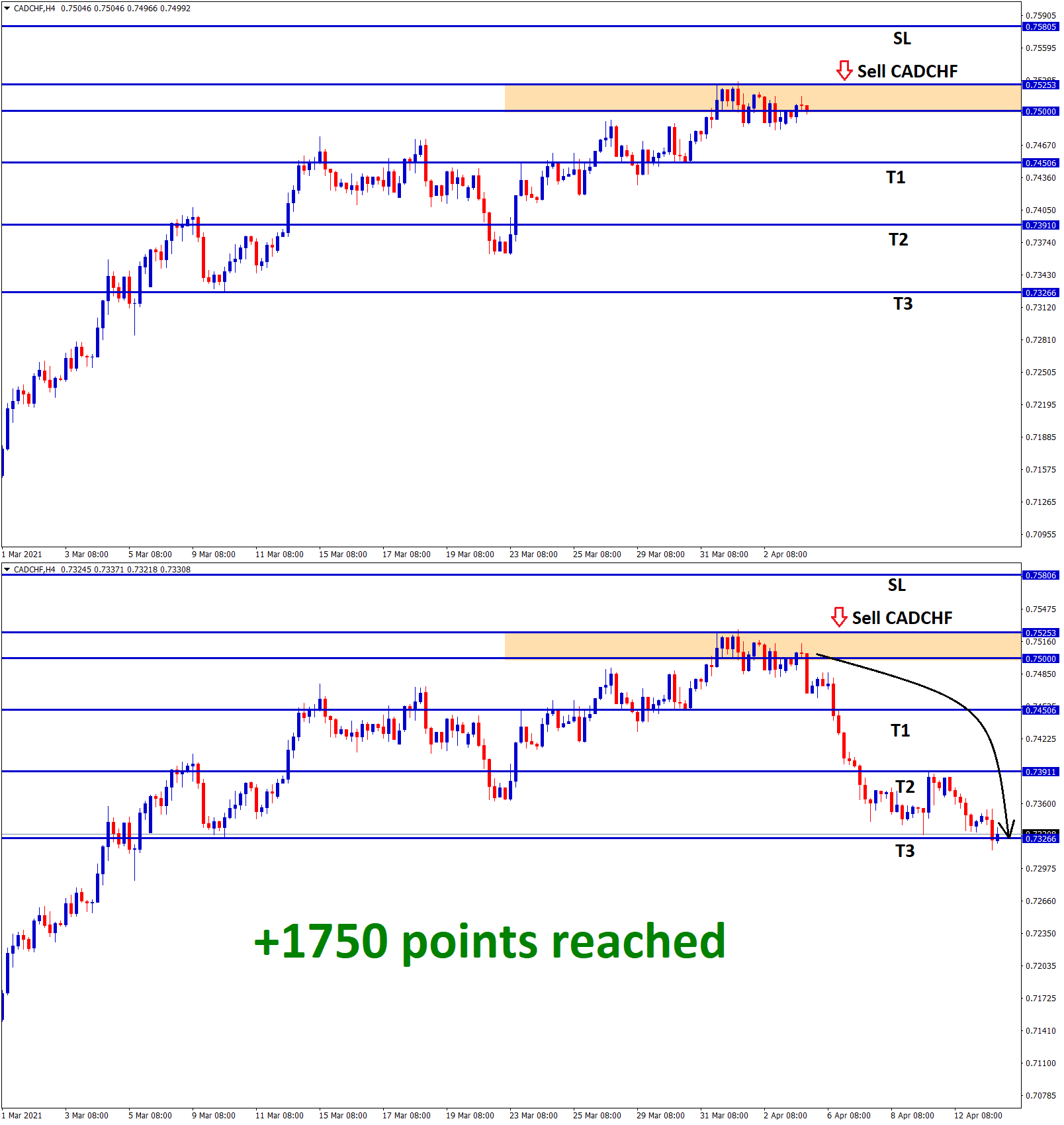 These chartings are good. Everyone can draw them after knowing where the market went. People like us would like to see verified trading results. It's important because only there we can find the most important information: real win rate, absolute gain, an average monthly gain, drawdowns, profit factor, and others.
People feedback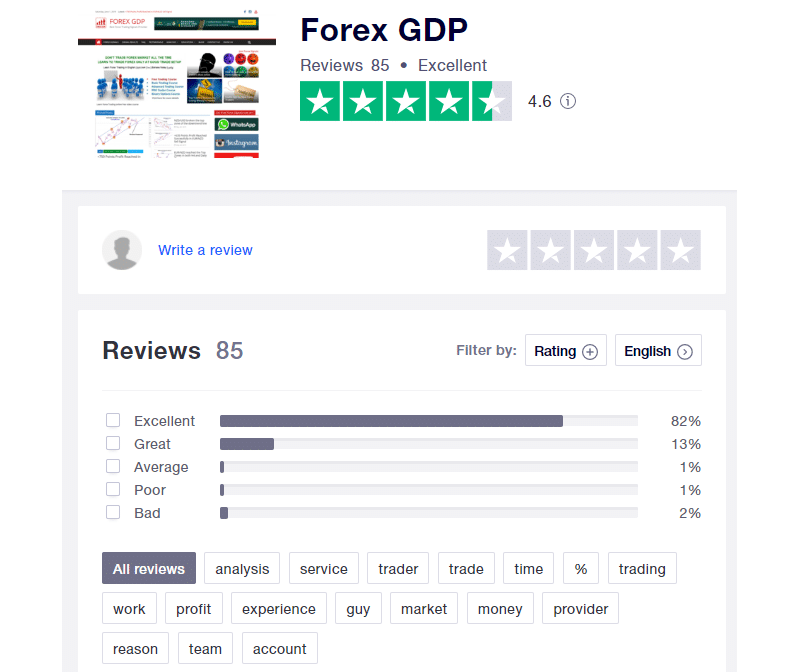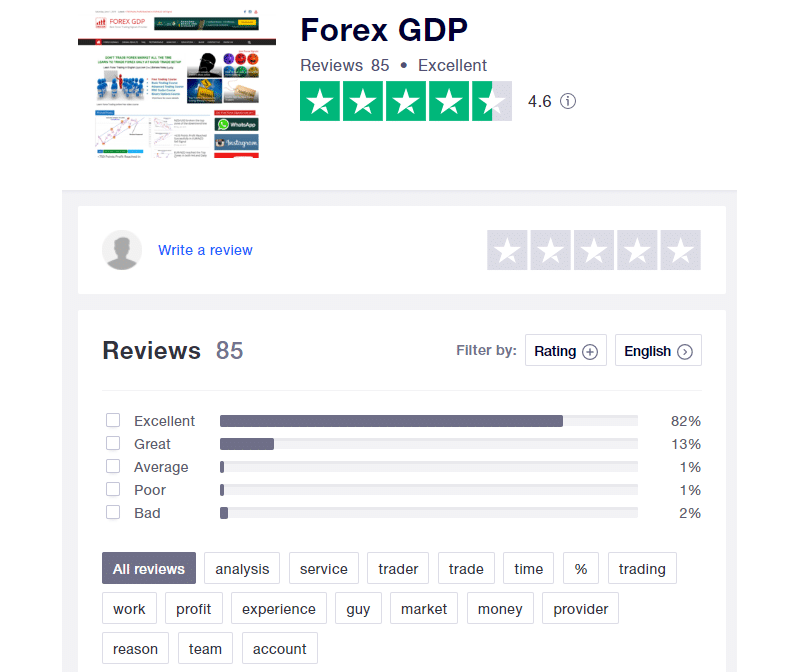 Forex GDP has a page on Trustpilot with a 4.6 rate based on 85 reviews. There are few negative testimonials.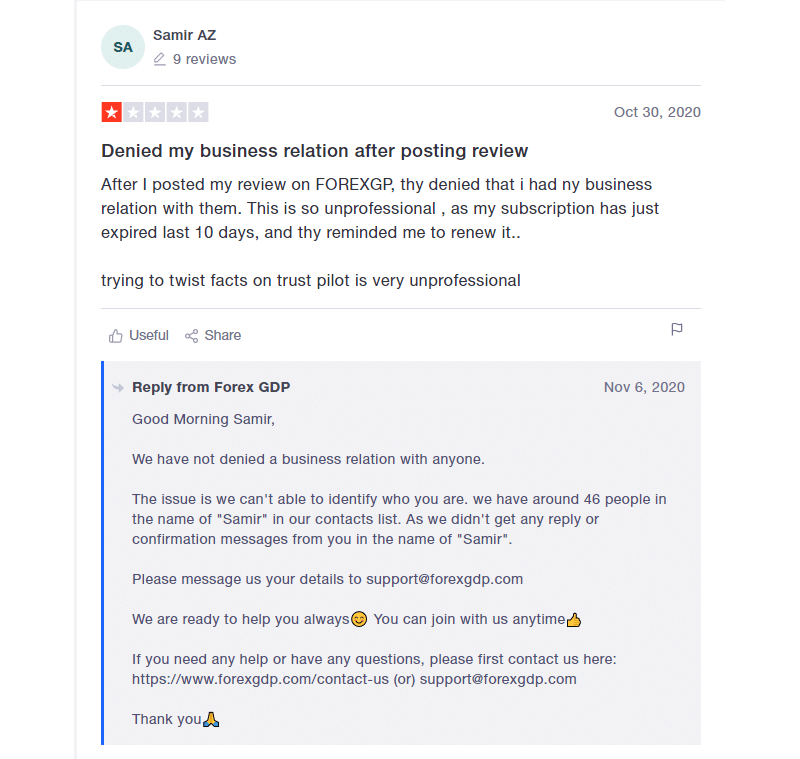 It's even hard to read. We are not sure this is real feedback because if it was the one, the person would check the spelling just because it respects the community.
Summing Up
Strategy – score (7/10)
Functionality & Features  – score (2/10)
Trading Results – score (2/10)
Reliability – score (4/10)
Pricing – score (9/10)
Conclusion
Forex GDP has a discussable service. From one side, we have a good presentation, everything explained, chartings with analysis are posted consistently in the Telegram channel, and there is some positive feedback on Trustpilot. On another side, we have no backtest report and trading results provided. If these signals are that good and accurate, there should be trading results somewhere.