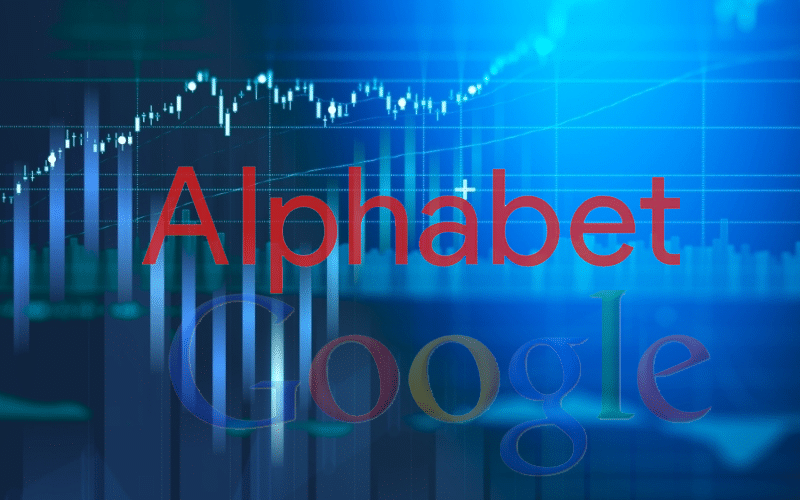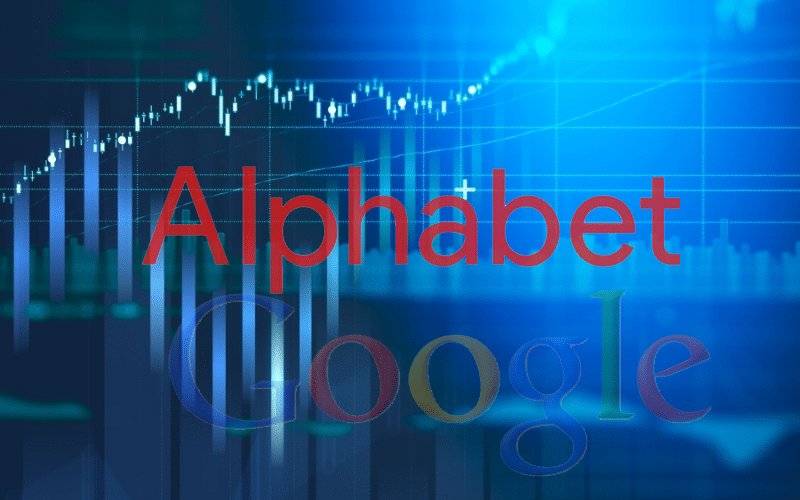 The Alphabet (NASDAQ: GOOG, GOOGL) stock price will be in the spotlight on Wednesday after the company announced robust earnings as demand for its ad products surged. The stock declined by 0.85% in the regular session and closed at $2,307. It then spiked by more than 4.30% in extended hours, bringing its year-to-date gains to more than 40%. This makes it the best performing FAANG stock this year.
Alphabet strong earnings
Alphabet is the fifth-largest company in the world by market cap after Apple, Microsoft, Saudi Aramco, and Amazon. It has a market cap of more than $1.55 trillion. The company is an essential part of how the world operates these days, with billions of people interacting with its products every day. It owns Google, YouTube, Android, Chrome, and Gmail, etc.
The Alphabet stock price jumped in the extended hours after the company announced a monster quarter. Its revenue jumped by 34% to more than $55.3 billion, helped by a robust advertising industry. The core search business revenue jumped by more than 30% to more than $31.9 billion. YouTube revenue also surged to a record $6 billion while its cloud business also jumped by double digits. Its total profit rose to $18 billion, a 162% increase.
As a result, Alphabet announced a major $50 share repurchase program as its total cash on hand surged to more than $135 billion.
Alphabet was not the only tech company to publish strong results. Microsoft's (MSFT) revenue surged to more than $41.7 billion. This growth was driven by the cloud computing business as intelligent cloud revenue rose to more than $15.12 billion. Gaming also helped. Analysts expect that Facebook (FB) revenue also jumped.
Is Alphabet stock a buy?
Alphabet has been a strong company for its investors and analysts believe that it will keep rising. First, it has a strong market share in the search business. No other search giant comes close. Second, it is also a leading player in video, with YouTube being the most popular platform. These assets make it the most valuable player in the global ad business.
Third, its Android operating system has the biggest market share that the company can monetize. Most importantly, the company is yet to monetize some of its products like maps and Google Meet to the maximum. Also, its cloud business is seeing robust adoption. Further, the company has a strong balance sheet with more than $135 billion in cash and a negligible amount in debt.
As a result, many analysts believe that the company's stock will continue growing in the long term. After its earnings yesterday, analysts at Canaccord Genuity boosted their outlook for GOOG stock from $2,400 to $2,600, while those at Oppenheimer Funds boosted their forecast to $2,350. Before earnings, analysts at Cowen, JP Morgan, Mizuho, and Wedbush all had a buy rating of the stock.
Looking ahead, from a fundamental view, Alphabet will keep doing well as the economy rebounds and companies boost their ad spending.
GOOG stock price outlook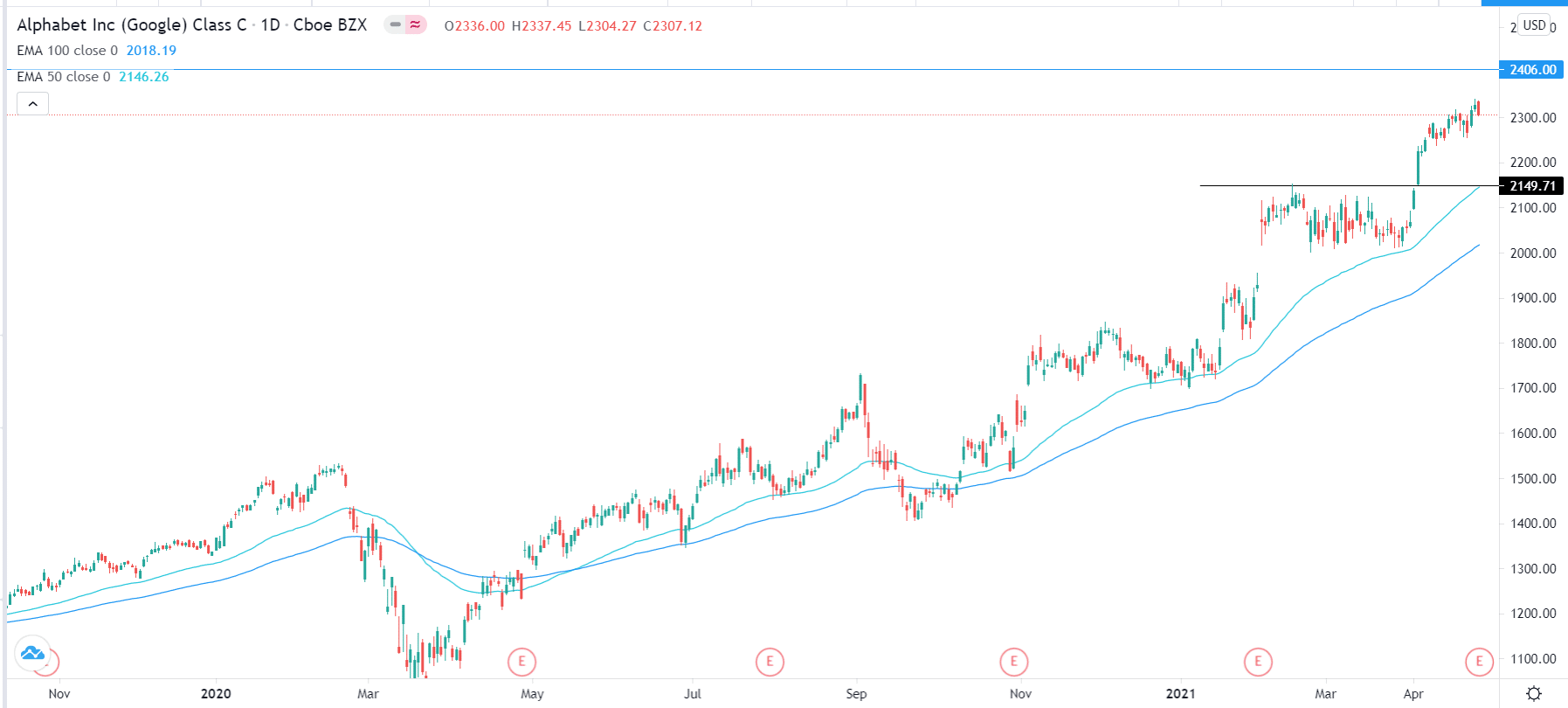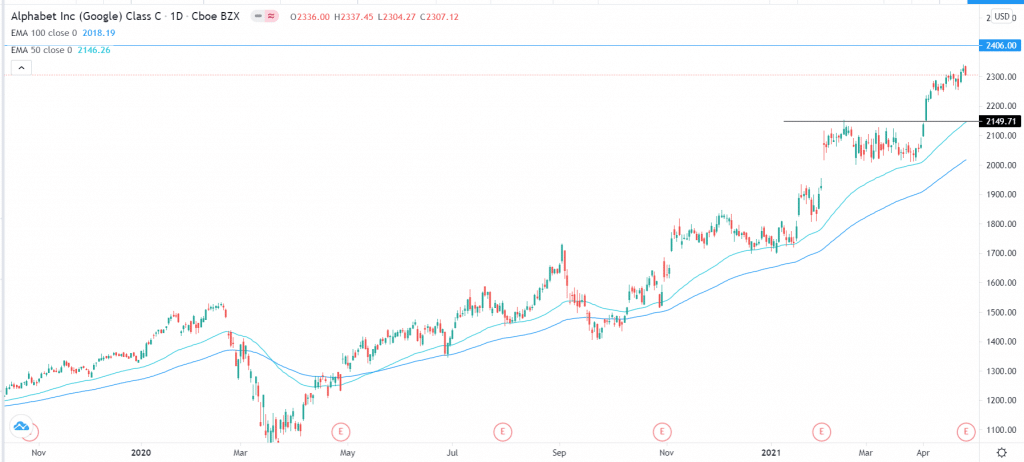 The GOOG stock price has been on a sharp upward momentum lately. On the daily chart, we see that the shares are significantly above the 50-day and 100-day exponential moving averages (EMA), which is a sign that bulls are in total control. The Relative Strength Index (RSI) has continued rising while the price is above the important resistance at $2,150. Therefore, in the long-term, the stock will continue rising as bulls target the next key resistance at $2,500. Nonetheless, in the short term, we cannot rule out a pullback as investors fade the news.