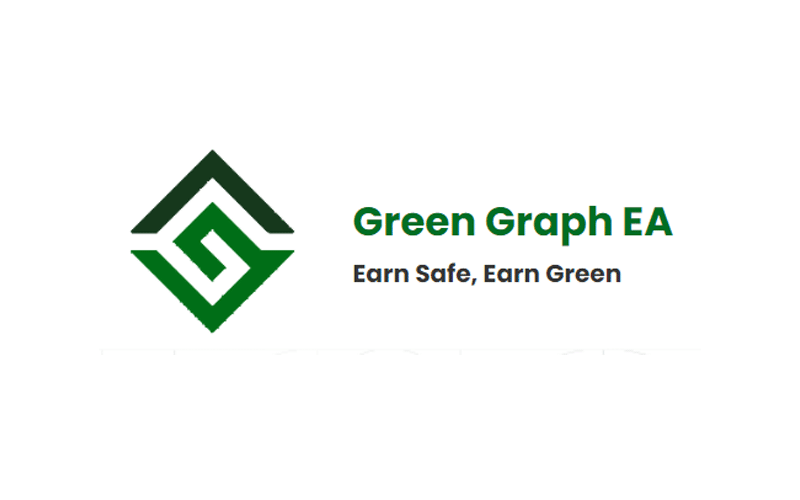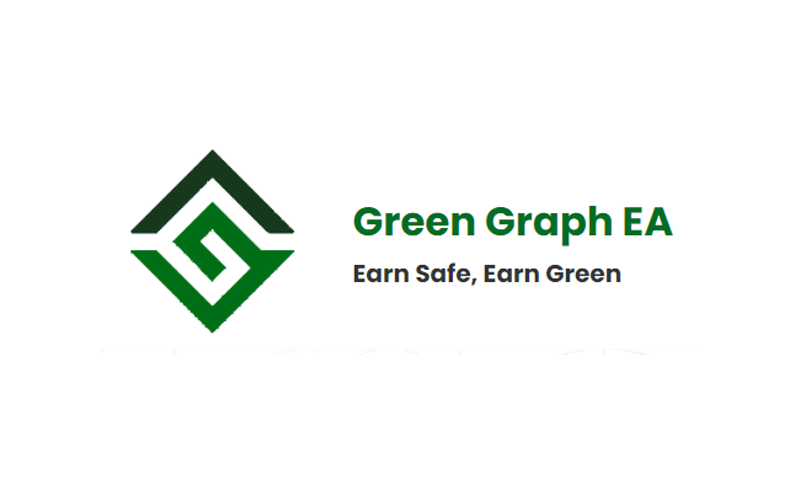 Green Graph EA is a robot with a very simple semi-professional presentation. We have few explanations about how the system works. The main statement is "Earn Safe, Earn Green". They convince us that "Green Graph EA trades green market, getting green profits & earning big money."
Is Investing in Green Graph EA a Good Decision?
We don't think so. The system trades with long-term periods of drawdowns because of many orders in Grids.
Company Profile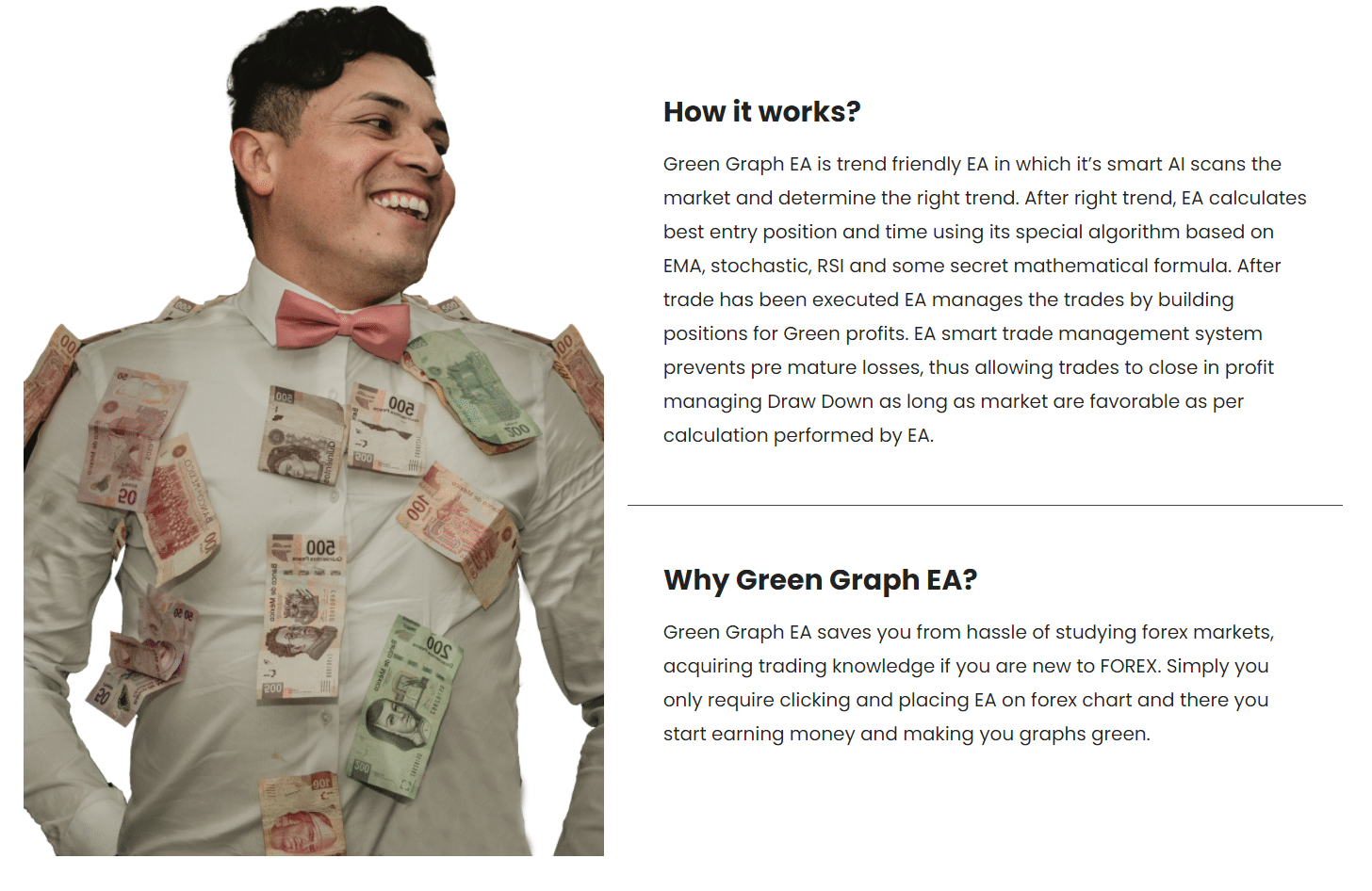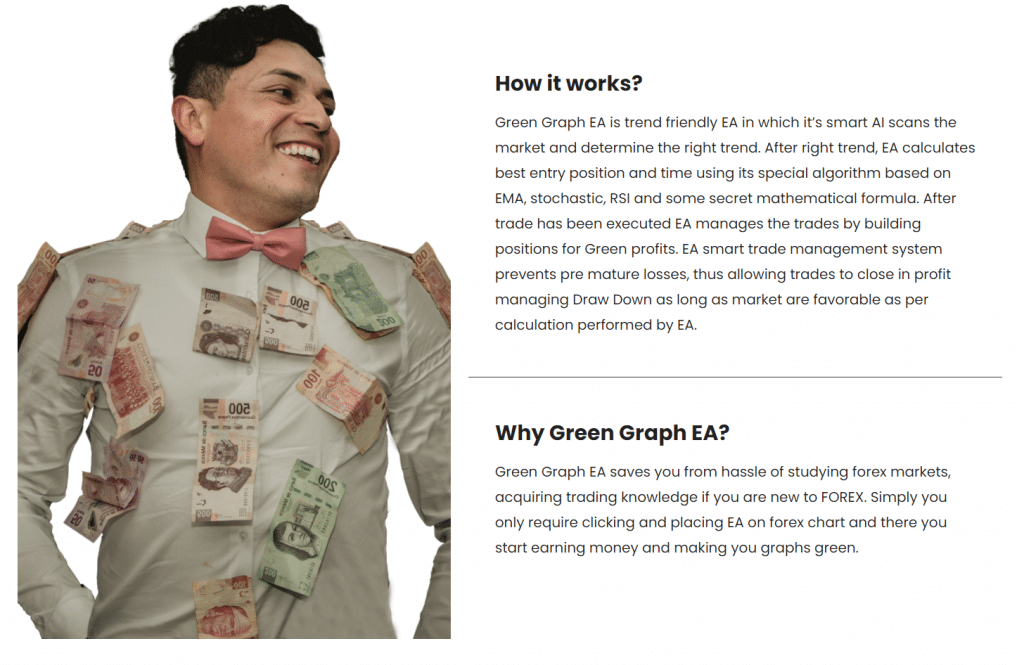 There's no company behind, just a developer. We don't know anything about his previous trading experience.
Main Features
We have united all shattered information in the following list of features, strategies, and settings:
Green Graph EA executes orders completely automatically for us.
The system looks for safe trading ideas.
There's a special algo that allows calculating pressure Entry Points.
It's based on EMA, stochastic, RSI, and some mathematical formulas.
It works with EUR/AUD, EUR/GBP, EUR/USD, and GBP/USD.
A backtest report showed that a robot works on the H1 time frame.
The system can reduce losses.
We don't need any previous special experience to start trading.
We may run the system on our broker or use the suggested broker.
The money-management system proceeds with open deals from opening to closing.
"EA is connected to the Green Graph website server where AI keeps revising the ticks and develops algorithm for future trades."


There are over 1000 visitors monthly (who cares?) and 100 traders (clients?).
The system avoids sitting in drawdowns.
We have to get $100 on balance to start trading.
The optimal leverage is from 1:500.
We may change the default settings if needed.
The system requires VPS service to execute orders quickly.
Price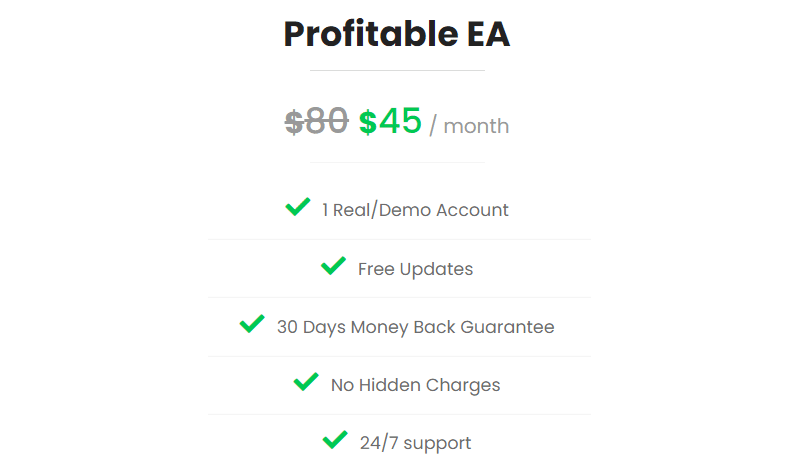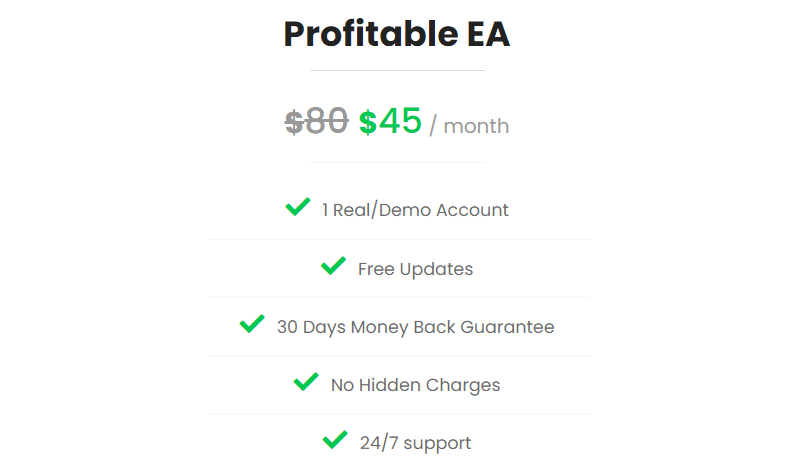 We can subscribe to the service proceeding with a single package. The one-month subscription costs $45 instead of $80. It's a common price for a robot subscription. We will get one real and demo account, free updates, a 30-day money-back guarantee, no hidden charges, and 24/7 support.
Verified Trading Results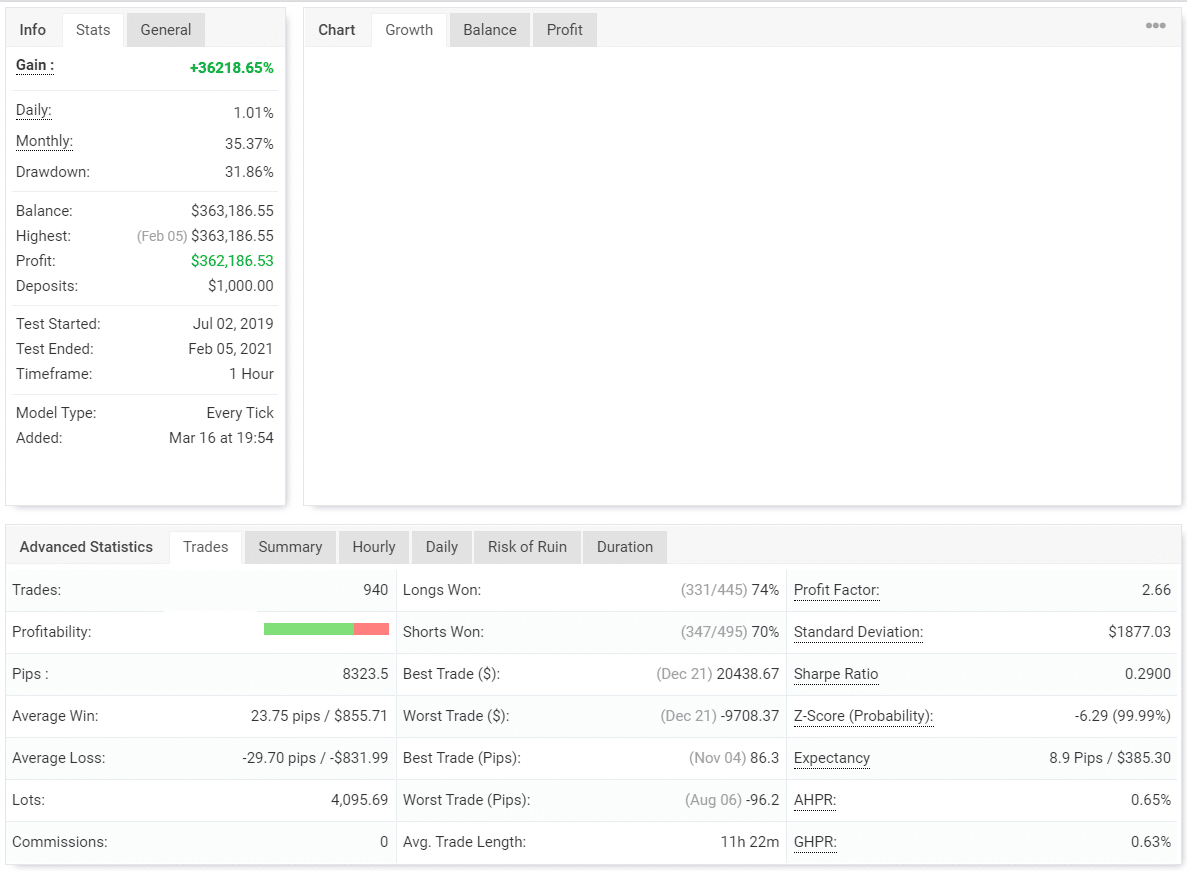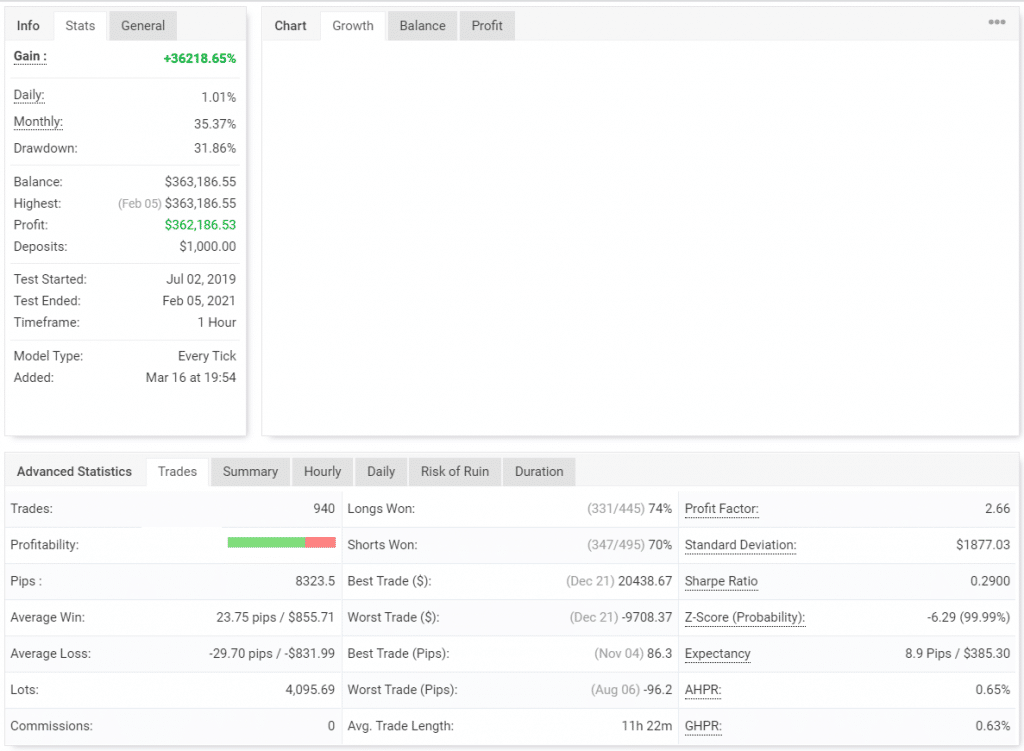 It's a EUR/AUD backtest of the H1 time frame. The period was from July 02, 2019, to February 05, 2021. The absolute gain was 36,218%. An average monthly profit was 35.37%. The maximum drawdown was 31.86%. The robot has closed 940 deals with 8323 pips. An average win was 23.75 pips when an average loss was 29.70 pips. The win rate is 74% for Longs and 70% for Shorts. An average trade length was eleven hours and twenty-two minutes. The Profit Factor was 2.66.


It traded both directions equally.


The system traded with low risks.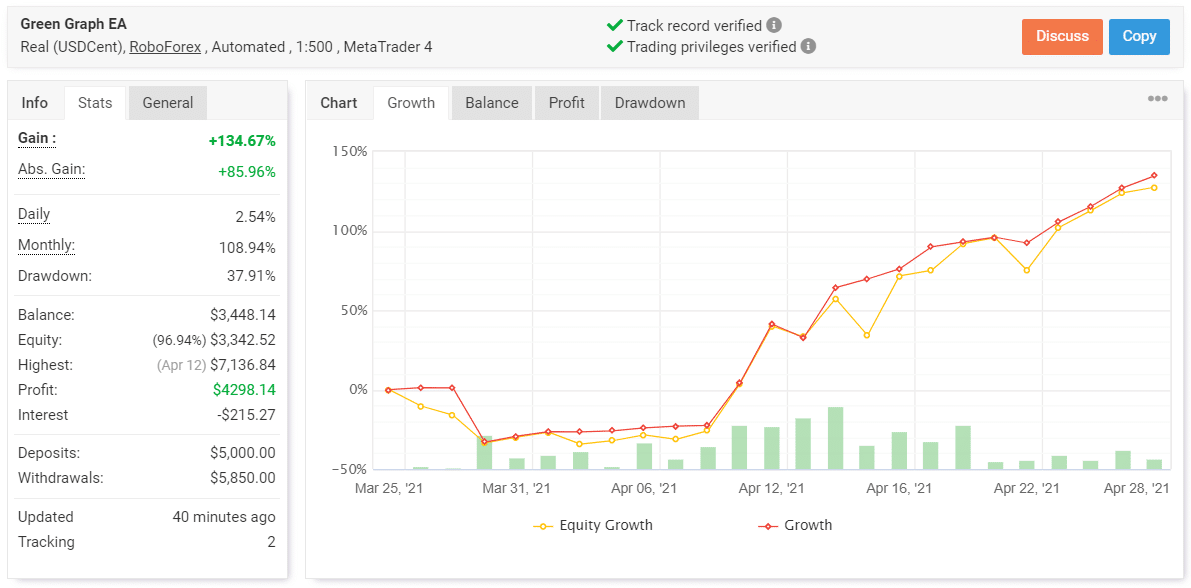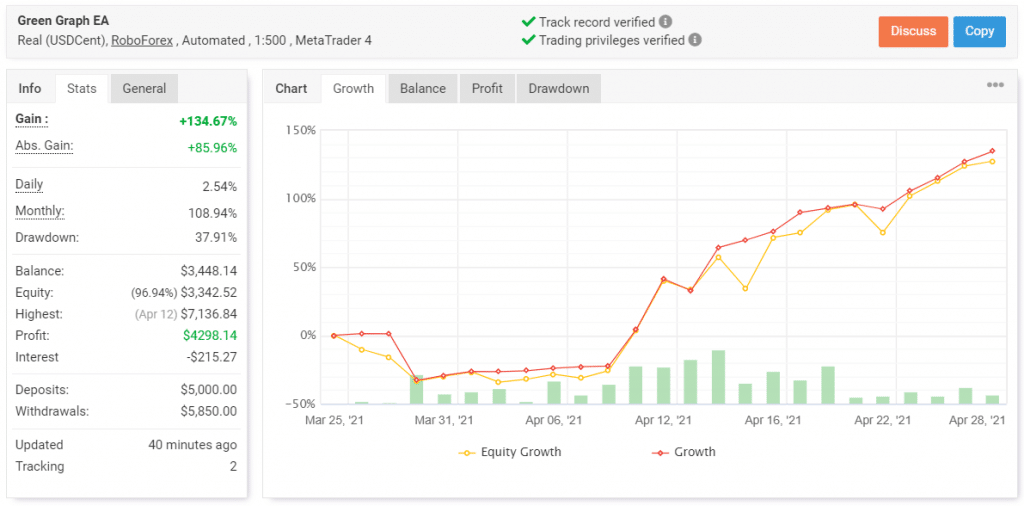 Green Graph EA runs a real USC account on RoboForex, trading automatically. The leverage is 1:500. The platform is MetaTrader 4. The account has a verified track record and verified trading privileges. It was created on March 25, 2021, deposited at $5,000, and withdrawn at $5,850. Since then, the absolute gain has become +134.67%. An average monthly gain is 108.94%. The maximum drawdown is 37.91%. Two traders track the account.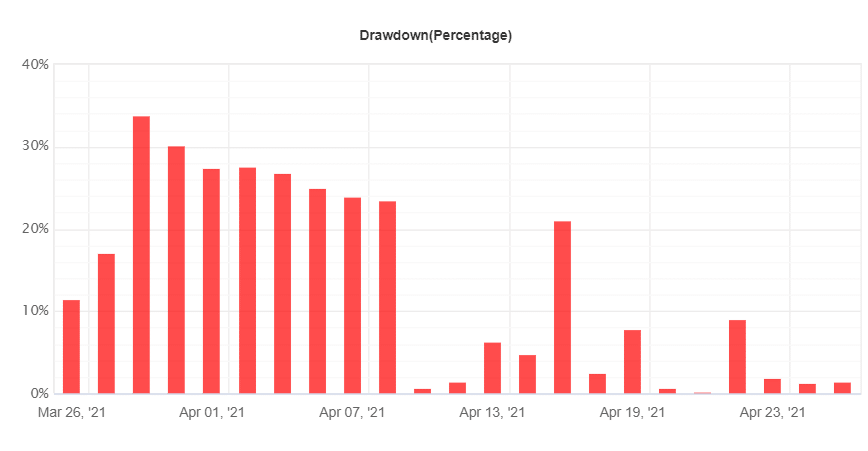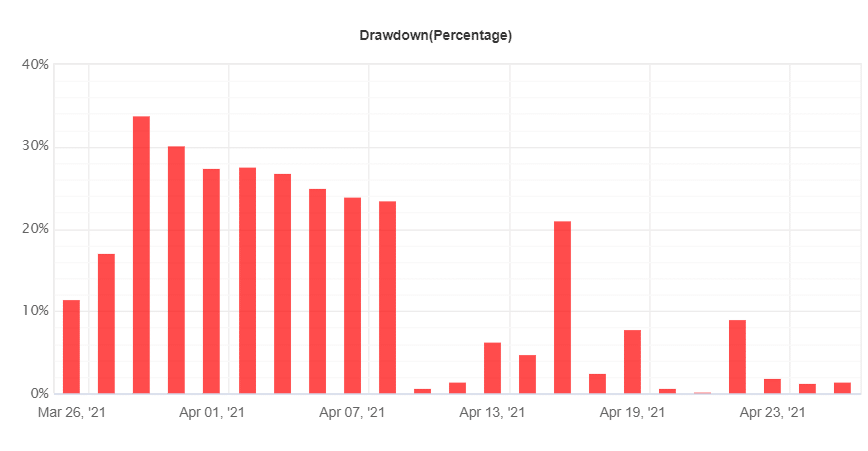 The system sits in the deep drawdowns. This is too risky for trading.


Green Graph EA traded 416 deals with 1605.2 pips. An average win is 17.39 pips when an average loss is -29.12 pips. The Longs positions win rate is 64%. The Shorts positions win rate is 73%. An average trade length is fifteen hours and seven minutes. The Profit Factor is 1.66.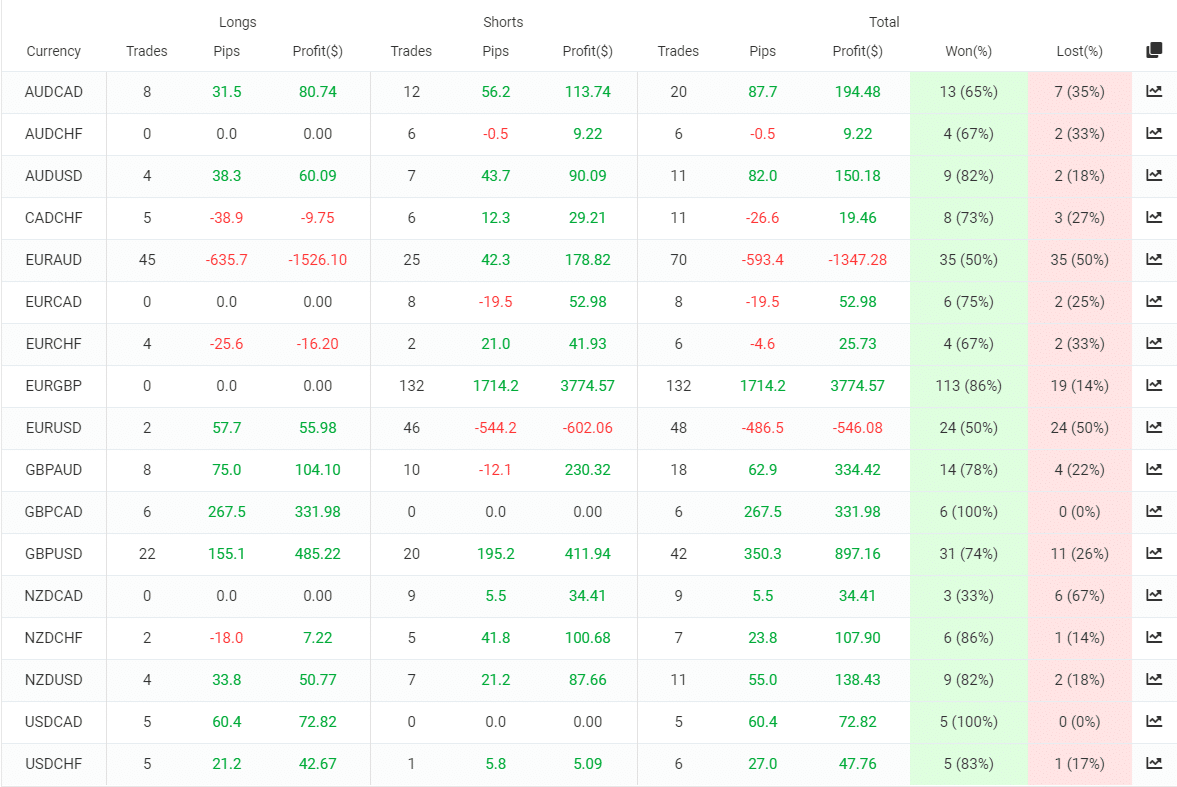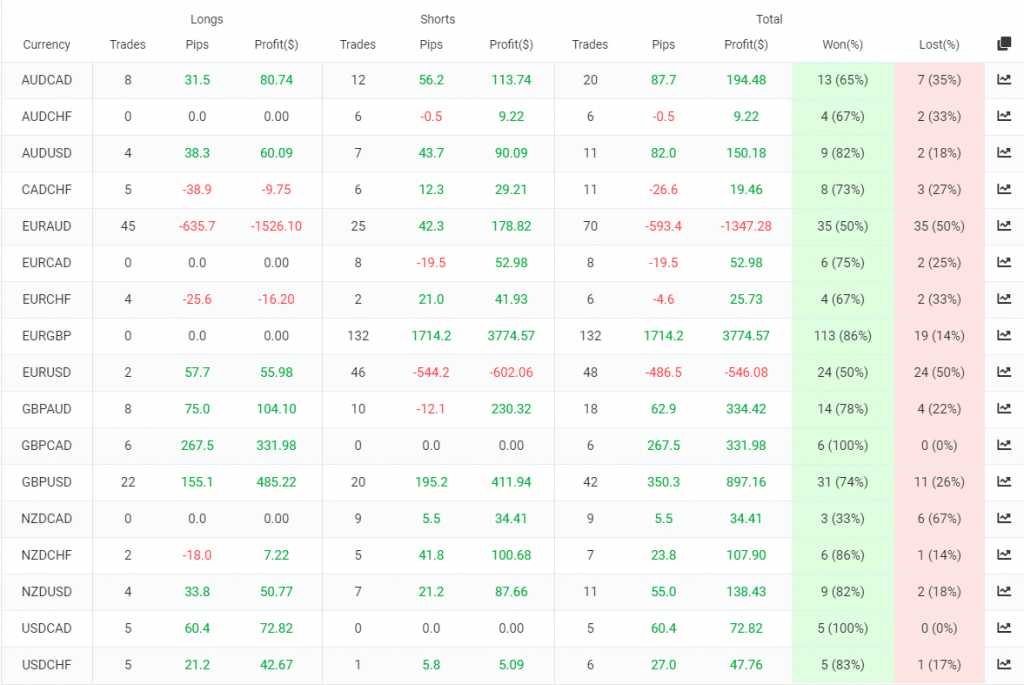 The robot works with seventeen currency pairs. The most profitable and most traded is EUR/GBP with 132 deals and $3,774.54. EUR/AUD has brought a loss of -$1347.28.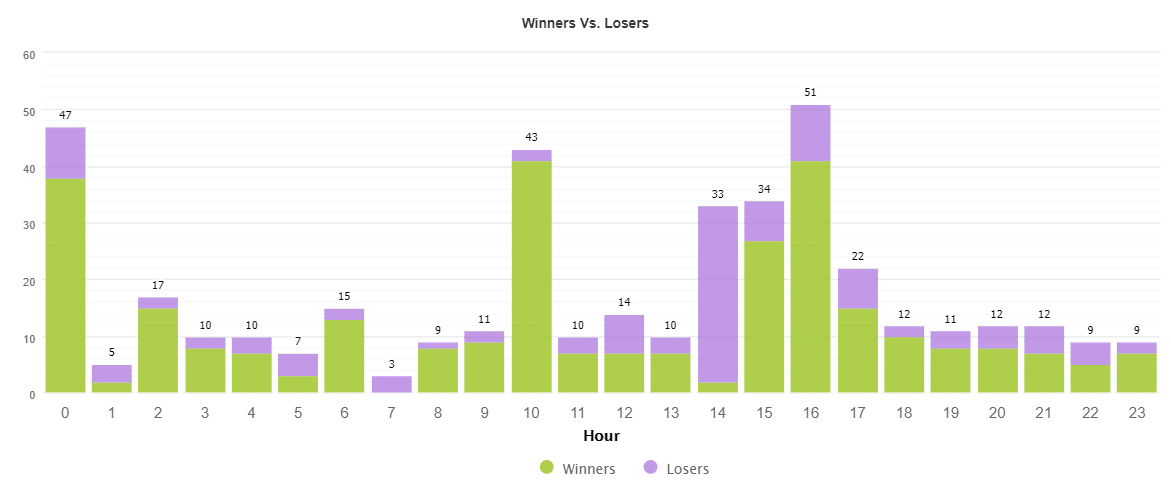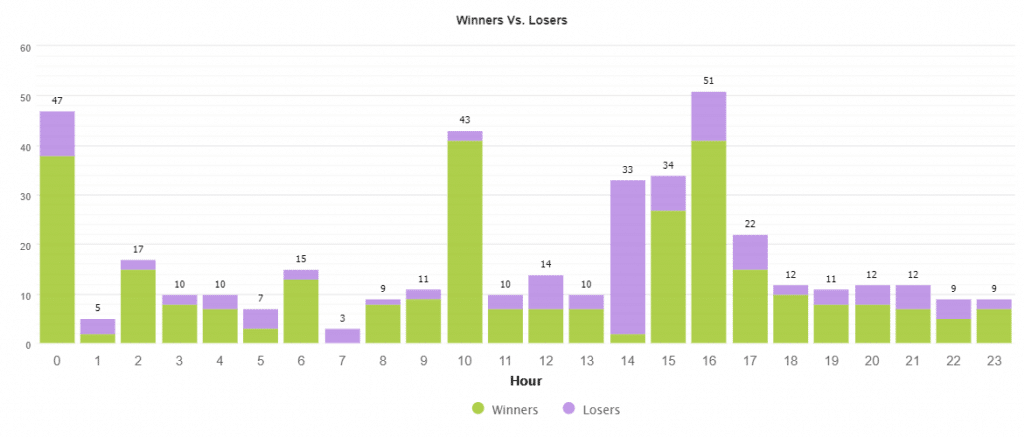 The robot focuses on trading during the night market, European market, and a high impact news period between 2 p.m. and 4 p.m.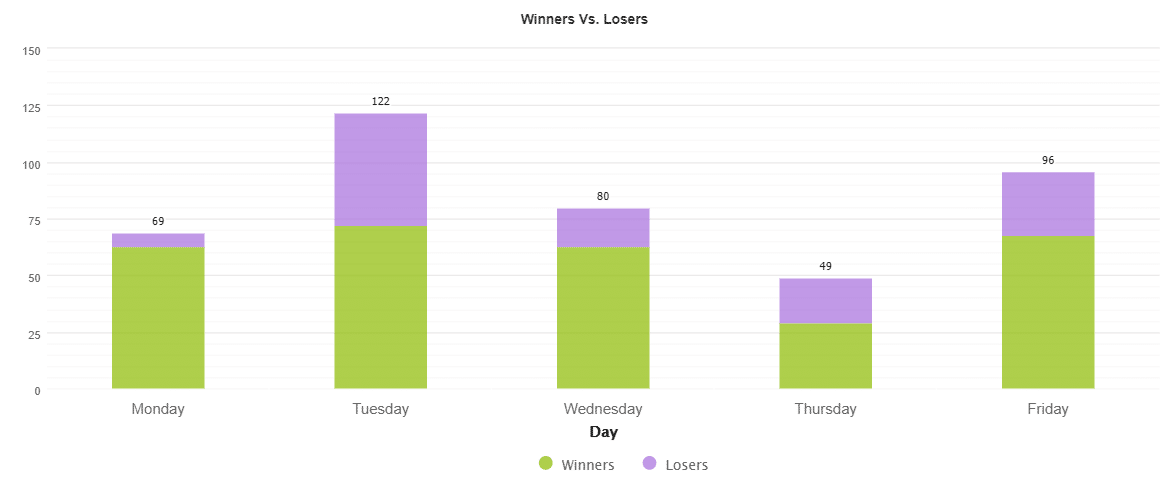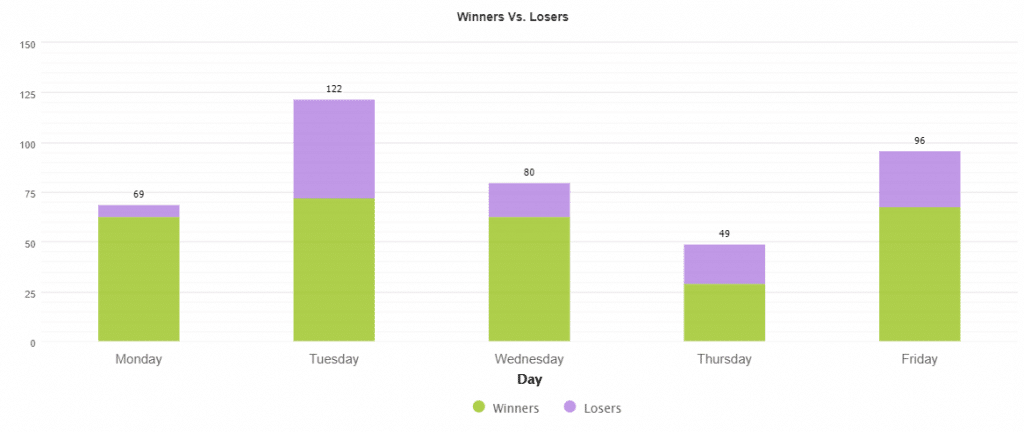 Tuesday is the most traded day – 122 deals.


The system starts working with medium risks. It was changed several days ago.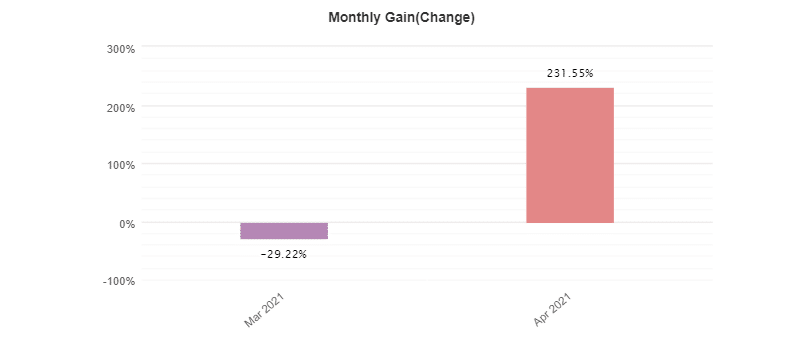 March was closed with loss, and April 2021 is going to be closed with huge profits.
People feedback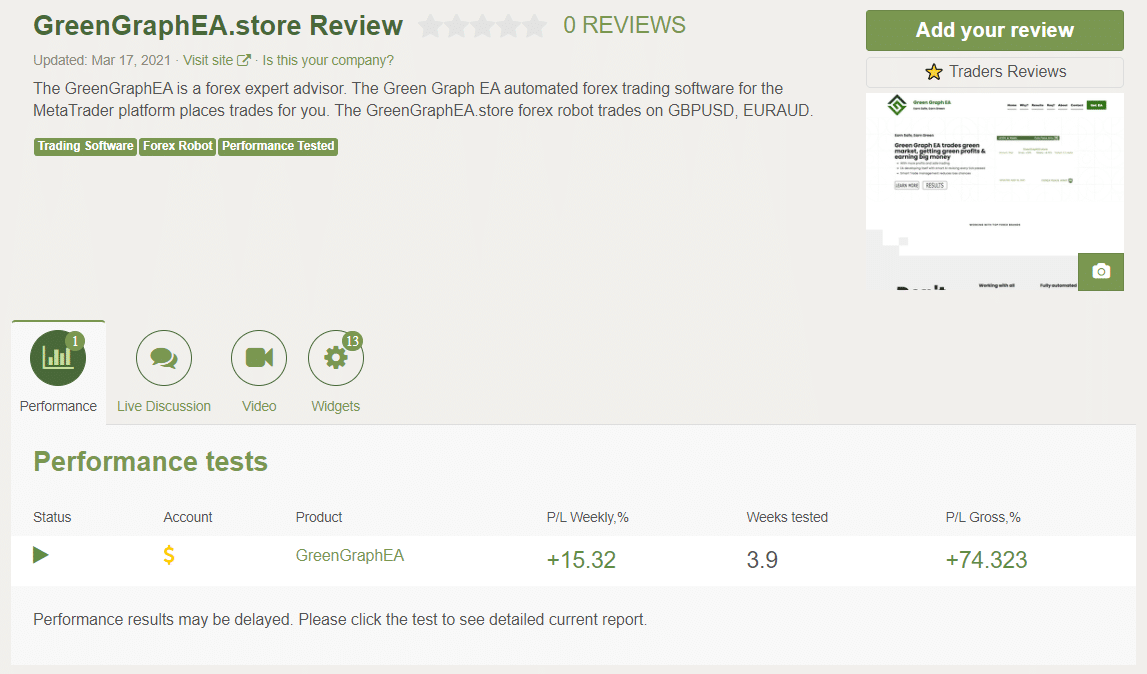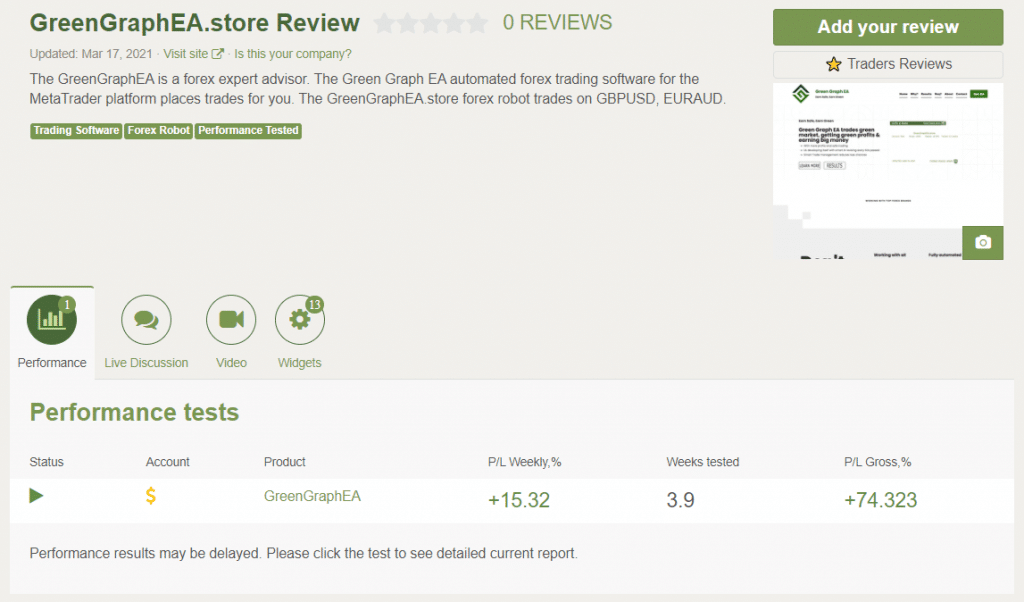 We have a page of Green Graph EA on Forex Peace Army. There are no comments or rates on the page.
Summing Up
Conclusion
Green Graph EA is a trading solution that was backtested until February 2021. So, the system is two months old. Trading results showed that the robot trades unpredictably with big periods of significant drawdowns. The robot is too dangerous to use on the real account. Withdrawn deposit funds convinced us of this.