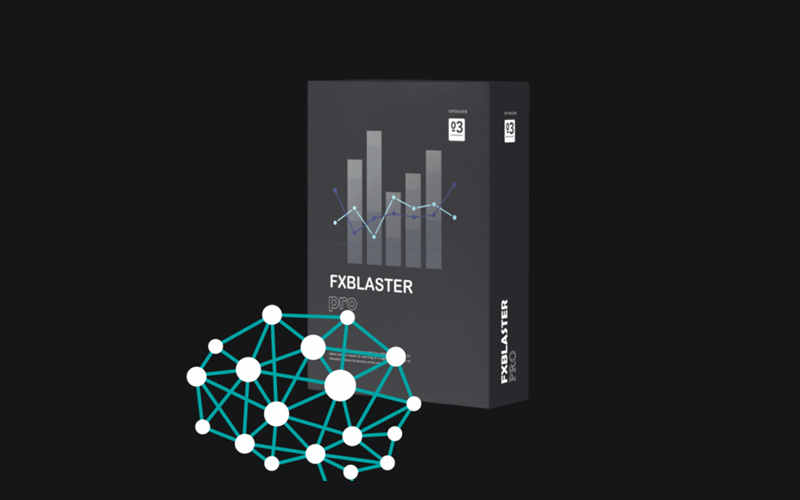 If you want a robot to trade for you and provide 'consistent and profitable' great trading performance, then FX BlasterPro is what you need – it is what the developers of this trading system want us to say on their sales page. However, with so many robots available in the Forex market, choosing what brand to buy can be challenging, especially for beginners. So, we are here to provide you with a detailed FX BlasterPRO review and tell everything you have to know about this trading system before investing in it.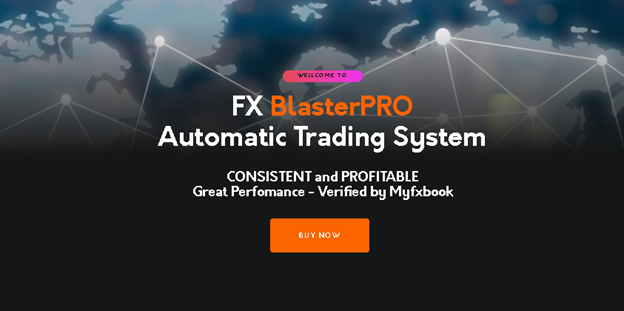 Is Investing in FX BlasterPRO a Good Decision?
We do not recommend the software to the public. The overall website presentation misses info where it is the most needed. We neither know who stands for this EA, nor where they are located. Moreover, the robot is not as productive as it used to be.
Company Profile
The vendor provides no information about who they are, where their headquarter is located, or what trading experience they have. Lack of information equals lack of trust, as we all want to know who the developer is and whether it is safe to trust him before we buy his product and start trading with his EA. Therefore, we have decided to conduct additional research and found that FX BlasterPro is hosted on the same server as Maxturbo EA and Maximal EA. Thus, we may assume that all these products were developed by the same team. We have to say that both these products have negative client feedback ratings, because of an extremely high drawdown and risky trading approach. However, we are not here to judge Maxturbo EA or Maximal EA. Our goal is FX BlasterPro.
Main Features
The developer points out the main features of FX Blaster Pro:
The EA suits both experienced traders and those with minimum or zero trading experience
The robot is easy to use, understand and setup
It's a 100% automated trading tool
It can be adjusted to an individual trader's needs
Compatible with all brokers and accounts
We can expect to get free, welcome, and knowledgeable support
Also, the expert advisor has the following features:
Money management – the vendor failed to provide detailed information to tell us what they designed
The EA is said to be continuously profitable – what are the proofs? What about market volatility?
The robot is equipped with a recovery system, which allows hedging if a trade was closed with a loss
FX Blaster Pro has slippage protection, which can protect traders' accounts by placing limits or guaranteed stops on traders' active positions

The system has also broker protection, which protects traders' accounts from fraud activities on the broker side
The robot uses 3 different trading strategies which can be combined or work apart (smart trend/grid/hedge/semi-martingale)
The EA works with four risk levels Low, Middle, High, Combi
The company has over 10 years' experience in trading (we have no reason to trust these claims as we even do not know who the developers are)
As mentioned above, the robot uses 3 different trading strategies. We are told that the EA combines 3 concepts: Trend, Grid, Hedge, and semi Martingale trading strategies according to different trading risks ( low/middle/high/combi).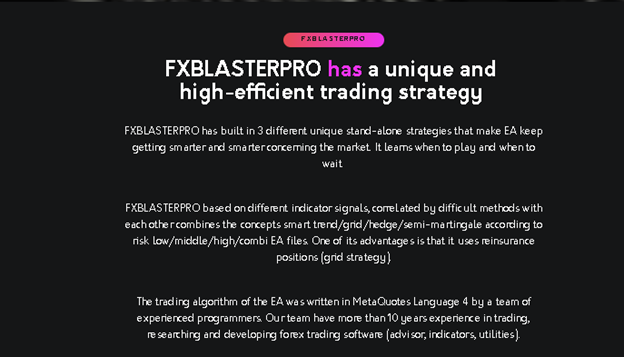 That is all we know about the trading strategies used by this expert advisor. Thus, we can say that FX BlasterPro uses a risky trading approach because, historically, Grid, Hedge, and Martingale have nothing in common with safe and risk-free trading.
Price
FX BlasterPro is available in 2 different packages: Standard ($299) and Advance ($459).

The standard package includes 1 Real account, while Advance offers 3 Real accounts. Once you pay for a software, you receive a user manual, free software updates, and full-time customer support: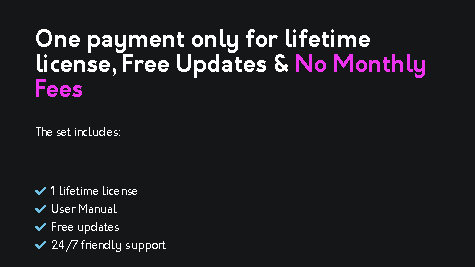 Additionally, each package comes with a 30 days money-back guarantee. Therefore, in case within 30 days after purchase, you notice that the drawdown is higher than 40%, you can easily ask for a full money refund. As compensation, the devs will provide you with a copy of FX BlasterPro.

Trading Results
The vendor failed to provide backtesting results on their sales page. Therefore, we cannot analyze how the system was performing during different market conditions and what trading strategies it used. We cannot compare its past trading results with the current ones (analyze and compare its win rate, risk factors, profit factor, lot size, drawdown, and more).
Although there is no backtesting info on the web, there is an active trading account results published on myfxbook: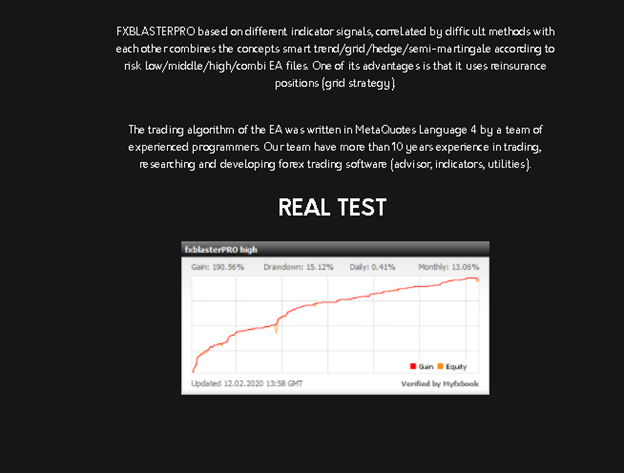 It is a Real USD trading account that works on the MT4 platform with the Fort Financial Services broker. It is trading with high leverage which equals 1: 1000. The account was added on March 17, 2020. Since that time, it has obtained a gain of over 190% with an average monthly gain of 13, 07% and a peak drawdown of 15, 12%.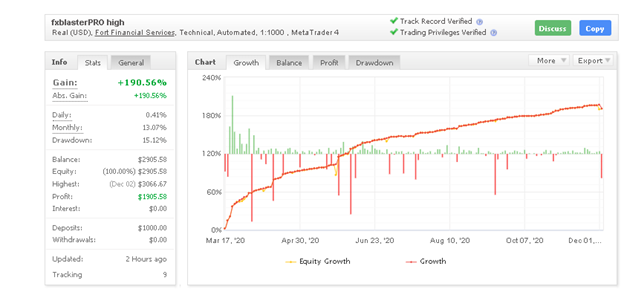 The initial deposit was 1000 dollars. For over 8 months of trading, the robot has brought under $2K of profit. Now its balance equals $2905.
On the screenshot below, you may see that the robot trades safe with low drawdowns: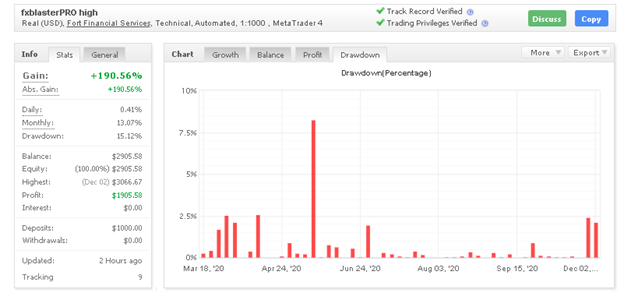 Since May, the robot has traded 2538 trades and -380.3 pips. The average trade length is 2 hours and 54 minutes. The average win in pips is twice lower than the average loss: 10.99 pips vs -22.87 pips. The win-rate is 66% for Longs and 68% for Shorts. The Profit Factor is 1.58.
The EA trades 6 currency pairs. The best trading results are achieved with USD/CAD – $508, 61.

FX BlasterPro trades daily, from Monday to Friday as it used to be for most EAs: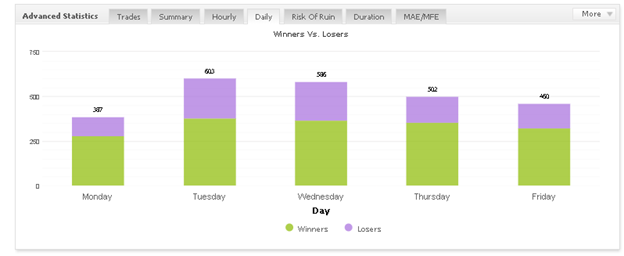 As you may see, the robots monthly gain does not look as impressive as it used to be at the beginning of its trading journey: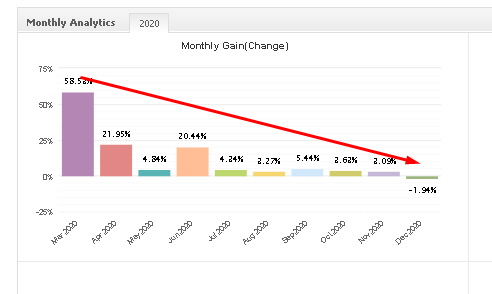 Now, its monthly gain ranges between 5%-2%. Although December has just started, we notice a negative monthly profit, which equals -1, 94%.
Customer Feedback
Unfortunately, we have not found any customer review neither on the FPA nor on the other third party web. Lack of customers' reviews is not a good sign for the robot which has been on the market since May 2020.
Summing Up
Their website presentation looks confusing and lacks info where it is the most needed. We know that the robot uses 3 different strategies, but there is no real detail of how they all work together. We would like to see much clarity when it comes to FX Blaster company boasting about its 10 years' experience. Now, the EA is not showing good trading results. Thus, we would not recommend the software today but will be keeping a close eye on it to see how it will be working in the future.