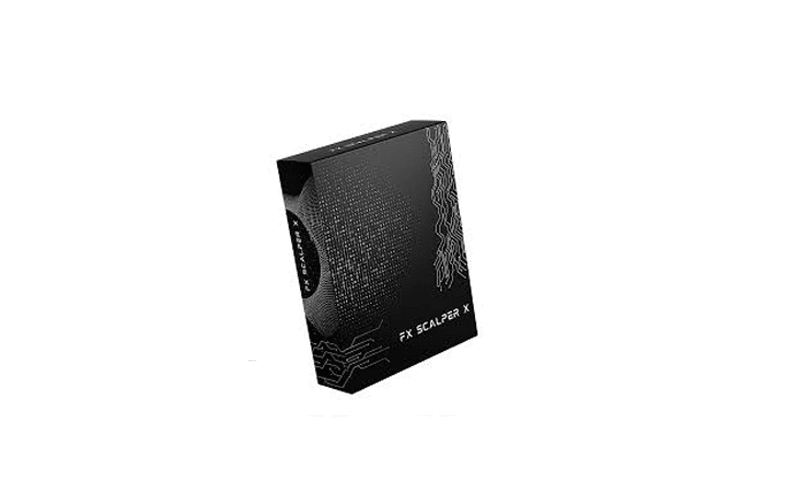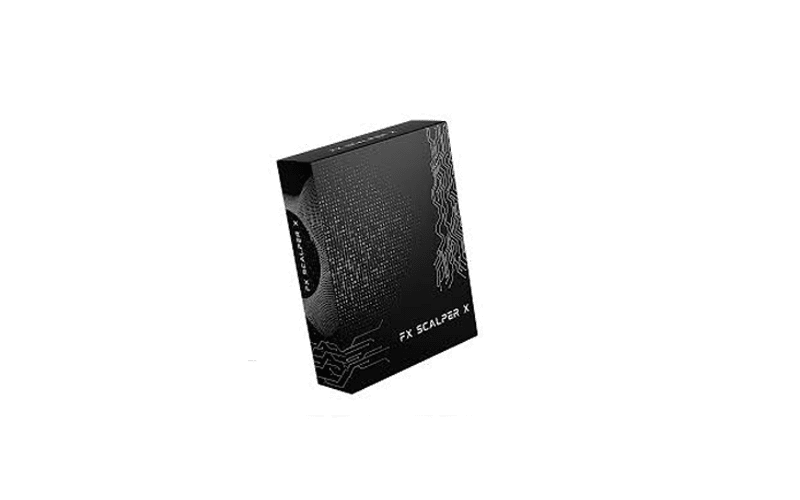 FX Scalper X is a Forex EA that earned huge profits of $100-$150K in 2020 and promises to grow your money using advanced automated trading techniques. It is a user-friendly system that successfully eliminates human emotions from trading and prevents you from exhausting your account. Since there are several other Forex EAs on the market making similar claims, they need to be verified through careful and thorough analysis.
Is Investing in FX Scalper X a Good Decision?
To analyze the profitability and reliability of the robot, we have taken into account several factors like website presentation, vendor transparency, features, price, trading results, and customer reviews. After all, traders feel more confident about investing in a system that excels in all the departments. By taking a quick look at the website, we can see that the vendor has furnished the live trading results as well as backtesting data, and this alone tells us that FX Scalper X might be worth trying.
Company Profile
On the official website, the vendor has focused on the 10 years backtests showing historical results, and the live trading performance. While many other Forex EAs take a marketing-based approach on their website, where the vendor has chosen to highlight the results, which is a fact that we appreciate. It tells us that the vendor has confidence in their system and that they are not afraid to reveal how it performs in the live market.
While transparency is maintained in terms of the trading results, the same cannot be said for vendor transparency, since there is hardly any information about the company on the official website. We don't know anything about their background, their year of foundation, or how many years of experience they have. The identities of the traders and the development team have not been revealed, and we don't know the physical address of the company if it has one.
Main Features
FX Scalper X is a robot that lets you earn profits on autopilot and uses an advanced algorithm to prevent your account from blowing up. It trades in pairs like EUR/USD, EUR/JPY, GBP/USD, GBP/JPY, and others. You just need a minimum balance of $100 to start placing trades with the system, however, the vendor recommends using a larger amount for better results.
Although the trading strategy isn't explicitly mentioned anywhere, it can be assumed that FX Scalper X is a scalping bot. This technique allows you to capitulate on small price shifts in the market and lets you earn small profits consistently. Scalping bots hold their positions only for a few minutes during the busiest trading hours, but it requires a trader to stay focused all the time.
The Scalping scheme often does not involve an indicator, and the main focus is on the asset's price. Price-related information is gathered from support and resistance levels, trendlines, candlestick charts, etc. Trades are taken only when the risk-reward ratio is highly favorable for the trader.
Price
FX Scalper X offers four different pricing plans for the software license. The 3 months, 6 months, yearly, and unlimited licenses are available for $117, $157, $197, and $277, respectively. When you purchase the bundle, you get access to 3 FX Scalper bots.
The vendor also provides a code using which you can get an additional 10% discount on your purchase. We think the prices are quite reasonable in regards to the market average.
Trading Results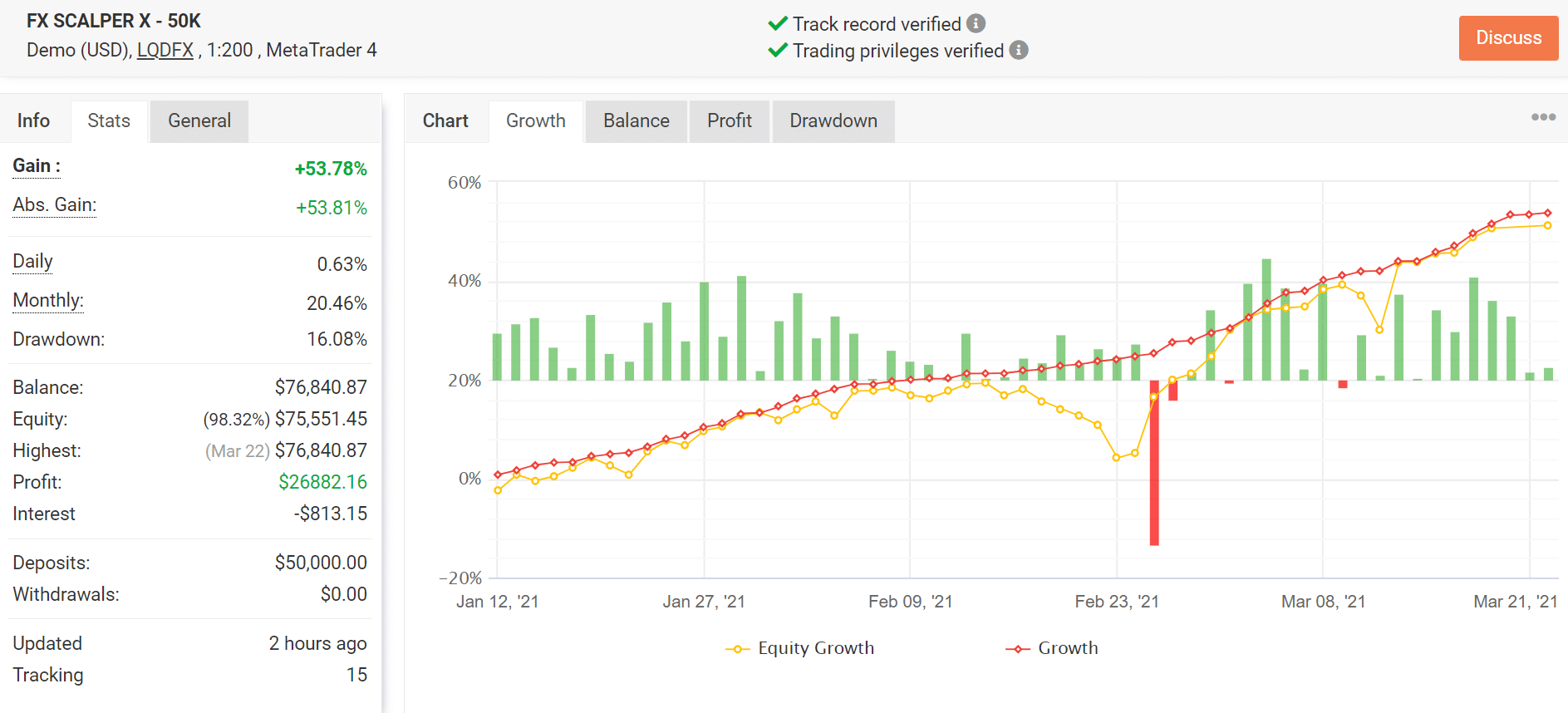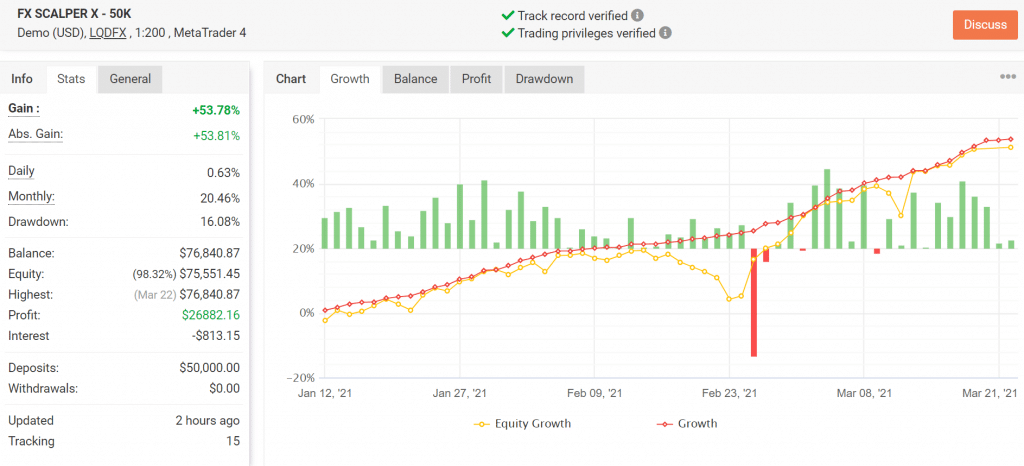 Here we have the live trading results for an FX Scalper X account on Myfxbook that trades with a leverage of 1:200. It has been live since 12th January 2021, but in this short period of time, it has placed 2202 trades, winning 1689 out of them. This means the trading account has a win percentage of 77% and an average win of 11.76 pips/$36.58.
Currently, the daily and monthly gains for this account are at 0.63% and 20.46% respectively, while the drawdown is quite low at 16.08%. The total deposit amount for this account is $50,000 while the total profit is $26,882.16.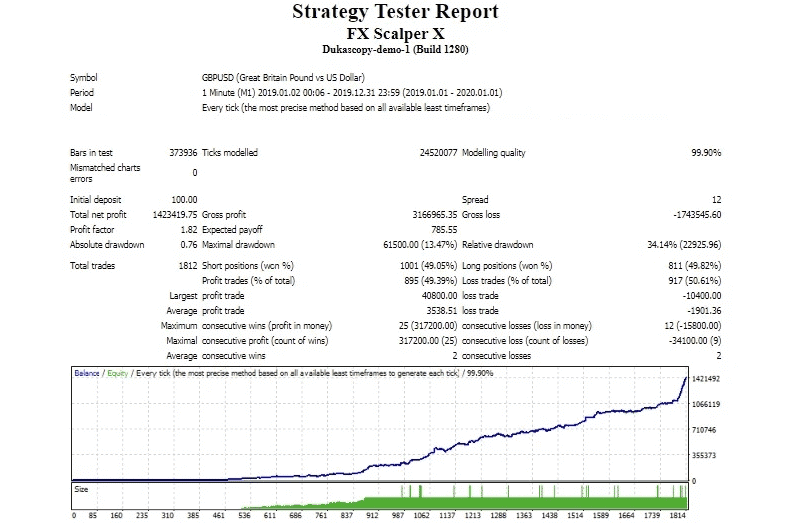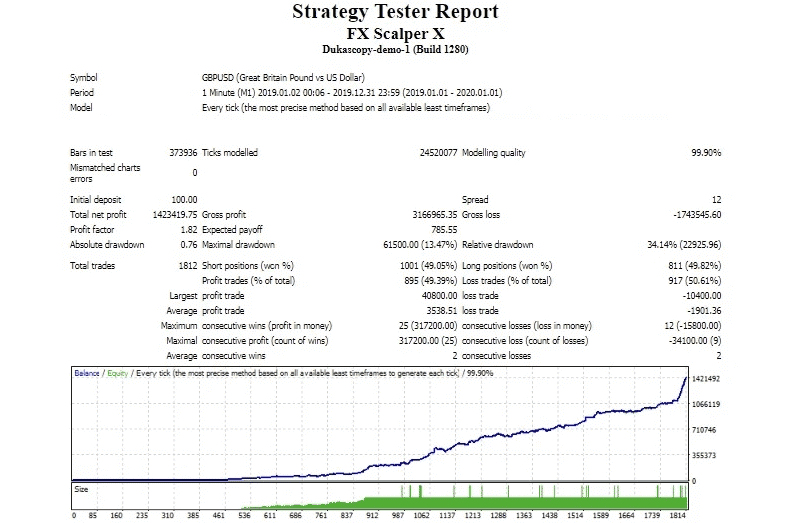 From this backtesting data conducted on the GBP/USD pair, we can see that the system has generated a profit of $1423419.75 from an initial deposit of $100. Here, we can see that the win percentage is 49.39%, which is low compared to the live trading results. The profit factor of 1.82 however, is slightly higher in comparison.
Customer Reviews
We were unable to find any customer reviews for this Forex EA on the popular review websites. Since it has been live only for a few months, it is possible that not many people have heard about it yet.
Summing Up
To summarize, FX Scalper X is a legitimate Forex EA that can win real profits in the live markets, and the live trading results are a testimony to this fact. That being said, it needs to supply more information about the company background and trading strategy.