Hedge Forex Robot is an expert advisor that is a part of the Forex Robot Trader portfolio. According to the name, the advisor is going to use a Hedge strategy to be profitable. This means it can open orders in both directions at the same time.
Is investing in Hedge Forex Robot a good decision?
We have performed a robot analysis and the first conclusion is that it is difficult to trust this system. Firstly, the robot doesn't have proper backtest reports that would show that it was well tested before release. Secondly, there are no verified trading results. Briefly, we know monthly nothing about the system performance.
Company profile
The company was created in 2006. Since then, we have never seen any real or even demo account trading results. The developers keep avoiding being transparent.
Main features
We have some features, settings, and details explained in the presentation. They are systemized in the following list.
The presentation informs us that the system can execute orders completely automatically for us.
So, we are allowed not to sit in front of the PC checking charts.
We can work with the advisor on any available cross pair.
It's possible to work with commodities and stocks.
We haven't seen the system trade them.
The only terminal to trade is MT4.
The devs claimed that the system is a great option to work with for many traders.
There are some screenshots of charts provided. We can't verify them and, thus, cannot be sure that those profits were obtained.
The robot starts working with the monthly time frame and goes to the lower ones.
In this way, it looks for trend and counter trend possibilities.
It checks everything to get confirmation for opening orders.
It works with long-term trending opportunities.
The advisor checks slippages and commissions to calculate close order for a profit.
It works with Fibonacci ratios in trading.
The core time frames to analyze are M15 and H1.
It seeks for a line of the support level on every chart.
Price
It's available for an affordable pricing of $49. The original offer was $199. We have never seen it running. We don't have explanations about what features the package includes. The owners don't mind about providing us with a money-back guarantee if we don't like the system's performance.
Trading results
The presentation isn't featured by any backtest report. It's a huge con because we'd like to know how well the system was tested. Testing generates the final report that would show us a win rate, profitability, drawdowns, recovery factor, and other parameters.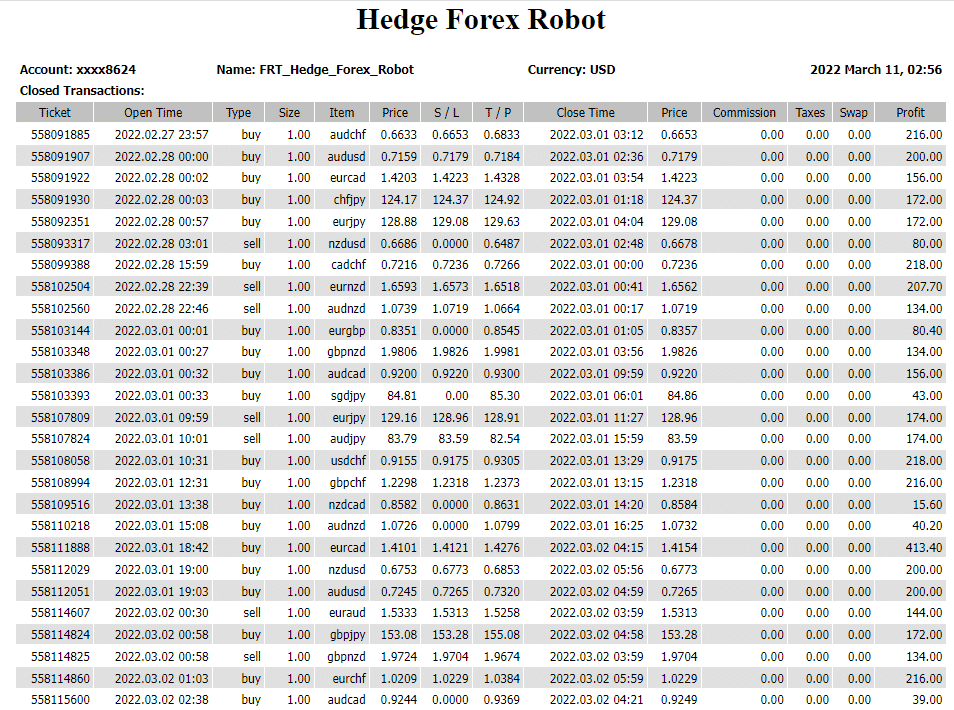 We have reports for every month that are usually generated at night. They don't look real at all because this data isn't verified by any sites like Myfxbook, FxBlue, FXStat, or MQL5. So, they can write anything because we simply cannot check this out. The account number informs us that this isn't a real account.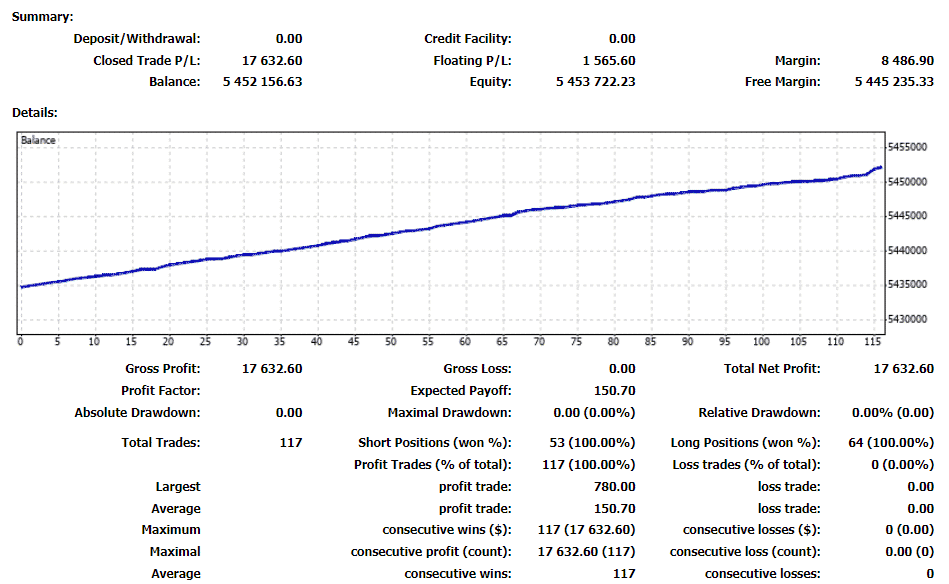 This is an account with a balance of $5,445,235 that doesn't sound real. The system has generated $17,632 this month so far. There were no maximal drawdowns because no orders were lost. The win streak is 117 orders.
People feedback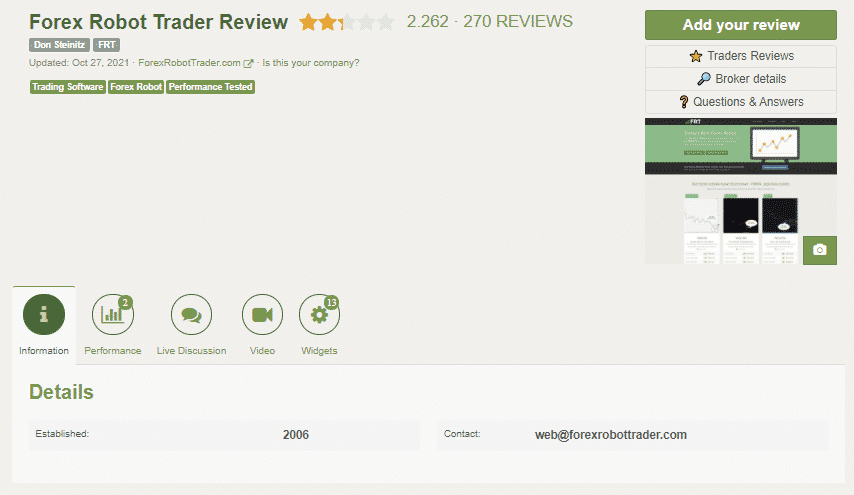 The mother company created a profile on Forex Peace Army. We have 270 reviews written about the system that form a 2.262 rate.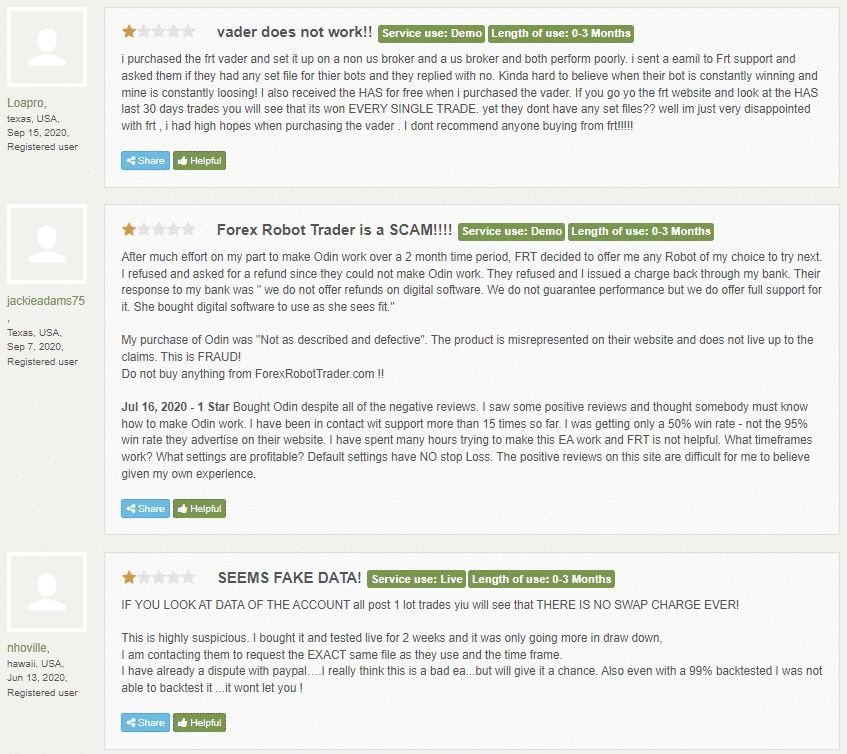 Almost all former clients informed us that the company acts farudly and their advisors aren't profitable and trade randomly.
Summing up
Hedge Forex Robot is an expert advisor that doesn't work on the real market. This doesn't allow us to know precisely how good the system is. We'd like to note that this with addition of the presentation that lacks the intel and negative reviews decreases a level of trust to the advisor significantly. So, to buy it or not to buy is completely up to you.