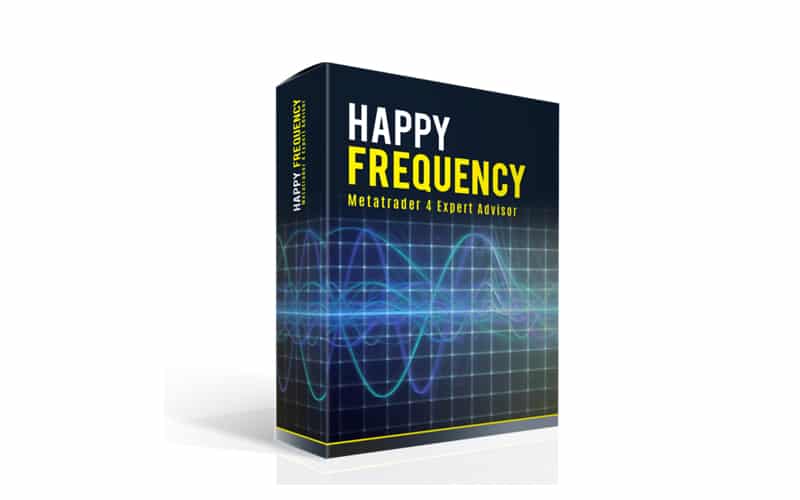 Happy Frequency is a Forex trading robot that mixes the techniques of trend, grid, hedge, semi-martingale according to the risk and classifies them accordingly as: low, middle, high, & combi EA files. The algorithm requires a VPS to operate stable 24-hours a day. The developers claim that this robot has fast execution, is easy-to-install and generates good profit. We will verify these clams in this Happy Frequency review, so please scroll down and find out.
Is investing in Happy Frequency a good decision?
The parent company, Happy Forex, provides all the necessary live testing records on both FXblue, & Myfxbook is considered a good practice that allows the customers to gain insights about the robot's performance and make right decisions.
Company profile
Happy Forex is the company that owns Happy Frequency. The company has an excellent rating of 4.5 on third-party sites like TrustPilot. The team develops fully-automated algorithms to save time and effort for their customers.
Customers can contact the company through a very simple-to-use query form in the Contact Us section of their website or through the chat option on their Facebook page.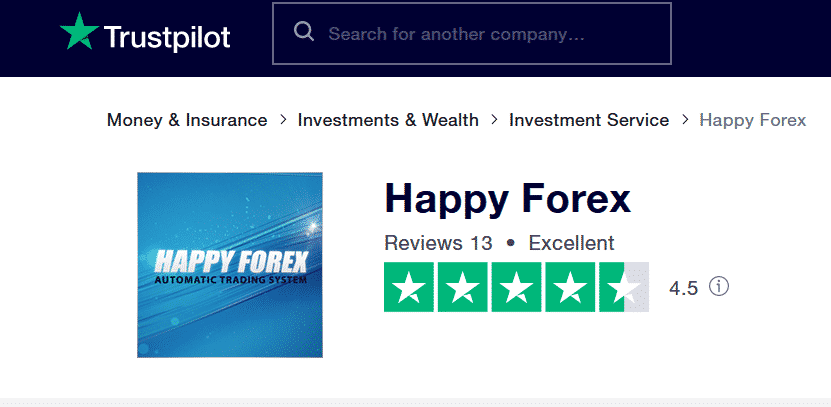 Main features
The robot comes with the following main features:
It provides support for ECN brokers.
It detects auto-quotes for up to 4-5 digits.
It's 100% fully-automated.
The system trades in multiple currency pairs.
To install the EA, use the following steps:
Purchase the system from the company website
Install the EA files onto your PC
Launch MT4 platform
Drag the EA files onto the MT4 charts and enable auto-trading. You're good to go!
The robot will analyze the market based on coded information and open buy/sell orders.
The indicator also provides free lifetime updates post-purchase. The minimum deposit required is 4000 USD or 40 micro-cent USD
Strategy
The developer states that the robot trades using martingale, hedge, and trend strategies on multiple currency pairs. It also has a news filter to avoid trading during volatile conditions.
From the history on Myfxbook, we observe that it has an average trade duration of 3 days which refers to a swing trading approach. As stated by the developer, it trades on multiple currencies.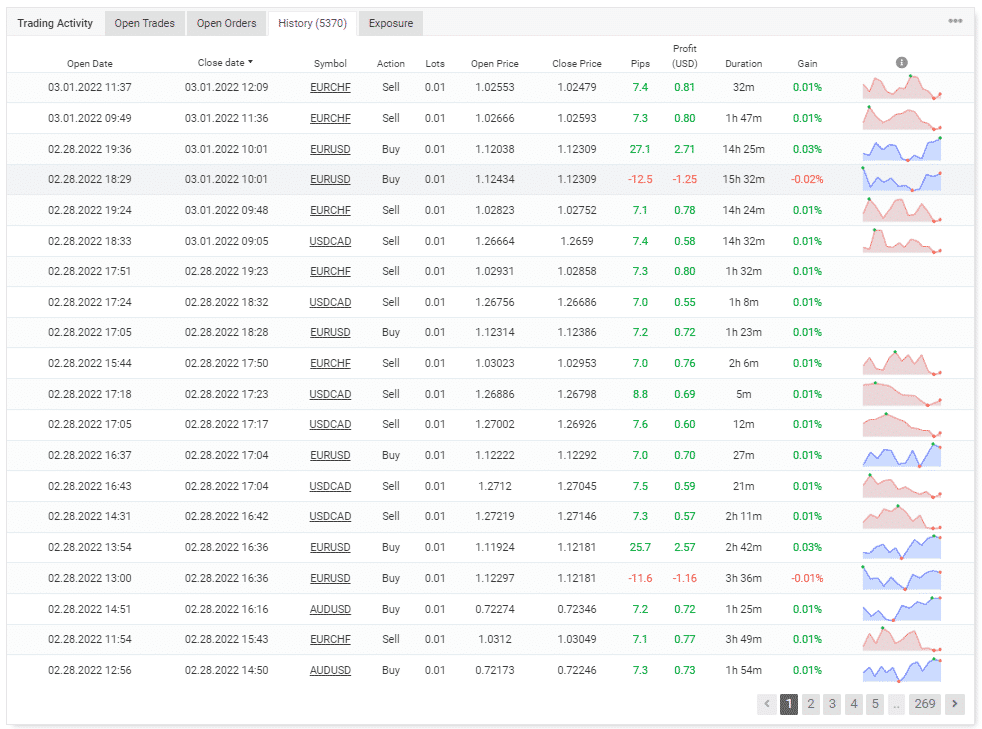 Price
The robot is sold under two packages. One is priced at 299 Euros and provides access to 2 real accounts, while the other package, priced at 499 Euros, allows access to 5 real accounts. Both packages offer unlimited demos, tutorial guides, 24/7 support, and a 30-day money-back guarantee along with free lifetime upgrades. The EAs are sent in a quick email format after payment.


Trading results
Live records for the robot are present on the website, verified by Myfxbook and FXblue. For simplicity, let's give you a rundown of their Myfxbook stats.


The results show that the robot has a growth rate of 95.85%. Profit value stands at 3833.45 USD. The robot has participated in 5321 trades, with the best trade valued at 384 pips. The average trade length of the bot is three days, with an attractive profit factor of 1.86. Unfortunately, no backtesting records could be found. But the developers do provide us with a very visual graph that shows an impressive growth trend from the year 2018.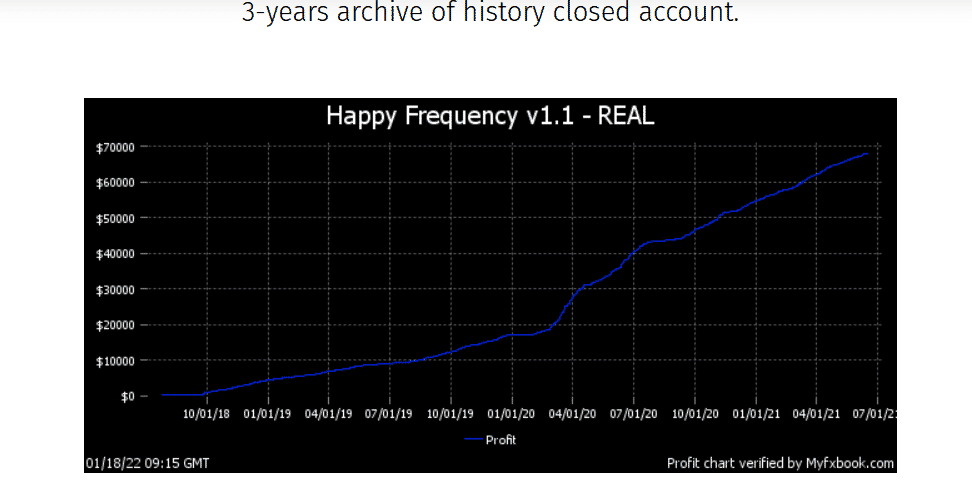 Customer reviews
Happy Forex has good reviews on TrustPilot, where the customers all give them a very big thumbs-up. They say that all the bots from the company work great and are very stable, thus accumulating good profit. This allows the company to boast a 4.5/ 5-star rating on TrustPilot.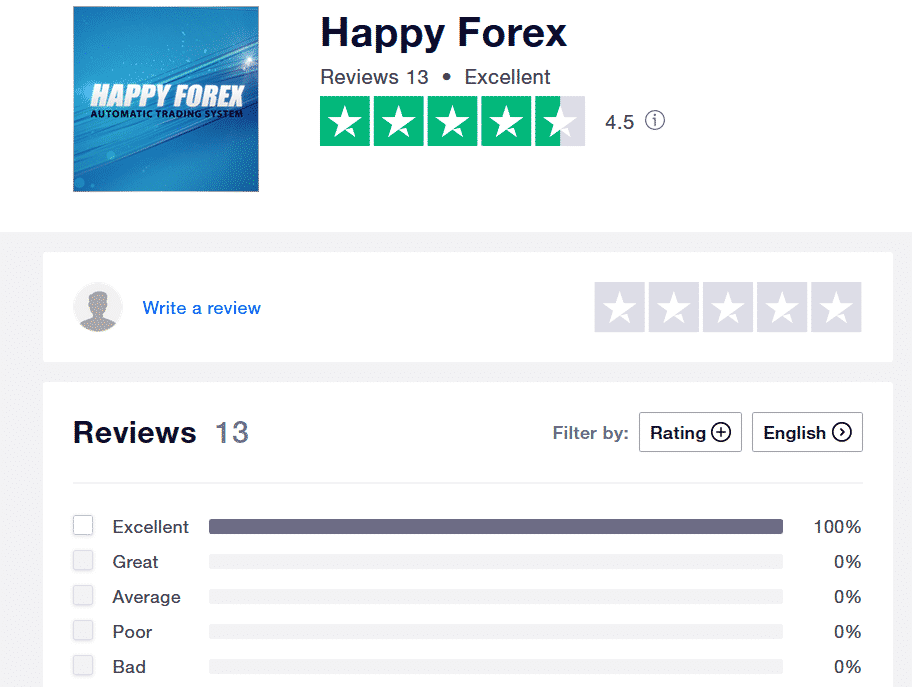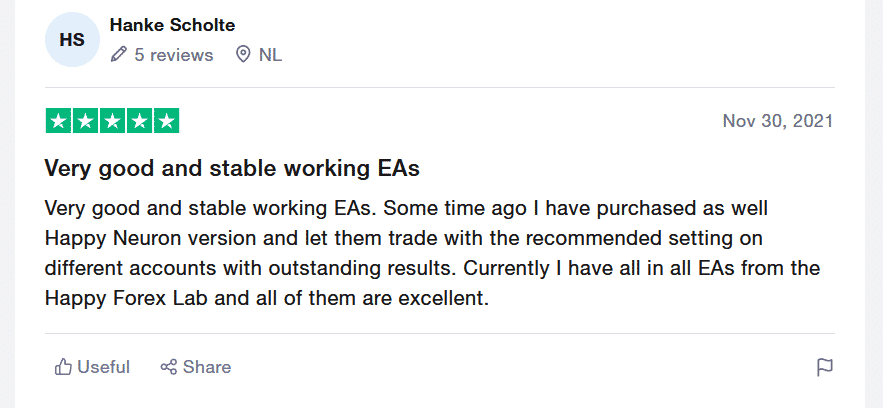 Is Happy Frequency a viable option?
Advantages
It works with Micro, Mini, Standard, or ECN accounts
It is compatible with Windows (7, 8, 10), Mac OS, and Linux
It shows a very high-growth trend
Disadvantages
Live records are not available in textual form
Summing up
Happy Frequency is a good trading system designed to help traders to get the most out of their investment. The strategy is pretty straightforward. Also, developers provide good customer care and have very positive reviews on Trustpilot.